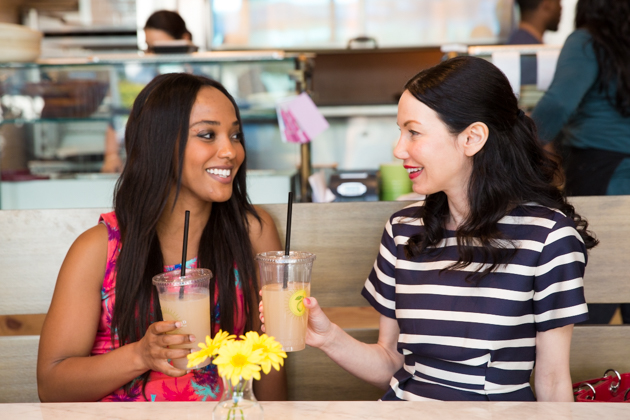 A couple of weeks ago, Mo and I caught up with my friend Candy Washington for a lunch date at Flower Child in Santa Monica. Flower Child is a delicious and nutritious café whose fundamental promise is to serve healthy food for a happy world. Not too small a goal, in a city where healthy, hipster cafés come and go like last seasons shoes. The newest concept from True Food's founder Sam Fox, Flower Child opened it's first Los Angeles location almost a year ago, and is easily making a place for itself on the healthy food scene.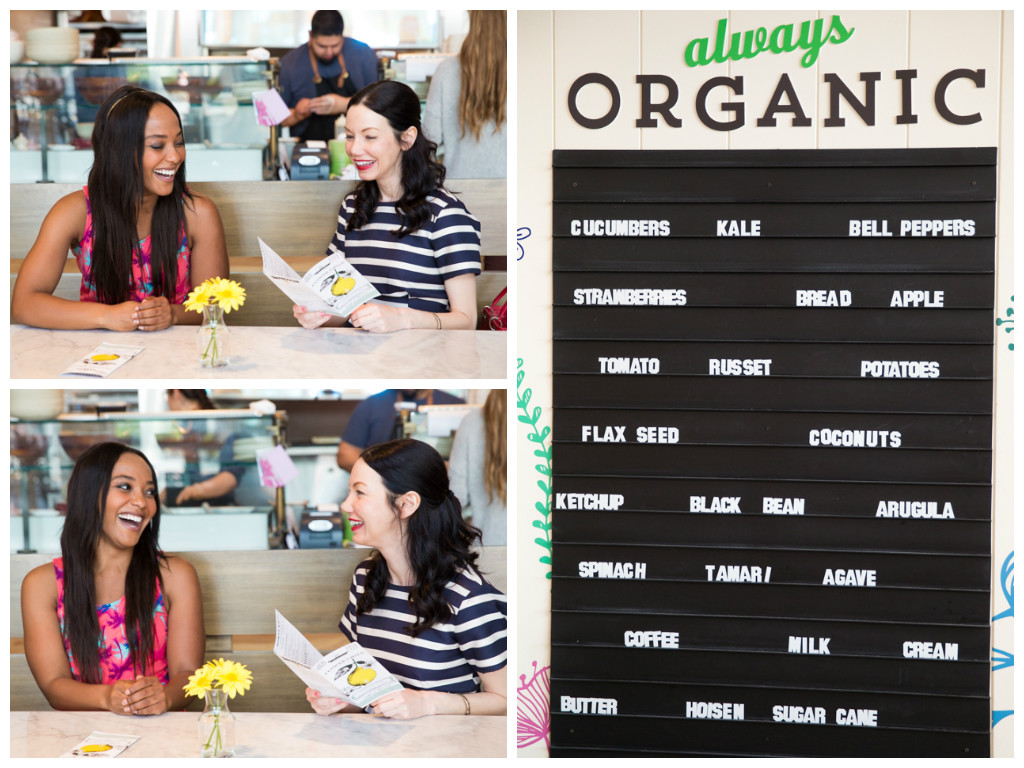 We poured through the menu of salads, bowls, plates and wraps, in between a mirthful catch up session. If you haven't already met Candy, allow me to introduce you to this bubbly actress and blogger from
Actress with Style
. One thing I will tell you about Candy, is that if you have the opportunity to hang out with this girl you will always be laughing. She is most definitely one of the friendliest girls I have ever met and her infectious laughter is sure to light up the room and leave you with a smile on your face. It's no surprise that Candy recently scored a gig hosting Disney Style Live! Be sure to catch her show
here
.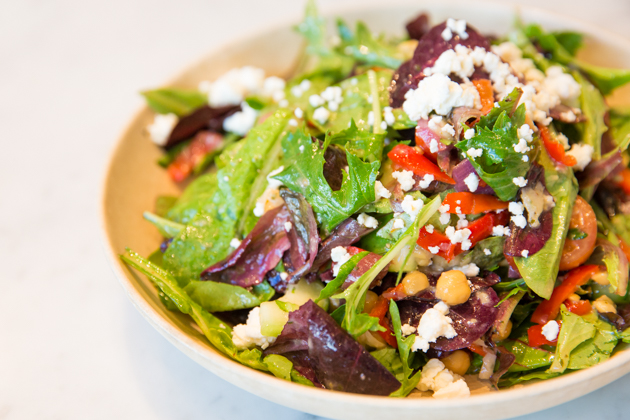 We started with this refreshing Mediterranean Diet Salad. Organic greens, cucumber, tomato, pickled onion, peppadew, garbanzo, olive and feta, tossed in an oregano vinaigrette. So refreshing!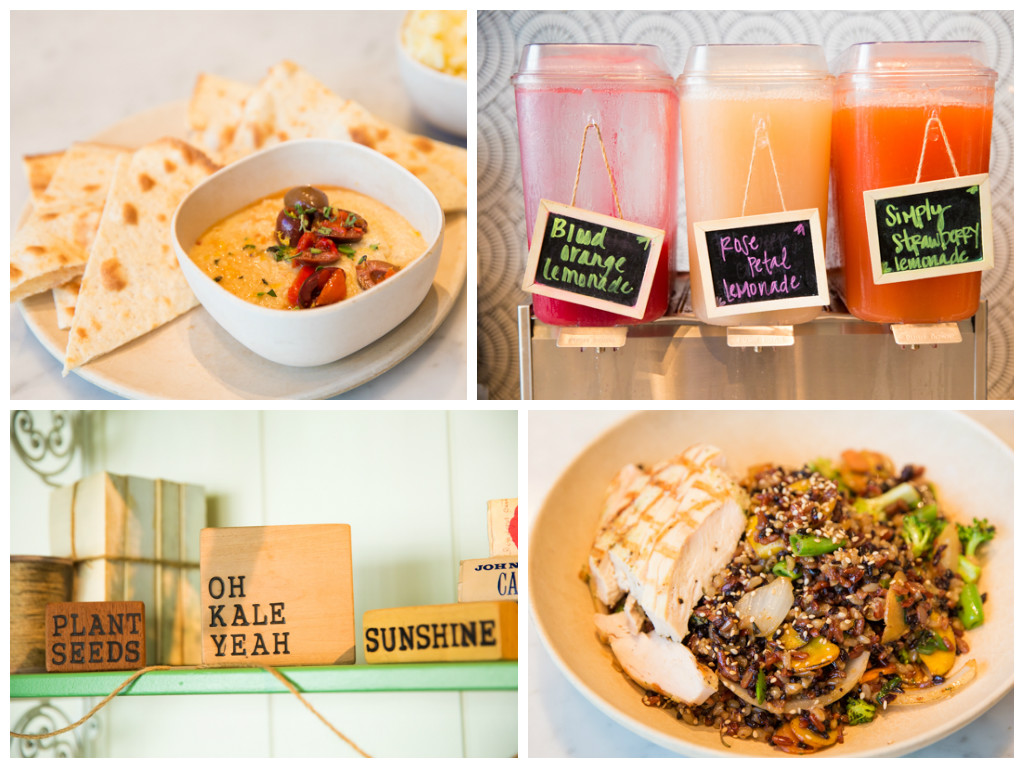 We ordered a side of Hummus with gluten-free pita bread and Mo's favorite dish: the "Forbidden" Rice with a side of chicken. This Asian themed dish is a combination of black pearl and red japonica rice, snap peas, bok choy, broccoli, carrot, onion, toasted sesame and red chili.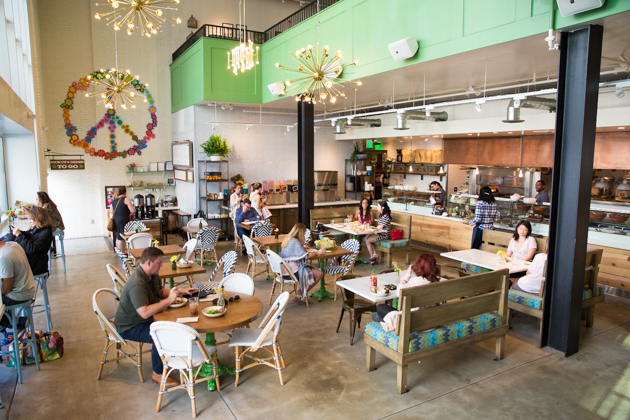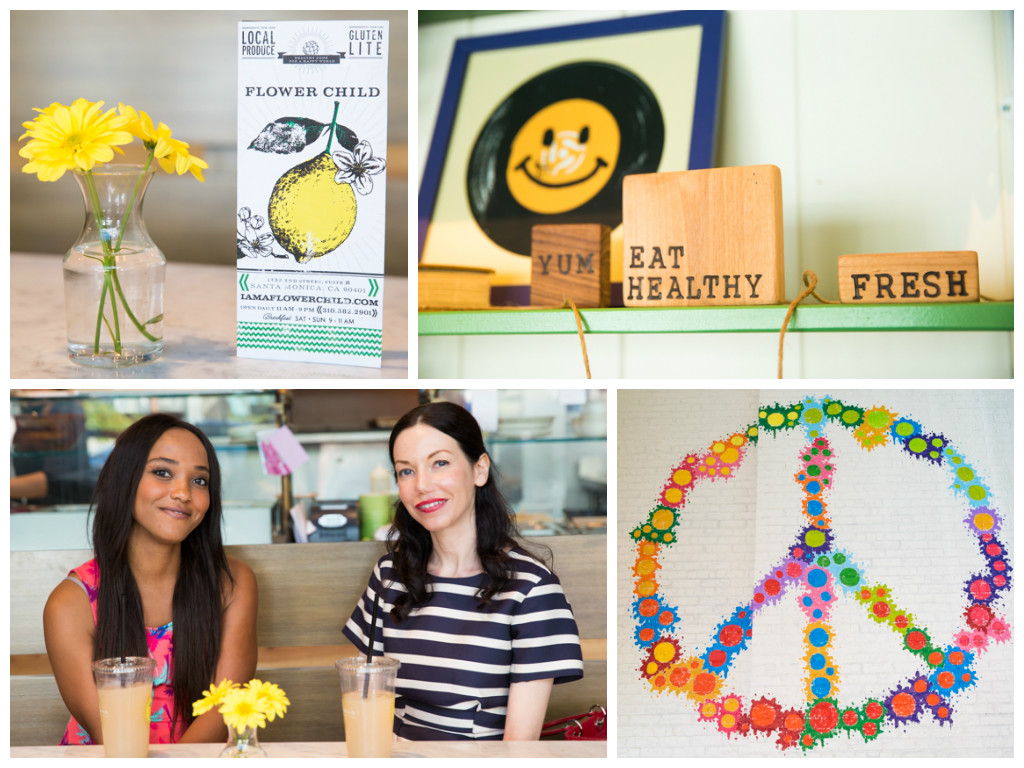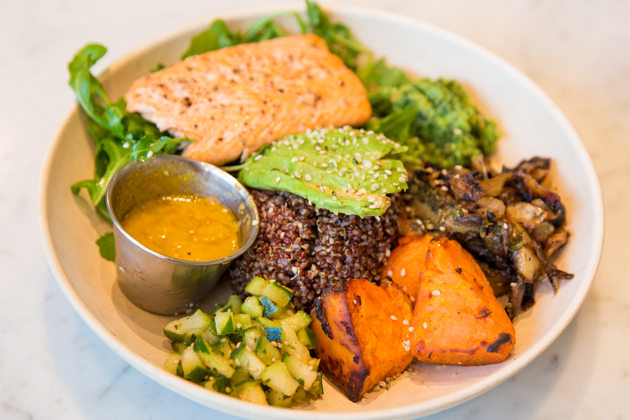 It's hard to pick a favorite as everything is so delicious, but I must say I really love the Mother Earth! A bowl of quinoa, sweet potato, portobello mushrooms, avocado, cucumber, broccoli pesto, leafy greens, red pepper miso vinaigrette and hemp seed. We added a side of sustainable salmon. Nom nom.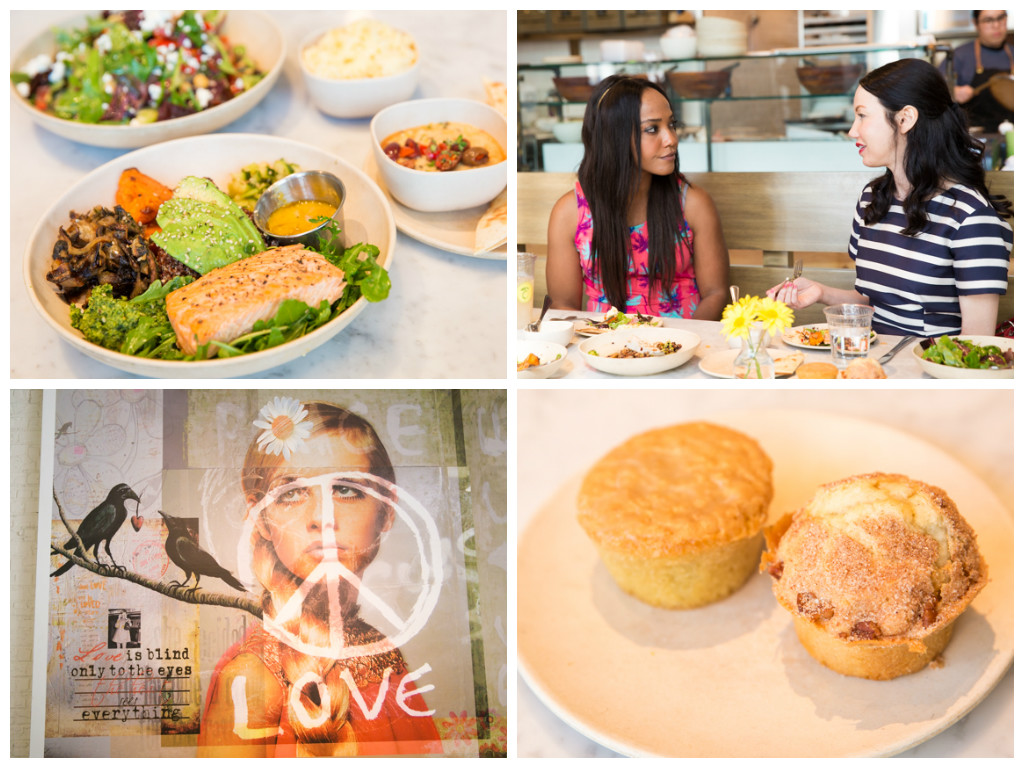 We caught up on all things blogging, acting, dating and marriage. Including a healthy dose of gossip over a certain
scandalous blogger contest
. To finish off our meal, Flower Child brought us these delicious gluten-free muffins. The one on the left was an olive-oil cake that was so moist it melts in your mouth and on the right an apple-cinnamon crumble muffin.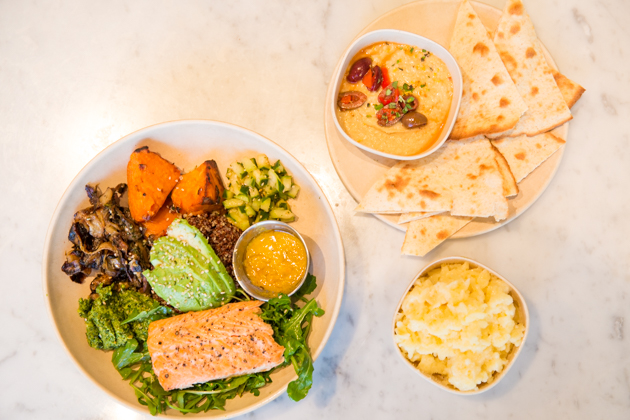 And do you see that tiny bowl on the right? Don't let it's mushy appearance fool you… it's not mashed potatoes. It's the best bowl of Gluten-Free Mac and Cheese I've had since I was a teenager. Okay, quite possibly it's the only bowl of mac and cheese I've had since I was a teenager, but I'm still dreaming about it. The hubby makes me watch The Bachelor with him, and I had a craving for mac and cheese, inspired by Corinne and her nanny. 🙂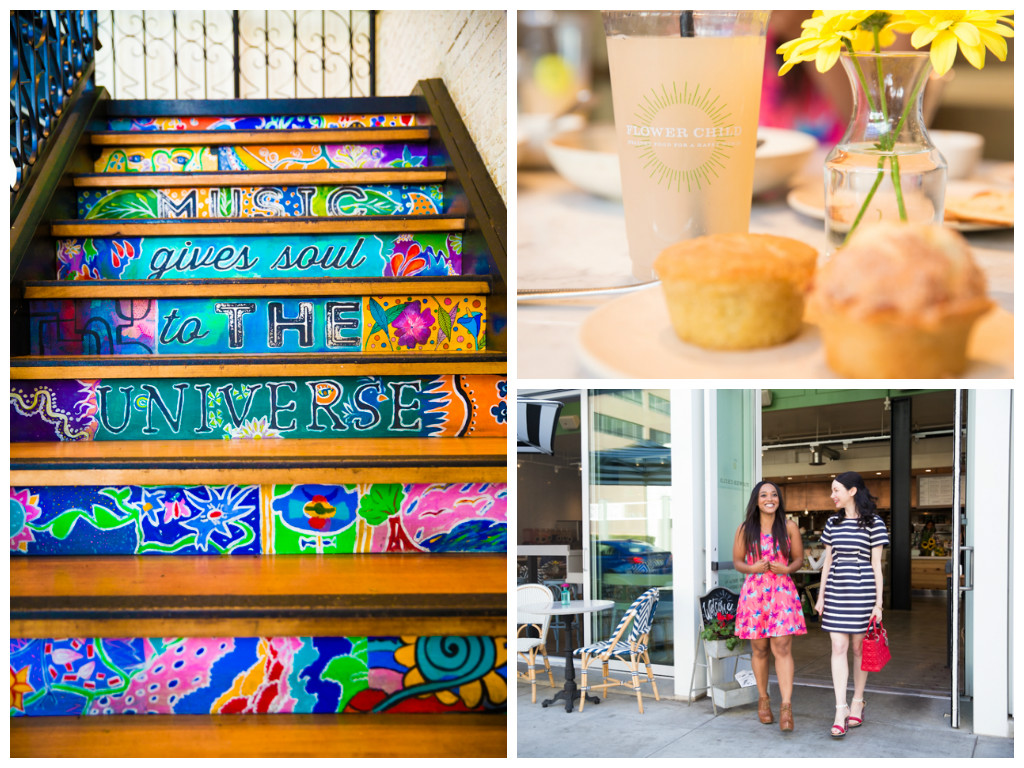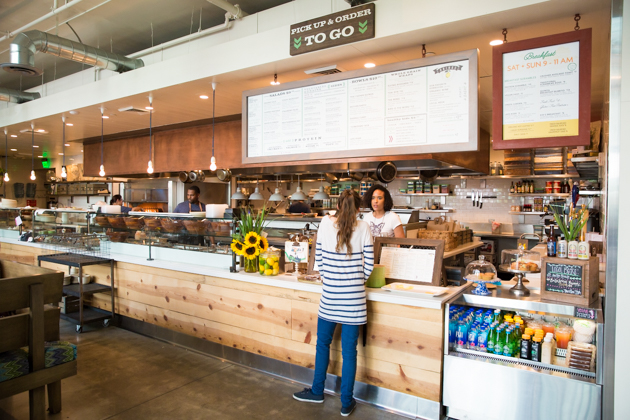 Flower Child offers a catering and to-go menu, as well as a beautiful (photo friendly) upstairs seating area that can be reserved for parties and events.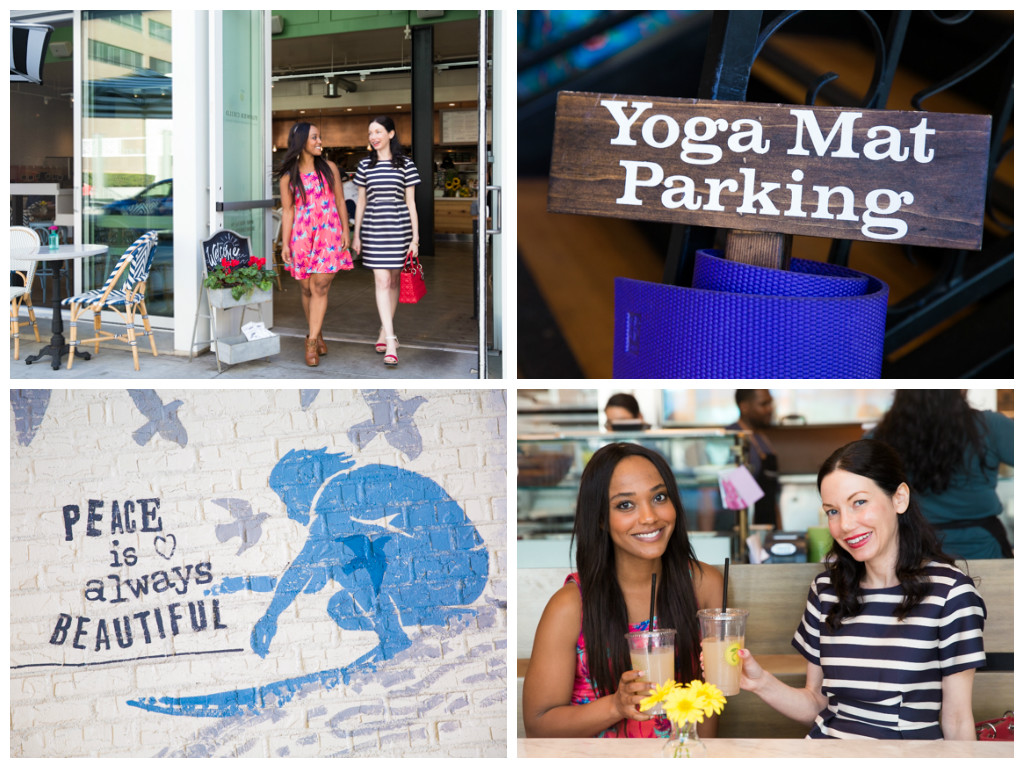 Sadly our lunch date at Flower Child came to an end. We made our way outside to shoot a few more photos and say our goodbyes.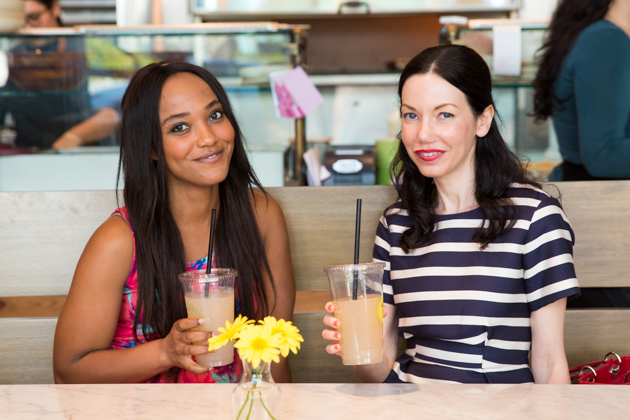 Can't wait to visit this yummy and healthy café again soon. If you are reading this Flower Child, please consider opening a location in Manhattan Beach!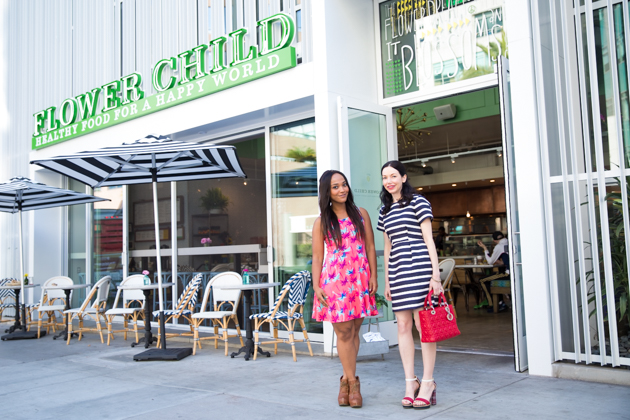 You can visit Flower Child at 1332 2nd Street, Santa Monica, CA 90401. Open daily from 11 am to 9 pm and for Breakfast on Saturday and Sunday from 9 am to 11 am. For additional locations in Arizona, Texas and Del Mar, visit Flower Child's website
here
.
Thank you so much for stopping by!
xoxo,
Lisa
Let's Connect!