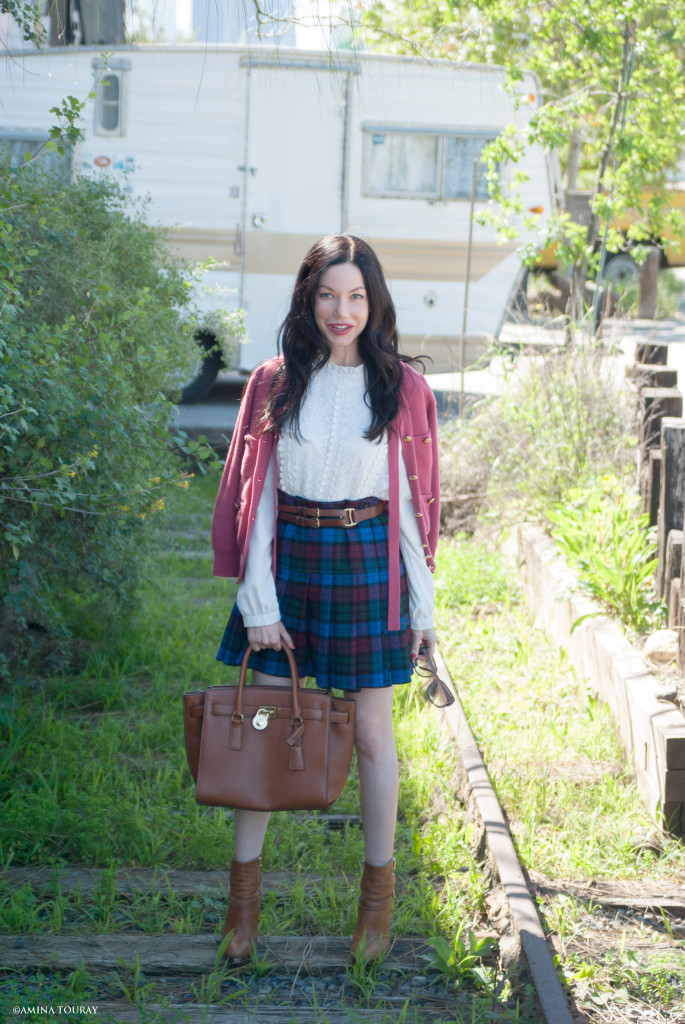 Happy Thursday!  How is your week going so far?  This is a Spring transitional look I put together with some of my favorite winter pieces.  I started with my Tommy Hilfiger Collection kilt skirt (previously seen
here
), which is reversible!  I added a white blouse along with a pink sweater to give it a lighter touch.  Finally I added some leather details to give it a rustic, romantic feel.
Also, can you believe these photos were taken in the middle of downtown Los Angeles?  Amina and I went to a location nearby to shoot a feature which I am very excited to share with you soon.  I had wanted to shoot this look, but when we got there I didn't think it would work because the outfit really wasn't suited to the graffiti walls that surrounded us… much more "street style" than "country chic" as I would call this look.  Luckily we happened to stumble upon this abandoned trailer and railroad track.  How divine!
Tommy Hilfiger Collection skirt (similar
here
).  Goodnight Macaroon
blouse
.  Ralph Lauren Girls belt (similar
here
).  Michael Kors satchel (very similar
here
).  Juicy Couture cardigan (similar
here
,
here
) and boots (similar
here
).  Gucci glasses.
Thank you so much for stopping by!
xoxo,
Lisa