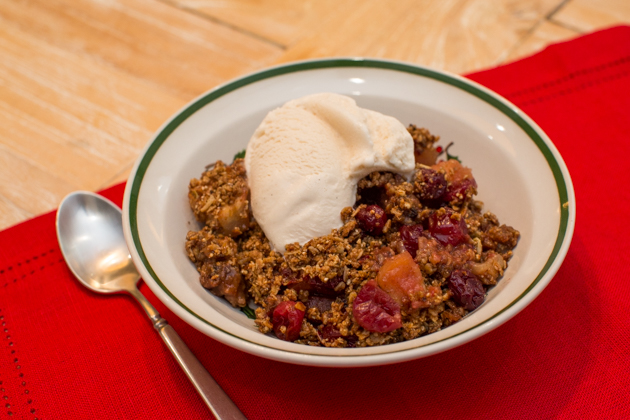 Happy Tuesday! The countdown is on until Xmas. If you read my blog on a regular basis, you probably already saw my recipe for Roasted Chicken with Root Vegetables last week. While the chicken was roasting, Mo and I whipped up this delicious and gluten free Apple, Pear and Cranberry Crisp with Purely Elizabeth granola as the main ingredient in our topping. I have been a bit obsessed with Purely Elizabeth's gluten-free granola cereals and I spent some time dreaming up a perfect recipe to incorporate them while we were in the middle of our home remodel.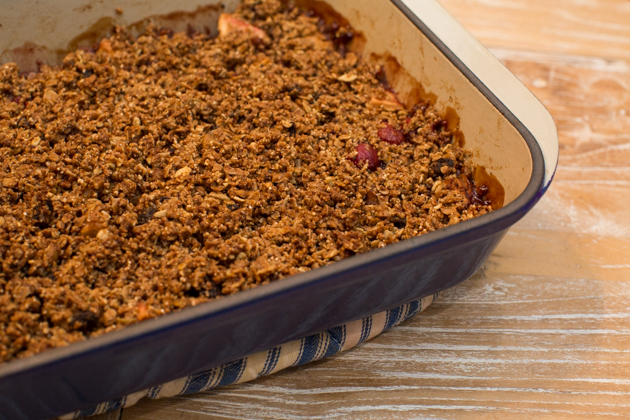 We finally got to bring this recipe to fruition last week and it certainly did not disappoint. In fact I think this might be one of my favorite creations to date. It's decadent enough for a holiday dinner (served with a dollop of vanilla bean or coconut ice cream), but can also be served as a side dish at brunch. Since it's made from cereal, fruit and honey, I ate the leftovers of this Apple, Pear and Cranberry Crisp for breakfast a few days in a row!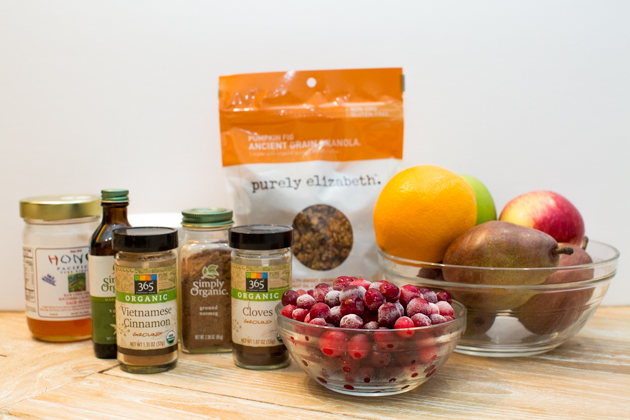 2 apples (Granny Smith, Arkansas Black or any tart baking apple will work best)
1 1/2 cup cranberries (fresh or frozen)
1/3 cup honey (I use Pacifica's Sage Honey)
2 1/2 cups Purely Elizabeth Pumpkin Fig Ancient Grain Granola
3 heaping Tbsps. Ghee or butter
**Use organic ingredients where possible
Dice the apples and pears and combine with the cranberries in a large mixing bowl.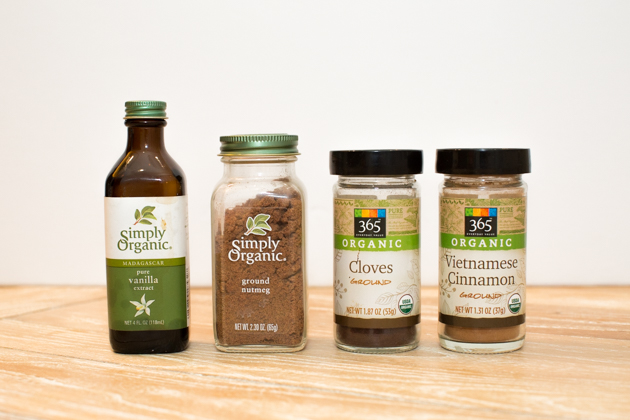 Stir in the orange juice, vanilla and spices.
Place the ingredients in a 7 x 11 inch baking dish and drizzle with the honey. Place the dish uncovered in the preheated oven for 15 minutes.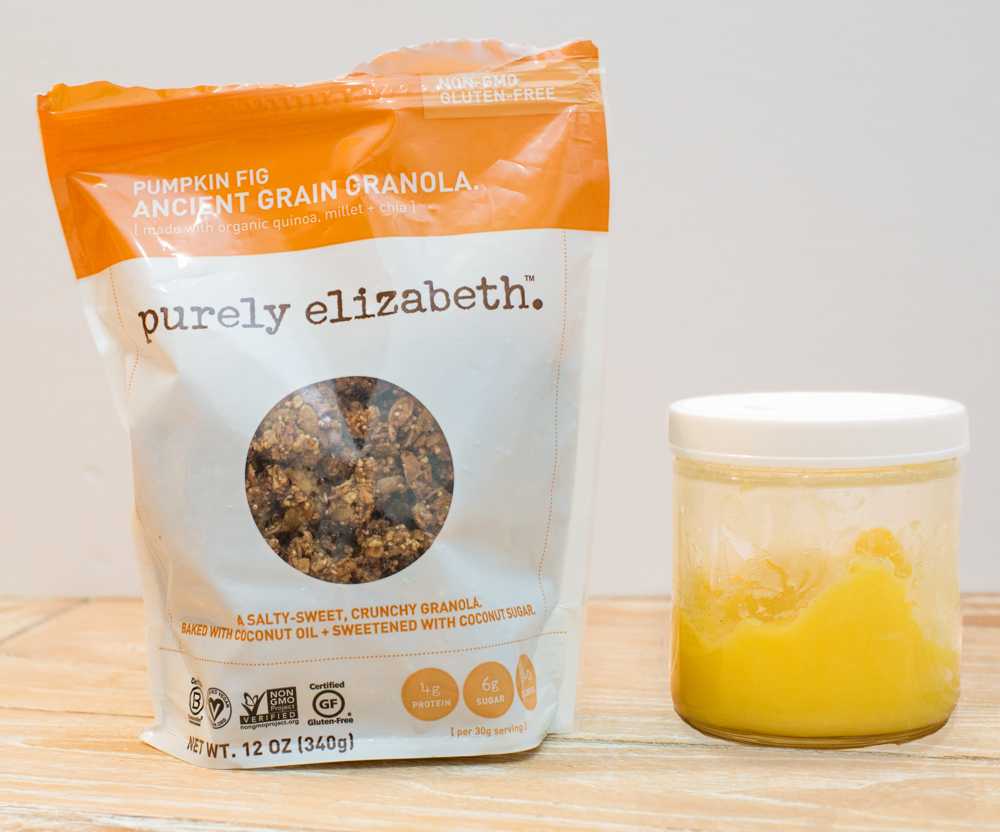 While the fruit mixture is cooking, prepare the crumble topping, by combining the cereal and ghee or butter in a food processor.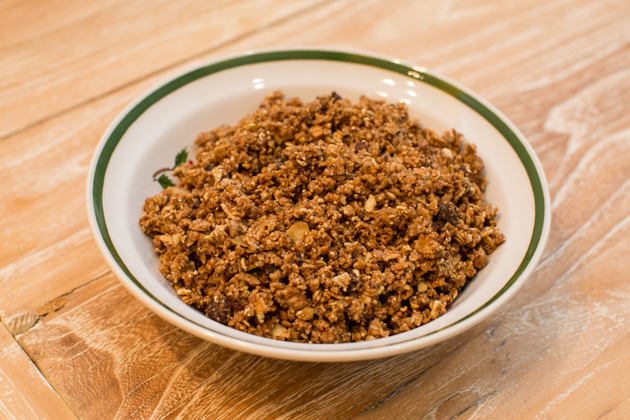 Carefully remove the baking dish from the oven and give it a good stir to combine the now melted honey. Evenly sprinkle the dish with the Purely Elizabeth topping and return the dessert to oven uncovered. Bake for an additional 25 to 35 minutes.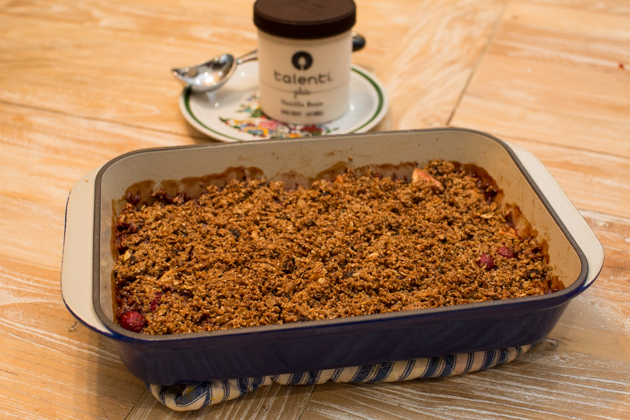 Let cool. Serve with vanilla ice cream… we used Talenti Vanilla Bean gelato because it's soooo good!!!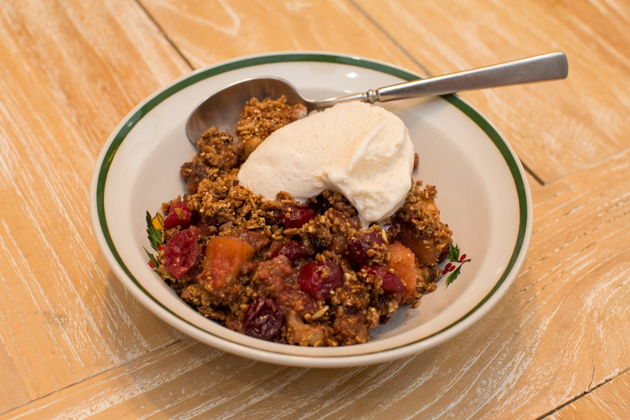 This Apple, Pear and Cranberry Crisp with Purely Elizabeth as the secret ingredient is simple to prepare, but will leave your guests going back for seconds. I'm planning to make it again for company, along with my
Roasted Chicken and Root Vegetable
recipe and this
holiday salad!
Nom nom!
Thank you so much for reading! Please let me know what you think of the recipe and please share your favorite holiday recipes as I am always excited to try new dishes!
Follow my blog with Bloglovin