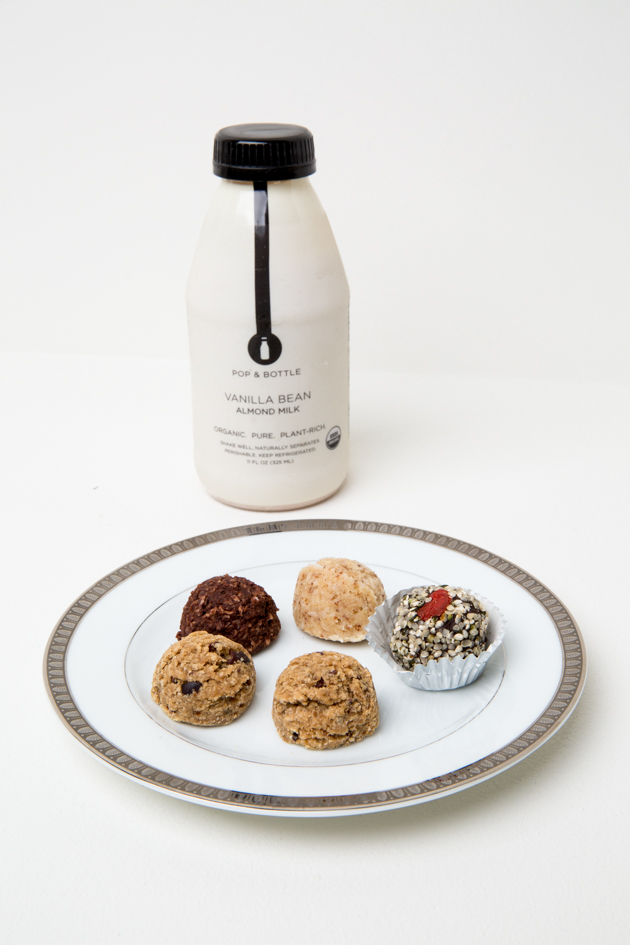 Happy Friday! Today I'm sharing a fun post to make your weekend a little sweeter. I am always looking for sweet treats that are also nutrient dense and not too high in sugar. Yes, there are plenty of options to be found nowadays, but let's face it, sometimes when a sweet is made too "healthy" it ends up tasting like cardboard… and sometimes if it tastes to good to be true, it probably is.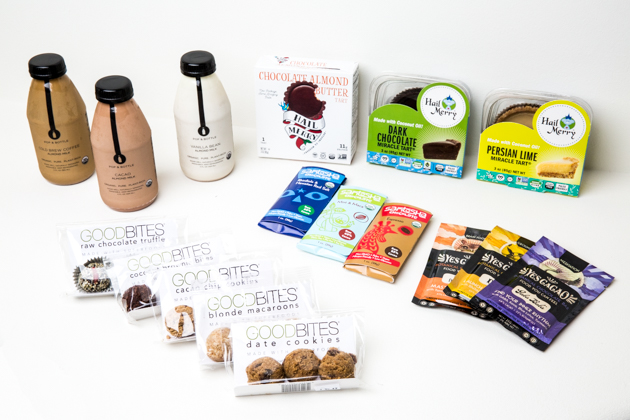 And that's where Pretty Little Shoppers comes to the rescue… reading labels and tasting countless products to find you 5 healthy treats to satisfy your sweet tooth. It's a tough job, but someone's got to do it. And of course I roped Mo into tasting these treats after we shot them as well. Yes, he gave everything the thumbs up! That is in case you need some extra Mo-tivation to try these yums!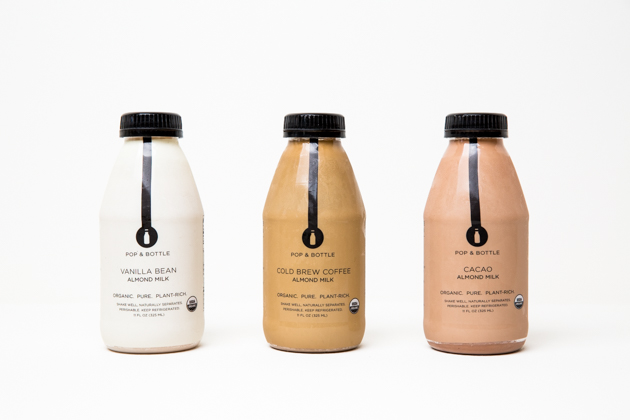 When it comes to Cold Brew Coffee,
Pop & Bottle
has definitely stolen my heart. Made only with it's a much healthier alternative to Coffee Bean's Ice Blended Mocha. And at only 120 calories per bottle, it's less than half the calories of the Coffee Bean version, with none of the added chemicals. Such a delicious afternoon pick me up!
Pop & Bottle currently comes in three flavors: Cold Brew Coffee, Cacao Almond Milk and Vanilla Bean Almond Milk, which I've been adding to my morning tea. They have a Matcha Green Tea and Chai Spice flavor in the works, so be sure to check Pop & Bottle's site for details.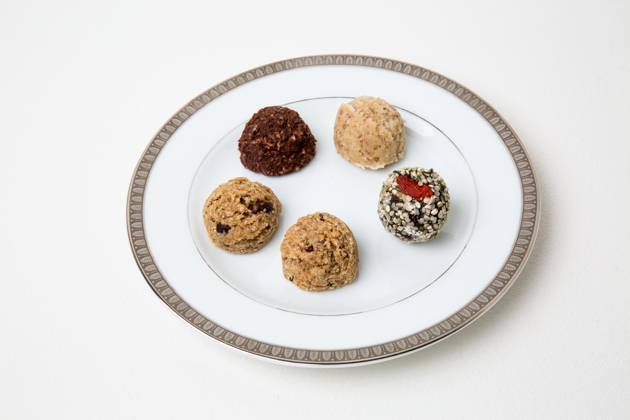 If you happened to catch my
Spa Day post
, you might have noticed these
Good Bites
. Such an appropriate name for these delicious gluten-free cookies and truffles!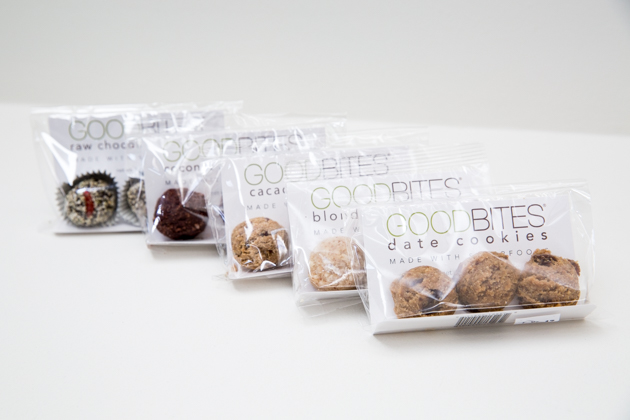 Good Bites cookies are made with coconut or oat flour and come in four flavors: Date Oat Cookies (my favorite!), Cacao Chip Cookies, Blonde Macaroons and Coconut Brownie Bites. Good Bites makes their cookies with all natural ingredients, and uses only maple syrup, date paste and coconut sugar as sweeteners. The cookies come in at about 50 calories each and come in packs of three. This is one of my favorite treats to pack in my carry on luggage for long plane rides.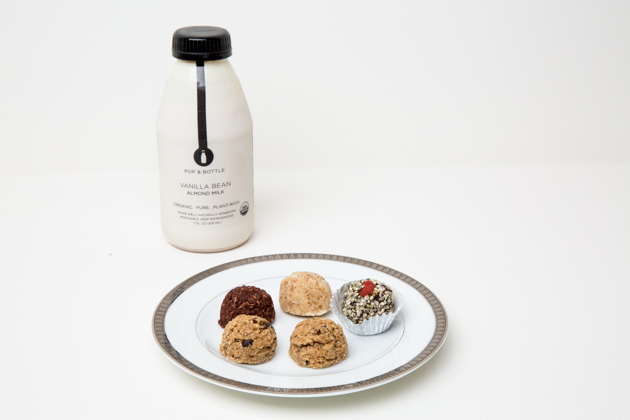 Good Bites also makes a mean raw cacao truffle (see the little treat in foil above). Made with cacao, goji berries, hemp seed, coconut oil, honey, spirulina, tocotrienols, Himalayan pink salt and vanilla powder, Good Bites Raw Cacao Truffles are Superfood and super good!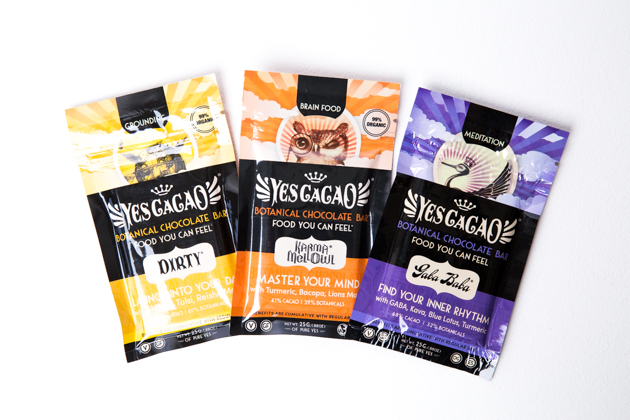 Botanical Chocolate??? YES please! I've recently become interested in Aruveydic medicine and when I discovered
Yes CaCao
at Erewhon Market, naturally a few bars ended in my cart.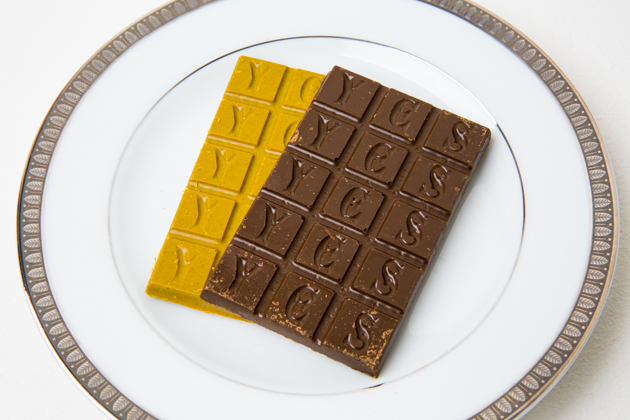 And the bar says YES, so of course you can't say no to this delicious treat! YES CaCao's founder Justin Frank Polgar, describes himself as an alchemical chocolate technologist. He designed each of his flavors for a specific health and wellness experience, using chocolate as a delivery system for organic herbs, teas, flowers and superfoods. Ingredients include Maca, Blue Lotus, Kava Kava, Tumeric, Ginko Biloba, Lions Mane, Reishi and Tulsi.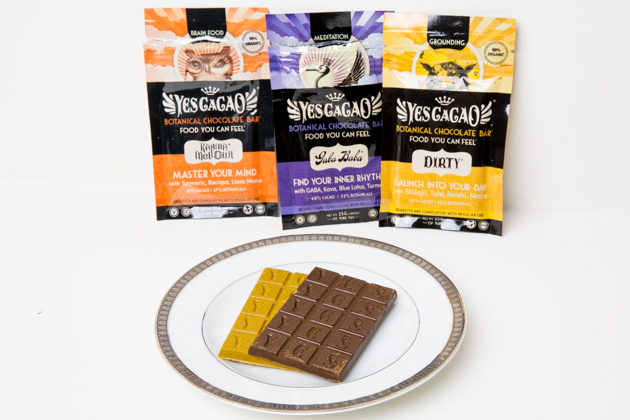 The bars come in three flavors or rather functions: Karma MellOwl (brain food to master your mind), Gaba Baba (a meditation bar to relax into your natural rhythm) and the Dirty Bar (a grounding bar to help you launch into your day). And, did I mention that these bars range from only 143 to 170 calories and only 4 to 6 grams of sugar per bar? If you're looking into adapting a healthier lifestyle, but don't want to give up the chocolate, I can't recommend YES CaCao highly enough!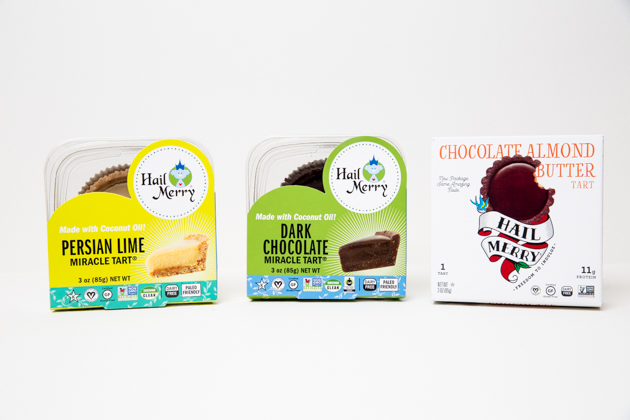 Hail Merry
is a brand I've been serving up for years. I featured
Hail Merry's macaroons
in a previous post, but this time I wanted to share these heavenly tarts. Even Mister Pretty Little Shopper who is extremely opinionated when it comes to dessert will eat them! Maybe that's why they're called Miracle Tart's. 🙂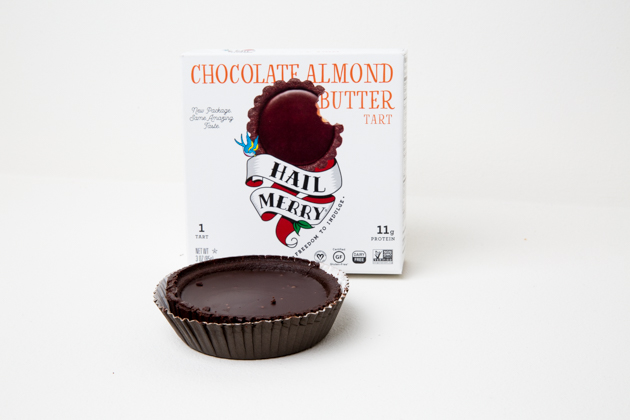 Hail Merry's Miracle Tarts come in 6 flavors: Persian Lime, Meyer Lemon, Dark Chocolate, Chocolate Mint, Coconut Vanilla Crème and Chocolate Almond Butter featured above. It's basically like a healthy almond butter chocolate cup that melt's in your mouth! So rich and decadent, that even the biggest sweet tooth in your life would be shocked to find out they are made with coconut oil and maple syrup!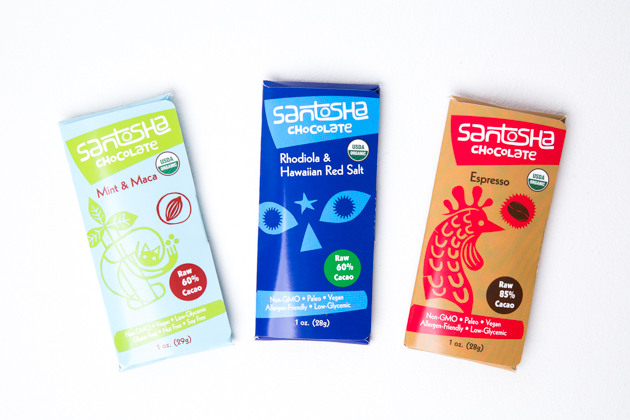 And last, but certainly not least is
Santosha Chocolate
! Founder Don Rowe became interested in the benefits of raw foods for health, performance and enjoyment in 1993, but it wasn't until a 7 year stay in Spain that he returned to the US to discover as shortage of high quality, raw chocolate. He founded Santosha in 2008 and each bar is stoneground, made from all paleo, certified-organic, non-gmo and vegan ingredients.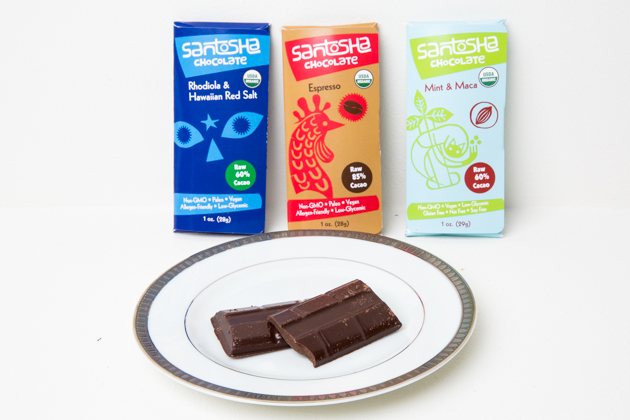 Santosha Chocolate's come in 8 flavors and include
healing ingredients
such as Rhodiola (normalizes cortisol levels and other stress related hormones), Maca (improves libido and endurance and reduces menstrual issues), Ashwagandha Root (an adaptogen herb that supports healthy adrenal function). It's also low-glycemic, low in calories and sugar and suitable for most diabetic diets. And did I mention it was delicious too?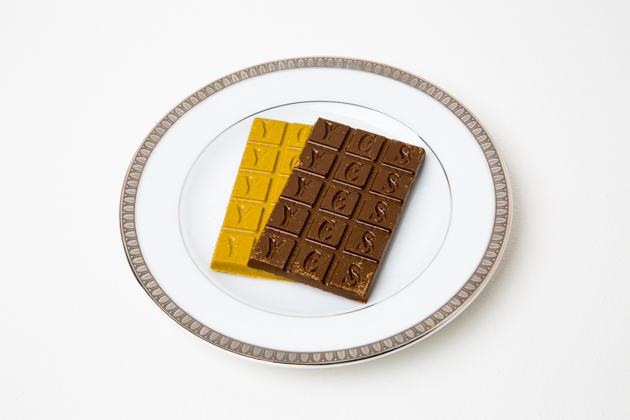 Have you tried any of these yet? What are your favorite healthy sweets? I am always looking to try new yummy and nutrient-dense snacks, so please be sure to share your favorites.
Thank you so much for reading!
xoxo,
Lisa
Let's Connect!