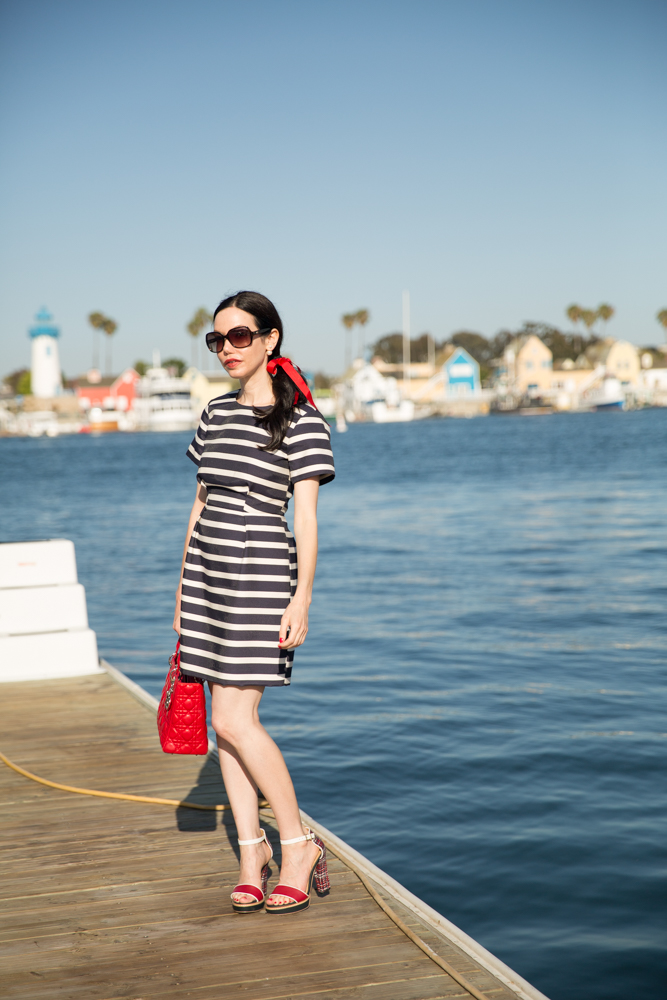 Happy Monday! How was your weekend?
If you've been reading my blog for the past few months, you are probably already aware of my passion for all things red, white and blue. That being said, I had been searching for the perfect striped dress for quite some time and when I saw this one at H&M, I knew I had to scoop it up! I styled it with my red Dior bag and a matching bow, which actually makes this a perfect outfit for Fourth of July. Now I just need to add a pair of red star shaped sunnies!
Mo and I decided to shoot this look in Marina del Rey, since neither of us will ever turn down an opportunity to take a walk on this gorgeous dock. We weren't the only ones enjoying this beautiful afternoon though… the seals were working on their tans and having quite a chat. At least that's what it sounded like as they seemed to be in deep conversation with their loud calls back and forth. The one who is taking a nap on the back of the boat above, looks so peaceful and serene. How can you resist that cute and sweet little face? Except, Mo reminded me, when the boat owners want to go for a ride and the seals aren't in the mood to leave. Kind of reminds me of when my neighbor parks behind my garage door without letting me know and I am already running late and can't get out! That's beach town life for you.
H&M dress (on sale). Tommy Hilfiger sunglasses and sandals. Lady Dior bag. Bauble Bar earrings (similar here).
Photos taken by Mo Summers.
Thank you so much for stopping by!
xoxo,
Lisa