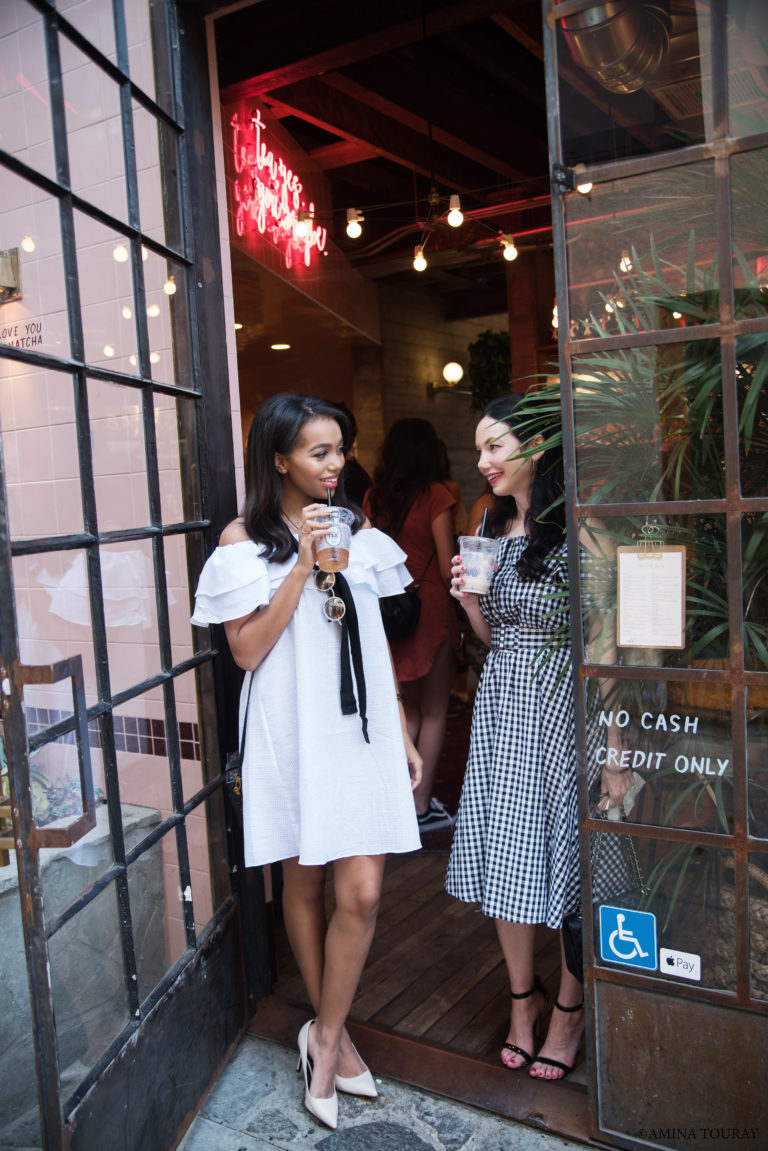 Happy Sunday! If you haven't yet heard of
Alfred's Tea Room
, you are probably hiding under an Instagram rock! Since I live in Manhattan Beach, it took me awhile to get over to this delightful pink tea palace. I was so happy to have the gorgeous
Daphne Blunt
introduce me to Alfred's, as it's one of her favorite hang outs! Daphne is a talented young actress and the blogger behind
To Style With Love
. With a sartorial sensibility beyond her years and the accessories to match, it's easy to see how Daphne's blog is such a success! I had the opportunity to meet Daphne when she worked as an actress on my project
The Exhilarating and Fashionable Life of Emmy Rose Knightley
. Since we were so
busy on set
, we didn't have much time to chat, so teatime was definitely in order. We sipped our iced drinks while chatting about our shared love of all things Gucci, Zimmermann and Lana Del Rey!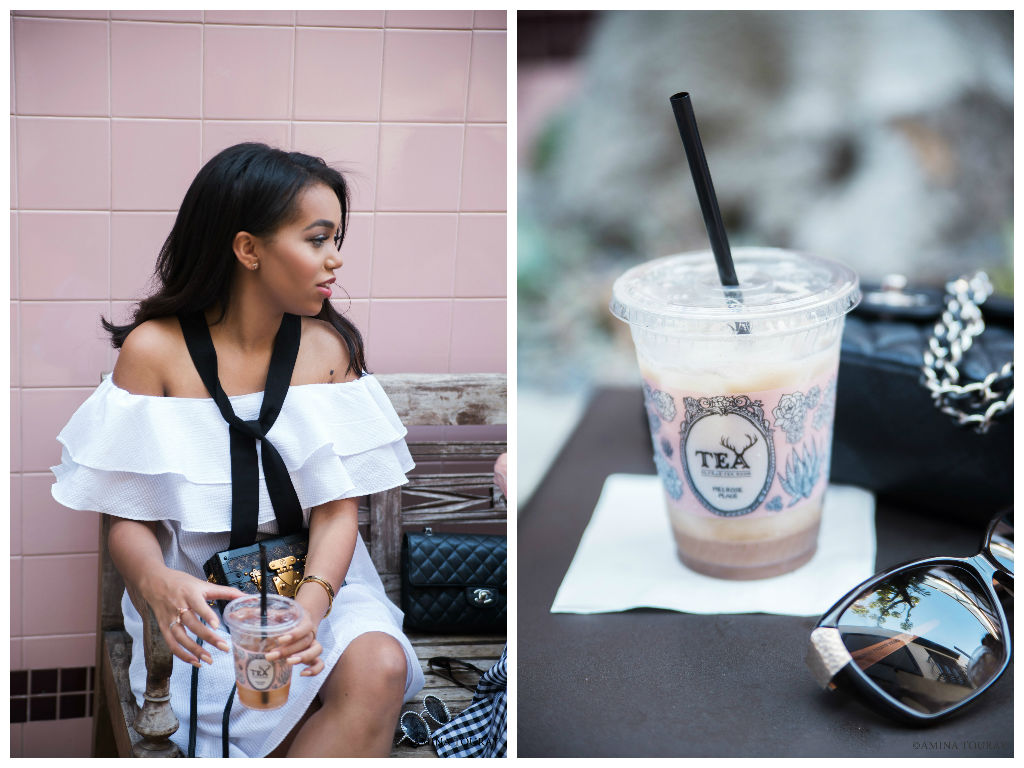 Pretty Little Shoppers: When did you start acting? What was your first professional job?
Daphne Blunt: I started acting very, very early on when I was actually 3 years old!  I always knew it was something I wanted to do! I had expressed interest in whatever show business was as just a little baby and was lucky enough to always have supportive parents who let me pursue whatever I wanted.  I doubt that they thought that from the ages of 3-10 (where I was mainly doing theatre either in local theatres or a school and taking acting classes), that I would come so far and actually go on to professional work.  I started off doing some modelling for brands such as Under Armour, and would occasionally go on commercial auditions in Miami until I was about 11 and then started coming out to LA.  My first professional job in LA was on The Young and The Restless!  I had a quick bit part, only in about two scenes with one line, but I had the time of my life and everyone was so sweet to me on set.  I knew I was exactly where I always wanted to be.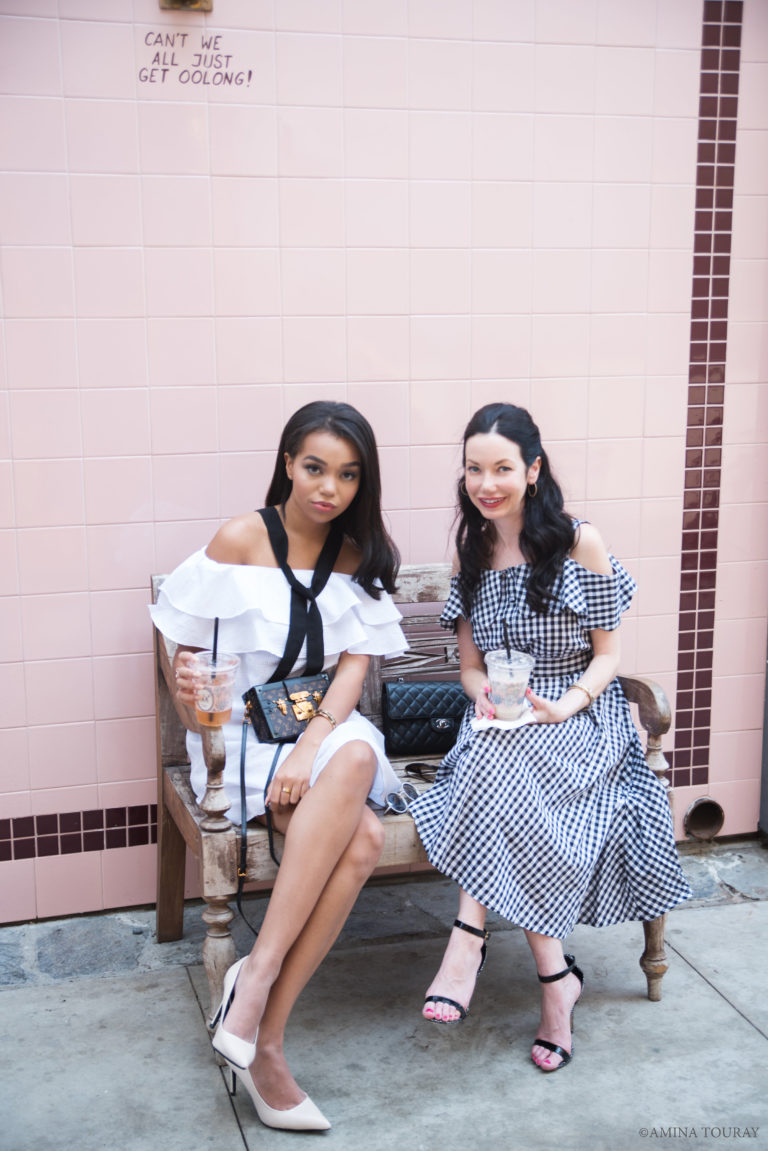 PLS: How did you get started with To Style With Love?
DB: I had been wanting to start a fashion blog for quite a while and had attempted to start one once before, but just was not confident enough in myself to stare at photos of myself all day so that didn't last long.  However, I was seeing so much of big bloggers like The Blonde Salad, Man Repeller, Fashion Toast or Atlantic-Pacific and I just wanted to express my love of fashion so badly. I felt I had no choice but to take the leap and start doing it because I just had an intense passion for it.  And that is how To Style, With Love was born.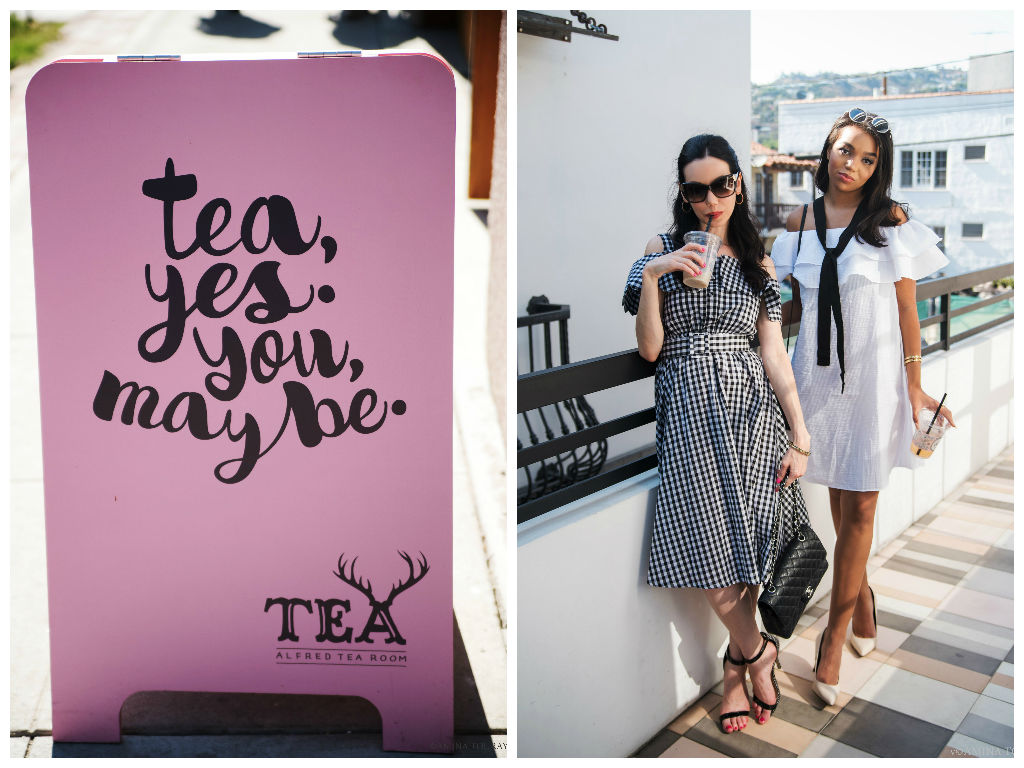 PLS: Where do you find your fashion/style inspiration?
DB: Wow, where do I not find inspiration?  The more you become involved in fashion the more I start to notice inspiration all around me. I'm often very attracted to sports attire. I love the looks you wear for tennis, sailing and especially horseback riding.  When I am looking for more targeted inspiration I usually either look to my favorite bloggers actual blogs, Instagram, Pinterest and I also really love we
it.  I have a folder saved on my computer that I add things to almost everyday.  Anytime I see a photo of something, or a look that inspires me, I just save it there and that way I can always go back to it when I need a little inspiration.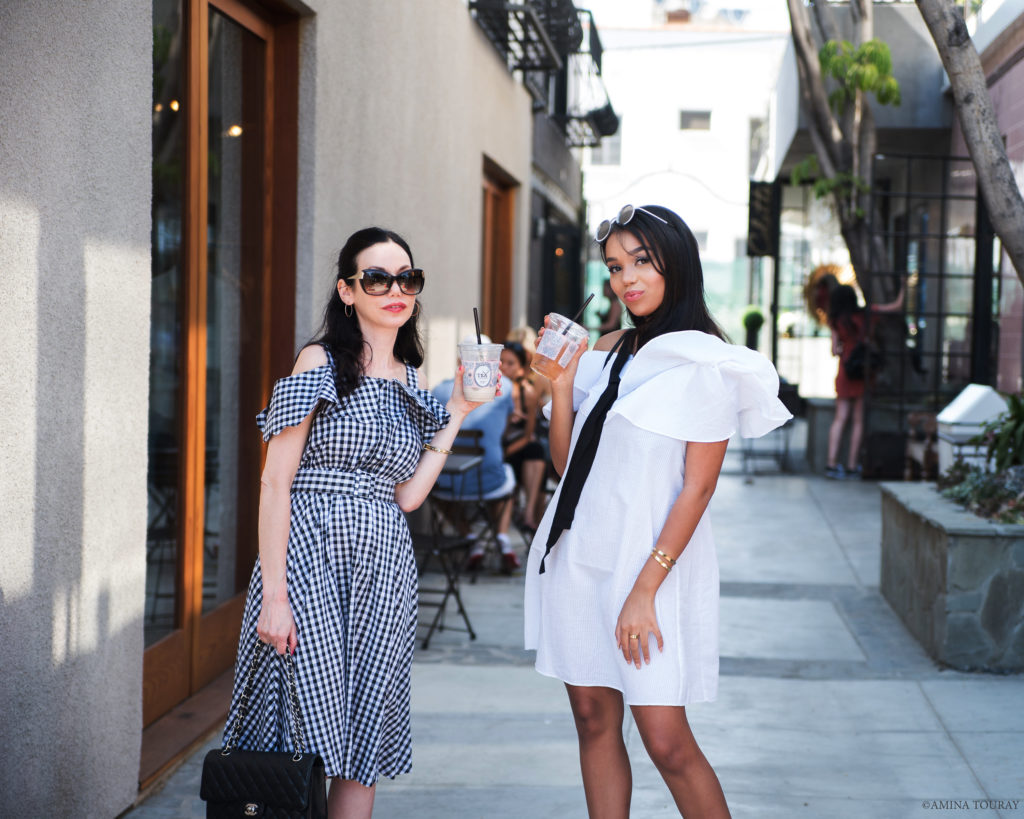 PLS: What is a typical work day like for you as a young actress/blogger?
DB: The typical work day for me is never the same.  With balancing acting, friends, boyfriend, family, school and of course blogging, no two days are the same as my schedule changes pretty much everyday.  If I don't have any appointments on a certain day I like to get my blogging done from morning to afternoon, and leave the nights free for socializing or just some relaxation.  I would get up and check social media for that day's blog post, post on Instagram and then check my email and reply to them.  After that I start working on the next day's post, a video I might be editing or a brand collaboration I'm working on.  Then some days it's off to an audition, or off to shoot outfits with my best friends.  It's part of what I like about this job, it NEVER gets boring!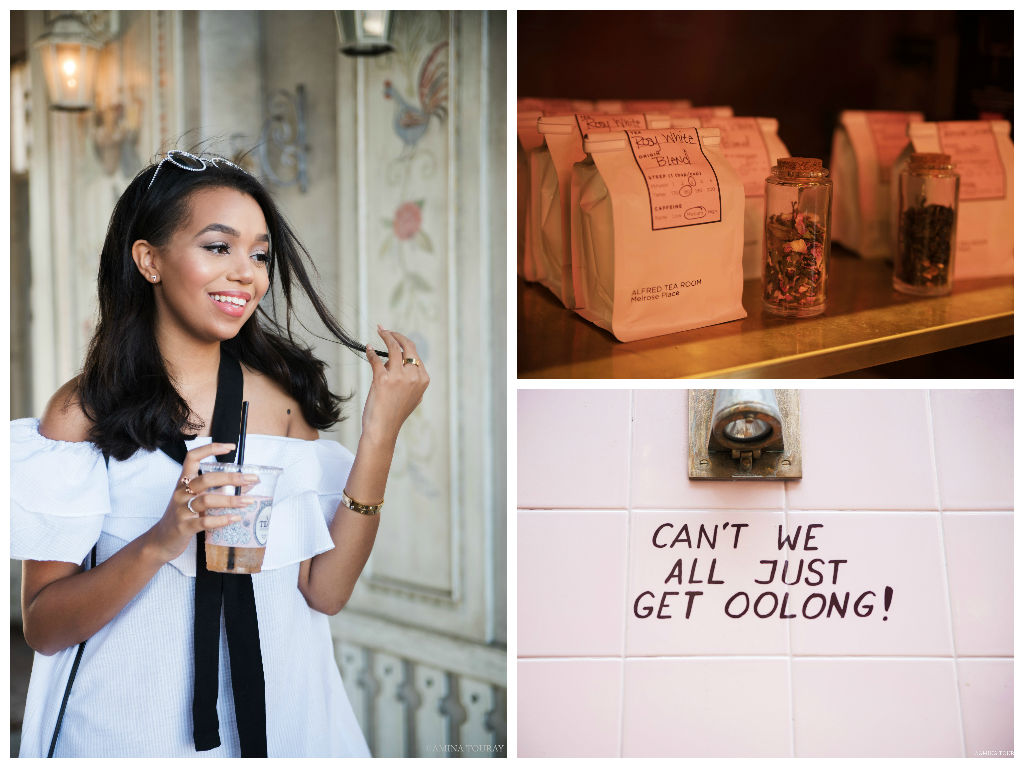 PLS: Do you have a dream role that you would like to play?
DB: To be completely honest (and it may sound like a cliché, I'm not sure), but my dream role would be something of a Blair Waldorf – Gossip Girl kind of thing.  I think that would be a dream.  Not just from the fashion created by the series, but the over the top drama and bitchiness. Those are always the most fun roles to play. It really allows you to test your limits.  I like roles that you can have fun with and truly enjoy what you're doing each day.  If it's not fun than I don't think it's worth it.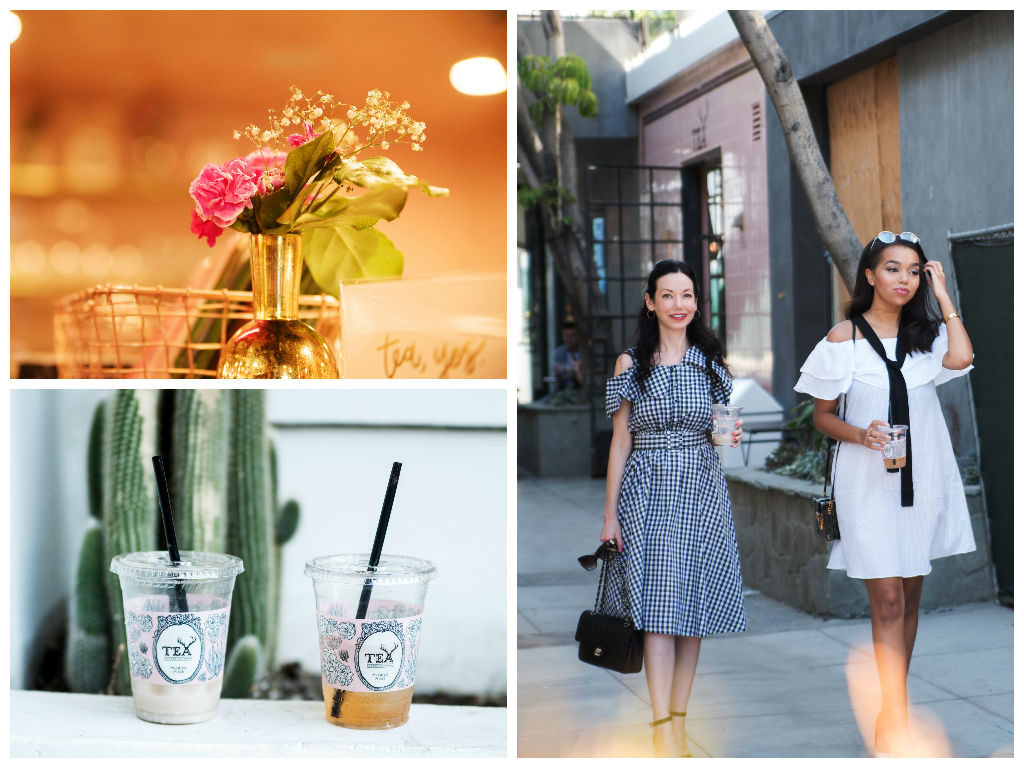 PLS: Who are your favorite actors/actresses?
DB: Oh! Right now I am all about Margo Robbie! She was by far the best part of Suicide Squad and to be so successful at only 25, it's really something to look up to.  I remember when she was a fresh face and only 21 in Pan Am it's amazing how far she has come in such a short time.  I've always loved Angelina Jolie and I think most of us would agree she is one of the ultimate icons of beauty, knowledge and success.  She is the kind of woman we will all look at photos of in the future in the same way we look back at Marilyn Monroe, Audrey Hepburn (who I would also include on my list of favorites) or Sophia Loren.  Not just because I have a huge crush on him but, Jamie Dornan is a great actor.  50 shades of grey doesn't show nearly the range he truly has but, I just finished watching his BBC series The Fall with Gillian Anderson and it was amazing.  I binge watched the whole series with my boyfriend in like two days.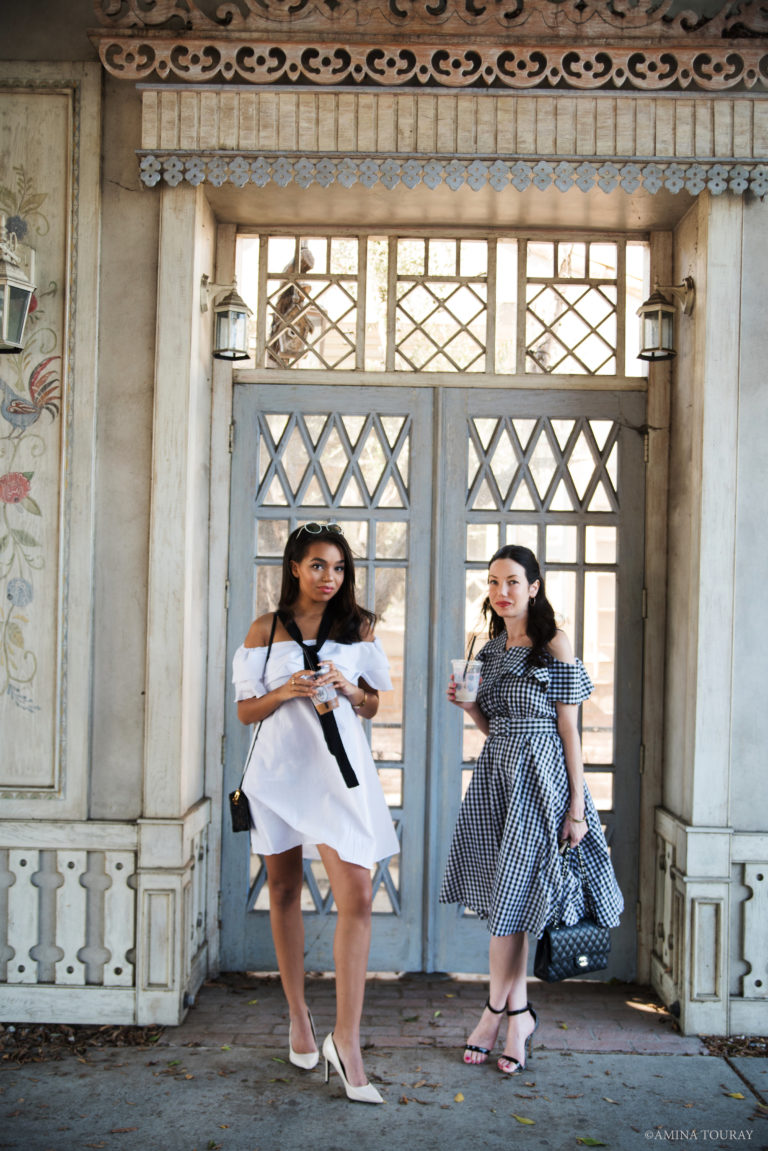 PLS: What have been some of your biggest milestones with your blog so far?
DB: Things that I consider really big milestones in terms of my blogging and interest in the fashion world are typically when I get some new collabs.  I've had amazing opportunities to work with world renowned brands like Zappos, Clinique, Wildfox, Keds, Coach and most recently even Sephora Collection and Maybelline New York.  When recognized for all the hard work that I put in by such amazing brands, it shows that all of my hard work is not for nothing and it feels so wonderful to be recognized by such established companies for what I do.  The second thing I would say other than collaborations that I consider a great milestone, was my feature in the Galore Magazine's Young Hollywood Issue. It was my first press piece on being a blogger and not just an actress.  I'm pretty sure I had a photo from the editorial as my profile pics for like a year because I was so proud of that shoot.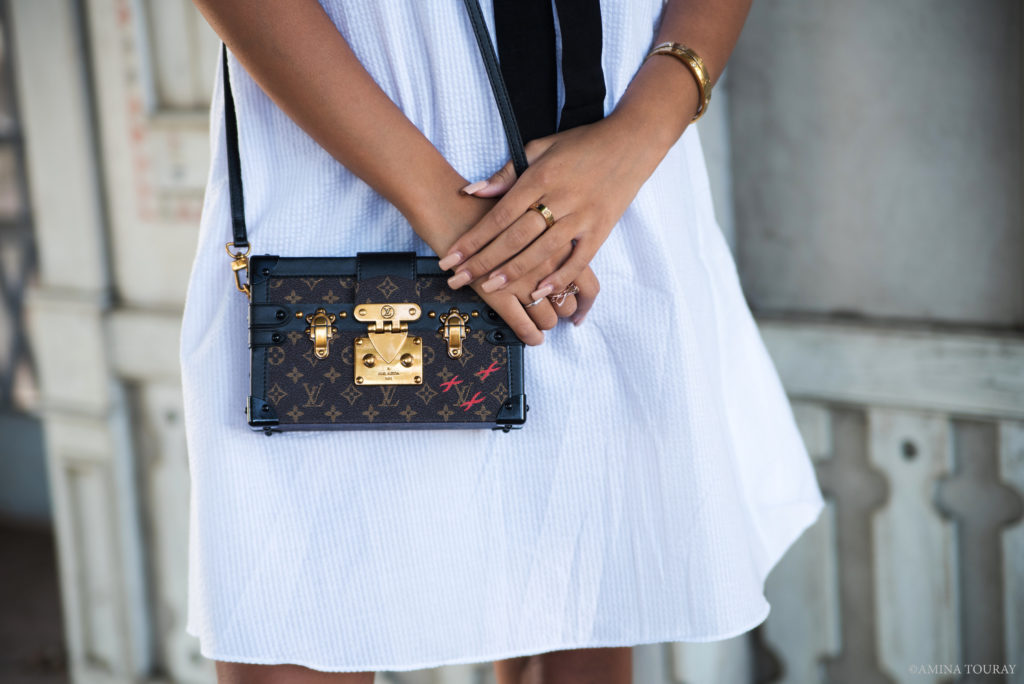 PLS: Favorite Designers?
DB: As we have clearly bonded over, I am a major shopaholic!  I'll start with less idealistic brands whose work and  brilliant creativity I cherish… not necessarily budget friendly but my favorites for those perfect investment pieces.  The first would be Gucci which I know we have bonded over!  The company's recent re-vamp and sort of disco pop vibe I think is utterly brilliant and I die for anything out of any of their recent collections.  My second favorite right now that I absolutely covet is Saint Laurent, enough said… they make tiara's and pair them with a genius rock n' roll meets hollywood glamour vibe, I don't think I could possibly want anything more.  Now, where I shop in real life and not in dream life… I love brands such as Alexis, Adam Selman, Marc Jacobs, Vivetta, MSGM, Alexander Wang, Reformation, Opening Ceremony and high street stores like Zara, Weekday and ASOS is my favorite place to shop online!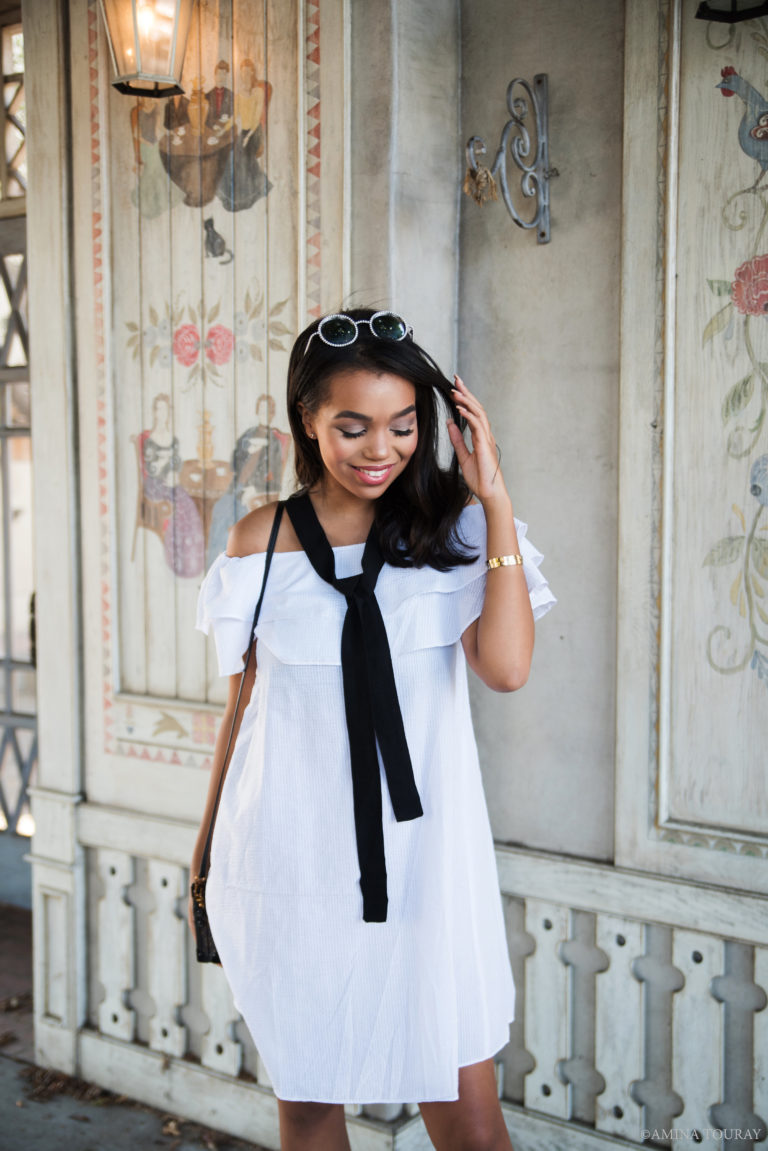 PLS: Favorite LA hangouts (other than Alfred's Tea Room)?
DB: Yes, I do love my usual spot of Melrose Place with both Alfred's Tea and Coffee plus there are a variety of pretty great shops to stop in while you're there on the little shaded side street.  Other spots I love would be Bouchon Bakery off of Beverly Drive in Beverly Hills, I swear that they have the best hot chocolate you will ever have.  If you're looking for perfect scenery for lunch with the ladies I always head to either The Beverly Hills Hotel or The Hotel Bel Air.  Both of those places never let me down and I can always get a perfect dessert and a perfect gram to go along with the day too.  My "only in LA" dinner spots would be Dan Tana's for the best italian you'll ever have and I love Matsuhisa.  It's probably my favorite restaurant in all of Los Angeles even though it's a tad more casual it makes you feel comfortable and the food is divine.  You might even catch Nobu himself casually cooking there on a night off.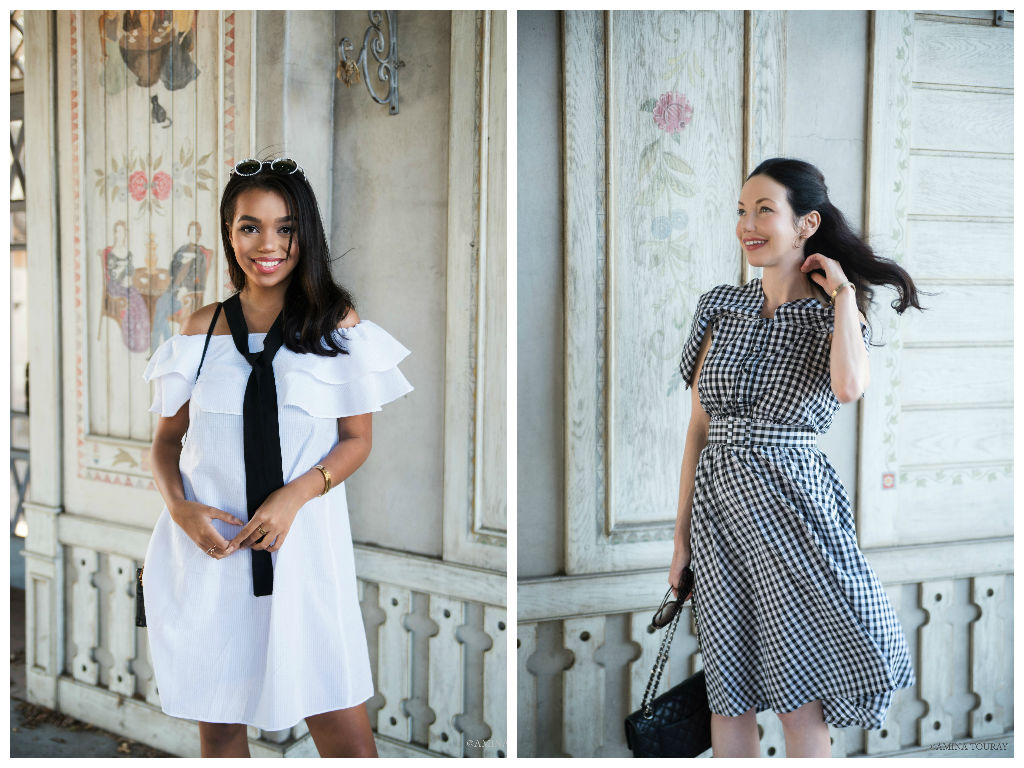 PLS: What was your experience like at New York/London Fashion Week? Are you going this season?
DB: I had the best time last year at New York Fashion week! It was everything that I had hoped it would be and more!  I met a lot of incredibly interesting people with similar interests as me, who were also just looking to expand their opportunities and introduce themselves into the fashion community.  It is rare to get to be around so many like minded people, so it just felt right.  I haven't been to London Fashion Week yet, but I will be next week!  Since I had already planned on heading to London and Paris Fashion Weeks this season I had to skip over New York because of some prior commitments and to prepare for my trip overseas!  However, I do hope to attend again this upcoming February!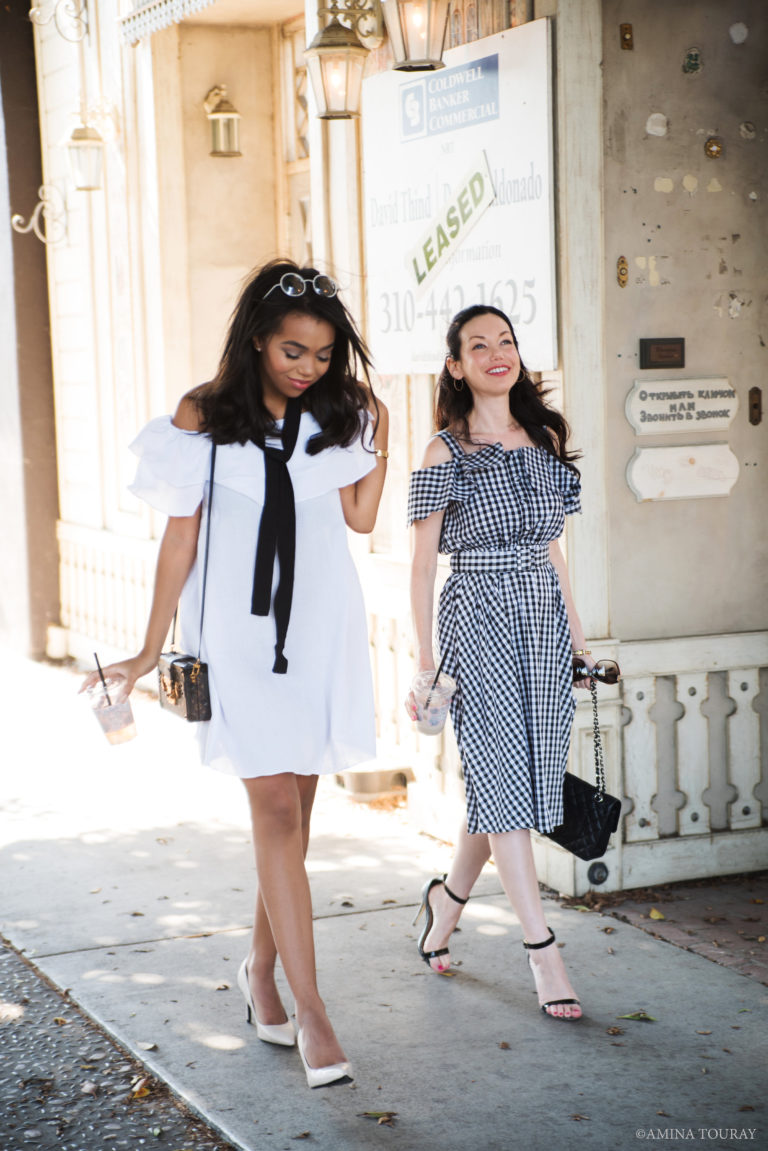 PLS: You just graduated high school and are taking a GAP year. Any exciting travel plans? What University are you planning to attend next year?
DB: Yes, I've had the last few months to really focus on To Style, With Love and acting.  I really think it has payed off and my brand has grown so much from being able to anchor myself down and focus on the blog everyday like you would treat a real business.  Having this year off has also made me super flexible to travel whenever I want.  I went to New York earlier this year for a bit, then I just got home after spending a few weeks in Copenhagen, Denmark with some of my best friends.  It's one of my favorite places to travel, because the city is beautiful and a trip is always more fun when you have great friends to share it with.  And now I will have been home about two weeks and I am heading to Europe for 3 weeks to visit my boyfriend, do some Fashion Week work and travel around a bit.  We will be hitting London, his hometown right outside of the city then flying to Bordeaux for a week and then a week in Paris.  It should be an amazing trip!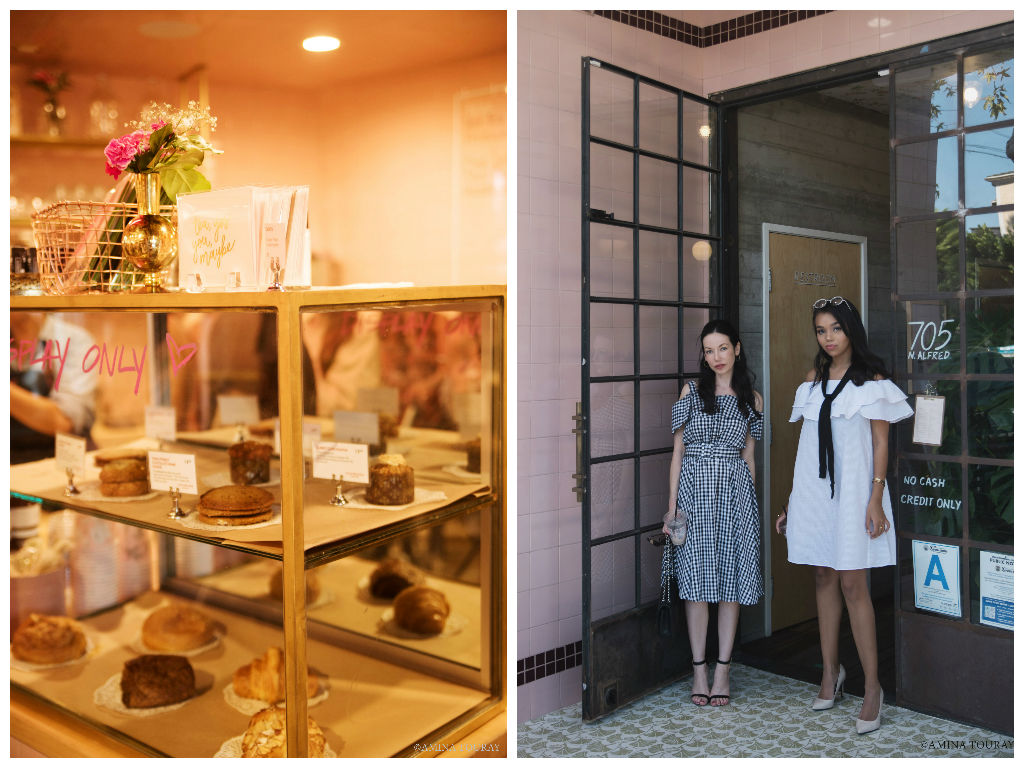 PLS: Where do you see yourself in 5 years? What direction to you see the digital/blogging world headed in?
DB: I would really like to continue to grow my brand and branch out into other modes of fashion.  I want to open an ECommerce branch of To Style, With Love similar to what Chiara Ferragni has done with her own shoe collection, or Rumi Neely with Are You Am I.  I've always been interested in design and I think that blogging is a great platform to help launch into that.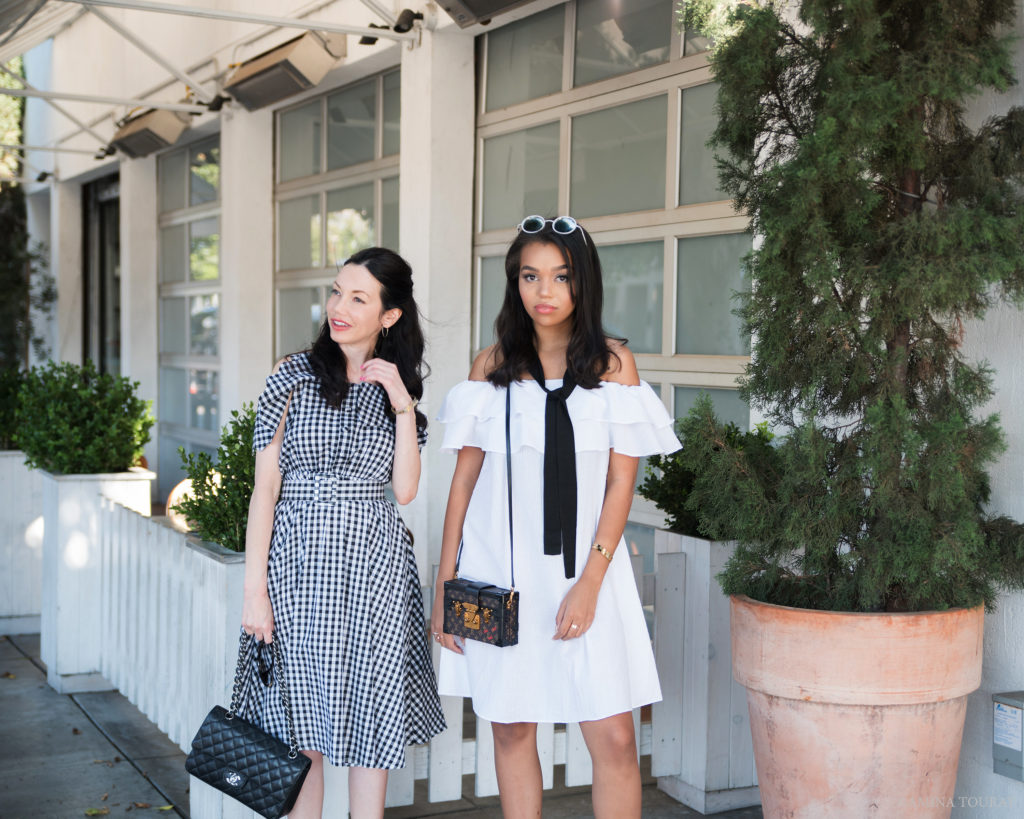 PLS: What is something Exhilarating and Fashionable about yourself that people would be surprised to know?
DB: It would probably have to be the fact that before I started acting, I did competitive horseback riding.  I rode starting when I was 7 and wanted to be in the Olympics eventually.  I think that's pretty fashionable and I still take inspiration from my Stable days in my everyday dressing all the time.  If you are in need of a classing pairing you can never go wrong with a button down, tight leggings and some boots.  Simple yet chic and based off of an equestrian aesthetic.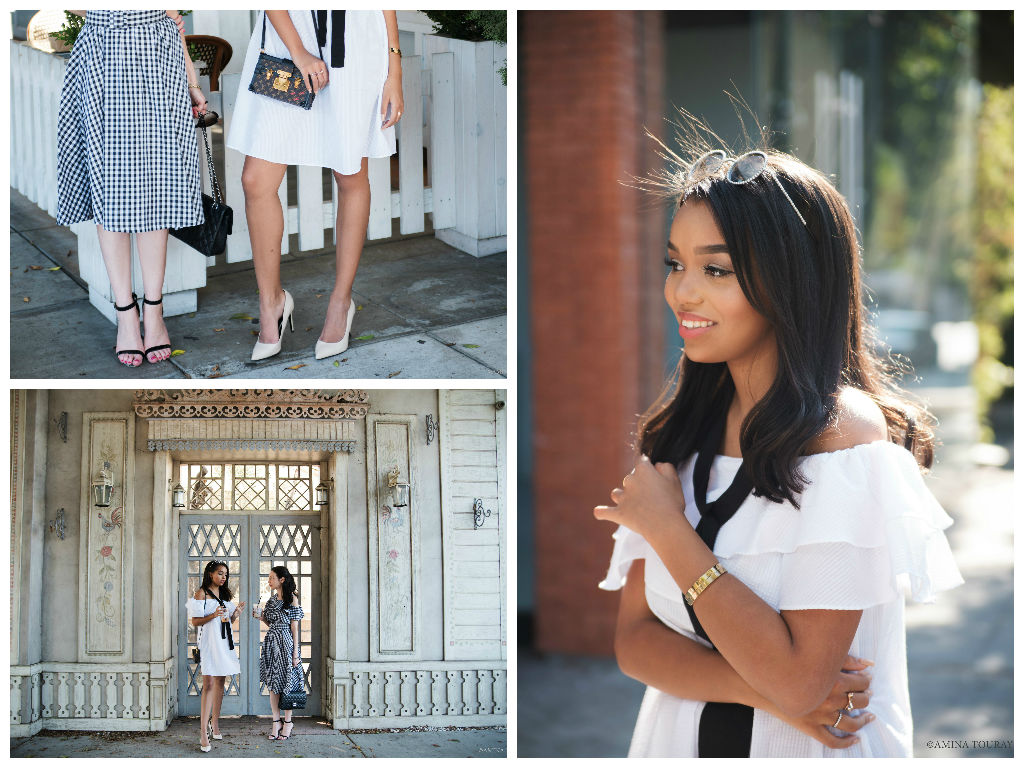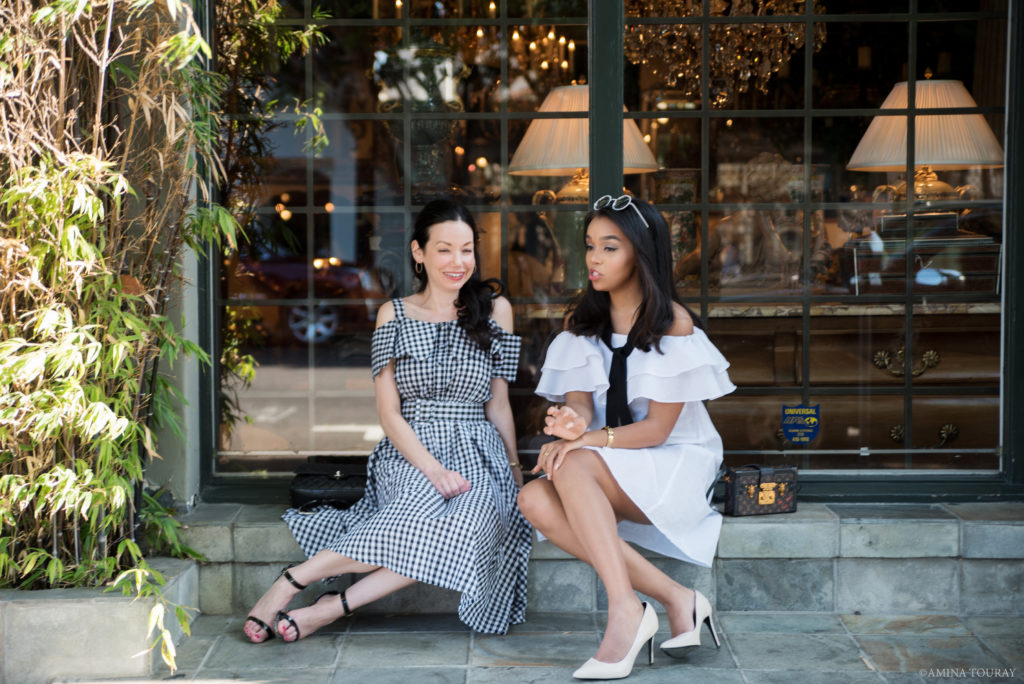 You can visit
Alfred's Tea Room
at 705 N. Alfred Street, Los Angeles, 90069. Open everyday from 9 am to 7 pm. Credit cards only.
I was wearing:
On Daphne:
Thank you so much for reading!
xoxo,
Lisa
Let's Connect!