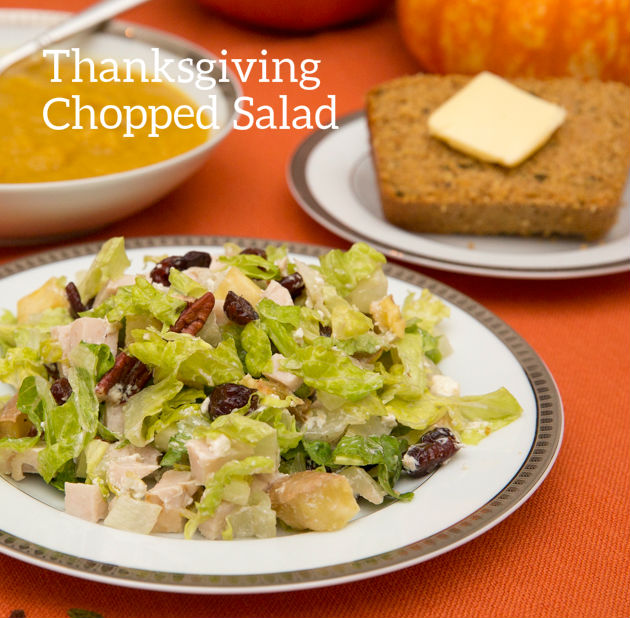 Happy Friday! It's hard to believe how quickly this year has flown by and that Thanksgiving is less than a week away. My house is still in shambles from all of the painting, electric work and redecorating, but somehow I managed to clear away the mess for an evening to create this delicious Thanksgiving Chopped Salad recipe.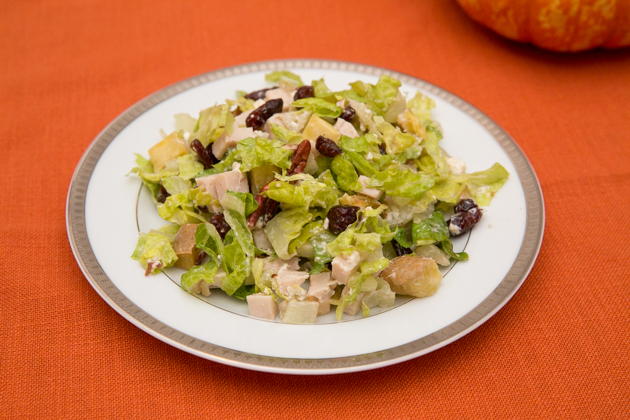 I had actually been dreaming of this recipe for awhile, but just hadn't had the time to test it out. Normally, by the time Mo and I get together to shoot a recipe, it's been tried and tested to tasty perfection. With everything going on at the house it's been a bit impossible to make plans, so this time I invited Mo over to wing it with me. He not only shot this delicious menu with me, but did an awesome job as sous chef and consultant as well. Surprisingly, I had never seen a Thanksgiving Chopped Salad on a menu before and I agonized over what to include. Turkey and cranberries were no brainers of course, but what about squash, pumpkin or sweet potatoes? And cheese or no cheese? Croutons? Any skill set used for the decision making process lately has been used up to handle the house situation. Needless to say, I literally went nuts over whether to use walnuts or pecans.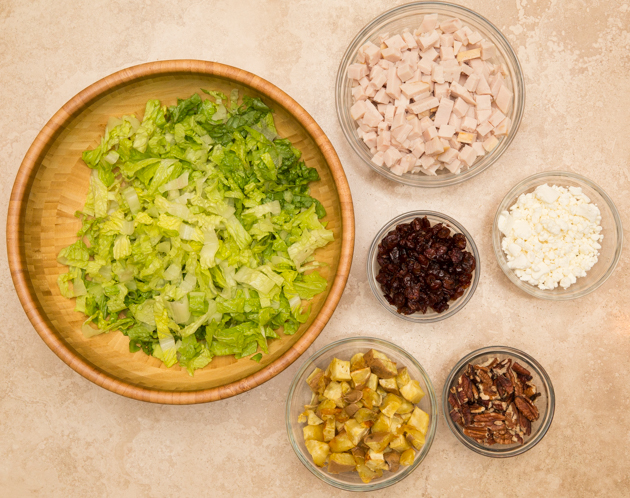 So all that being said, I was pretty thrilled with how this Thanksgiving Chopped Salad came out! Pure holiday perfection on the first try and I wouldn't change a thing the next time I make it.
What you will need:
1 head of Romaine lettuce washed and chopped
1/2 lbs. chopped turkey
1 large sweet potato roasted and chopped
1/2 cup goat cheese crumbles
1/2 cup pecans toasted and chopped
1/2 cup dried cranberries (I used Eden Organic as they are sweetened with apple juice instead of sugar)
To make the dressing:
1/3 cup extra virgin olive oil
1/3 cup pomegranate or fig vinegar (we used pomegranate)
1 heaping teaspoon crème fraiche (you can use some of the goat cheese if you don't have any crème fraiche on hand- add less or more depending on how rich and creamy you want the dressing to be)
1/2 of a small shallot
sea salt and freshly ground pepper to taste
** Use organic ingredients where possible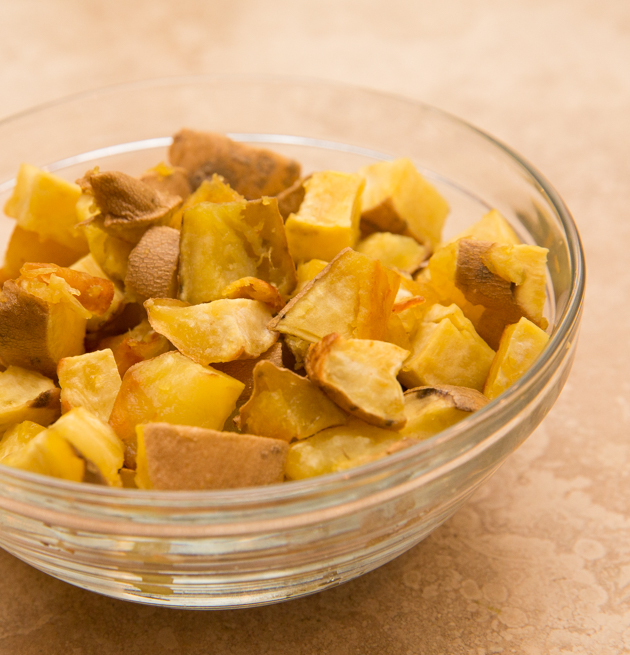 Chop of the sweet potato, drizzle it with olive oil and sea salt and roast it in a 375 degree oven for about 45 minutes or until soft. Remove from oven and let the sweet potato bites cool as you prepare the rest of the salad.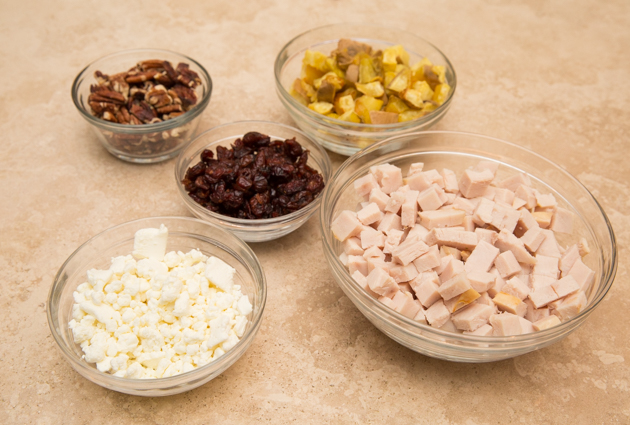 Use a blender to chop the shallot and then blend in the remaining dressing ingredients. Toss everything together just before serving so your salad doesn't get soggy.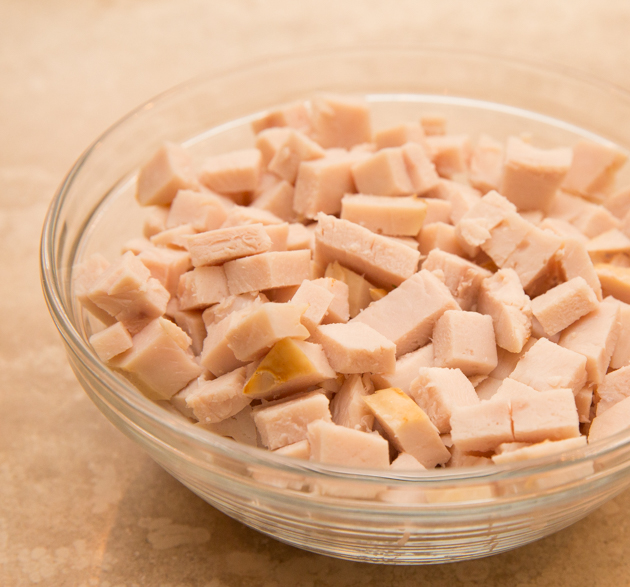 Ask your deli person to slice the turkey into thick pieces so you can easily dice it up. Or you can use leftover turkey from Thanksgiving.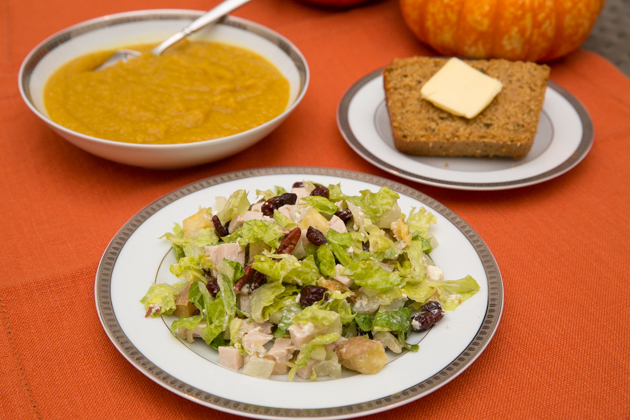 This recipe was dreamed up as an entire meal including a Delicata squash soup and cornbread. Yes, I agonized over the soup recipe as well. It ended up coming out absolutely perfect and I can't wait to share the recipe with you tomorrow.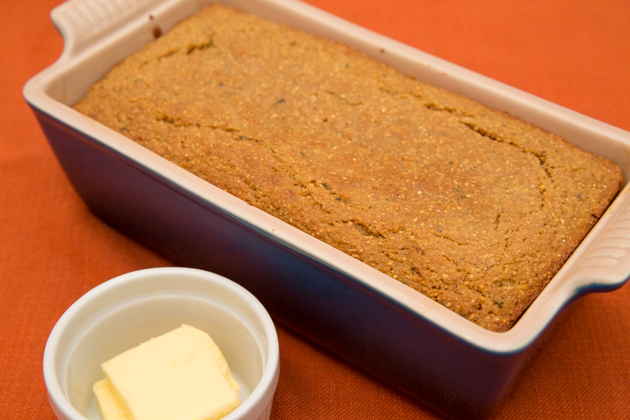 The sprouted corn bread recipe came from a fabulous blog I just discovered called Free and Native.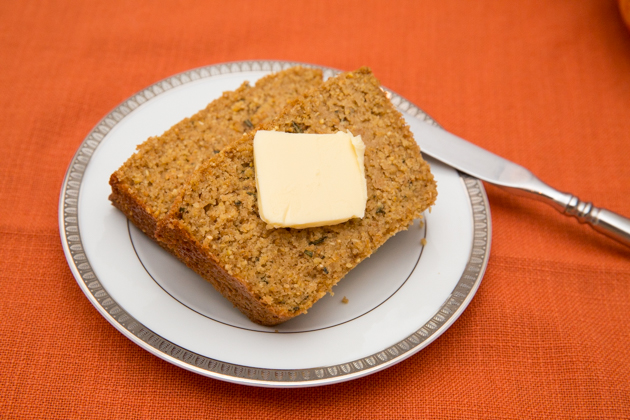 I would highly recommend checking out Lacy Phillips' blog and making this delicious Sprouted Corn Bread for your holiday table. We used the exact recipe and didn't change a thing.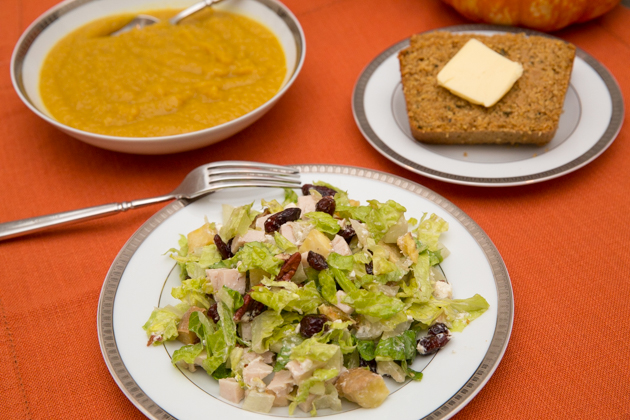 This menu is a great option for a pre or post Thanksgiving lunch or dinner. Most of the preparation can be done in advance, so it's great for a casual night hosting friends and family. With the turkey and cranberries, I've called it a Thanksgiving Chopped Salad, but I'm planning to make this again next month as it will be a lovely menu throughout the holiday season.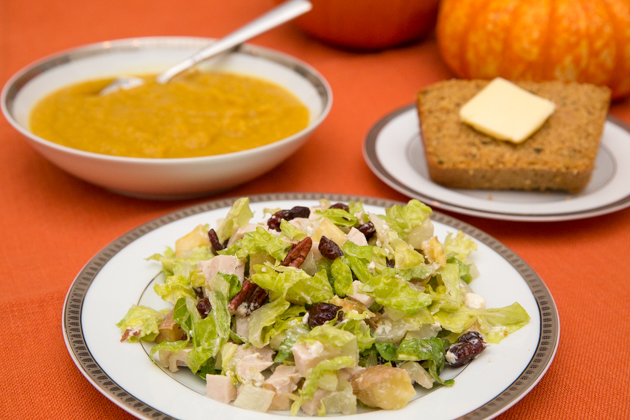 Please let me know what you think of the recipe! What are your favorite holiday recipes? Please share in the comments below.
Photos by Mo Summers.
Thank you so much for stopping by!
xoxo,
Lisa
Let's Connect!