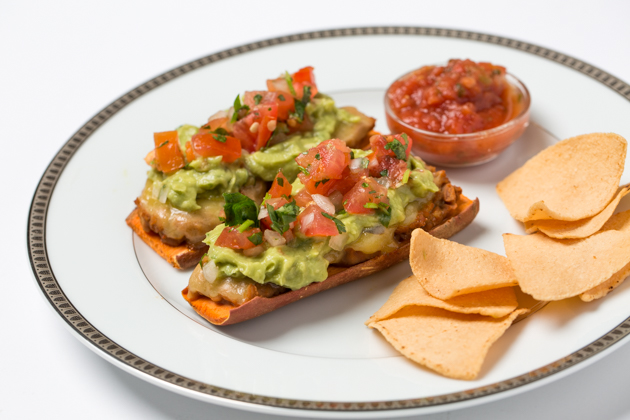 Happy Tuesday! I've been so excited to share this latest recipe I created: The Sweet Potato Toast-ada! This recipe is so nutritious, delicious and easy to make that I seriously can't believe it's not all over Instagram. I've been rather infatuated with Sweet Potato Toast since I discovered it last year and you might have already caught my recipe for
Turkey and Cranberry Sweet Potato Toast
. When I first started brainstorming a way to make a Mexican version of Sweet Potato Toast, I was surprised to see that all of the Sweet Potato Toastada recipes I found online were simply sweet potatoes and beans thrown on top of a tortilla. A little experimentation and the Sweet Potato Toast-ada was born. Seriously guys, this is major!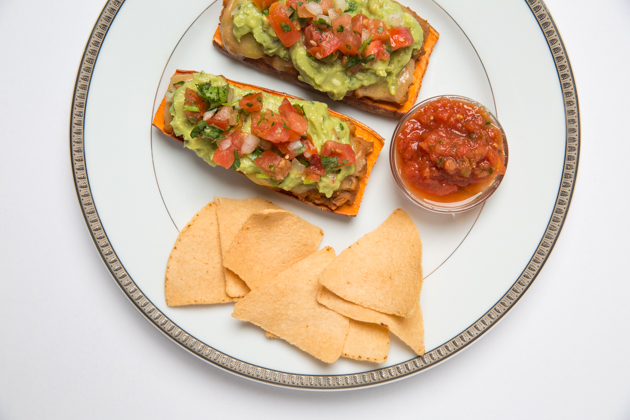 You will need:
Two large sweet potatoes
One can refried beans
4 – 6 oz. cheddar or jack cheese (or your favorite combination of Mexican cheeses)
Guacamole
Pico de Gallo
Chips and Salsa to serve. I used The Real Coconut
grain free chips
made with coconut and cassava. I also love this brand of grain free chips
here
.
**Use organic ingredients where possible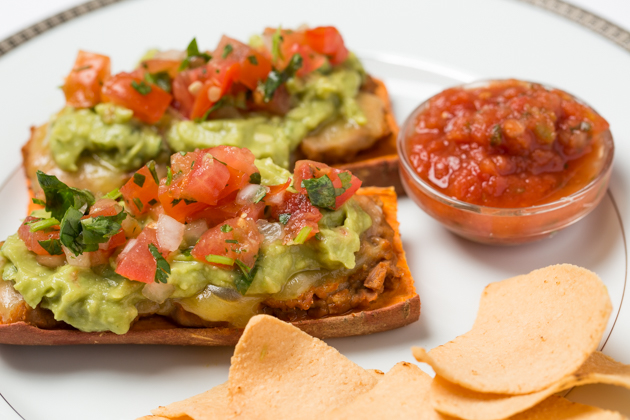 Preheat the oven to 400 degrees.
Trim the ends of the sweet potatoes and cut into "toast". Place the slices on a baking sheet and bake for 20 to 30 minutes or until the toast is soft, but not mushy. While the toast is cooking, shred or slice the cheddar chesse. You can also prepare homemade guacamole, pico de gallo or salsa while the toast is cooking. Or just buy prepared versions and have a Margarita while you wait. 🙂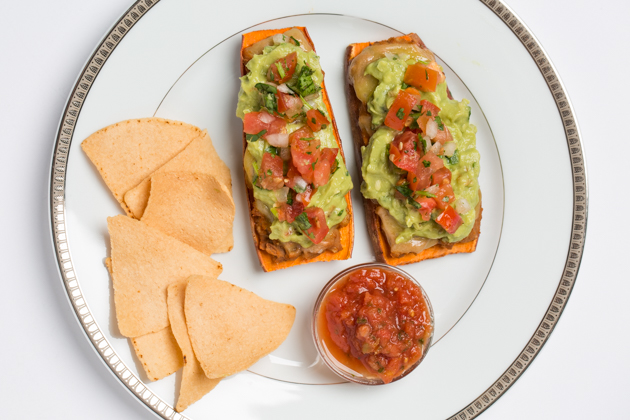 Remove the toast from oven and carefully spread a layer of beans on each piece. Top with your desired amount of the shredded or sliced cheese. Replace the baking sheet in the oven and cook for an additional 5 to 7 minutes or until the cheese begins to melt.
Remove the toast from the oven and top with a layer of guacamole and pico de gallo. Serve immediately.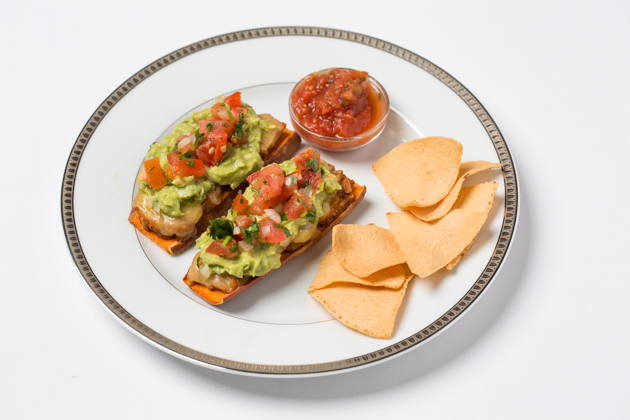 This dish is a great appetizer, or serve as a meal with a
salad
and a side of chips and salsa. Mo and I went crazy over how yummy this recipe is! This Sweet Potato Toast-ada is about to become heavy on the menu rotation in my house.
What do you think of my sweet potato toast-ada recipe? Let me know if you try it at your house.
Thank you so much for stopping by!
xoxo,
Lisa
Let's be social!