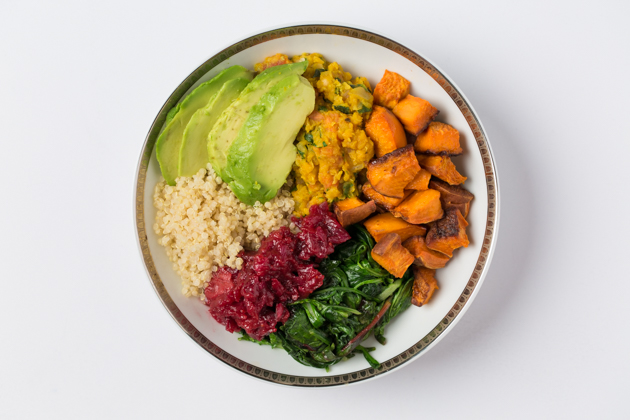 Happy Friday! I'm so excited to share this Quinoa Dal and Sweet Potato recipe with you guys because it's plain and simple comfort food at it's best! A perfect vegetarian combination of sweet and savory delights and also nutrient dense! The dish is inspired by the
Humble bowl
at Café Gratitude which I am always craving. I'd probably have to order one a couple of times a week if I had a Café Gratitude near my house. But alas, I had to make the "Humble at Home" bowl. Or as the hubby likes to call it, the "everything you always wanted in a bowl" bowl. Sweet potatoes, cranberries, dal, quinoa, avocado and sauteed greens. It really does have
all my favorites
!
The only thing I would maybe add is some seared wild salmon if I'm in the mood for a little bit of extra protein!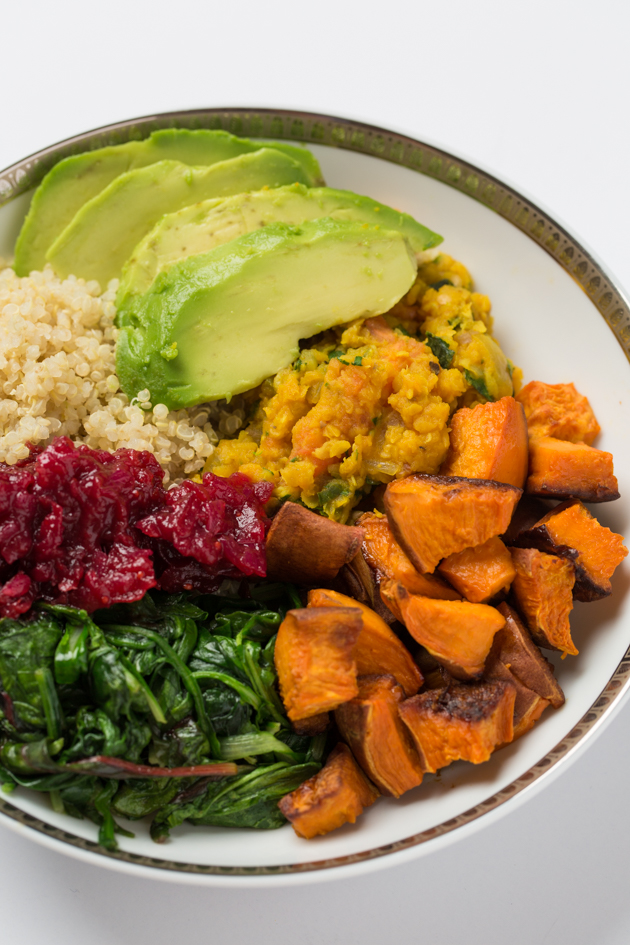 Quinoa Dal and Sweet Potato Bowl
Ingredients
2

large sweet potatoes

About 10 oz. greens of your choice

Swiss chard, spinach, mustard greens, kale or spinach will work or a combination. I love these blends here and here

1 1/2

cups

cooked quinoa

Red lentil dal

recipe below

2

avocados

Honey sweetened cranberry chutney

recipe here

Ghee or coconut oil
Instructions
**Use organic ingredients where possible

Preheat the oven to 400 degrees. Chop the sweet potatoes into 1 inch cubes. Drizzle with olive oil and bake for 25 to 35 minutes until the sweet potatoes are soft. Cook the quinoa while the sweet potatoes are roasting in the oven. You can also prepare your dal at this time (just make sure you have your lentils cooked and ready ahead of time).

Assemble your bowls by placing a scoop of quinoa, greens, dal and sweet potatoes side by side. Top with a small serving of the cranberry chutney and half of an avocado sliced to garnish. Serve immediately. Makes 4 bowls.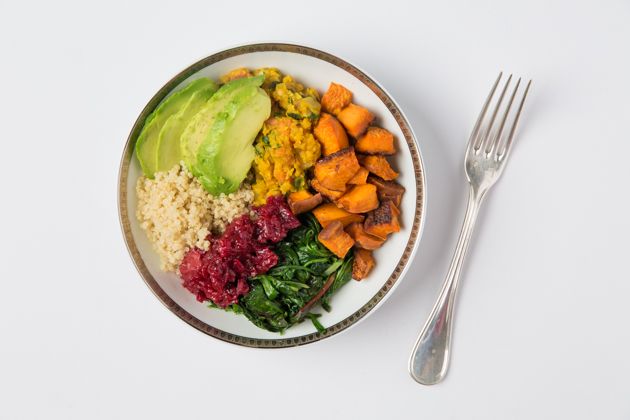 To make the Red Lentil Dal:
1 1/2 cups dried lentils prepared
1/4 cup ghee
1 cup finely chopped onion
4 to 5 Roma tomatoes (peeled seeded and chopped)
3 cloves garlic minced
1 green chili pepper finely chopped (wear gloves while chopping)
1 Tbsp. freshly grated ginger
Juice of 1/2 lemon
1 tsp. cumin
1 tsp. turmeric
Handful of chopped cilantro
Sea salt and pepper to taste
Melt the ghee in a shallow Dutch oven or saucepan (I love this pan by Le Creuset
here
). Sautee the chopped onion, chili pepper and garlic until soft. Add in the lemon juice, tomatoes, ginger and spices and bring to a simmer. Quickly add in the prepared lentils and season with desired amount of sea salt and freshly ground pepper. Remove from heat and cover to keep warm until you are ready to assemble your bowl. I love the
Le Creuset pans
because they seal in heat when covered and keep lentils, rice and quinoa warm for quite some time while you are preparing your other dishes.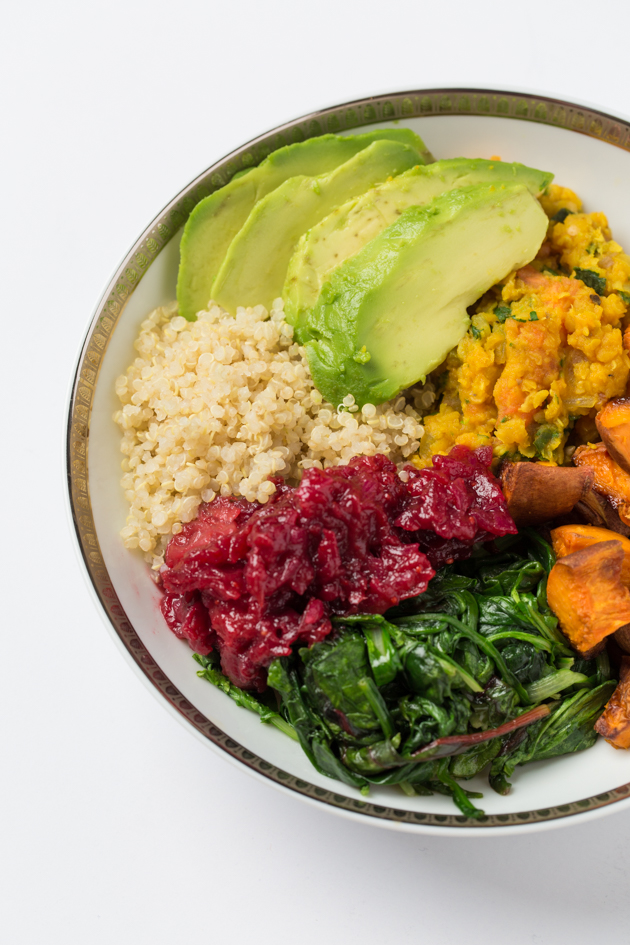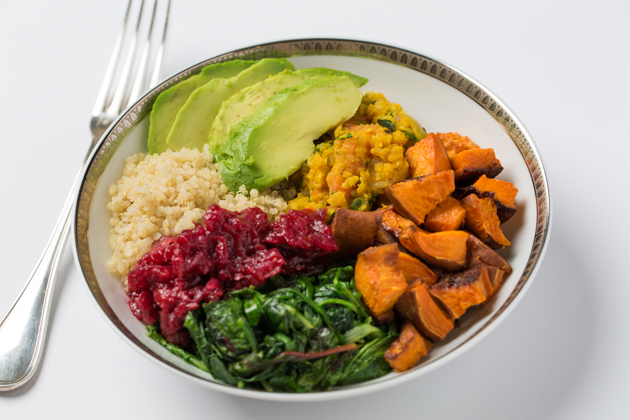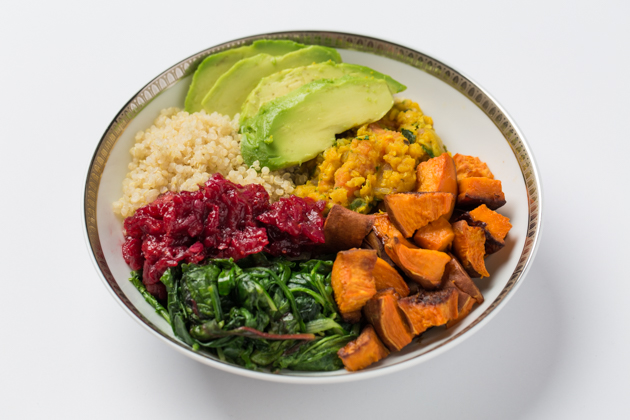 What do you think of this Quinoa Dal and Sweet Potato Bowl? Do you have a favorite bowl recipe? Please let me know as I would love to try it!
Thank you so much for reading!
xoxo,
Lisa
Let's be social!