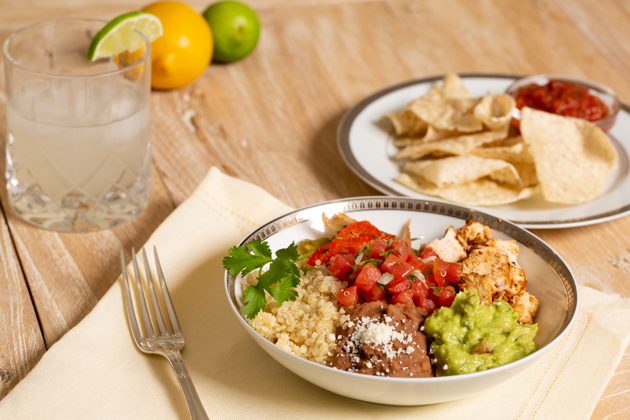 Happy Thursday! With Cinco de Mayo just around the corner, I wanted to share my Mucho Delicious Bowl recipe. Like most Instagram obsessed foodies, I've caught onto the bowl craze with a passion. This Mexican take on the "Buddha Bowl" will leave even your pickiest eaters going back for seconds. Achiote chicken, sauteed veggies, quinoa, refried beans, Cojita cheese, guacamole and Pico de Gallo! What more could you ask for in a bowl? Serve with salsa, grain free chips (I love this brand and this one too) and a pitcher of Margarita's and you'll have your Cinco de Mayo celebration literally in a bowl. 🙂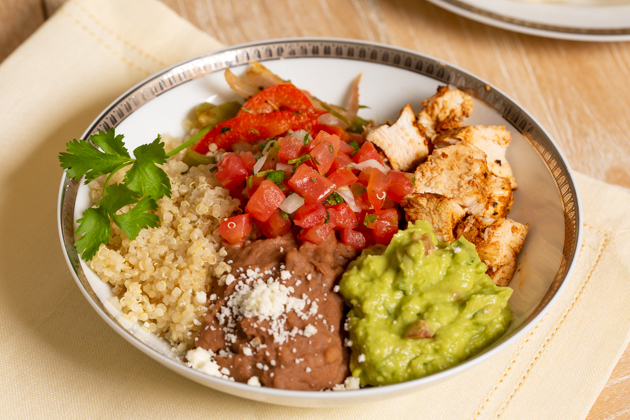 You will need:
Refried Pinto Beans (I use fat free and cook them in coconut oil)
1 1/2 to 2 cups cooked quinoa
1/2 cup Cojita Cheese or Queso Fresco
1 1/2 lbs. Achiote chicken chopped (recipe below)
Sauteed bell peppers and onions (recipe below)
Guacamole
Pico de Gallo
Chips, Salsa and Margaritas to serve
**Use organic ingredients where possible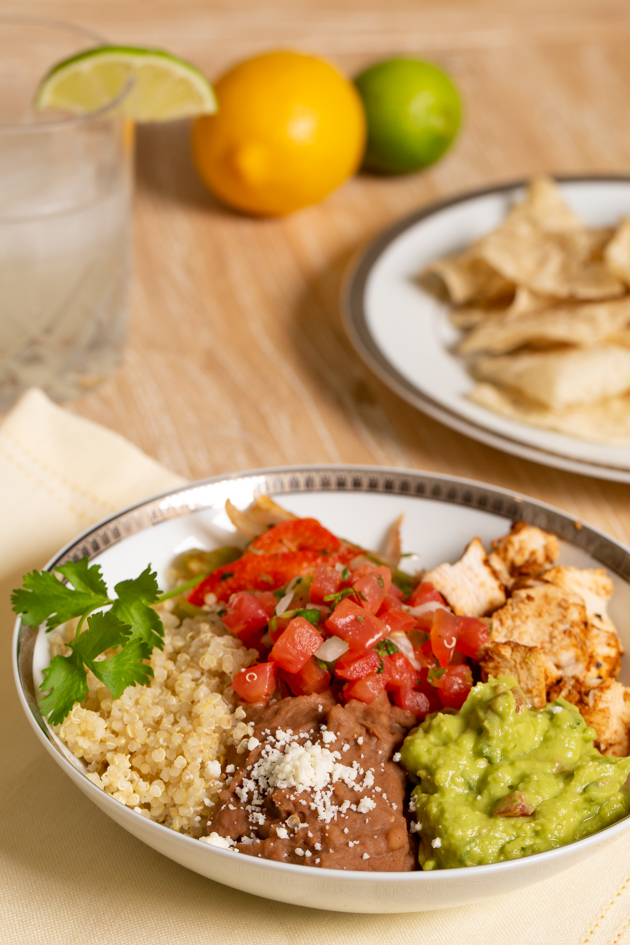 To make the sauteed bell peppers and onions:
1 red bell pepper
1 red onion
Cilantro (finely chopped) – Set aside a few sprigs ahead of time to garnish your bowls)
Ground cumin
Dried oregano
Extra virgin olive oil
Sea salt and ground black pepper to taste
Cut the red bell pepper and red onion into strips lengthwise. Heat a large sautee pan to medium and add a couple of tablespoons of olive oil. Add the bell pepper and onions and sautee till veggies are crisp tender and onions start to turn a golden brown. Add the ground cumin, dried oregano and chopped cilantro and cook until tender and thoroughly blended. Season with the sea salt and ground black pepper to taste. **I like to keep some homemade chicken broth on hand to add if veggies start to get dry. You can also add a bit more olive oil or water if needed.
Cover veggies and remove from heat until you are ready to assemble your bowls.
To make the Achiote Chicken:
1 1/4 lbs. organic chicken breasts or tenders (skinned and deboned)
Juice of one orange
1 Tbsp. apple cider vinegar
Olive oil, sea salt and ground pepper to cook
Mix the Achiote seasoning, orange juice and apple cider vinegar in a glass container or marinating square. Rinse the chicken breasts and pat dry with paper towels. Add the chicken the marinating squares and thoroughly coat with the Achiote mixture. Place in refrigerator to marinate for at least an hour (or overnight if you want to prepare this ahead of time).
Preheat a large frying pan to medium-high heat. Add a couple of tablespoons of the olive oil to coat pan and then add the marinated chicken breasts. You can pour some of the extra sauce in the pan as well. Pan sear the chicken for about 6 minutes on each side until lightly browned on both sides. Remove chicken to a cutting board and cut into bite sized pieces. Replace chicken to frying pan and cook for another minute or two until chicken is cooked thoroughly. You can add extra olive oil, chicken broth or the rest of the Achiote mixture as desired.
Remove from heat and cover to keep warm while you are assembling your bowls.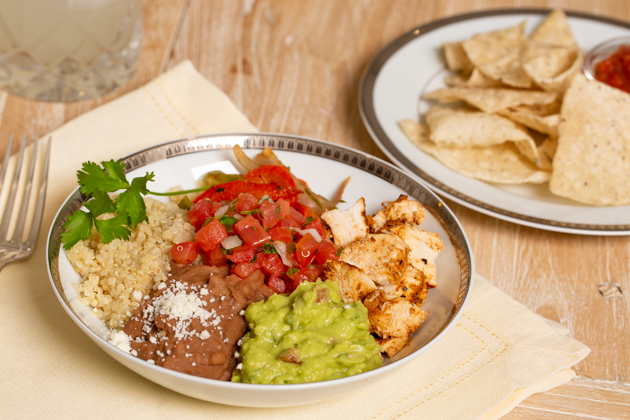 To assemble your Mucho Delicious Bowls:
Place a serving each of the quinoa, Achiote chicken, refried beans, guacamole and sauteed vegetables in each bowl. Add a dollop of Pico de Gallo to the center of the bowls. Sprinkle a bit of the Cojita cheese on the beans (put the rest on the table for those who want more cheese) and garnish the bowls with a sprig of cilantro. Makes 4 bowls. For vegetarians just leave out the chicken or try my recipe for
Sweet Potato Toast-adas
.
Serve with a side of chips and salsa and your favorite Margaritas… after all, some people consider this holiday to be Cinco de Drinko. 🙂
Do you have any plans for Cinco de Mayo this weekend? Do you have any Mexican recipe favorites? Please let me know as I always love to try out new culinary adventures. And let me know what you think of these Mucho Delicious Bowls too!
Thank you so much for stopping by!
xoxo,
Lisa
Let's be social!