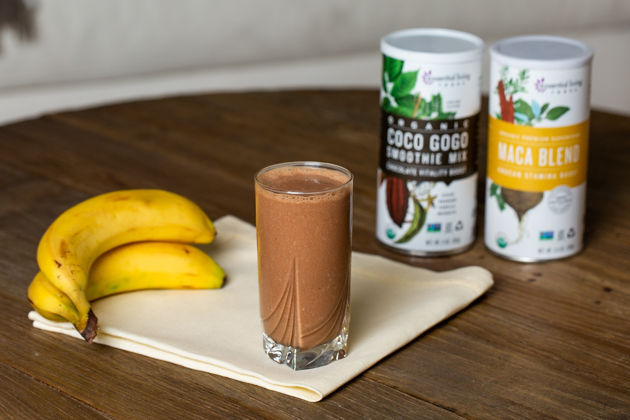 Happy Monday! I hope your week is off to a great start! I've actually been pretty stressed out lately as our house still hasn't sold and it's really taking it's toll on me. Since I'm an LA girl through and through, I'm all about trying the latest health craze and one of the ways I've been dealing with my anxiety lately is to incorporate adaptogens into my diet. After much experimenting, today I'm excited to share my easy to make Chocolate Banana Adaptogen Smoothie Recipe.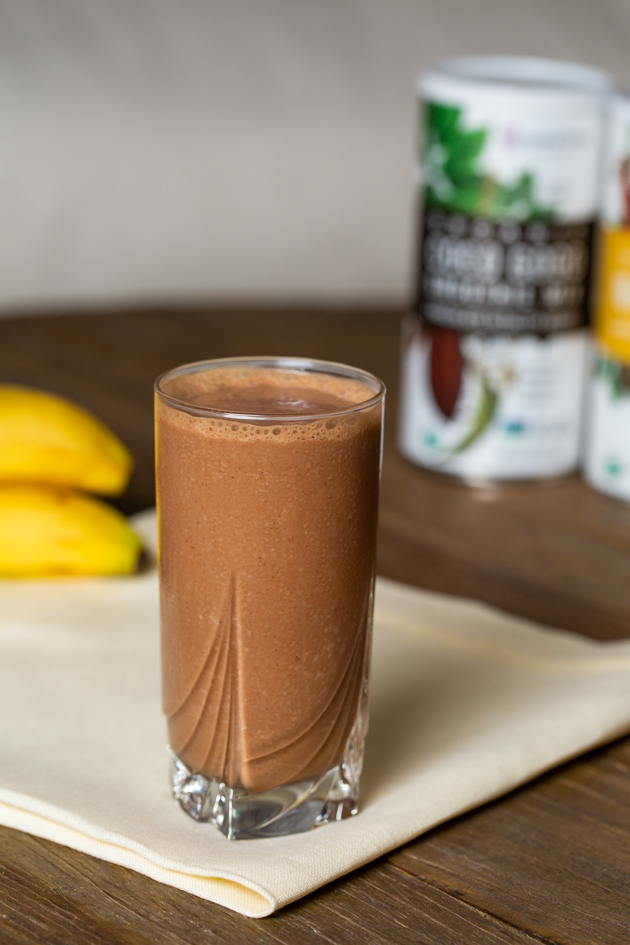 So by now you might be wondering, what the heck are adaptogens and why should I put them in my smoothie? An adaptogen is a natural substance considered to help the body adapt to stress and to exert a normalizing effect upon bodily processes. While you might have just started hearing about these herbs, mushrooms and roots that help the body "adapt", they've actually been used in Ayurvedic and Chinese medicines for hundreds of years. Their health benefits include boosting energy levels, balancing hormones and soothing inflammation.
With so many different adaptogens to choose from it can become a little overwhelming (if not expensive), so I was really happy to discover the blends put together by Essential Living Foods. I combined
Essential Living Foods Coco Gogo Smoothie Mix
(with Lucuma, Mesquite and Guarana) and added a serving of
Essential Living Foods Maca blend
(with maca, ashwaganda, cinnamon and mushroom powder) to create the perfect adaptogen smoothie cocktail. Trust me when I say that you'll be on a natural high when you try this delicious drink. And did I mention that it tastes like a chocolate banana milkshake?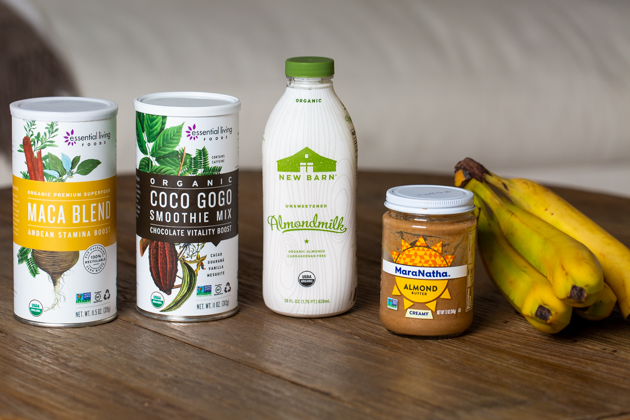 You will need:
2 Frozen Bananas (slice before freezing)
1 1/2 cups almond milk
10 to 14 ice cubes
**Use Organic Ingredients where possible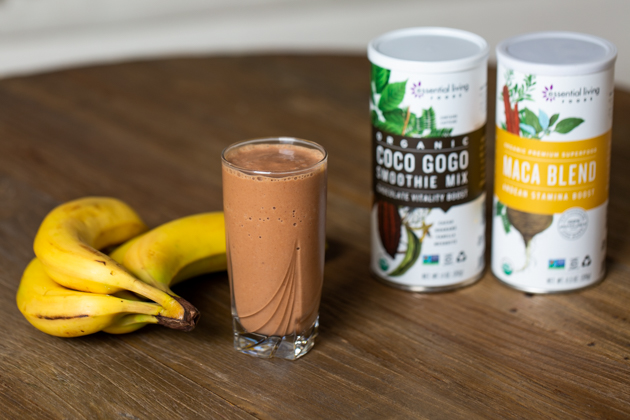 Place the ice cubes and frozen banana slices in your blender and crush (cover your ears, this will be loud). Add the remaining ingredients and puree until blended. You might want to add additional almond milk or water if the smoothie is too thick. Or you can add extra ice and less liquid and eat it with a spoon for a delicious frosty treat. Makes 2 servings.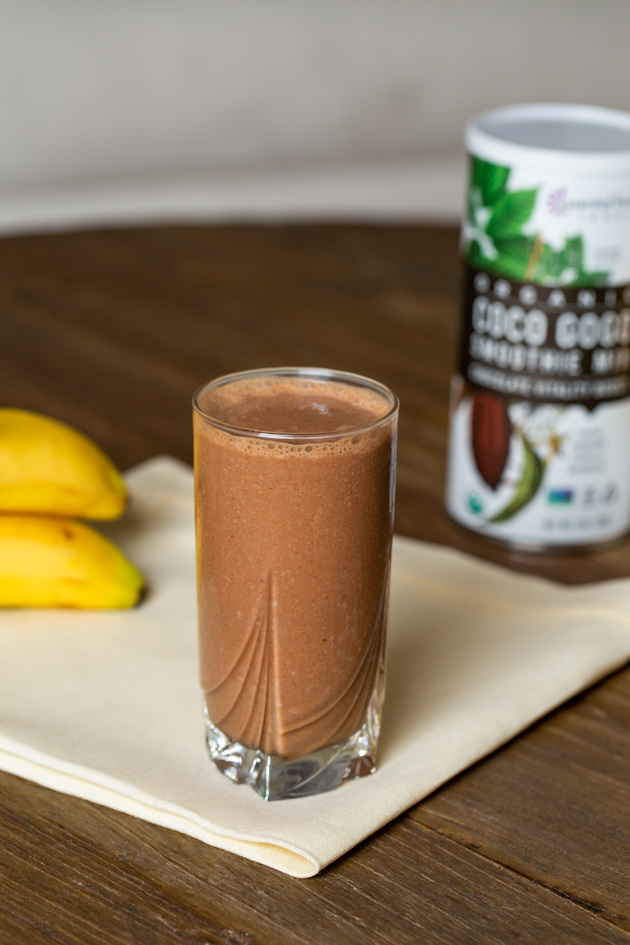 Have you tried incorporating adaptogens into your wellness routine yet? I'd love to hear about your results and favorite recipes. And please let me know what you think of my Chocolate Banana Adaptogen Smoothie recipe. You can tag me on Instagram
@lisavmorgan
with your photos and stories.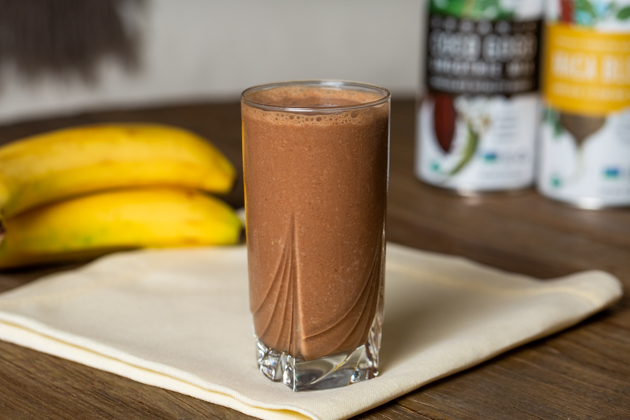 Thank you so much for reading!
xoxo,
Lisa
Hearts of Gold Blog • Madam Andrews • Navy Grace • To Thine Own Style
The Beauty Girl Report • My Life Well Loved • Outfits & Outings • Street Style Squad • A Gallon of Glitter
Whit Wanders • Dress Me Blonde • Lifestyles by Lauren • The Daiquiri Diaries
Breakfast at Lilly's • Posh Classy Mom • Hey Kaily Mae • Have Need Want
The Girl in the Yellow Dress • DTKAustin • Coming Up Roses • The Trendy Tomboy
Hello Darling Blog • Glamorous Versatility • Lizzie in Lace • SideSmile Style
Haute Sweat • Love, Kimber • Sandy a la Mode • The Blushing Life • Style Beacon
Trendy Chickadee • Tekwani Travels • The Confused Millennial • Stylish Sassy & Classy
Styled By Nelli • Isn't That Charming • Ali-ish • Adored by Alex
Lunchpails and Lipstick • Maybe I Will • Pretty Little Shoppers
This giveaway is brought to you by the amazing influencers below! Enter by performing the actions listed in the Rafflecopter for a chance to win a $1,000 Gucci E-Gift Card!
Make sure to do the actions in the Rafflecopter before marking they are done! Marking done doesn't automatically perform the action. Good luck! Winner will be announced in the Rafflecopter on this blog post.
One winner, giveaway runs from May 14, 2018 to May 21, 2018 (concludes at 11:59 PM on the last day). Open internationally. Void where prohibited. By entering you are agreeing that you are performing the actions in the Rafflecopter that you have marked as done. By entering you acknowledge that you are agreeing to these newsletter subscriptions and all other terms & conditions of the giveaway. More giveaway details can be read in the terms & conditions here. Winner will be announced within 14 days of the conclusion of the giveaway and entries will be verified by the hosts. Thanks for participating, I can't wait for you to go check out these wonderful bloggers!
Let's be social!