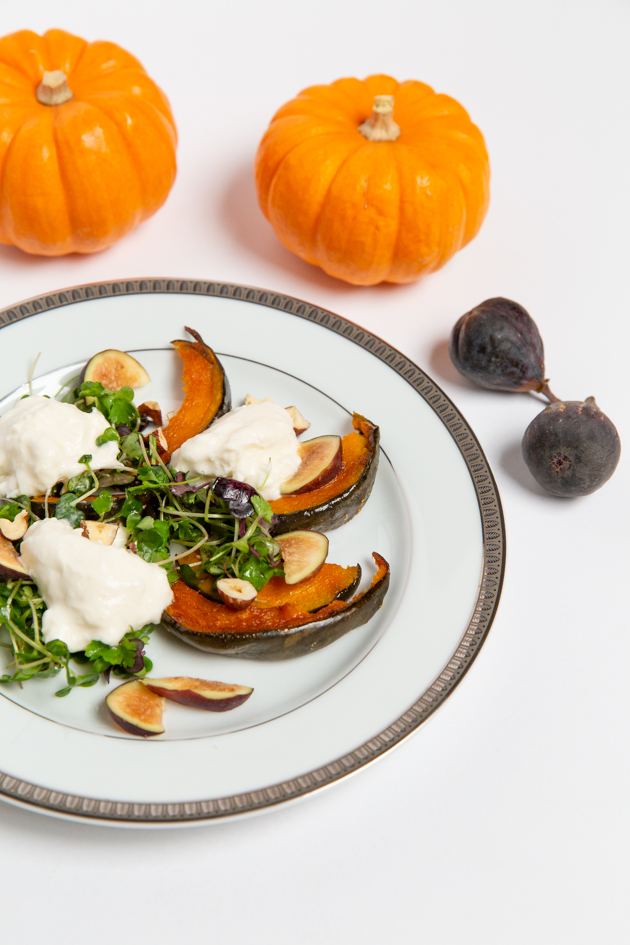 Happy Monday! I hope you had a wonderful weekend! We had quite a few thunder showers and lightening this weekend, followed by sunshine on Sunday. I attended Rachel McCord's "
The McCord List
" photo shoot on Saturday afternoon and the rain cleared up for just enough time to sip champagne and shoot some glamorous Gatsby themed photos in the Hollywood Hills. As a native Angeleno, I must say that I actually love a good rainy day… that is if I can cozy up at home and don't have to fight traffic on the 405!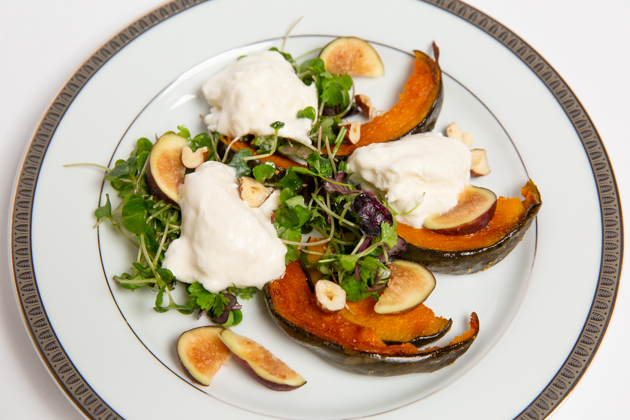 Speaking of getting cozy, I'm so excited that Pumpkin season is here! There's nothing like cozying up with seasonal comforts like a hot
Chai Latte
or
Gluten-free Scone
 in this nice crisp weather! To get the Fall Food seasonal menu started, I'm debuting this Pumpkin Burrata Salad with Fig Vinaigrette Dressing as the perfect starter for any Fall or Winter themed festivity. It's easy to prepare in advance so you'll have more time to spend with your guests.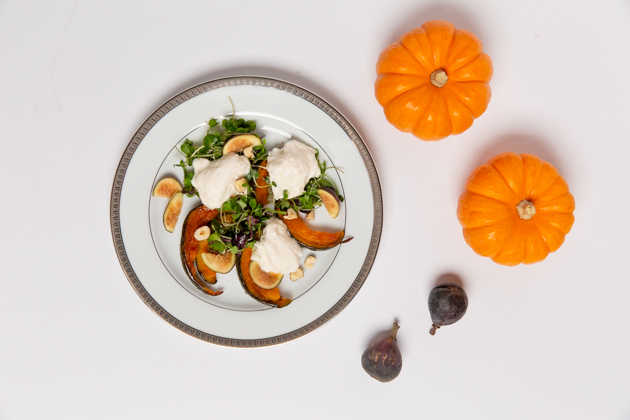 You will need:
1/2 Pumpkin or Kabocha Squash (aka Japanese Pumpkin) roasted and sliced (Prepare in advance. Instructions below.)
8 oz. Burrata Cheese (Mozzarella will also work)
4 to 6 fresh figs finely sliced
1 to 2 oz. Hazelnuts (sliced in half and toasted)
2 oz. Micro Greens
To make the vinaigrette:
1/4 cup Fig Vinegar (I'm obsessed with
this one
)
1/2 cup Extra Virgin Olive Oil
1 tsp. Dijon mustard
Sea salt and freshly ground pepper to taste
**Use organic ingredients where possible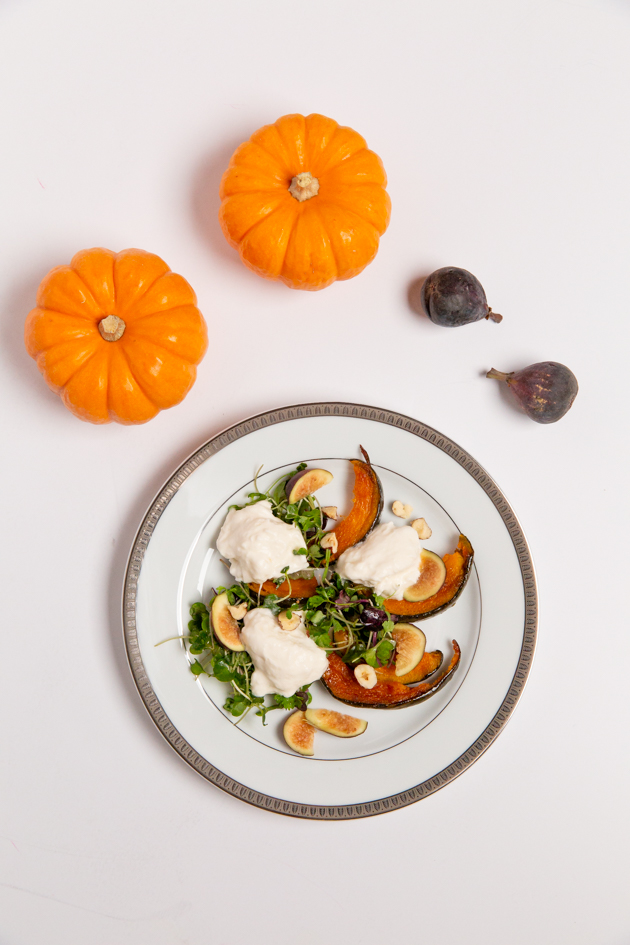 Pre-heat the oven to 400 degrees. Rinse your sugar pie pumpkin or Kabocha squash and set it on a baking sheet on the top rack. Let cook for about 30 minutes until soft enough to cut. Remove from oven and let cool until you can cut it (but leave the oven on). When pumpkin has cooled down, slice it into thin strips and place it on a baking sheet or roasting pan greased with olive oil, butter, ghee or coconut oil. Drizzle the slices with more olive oil and a pinch of sea salt and replace to oven. Cook until crisp and lightly toasted (about 10 to 20 more minutes). Remove from oven and let cool while you are preparing the rest of the salad.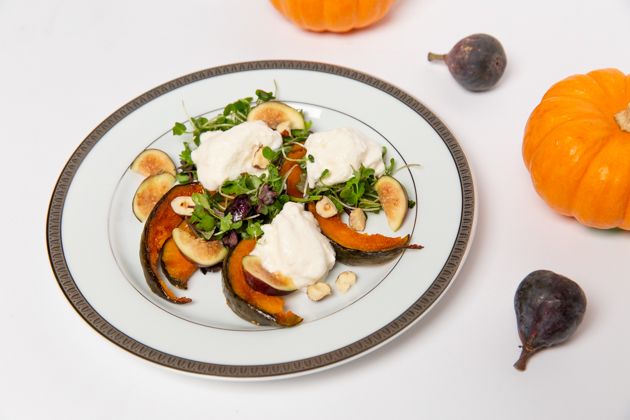 Mix all the dressing ingredients in a small dish with a fork. Toss the micro greens with the Vinaigrette and set aside.
Assemble the salad by layering the roasted pumpkin with slices of the burrata cheese. Garnish with the micro greens, sliced figs and toasted hazelnuts. You can drizzle with additional vinaigrette if desired. Makes 4 servings.
What are your favorite Pumpkin recipes? Please share as I am always looking for new ways to incorporate pumpkin into my Fall menu! And please let me know what you think of this Pumpkin Burrata Salad.
Thank you so much for reading!
xoxo,
Lisa
Let's be social!