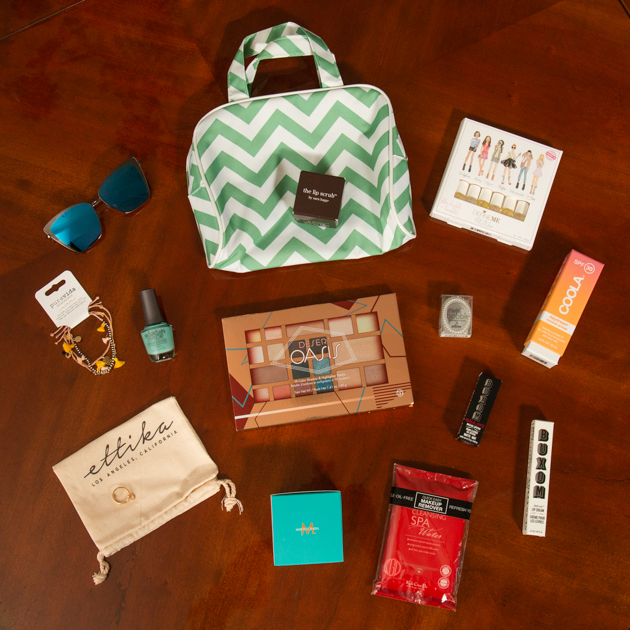 Happy Tuesday! To kick off Halloween a few days early, I'm hosting an international beauty giveaway with some fabulous products and accessories. One lucky winner will receive all of the items pictured above. No tricks only treats…  Just follow the simple instructions listed below. This giveaway is open to both my US and International readers, but you must follow ALL the steps to be eligible!
Here's What You'll Get:
Coola Daydream Mineral SPF 30 Makeup Primer Sunscreen ($42)
MorocccanOil Body
Soufflé
body moisturizer Fleur De Rose ($20)
Buxom Big & Sexy Bold Gel Lipstick – Wildfire ($22)
Buxom Full-On Plumping Lip Cream – Mai Tai ($21)
Define Me Petites Fragrance Sample Kit ($21)
Koh Gen Do Cleansing Spa Water Cloths ($17)
Sarah Happ The Lip Scrub – Vanilla Bean ($22)
Foster Grant Cat Eye Sunglasses ($20)
Dessert Oasis 19 Color Shadow and Highlighter Palette ($22)
Ettika Third Eye Ring ($30)
Pura Vida Tropical Pack Bracelet Set ($35)
Morgan Taylor Nail Polish – Ruffle Those Feathers ($9)
Invisibobble Hair Ring ($8)
Chevron Striped Cosmetic Bag
**Approximately 300 USD value. All items are brand new.
Here's How to Enter:
1.
Subscribe to my blog's newsletter by clicking the SUBSCRIBE tab at the top of the page and entering your email address. If you're already subscribed, you're good to go!
2. Follow me on Instagram
Here
. If you're already following, you're good to go!
3. Leave a comment below telling me which product you're most excited to try or something about you or what you'd like to see more of on the blog (ie. fashion, beauty, home décor, recipes…).
Please follow all steps to enter the giveaway. Open to both US and International followers. Must be over 18 to win. The winner will be announced on my Instagram account on November 19th.
Good luck everyone! Wishing you a wonderful week ahead!
xoxo,
Lisa
Let's be social!