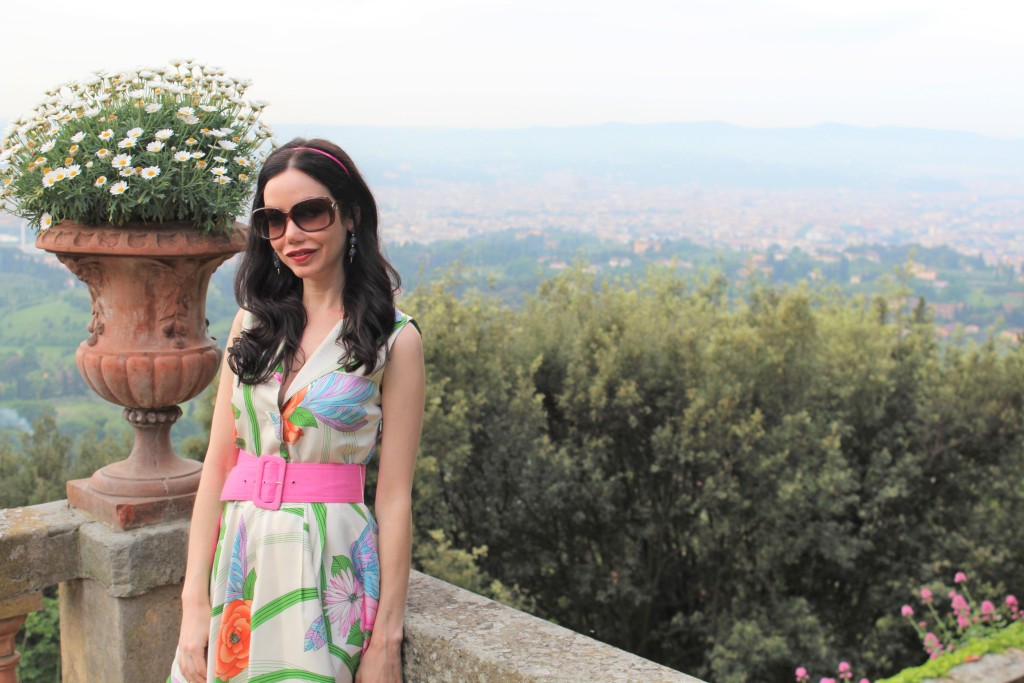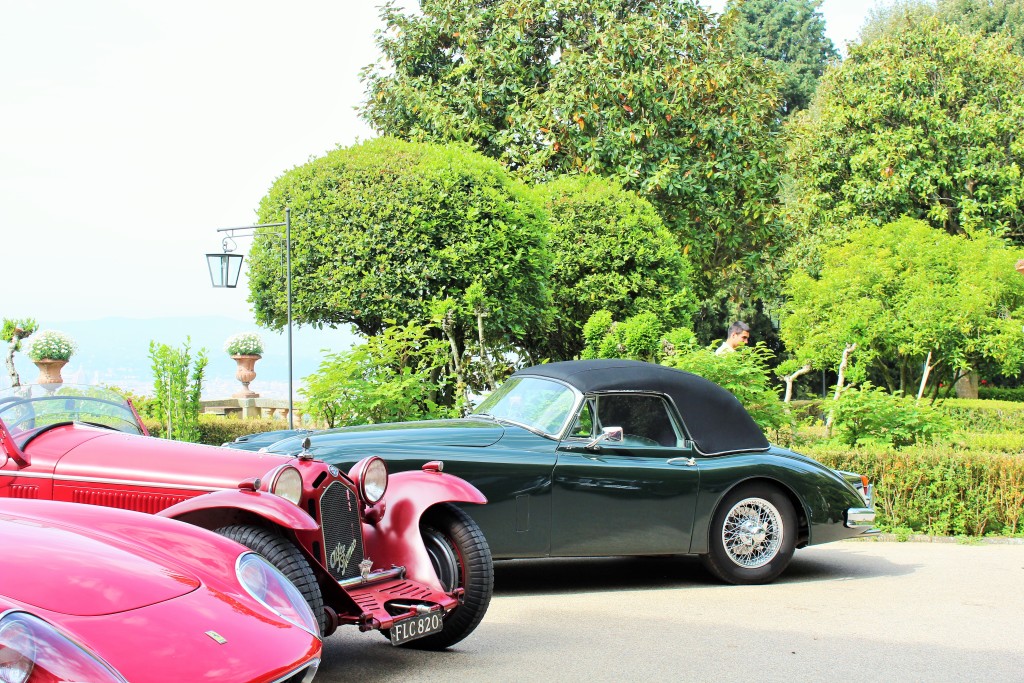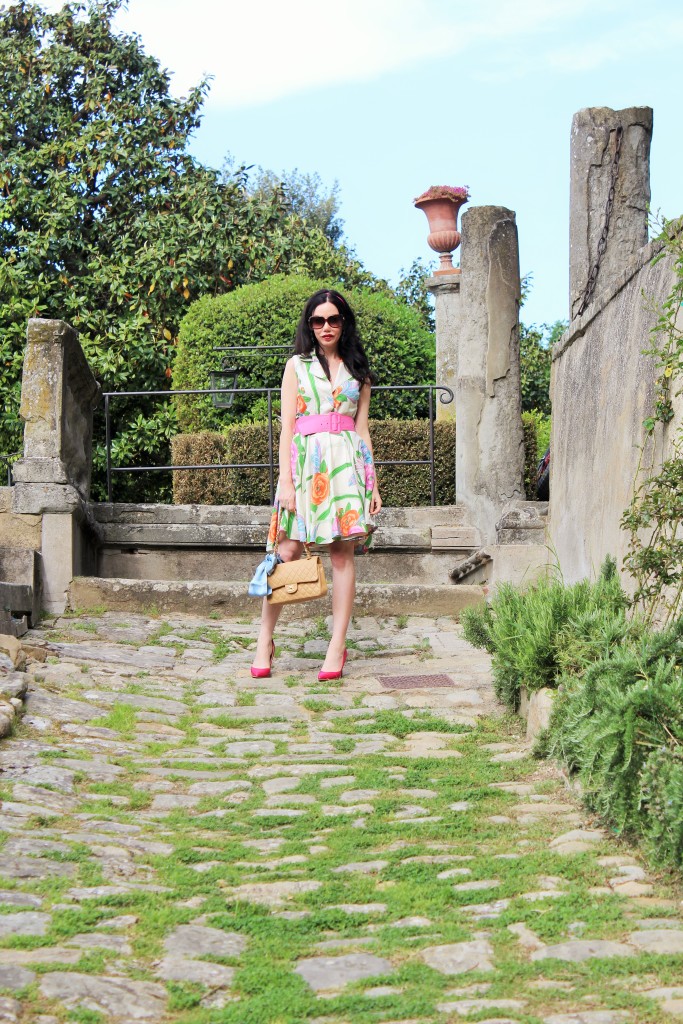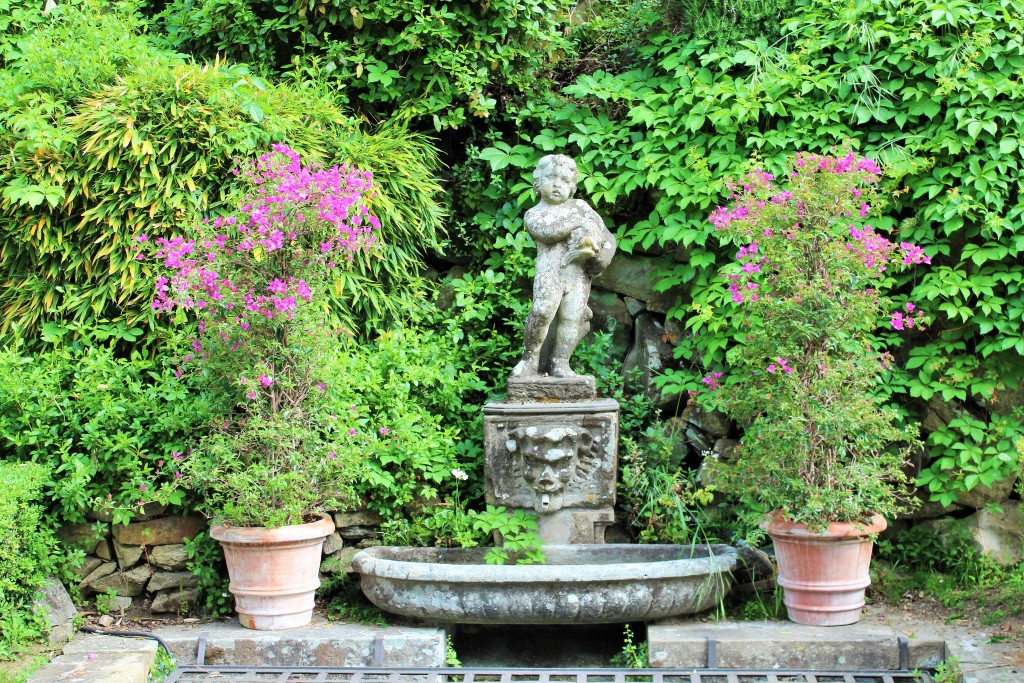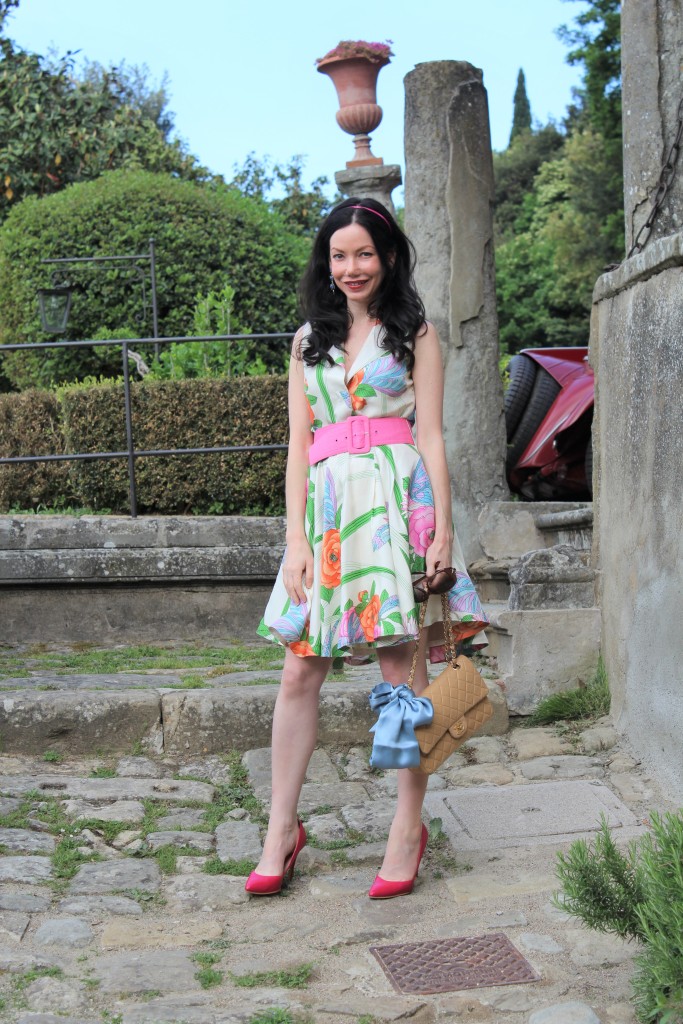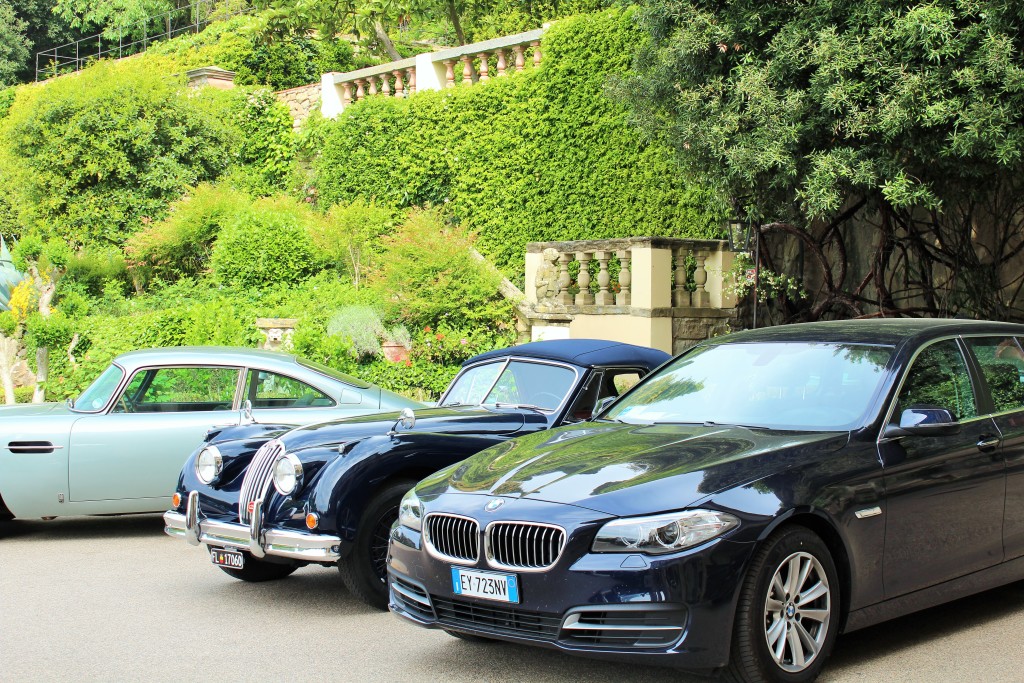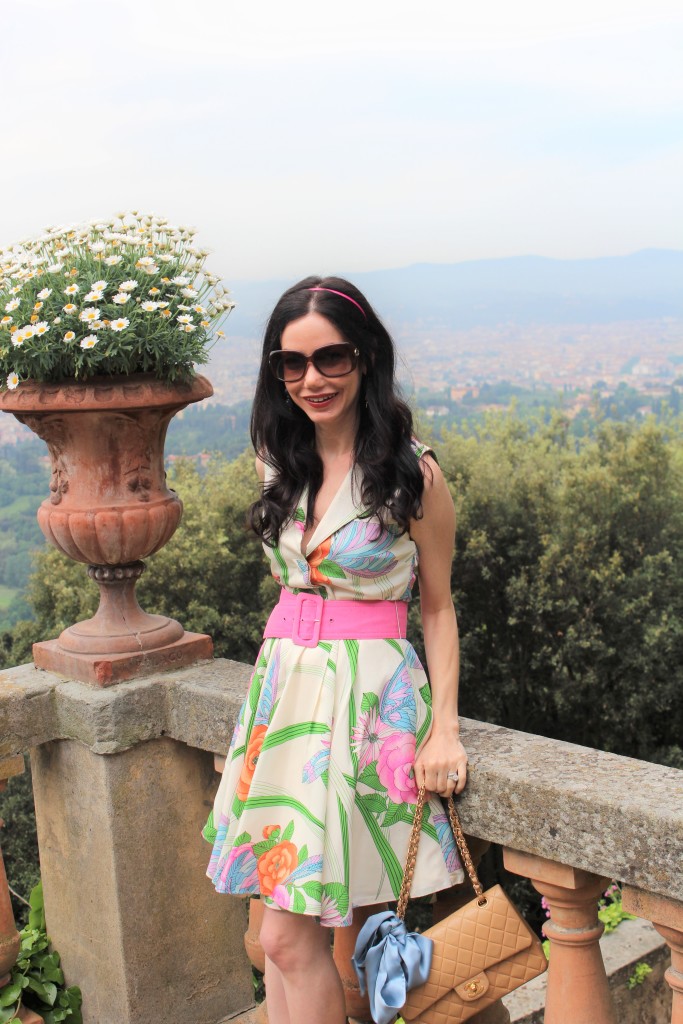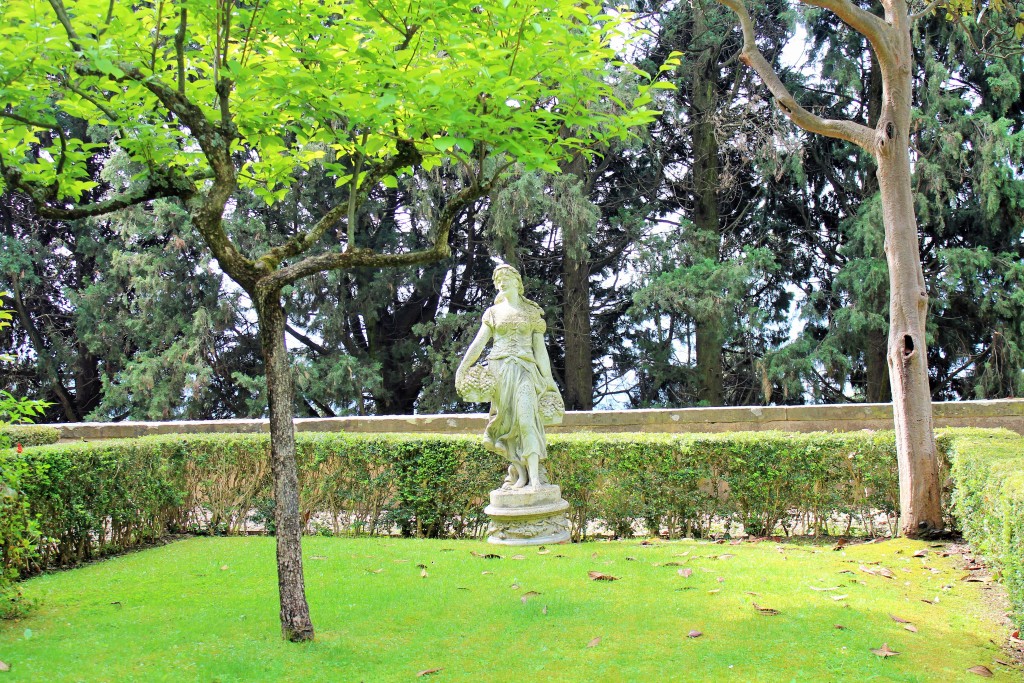 Happy Sunday! I hope you are having a lovely weekend!
This is one of my most beloved dresses and considering how many times I have worn it, I can't believe this is the first appearance it is making on the blog. If you think this dress looks familiar, it's probably because it was made famous by the iconic Blair Waldorf on
Gossip Girl
. By the time I tried to find it in the store it was already sold out in my size, so I tracked down the only size 0 left on eBay. I bought it from a girl in Germany who would not budge on the price, so I ended up paying retail for a "gently worn" dress. Well, when the said dress arrived let's just say it was not in tip top shape. Apparently the German girl had run it through the washing machine! Luckily my amazing dry cleaner Rosie (read more about her
here
) fixed it up and made it good as new.
I thought that was all the drama this dress would entail, but then of course I decided to bring it to Italy. If you are wondering about all of the classic cars on display in this post, allow me to explain. We took these on our last morning at the
Villa San Michele
while they were preparing for a classic car rally. It was about 9 am and the drivers were arriving and registering in the lobby. I got dressed and ready and insisted we take these before we ate breakfast so I wouldn't have to worry about messing up my hair or makeup or spilling something on my dress. I also insisted on tying this pretty blue scarf around my bag (which Mr. Pretty Little Shopper thought was a bit much). So we get to the front of the Villa where I wanted to shoot, and I crouched down behind a beautiful vintage Aston Martin to retie the bow. Just at that moment it's driver decided to start it up. I was immediately covered in carbon soot from head to toe. I stood up with my hands out to the side and cried, "I'm filthy!!!" It really was a moment out of Gossip Girl, Blair Waldorf pout and all. I went to the powder room to try to clean up, but there were spots of carbon covering my dress, face and body. I wiped off as much as I could and Mr. Pretty Little Shopper said he couldn't see all the soot in the photos so we still shot a bunch. Most of them were unusable since it's pretty hard not to pout after a classic car backfires all over one of your favorite dresses, but I did my best. After all, the blog must go on.
We finished taking our photos and had our last breakfast at the Villa, but when we got back to the room I realized I was still quite filthy. Unfortunately we had a train to catch, so I just had to clean up as best I could and waited until we got to our hotel in Venice to shower. Also, if you are wondering about the dress, it is good as new. I wrapped it in a bag so it wouldn't dirty the rest of the clothes in my suitcase and didn't touch it until I was able to take it to Rosie, who once again worked her magic! Wow, this dress has really been through a lot!
Alice and Olivia dress (similar
here
,
here
and
here
). Charles by Charles David
pumps
. House of Harlow 1960 earrings (similar
here
). Chanel bag. BCBG scarf. Gucci sunglasses.
Photos taken by Mr. Pretty Little Shopper and me.
Thank you so much for reading!
xoxo,
Lisa