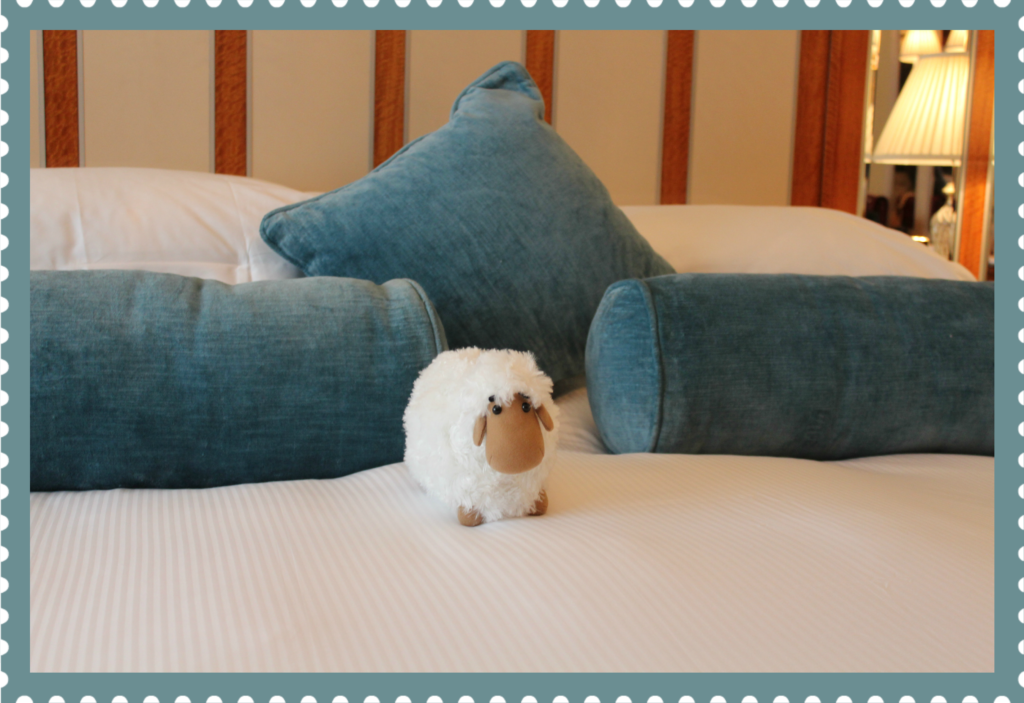 Happy Thursday! I hope you are having a wonderful week so far! My trip to London was such a whirlwind, but today I am excited to share a little recap!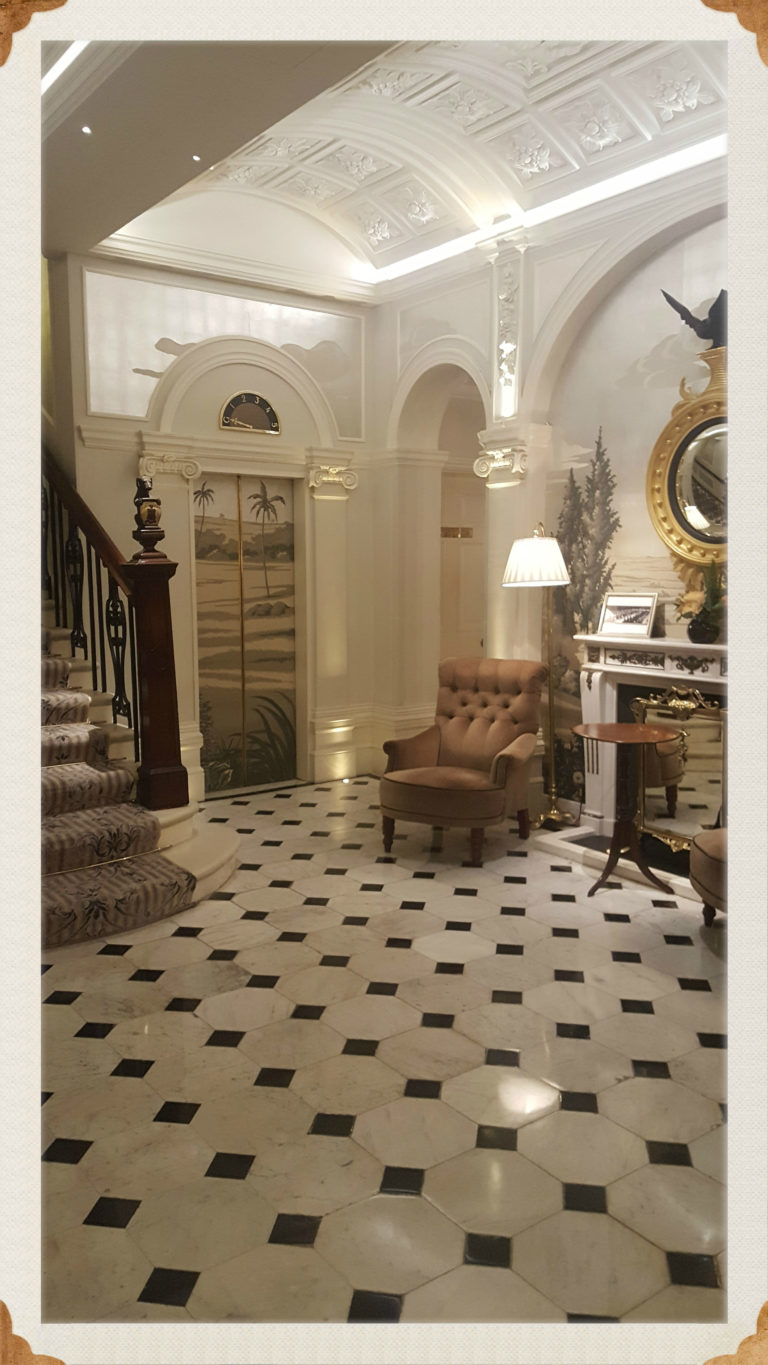 We tend to stay at the same two or three hotels on our visits to London, but this time we decided to stay at The Goring Hotel in Belgravia. This gorgeous and luxurious hotel is just down the road from Buckingham Palace and has housed many of their royal guests over the years. The Goring has been family owned and run since it's founding in 1910 and with only 69 suites and rooms, you will feel like you are part of the family as well.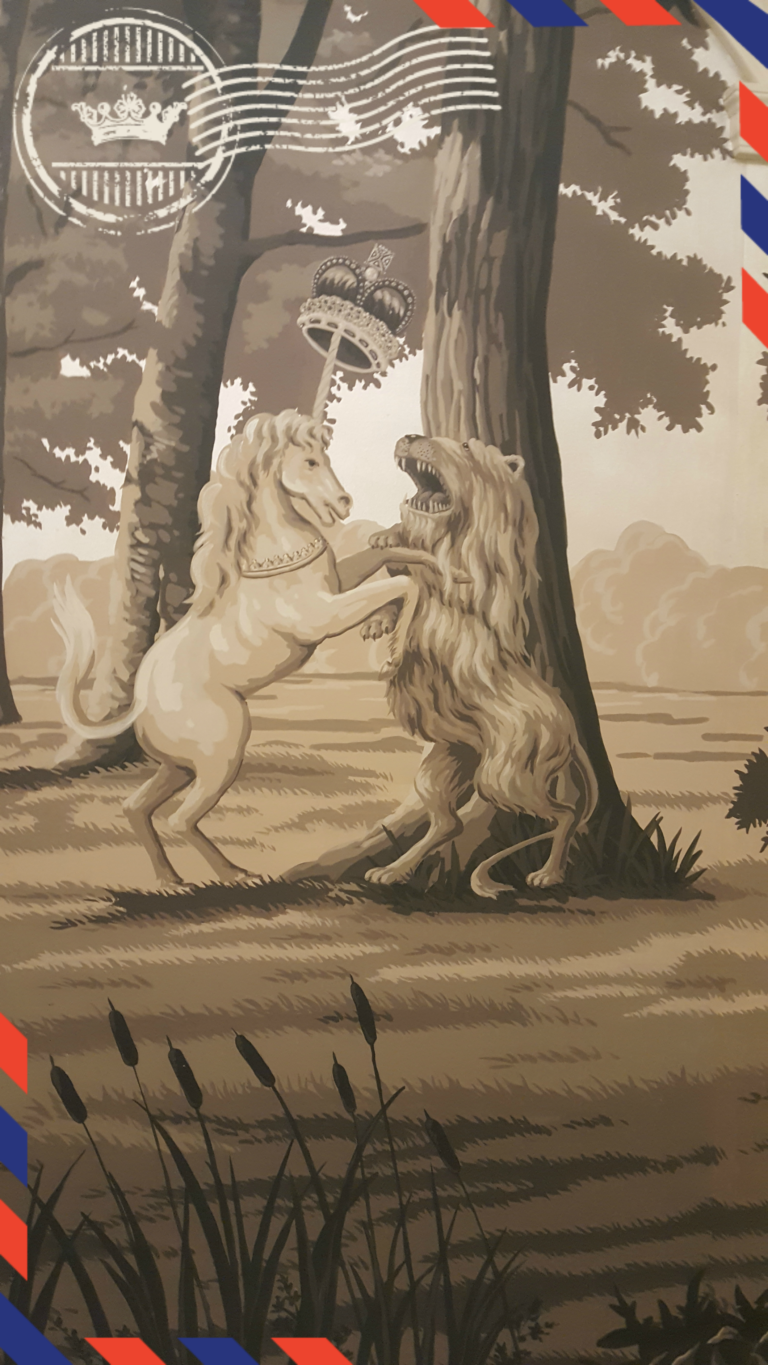 I couldn't get over the incredible hand painted wallpaper that lines The Goring's halls. The staff told me that this Unicorn and Lion was actually painted by Kate Middelton who stayed at the hotel before she married Prince William.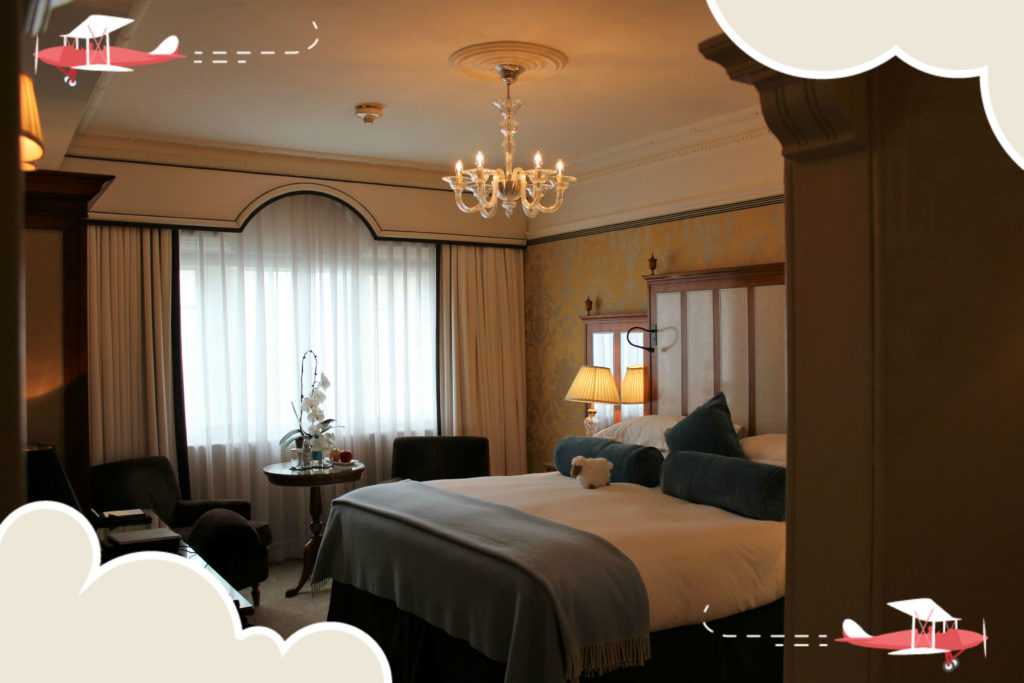 We unpacked our bags and took a quick break before heading out for a walk to Harrod's  where I had booked a massage appointment at their Urban Retreat Spa. It's become one of my travel rituals to book a massage or a jetlag treatment as soon as I can after a long flight. It really helps to relax and reset after a long flight and always starts our holiday off on the right foot.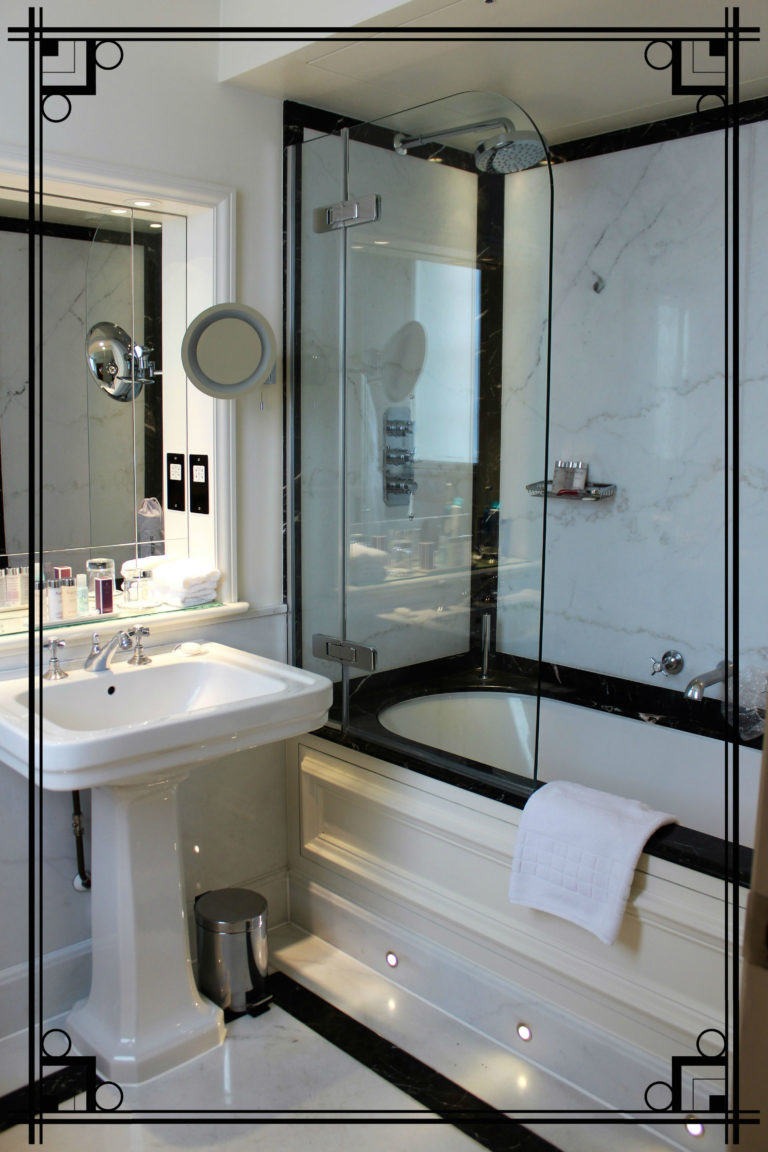 We came back to our room and I jumped in the shower while we waited for our room service to arrive. I ordered the most amazing chicken curry. So good… I was so hungry and tired I forgot to take a photo. Bad blogger. 🙁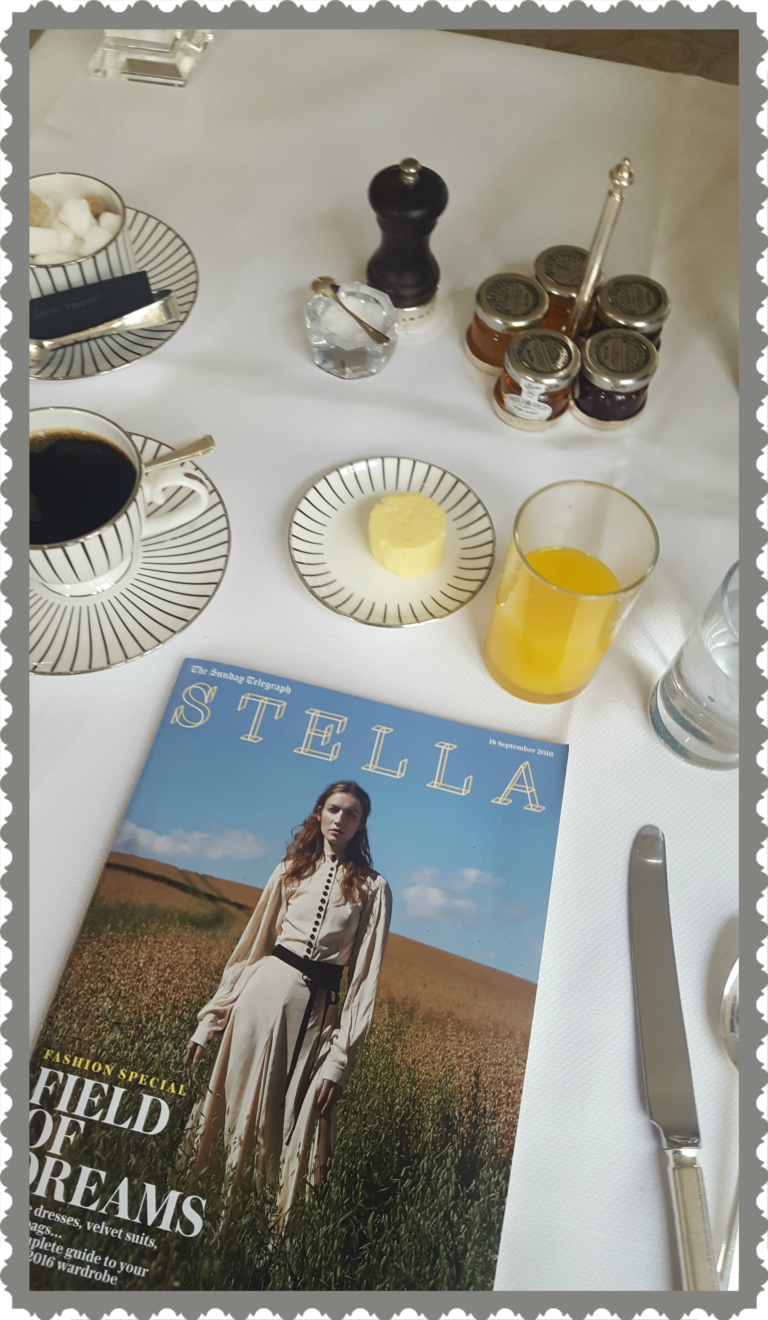 The next morning, we woke up early, grabbed the paper and made our way down to The Goring's brightly lit, elegant dining room for a proper English Breakfast.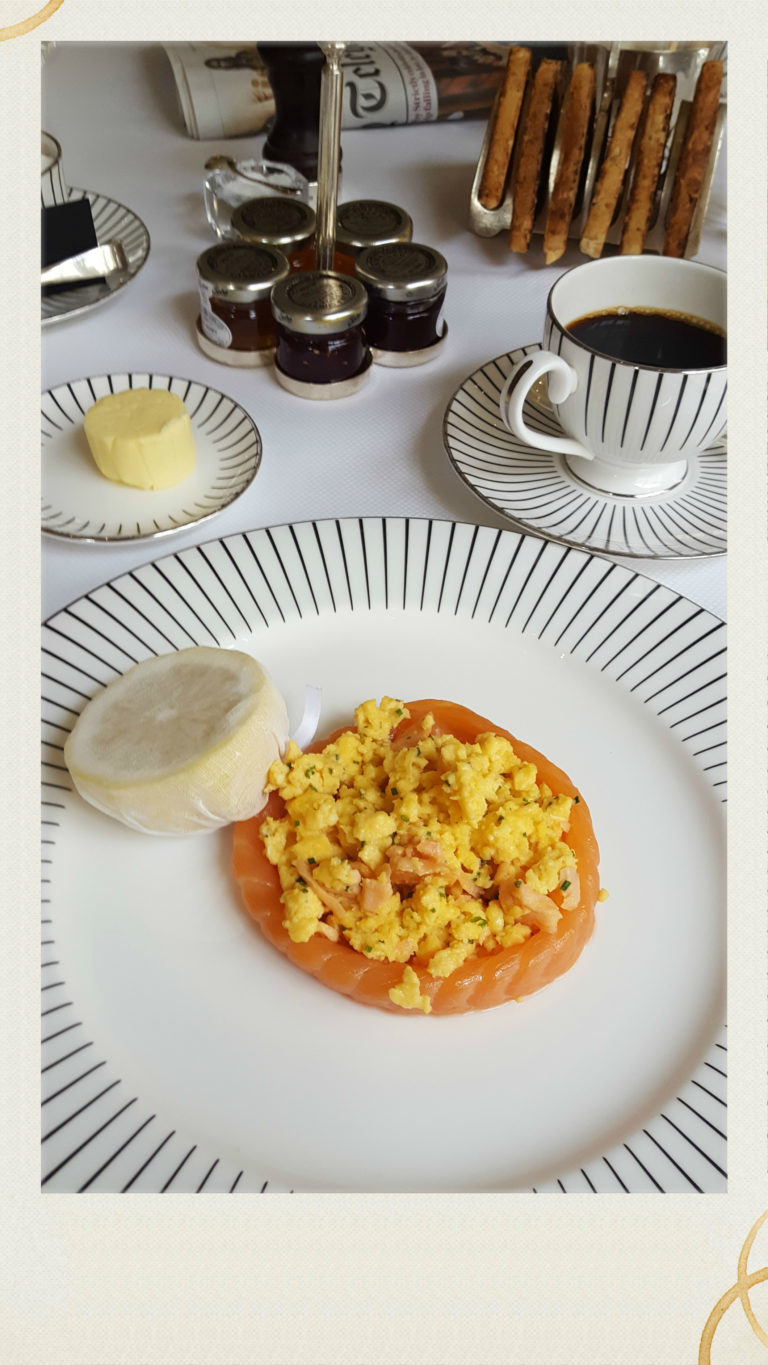 This smoked salmon scramble was almost too pretty to eat.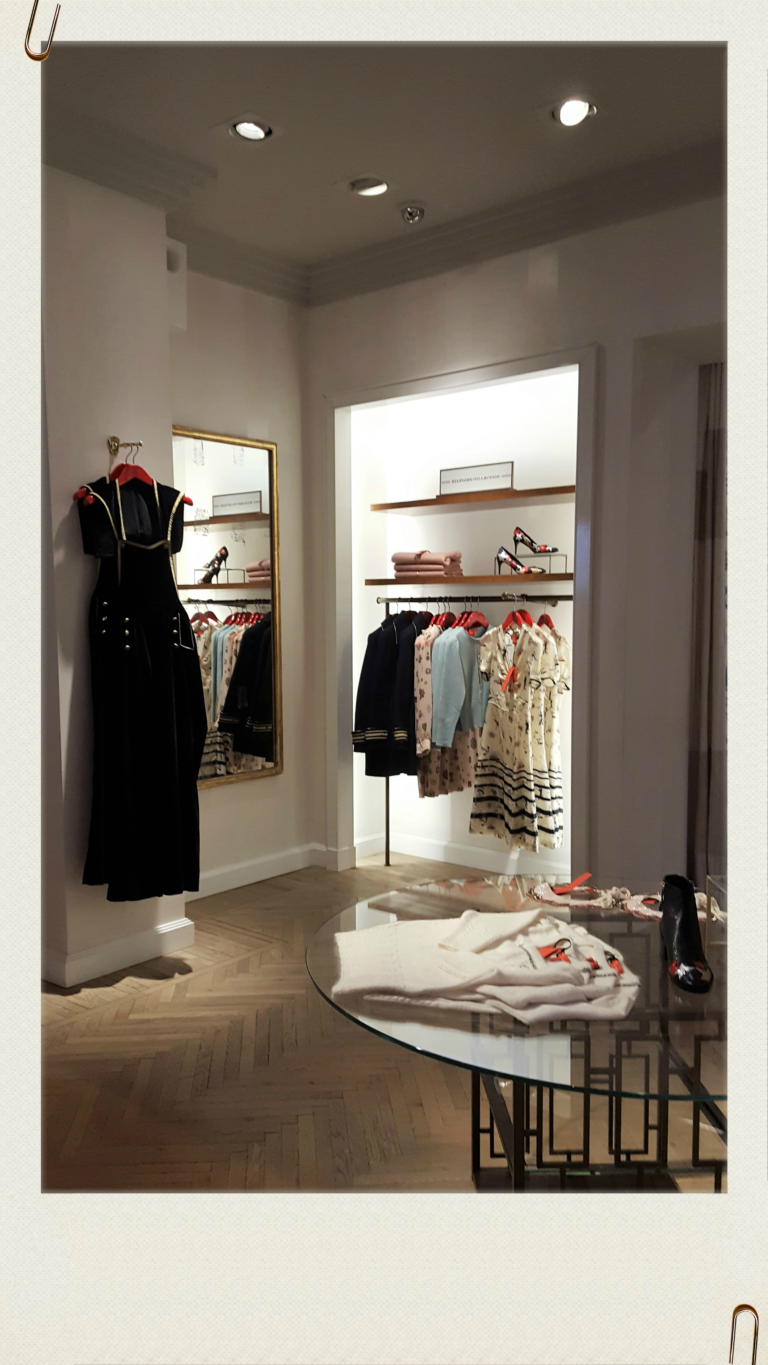 After breakfast we hopped in a taxi and headed over to The Malone Souliers Presentation and then spent the rest of the day wandering about and hitting the shops. Naturally, Tommy Hilfiger was at the top of my list since the Los Angeles store closed early this year. That cream colored Collection dress in the corner is at the top of my Xmas list. Hint, hint….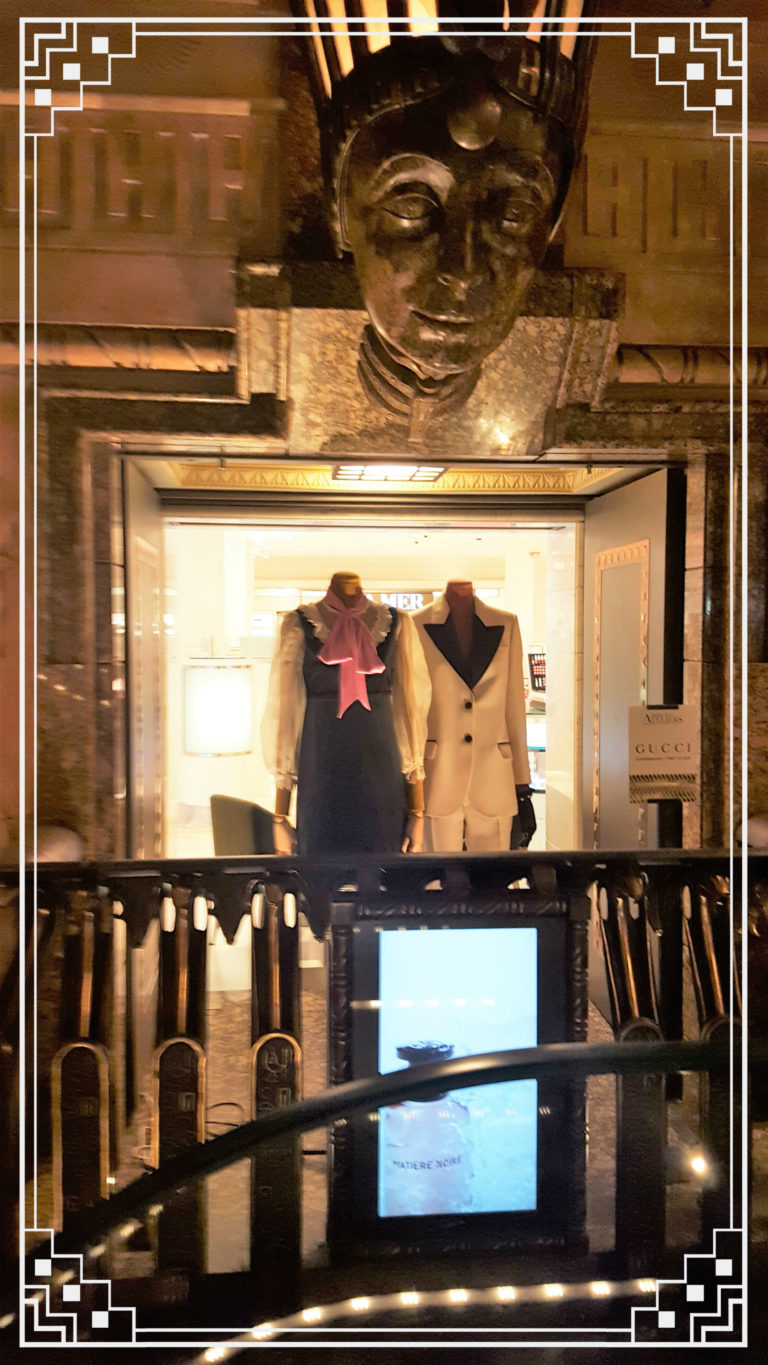 And of course, what kind of person visit's London without a trip (or three) to Harrods??? We wandered through the enormous store until it was time to rush off to our dinner reservation across the street. We went back to Bar Boulud at The Mandarin Oriental where we have stayed many times.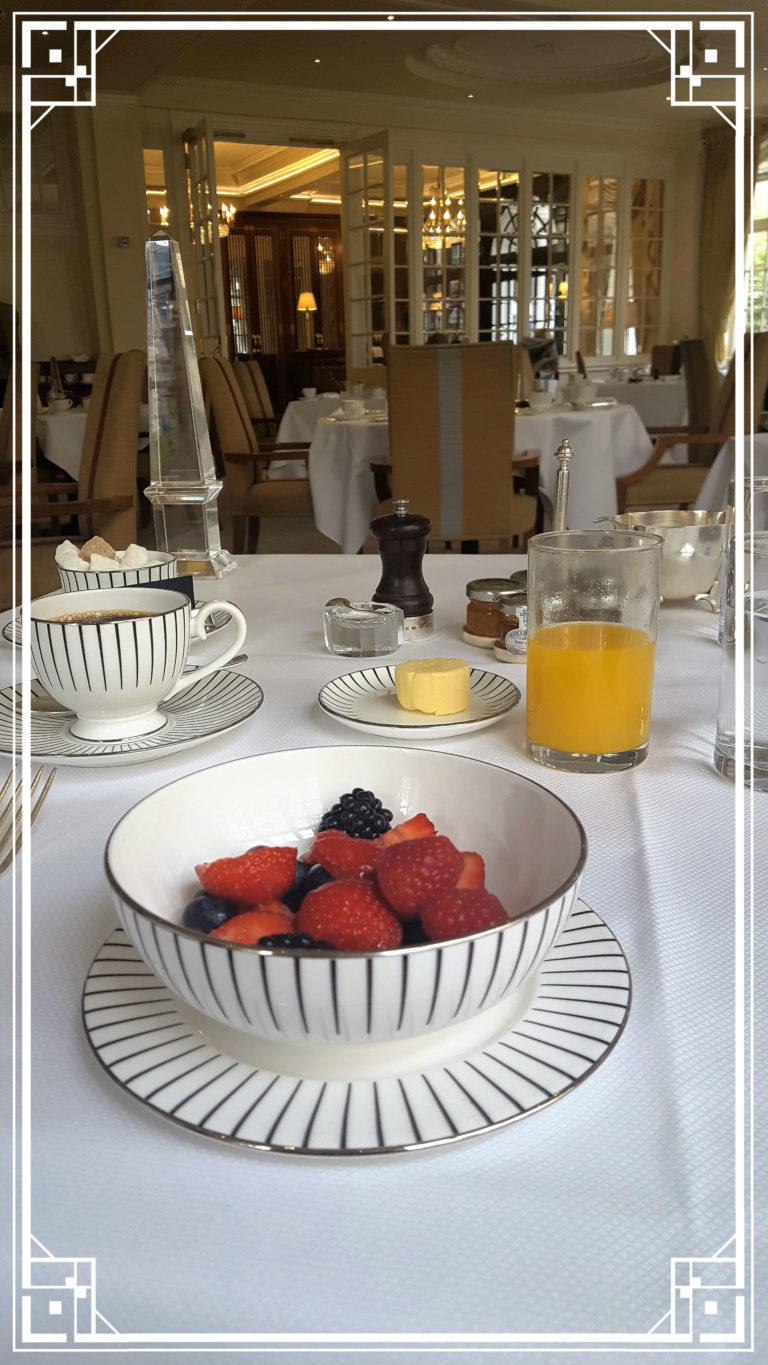 On Monday we started the morning with another berry delicious breakfast at The Goring before a busy day. After breakfast we headed out for a nice walk to Harvey Nichols, where I had booked a makeup appointment at the Charlotte Tilbury counter. I had read about British based Charlotte Tilbury and was eager to try her products. I have to say I really loved the coverage the foundation lent, and my makeup artist Javier did a fabulous job with contouring. I'm so happy that this line is available in the US at Nordstrom.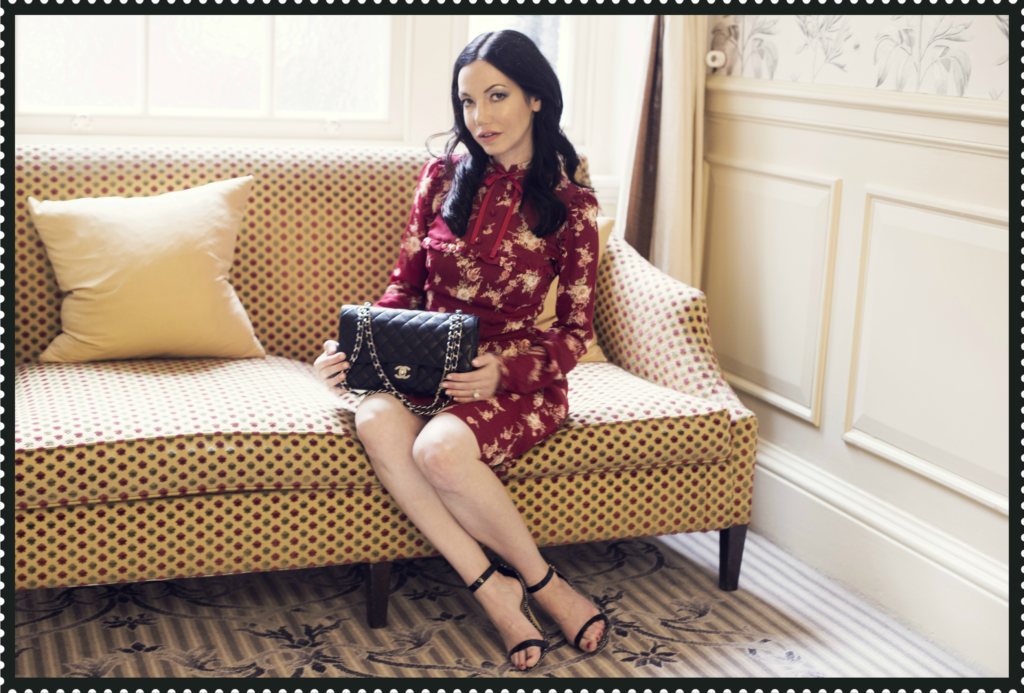 We walked back to The Goring and I got ready for my photo shoot with Cansu Ozcaraca. So much fun to shoot inside this gorgeous hotel!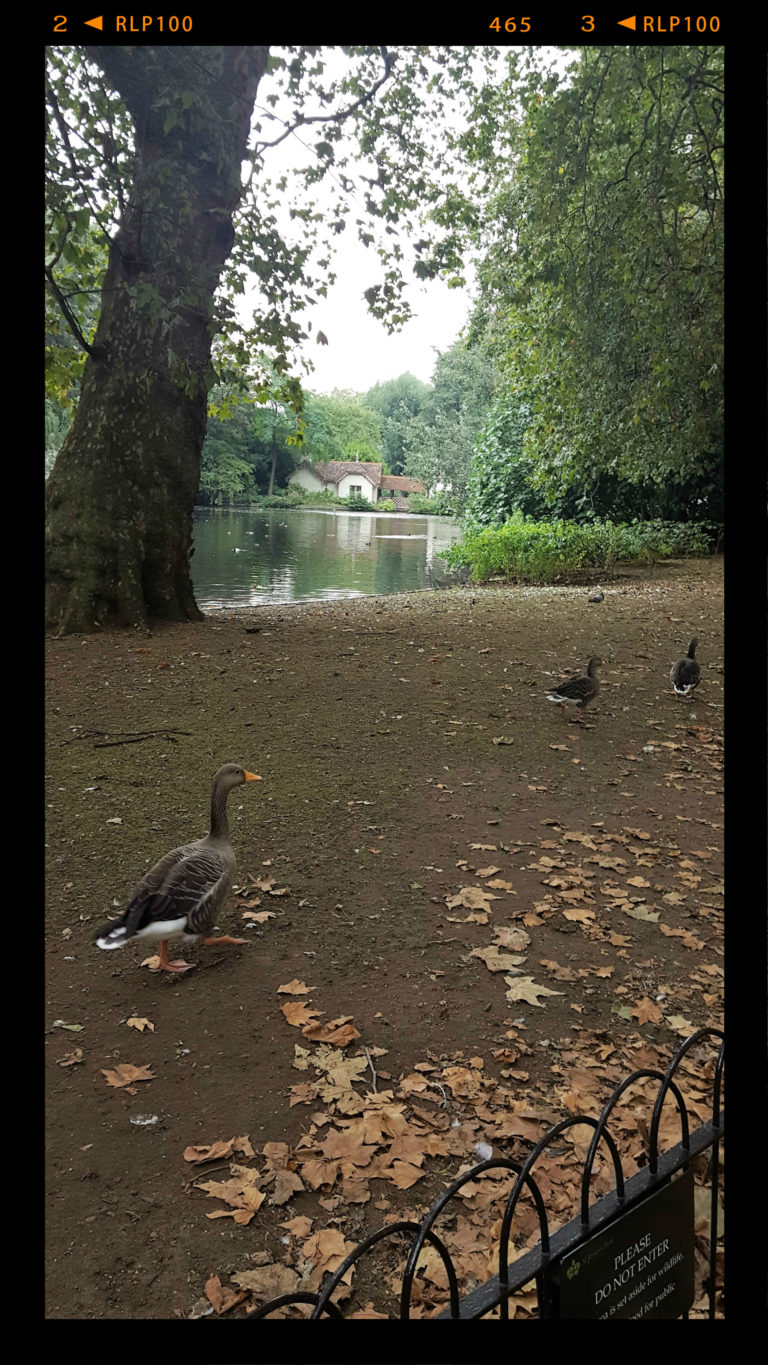 After my shoot, we walked through Hyde Park to the Churchill War Rooms to visit the secret WW2 bunker and museum that tells the story or Winston Churchill's life. Such a fascinating experience to learn more about Churchill's legacy and see the underground quarters where he lived and worked against the clock to win WW2!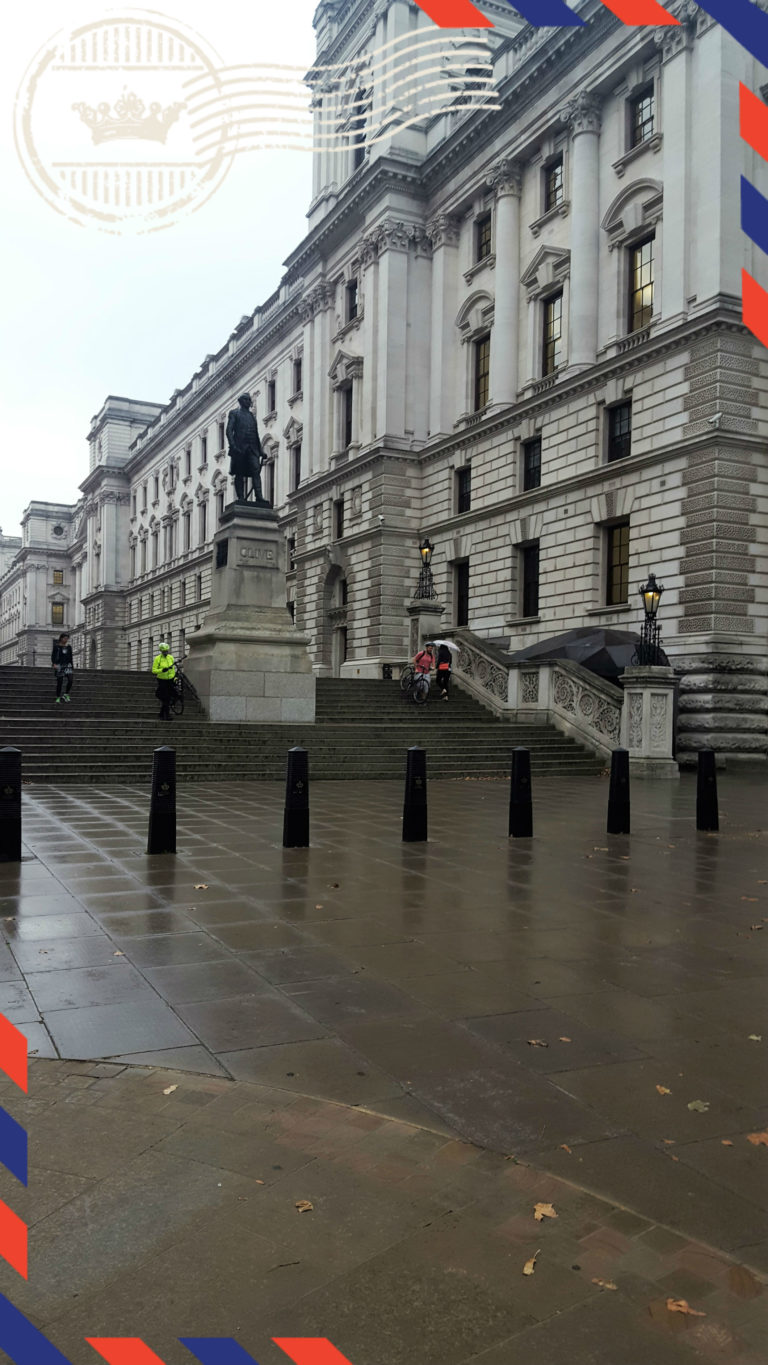 I would highly recommend a visit. There was just so much to learn that we might plan a follow up visit on our next trip.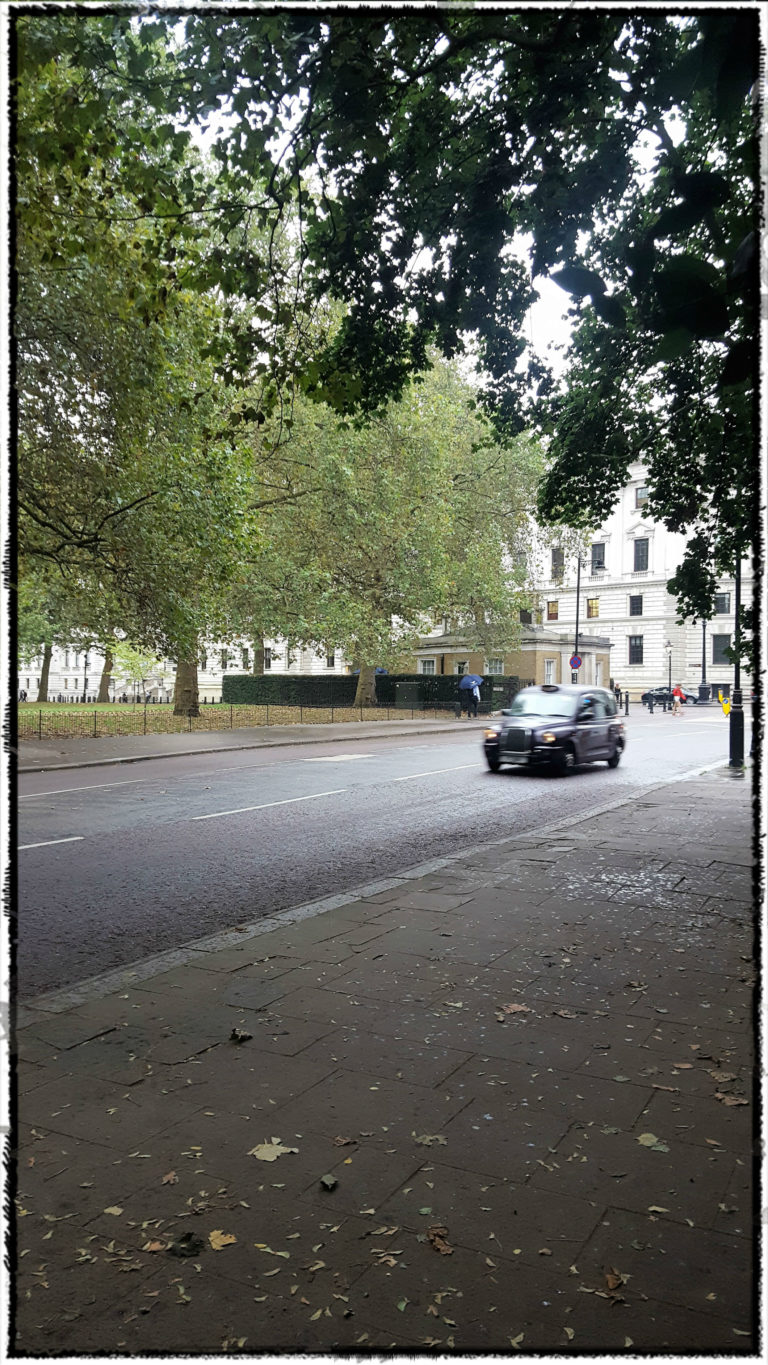 By the time we left it had started to rain so we hopped in an Uber and went back to the hotel to change for dinner. We went to Red Fort which is an Indian restaurant we always visit at least once on our visits to London.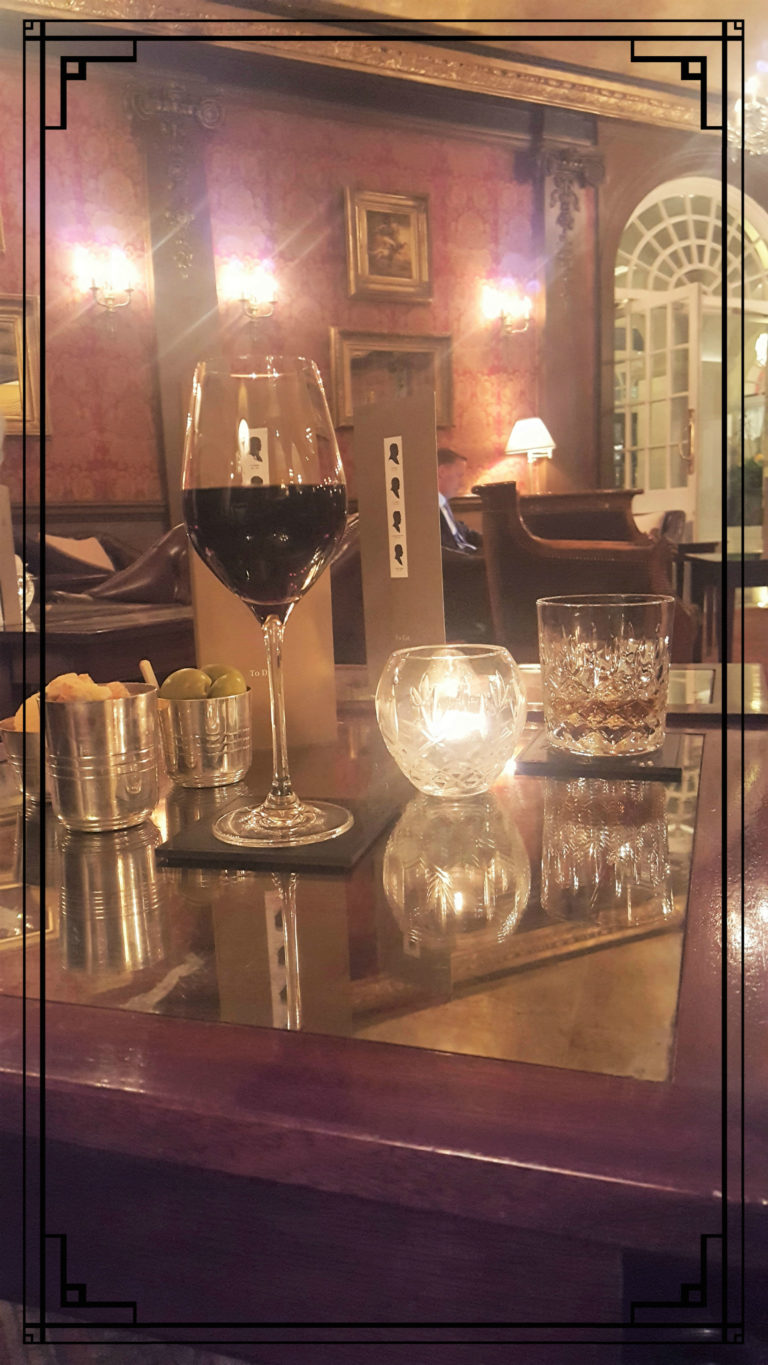 We stopped in at the hotel bar for after dinner drinks.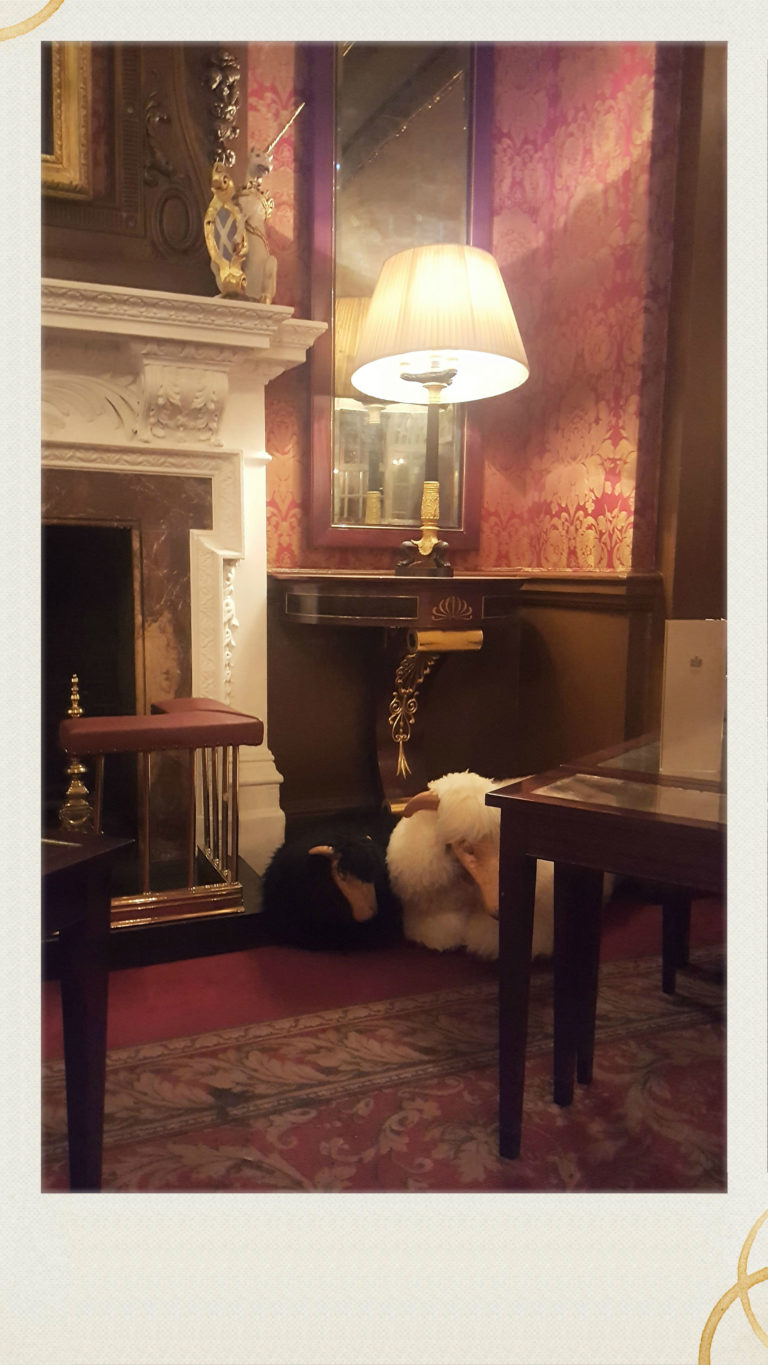 We realized we were in furry good company.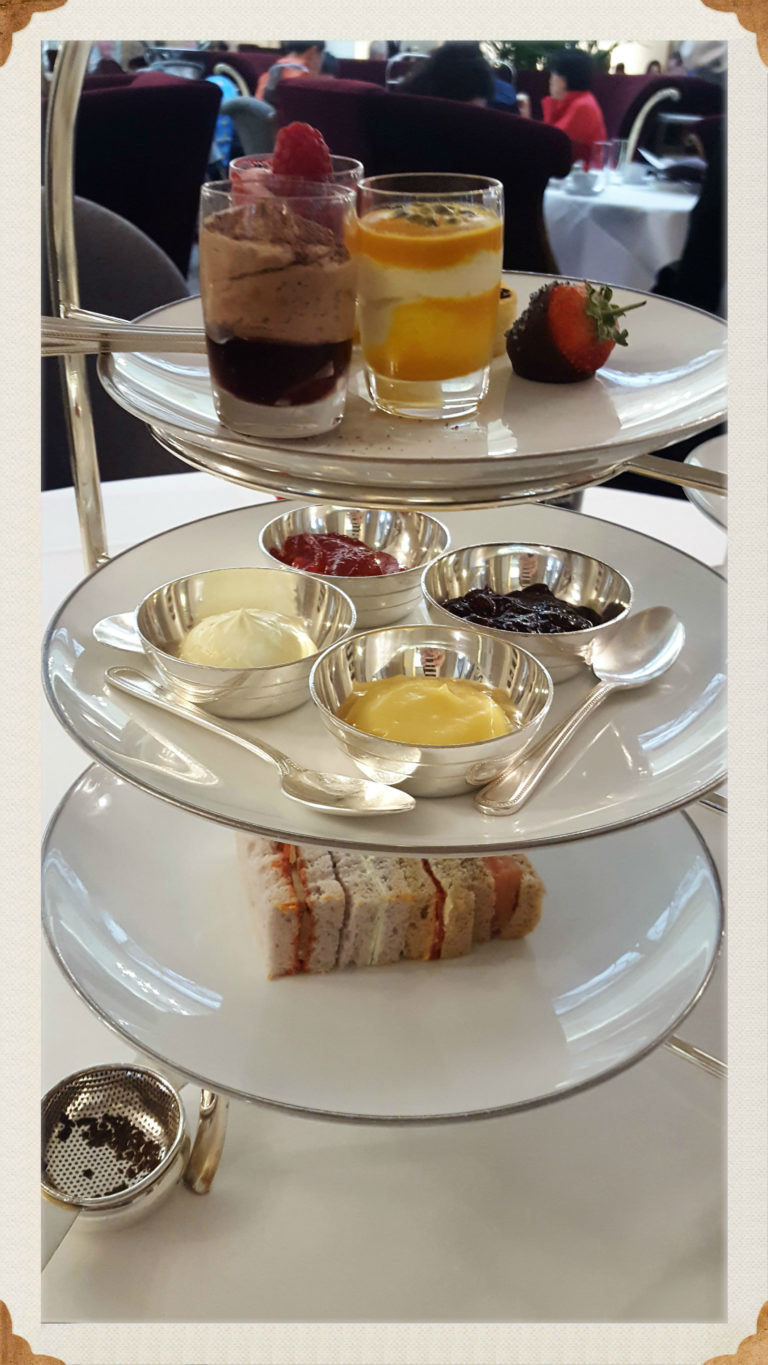 The next morning we decided to sleep in… a very rare occasion when traveling with Mr. Pretty Little Shopper. We finally got ourselves dressed and made our way back to Harrod's for an early tea service. The Georgian Restaurant is one of the few places that serves Afternoon Tea, all day from 12 to 6. It's also such an enormous restaurant that it was easy to get in for a last minute reservation. The tea was delicious and they made me my own gluten free tray. I ordered the English Breakfast Tea and we ate scones and sandwiches to our hearts content. We didn't even finish our treats, when our waiter came by and offered us seconds. He seemed a little bit offended when we passed him up on the offer.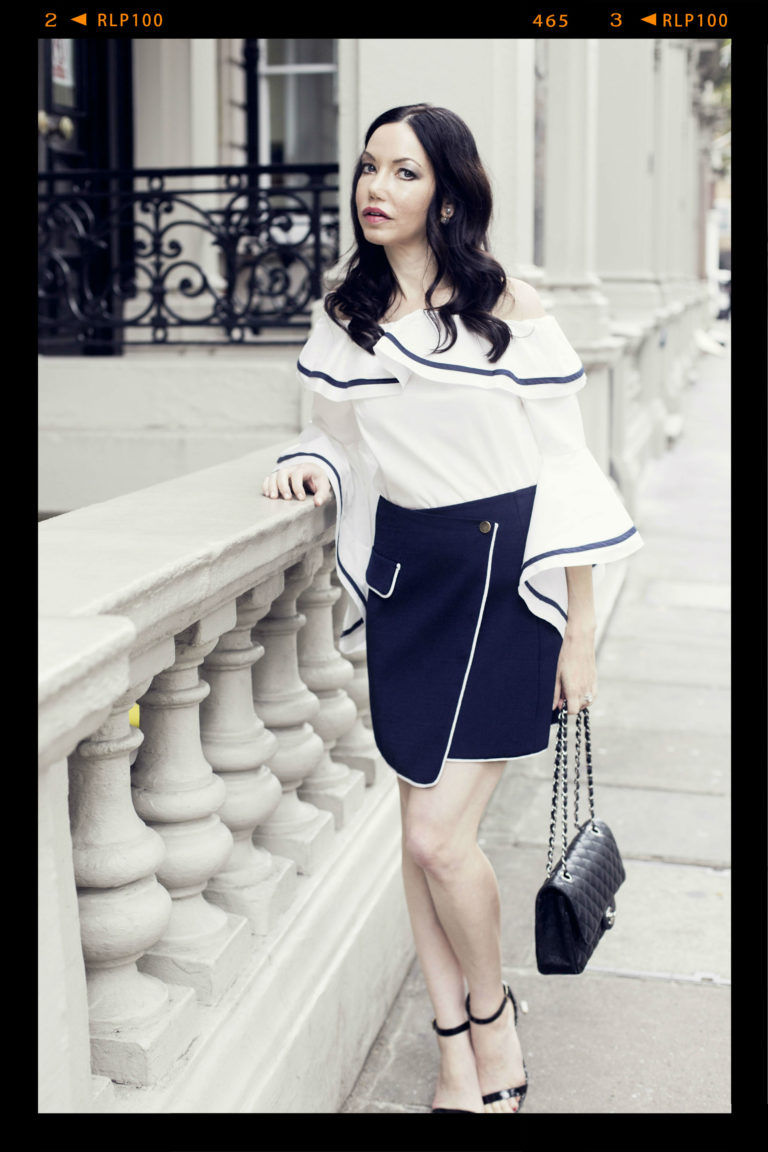 We made our way back to The Goring, walking off all of the scones and clotted cream and I got changed for the Sid Neigum show and our dinner/theatre date.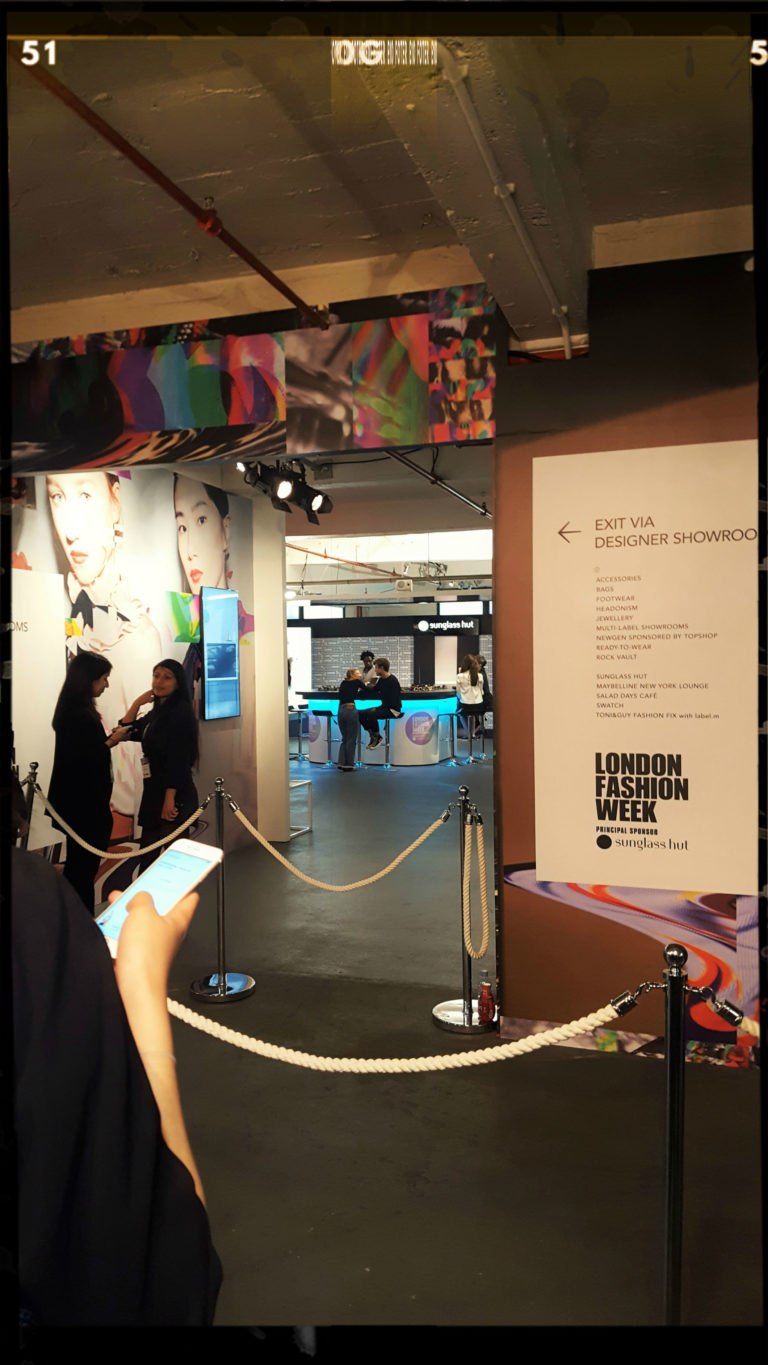 I watched the Sid Neigum catwalk show and made my way through the LFW Designer Showrooms, just in time to meet the hubby for dinner.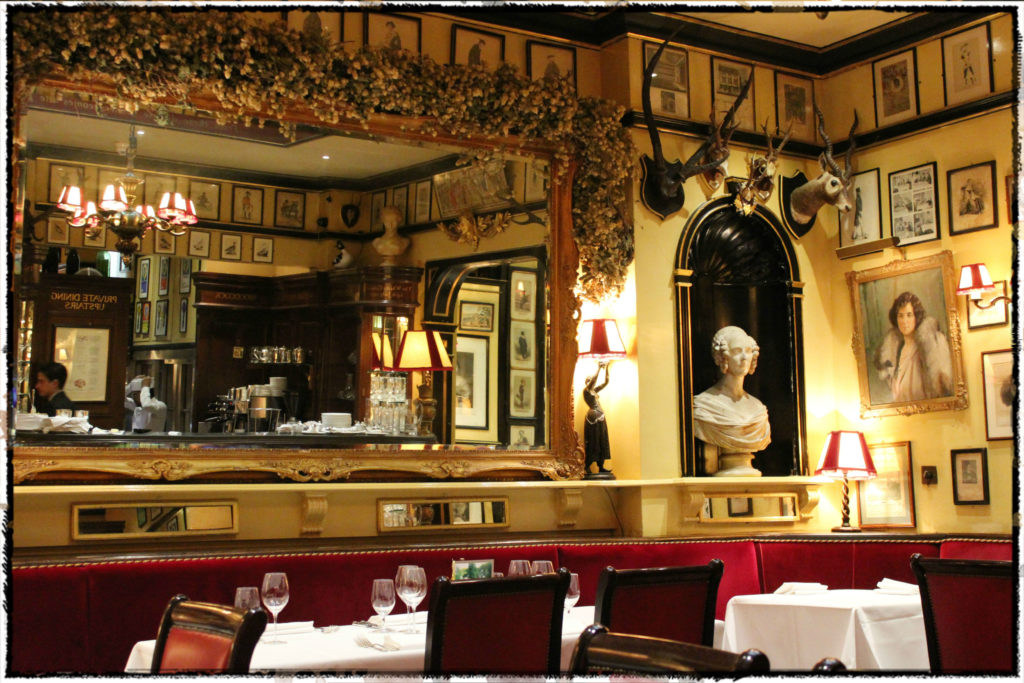 Rules is our absolute favorite restaurant in London! We always visit at least once or twice.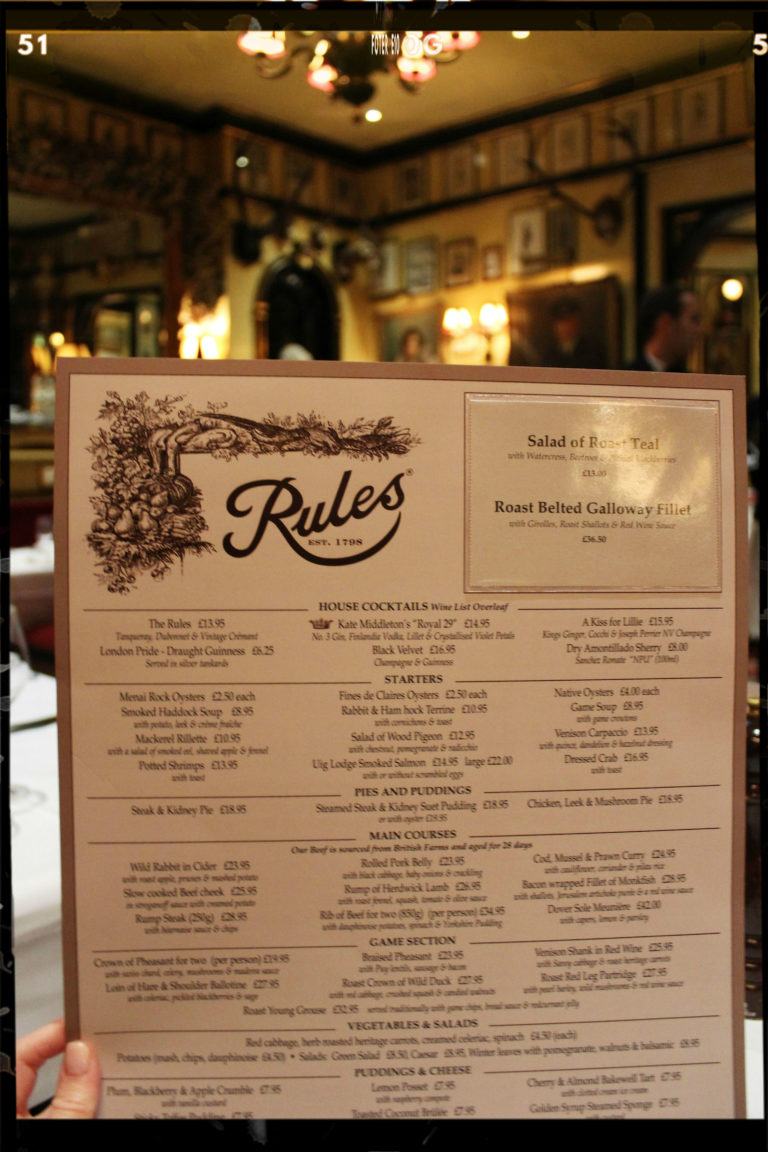 Rules is the oldest restaurant in London, having been established in 1798 by Thomas Rule. It's patrons over the years include the likes of Charles Dickens, HG Wells, Charlie Chaplin and Clark Gable.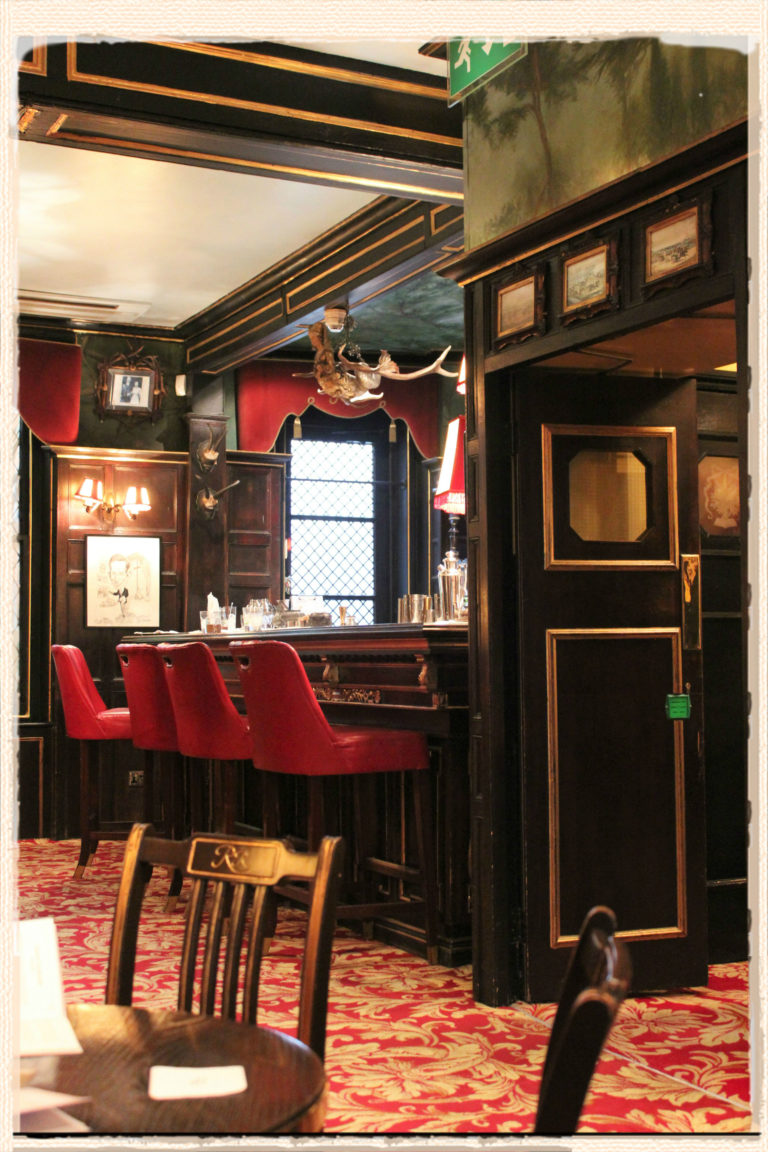 It's near the theatre district so we made an early reservation before our show. One thing we were surprised about this time, was how much busier Rules seemed than usual, so early in the evening. Apparently, the place has gotten quite swamped with tourists after it made several appearances on Downton Abbey!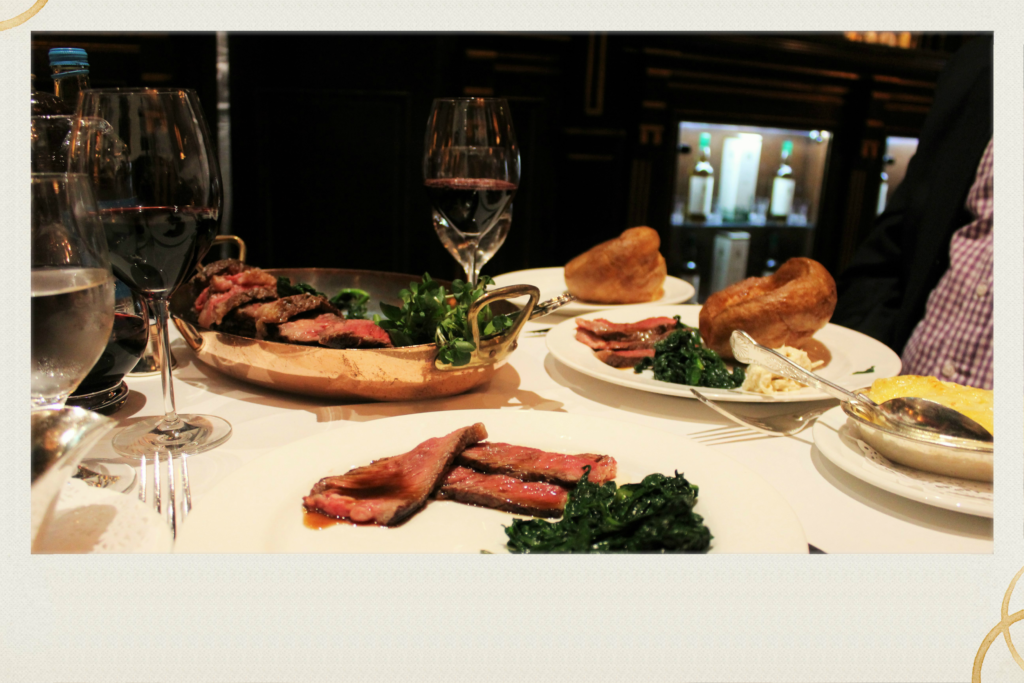 We filled our bellies with grass-fed Prime Rib and wine.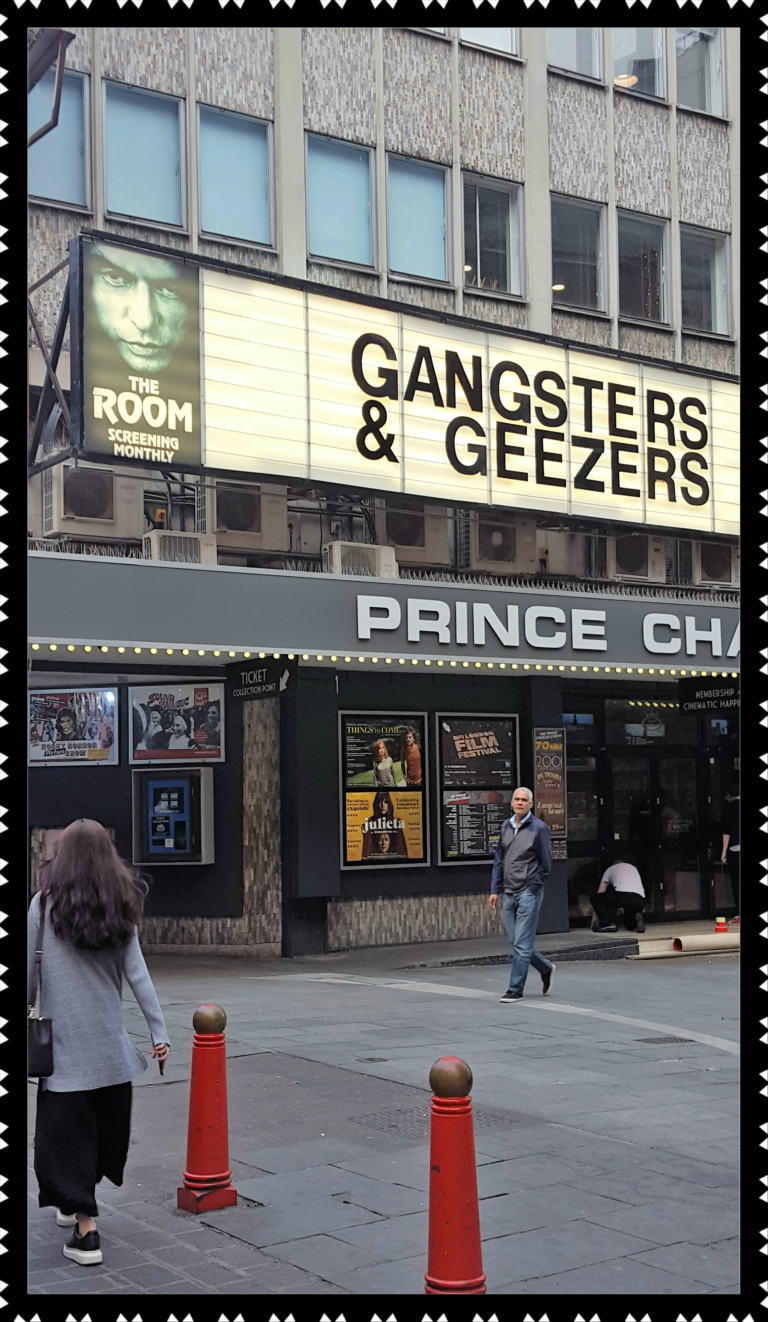 After dinner we made our way towards the theatre. I couldn't believe The Room had made it's way to this London cinema. Who would have thought?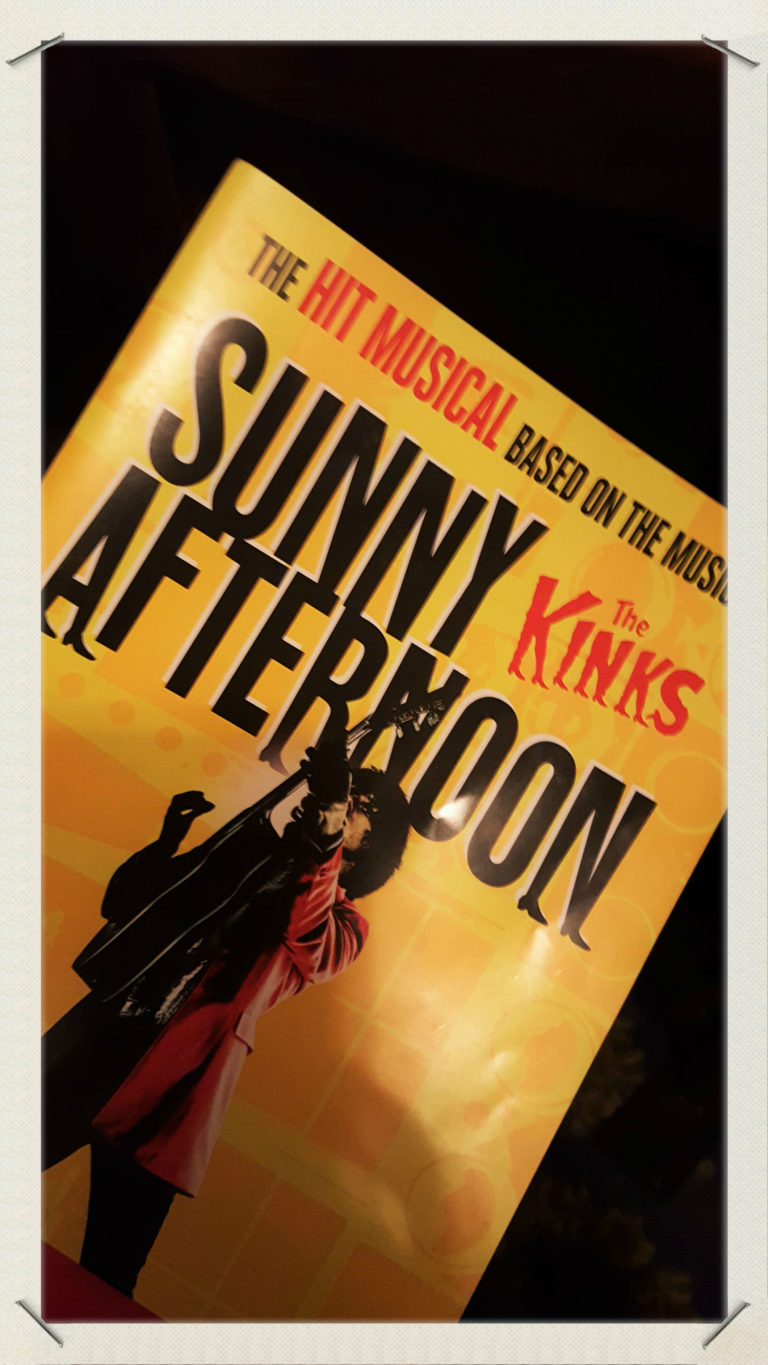 Mr. Pretty Little Shopper picked out a musical that he wanted to see called Sunny Afternoon. It's based on the life and music of The Kinks and I couldn't believe how many songs I recognized. I left the theatre singing "You Really Got Me" and "All Day and All of the Night".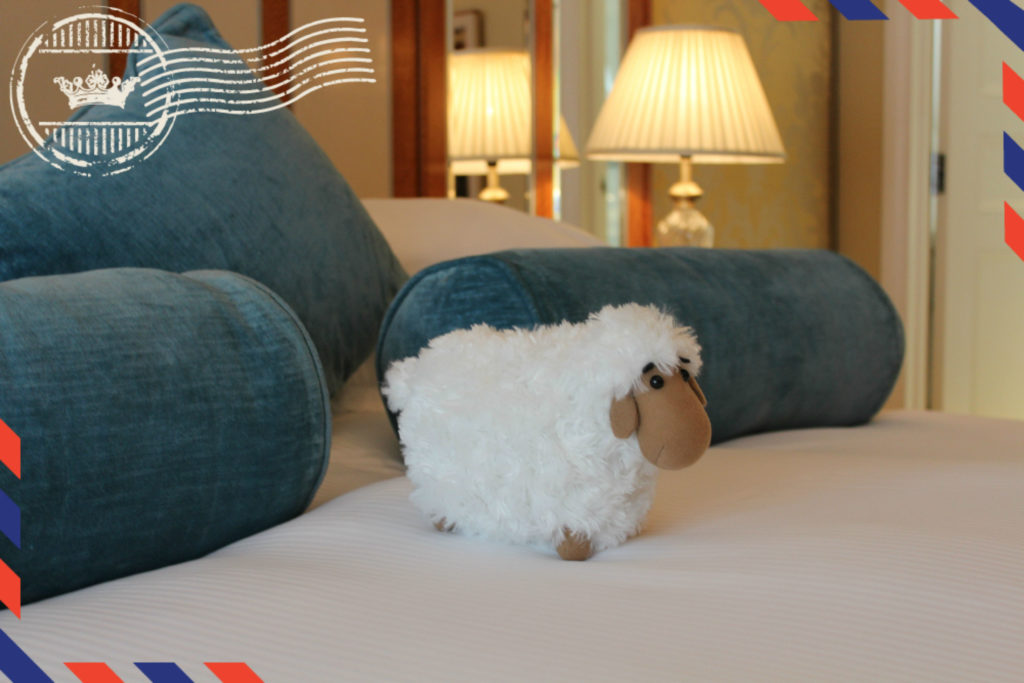 We packed up our bags after a whirlwind four nights at The Goring and got ready for our early morning flight to Scotland. The staff made us feel so welcome, that we can't wait to visit The Goring again on our next trip to London!
Thank you so much for reading and please check back again soon for updates on the next leg of our trip.
xoxo,
Lisa
Let's Connect!