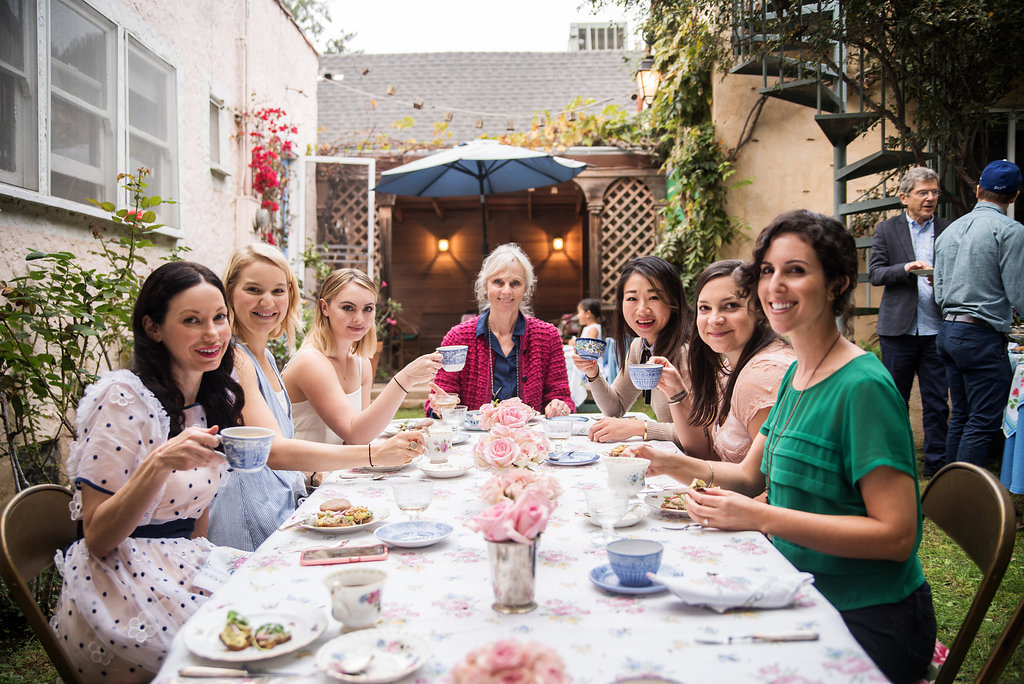 Happy Monday! Hope you had a great weekend! If you've been following my
Instagram
Stories, you might have seen a sneak peek of the New High Tea I threw with the loveliest Lili Fuller, from
Living Fullz
blog. I'll admit that when I first approached Lili about collaborating on a high tea post, I was thinking more along the lines of the two of us in my living room with a couple of gluten-free sandwiches and scones. But when you get two creative actress/writer/blogger and budding cooks together, sometimes things get a little bigger than you originally planned!
Lili and I first met when I begged one of our mutual friends to introduce us. I had been following this creative gal on her
website
and
social media
and wanted to know more about how she wrote and produced her amazing series
Complete Works
, as I was currently working on producing
my own pilot
. We met at Urth Caffe for lunch and a budding friendship began. I might also mention that Lili sold her show to Hulu and
just sold another show to Fox
! Like me, Lili also balances her acting, writing and producing with a beautiful blog featuring the gluten-free, nutrient dense, organic recipes she creates. We decided to create The New High Tea that was both innovative in menu choices, nutrient-dense and also gluten and dairy free. Scroll down to see how our modern tea party for the loveliest of ladies turned out. And be sure to check back next week as I'll be sharing our recipes and a tutorial video we made on how you can do this at your own home.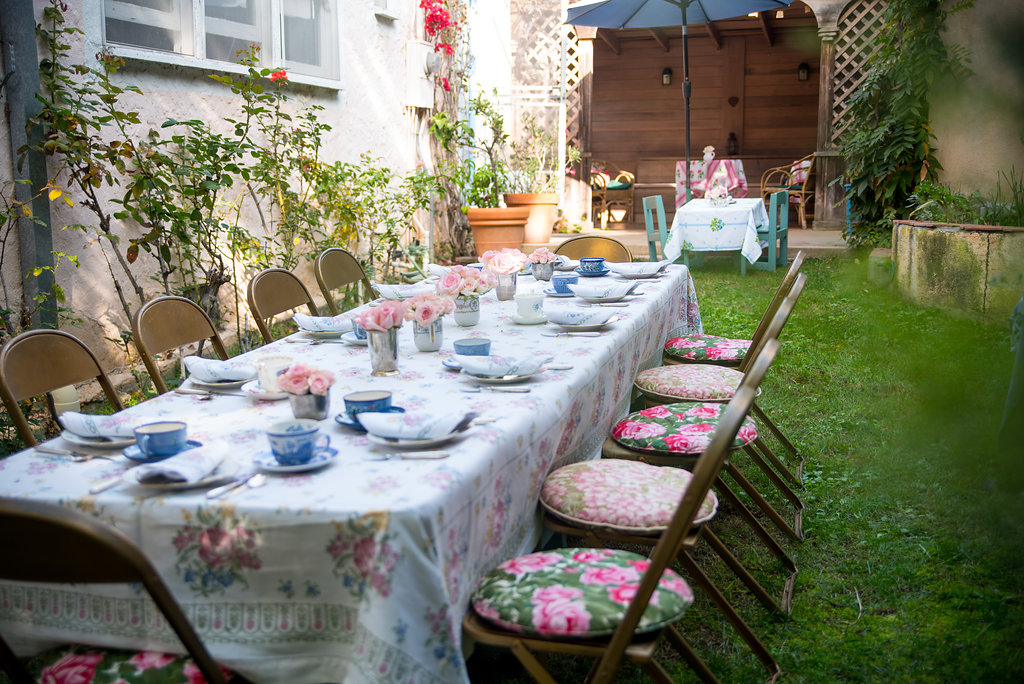 Lili's parents Narcissa and Parmer, graciously offered their beautiful backyard for our intimate setting. I kept asking what I might need to bring and Lili told me not to worry as her mom had "all the things". She wasn't kidding. How gorgeous is this garden setting?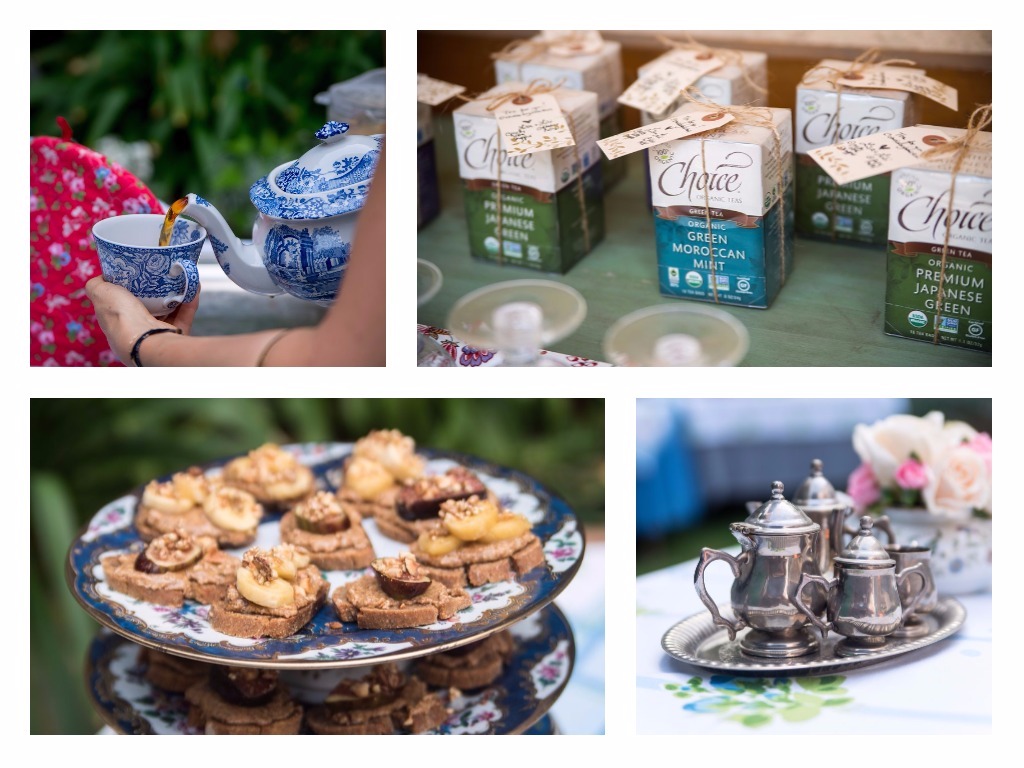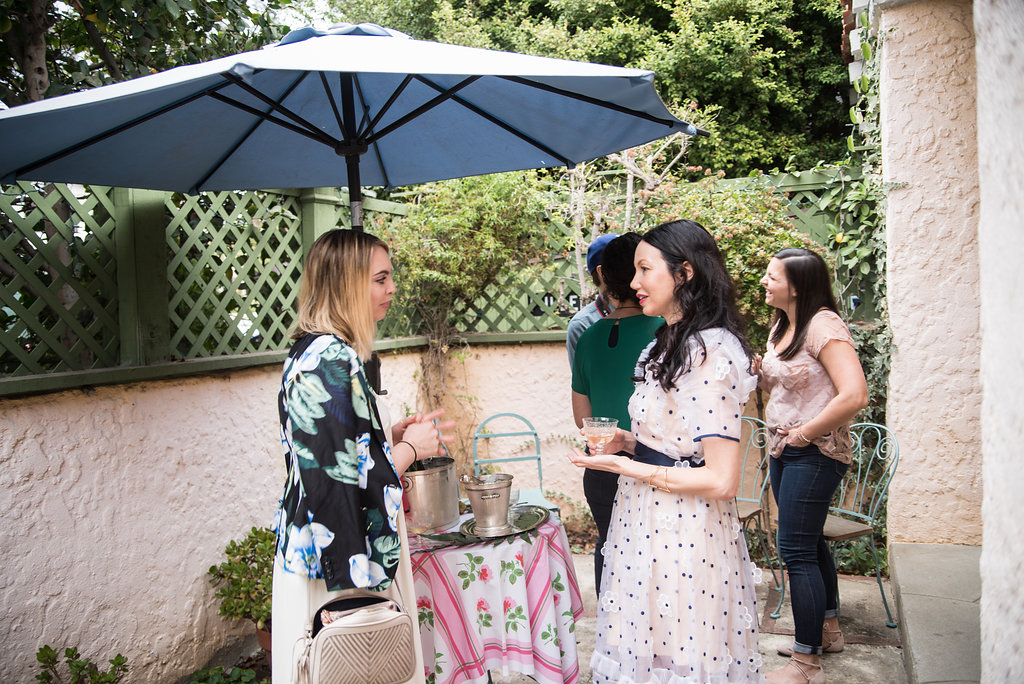 We greeted guests on the front porch with a glass of Champagne…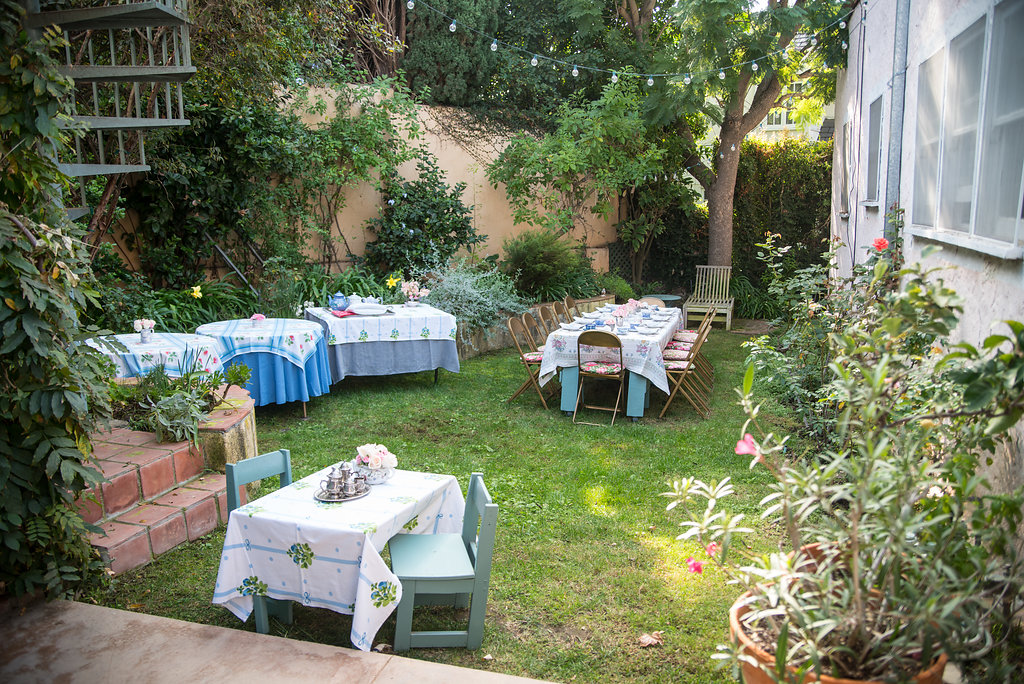 Before taking them into the garden to reveal our setup. Everyone was blown away by the breathtaking floral arrangements, tea cups and table cloths.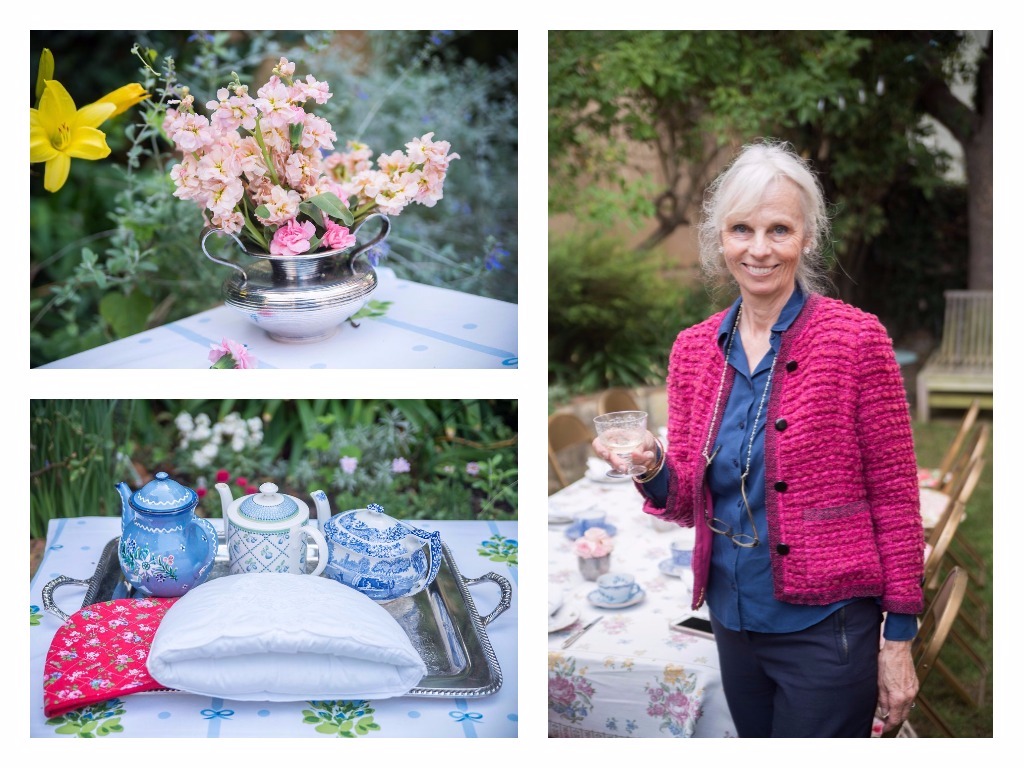 Lili's mom, Narcissa, explained the history of each piece she had collected or inherited from family. Many of the pieces were hand sewn or painted and some came all the way from Sweden and Norway. Not only am I obsessing over her dish collection, but also her stunning pink Chanel blazer.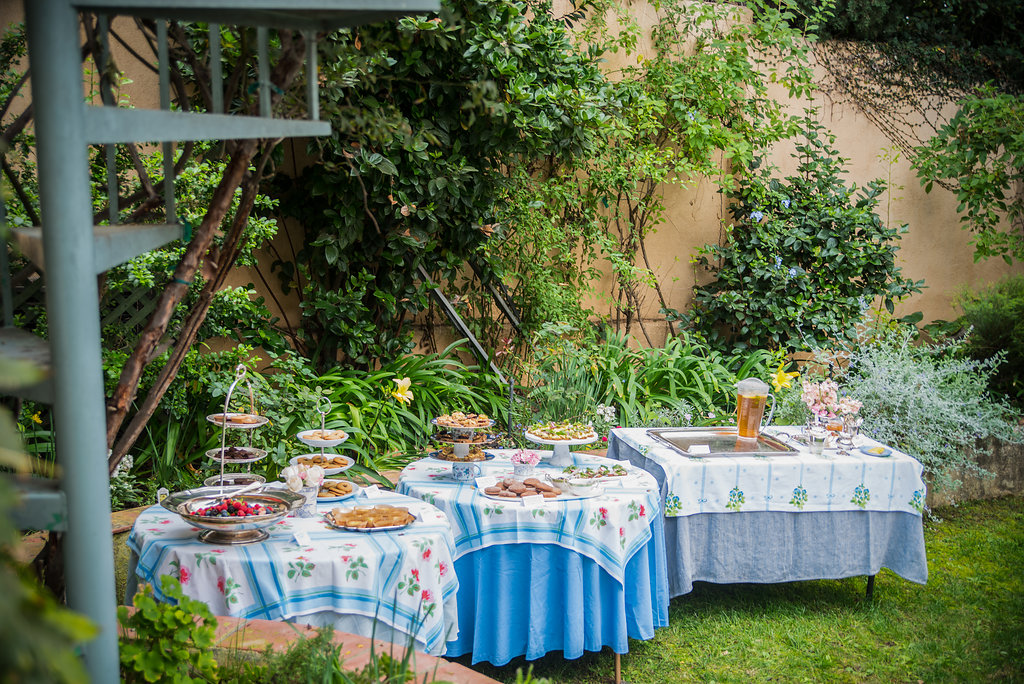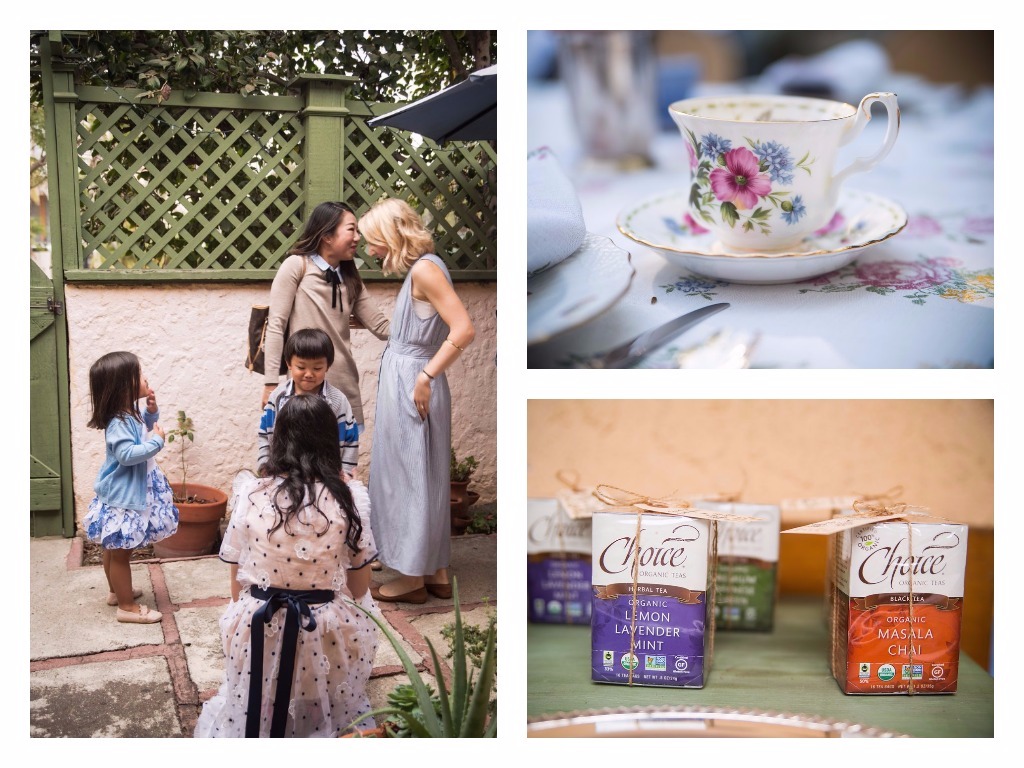 And Narcissa set a special table just for them. So glad she didn't give this away when Lili outgrew it. 🙂
Admittedly the gluten-free part of our menu was pretty easy to make. The dairy-free portion was a bit more challenging. I'll share the full details of how we made these lemon tarts and used coconut cream instead of clotted next week. While the entire menu was gluten and dairy free, we did put out some cow's milk next to our almond milk for those that prefer it.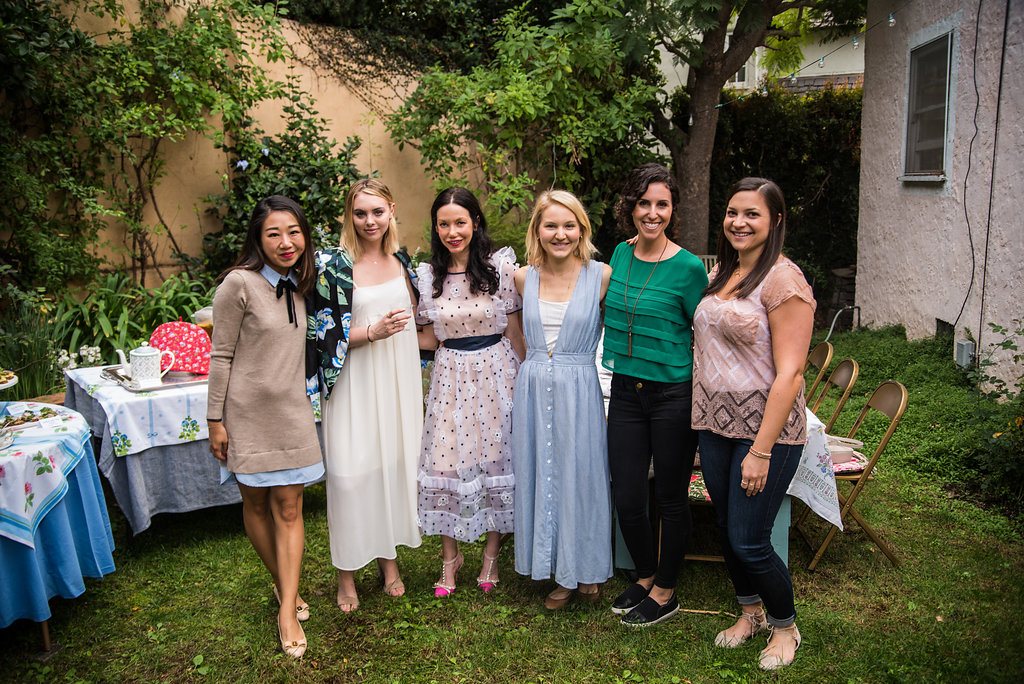 We took a few photos before we sat down.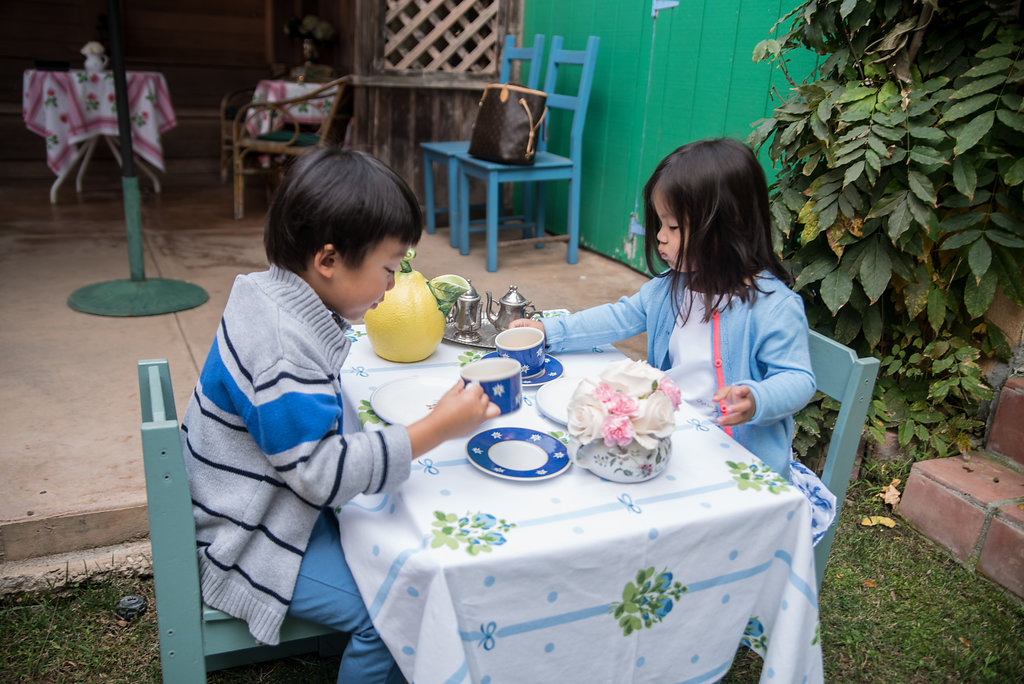 These two couldn't wait to get started.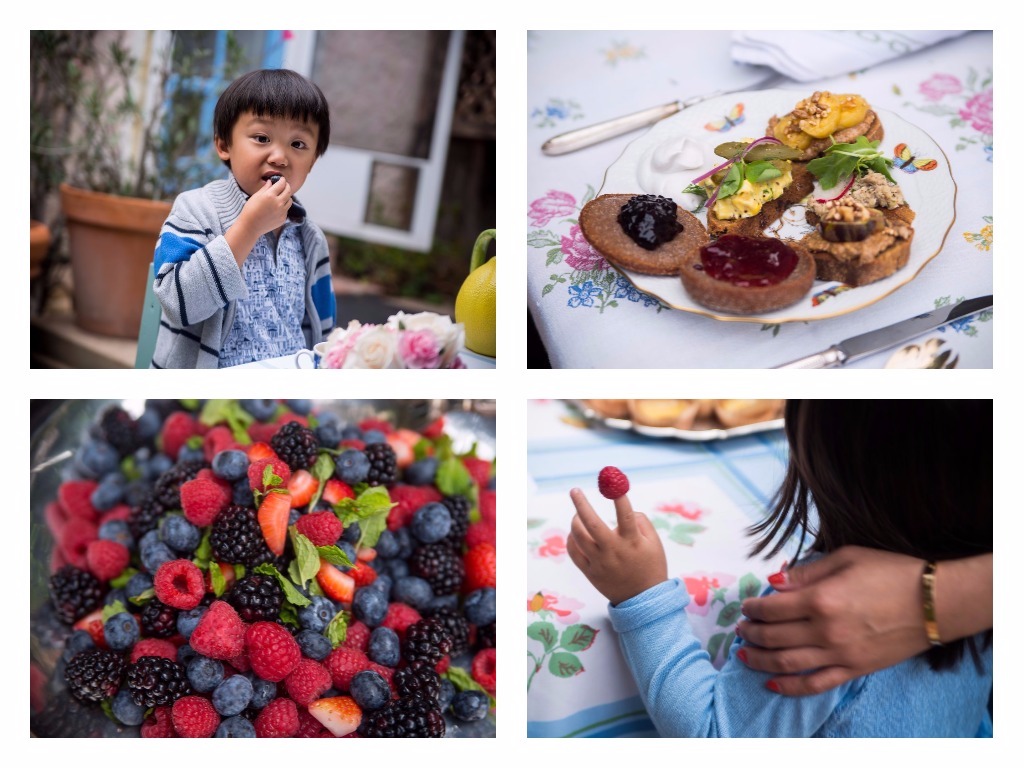 The menu seemed to go over berry well with them. 🙂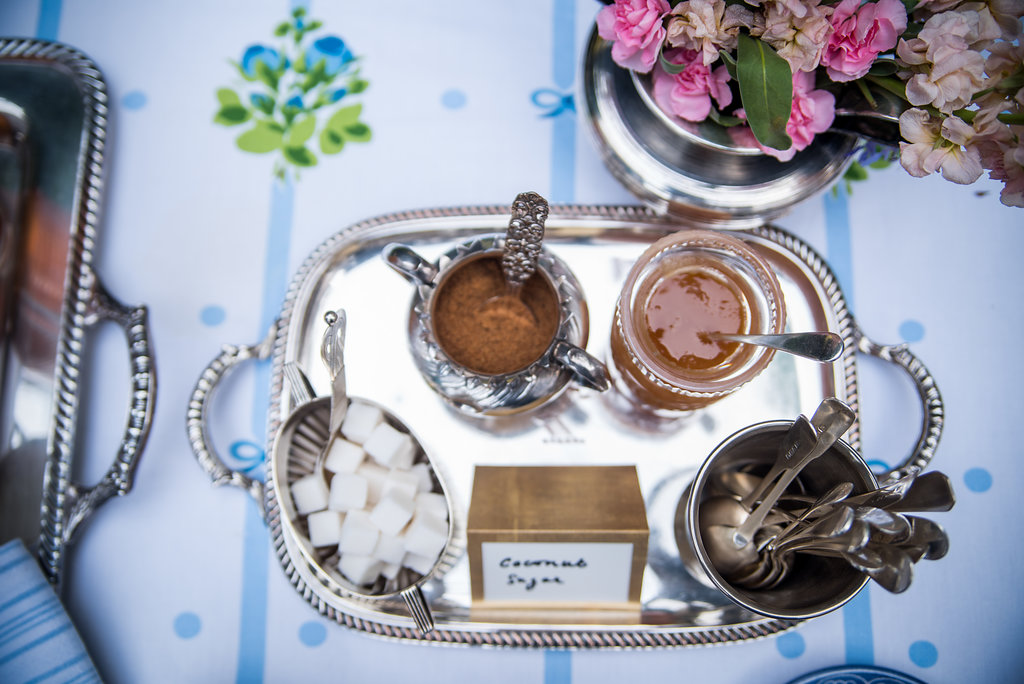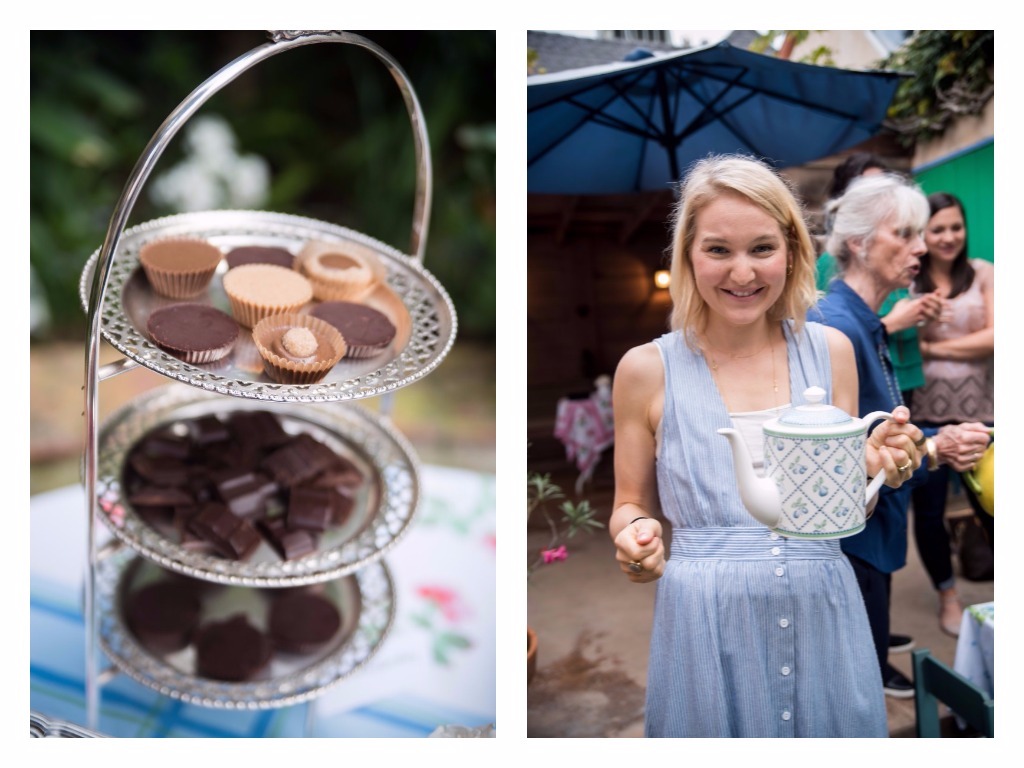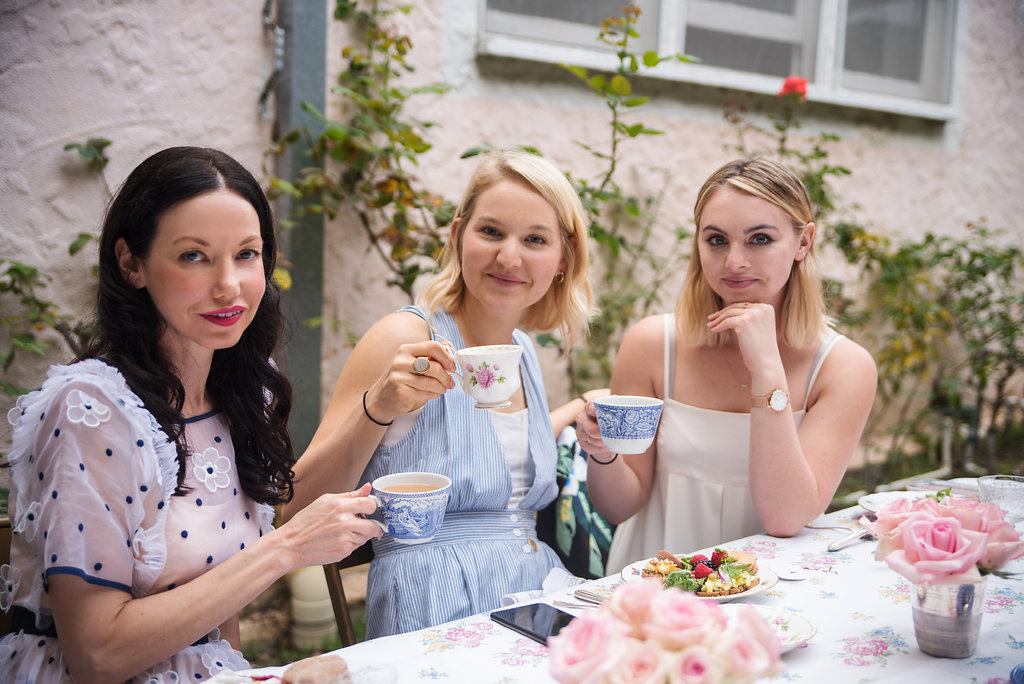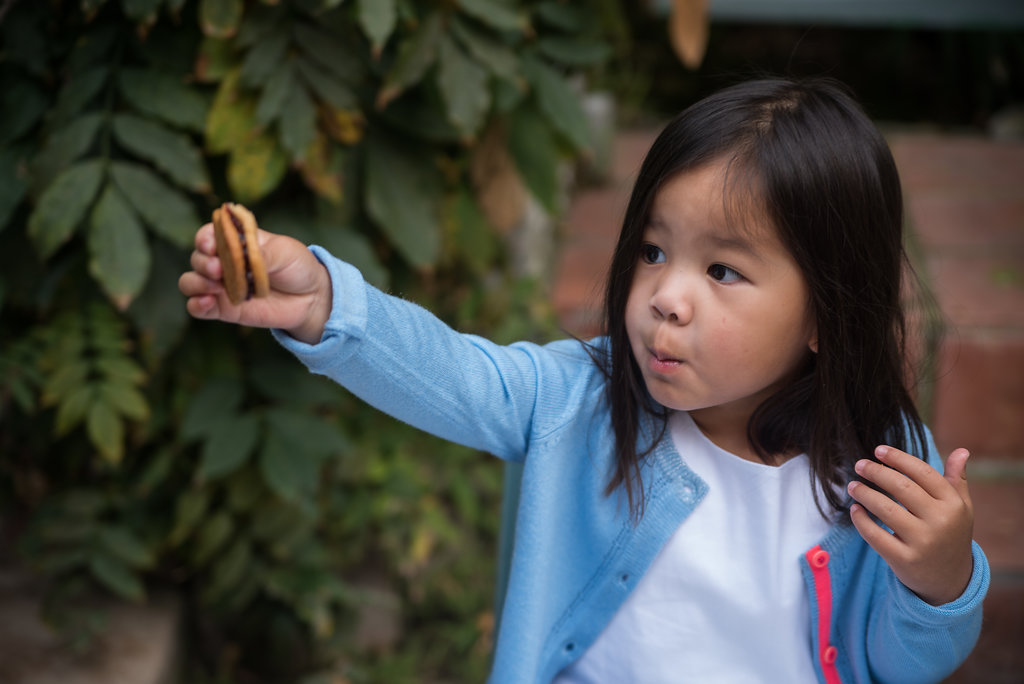 And
Miss K
raised her gluten-free Linzer Tart.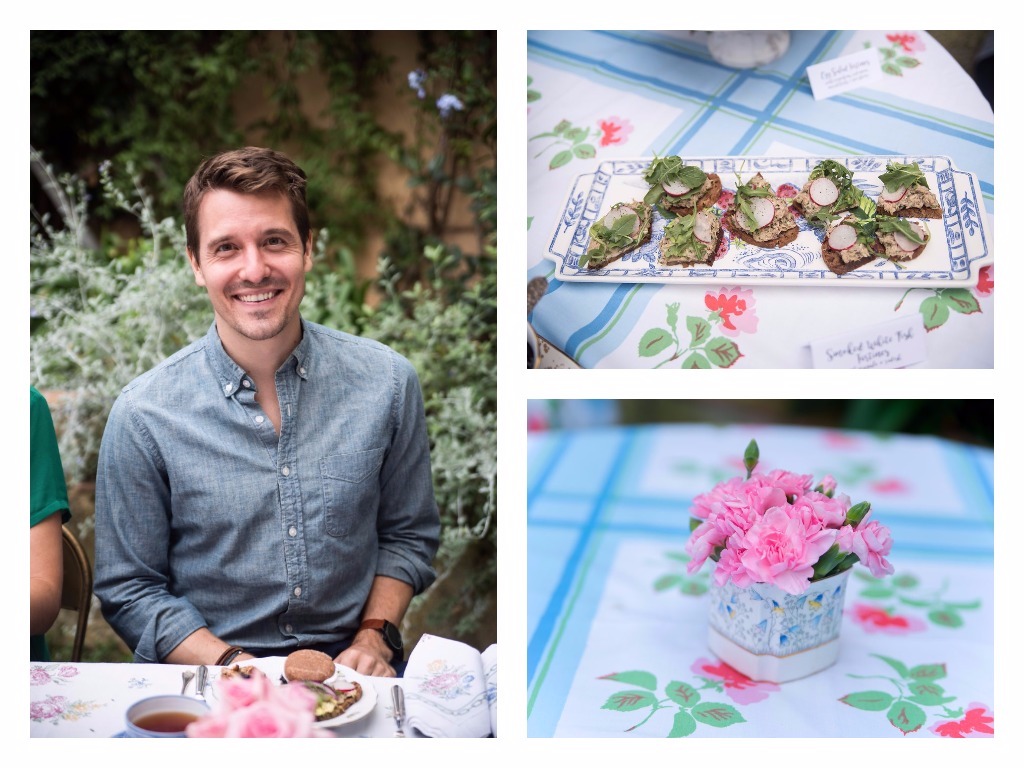 While we mainly invited just the ladies, we did get some delightful company from Lili's husband,
Joe
and her father pictured below. Yes, Mister Pretty Little Shopper was also invited. He politely declined and stayed home to watch football, but we did save him some of the lemon tarts.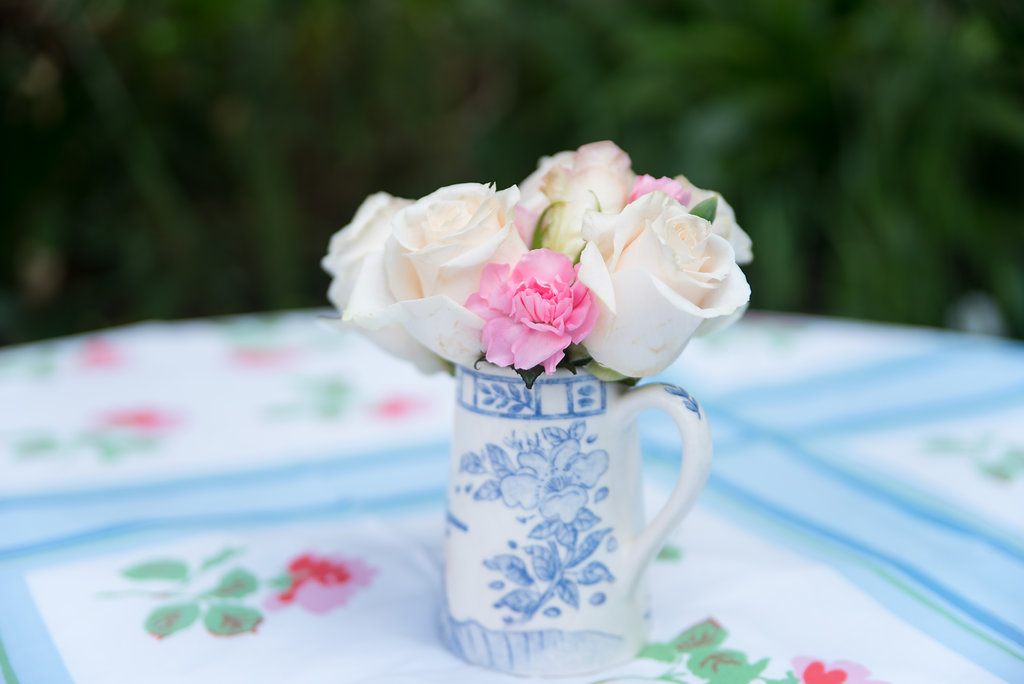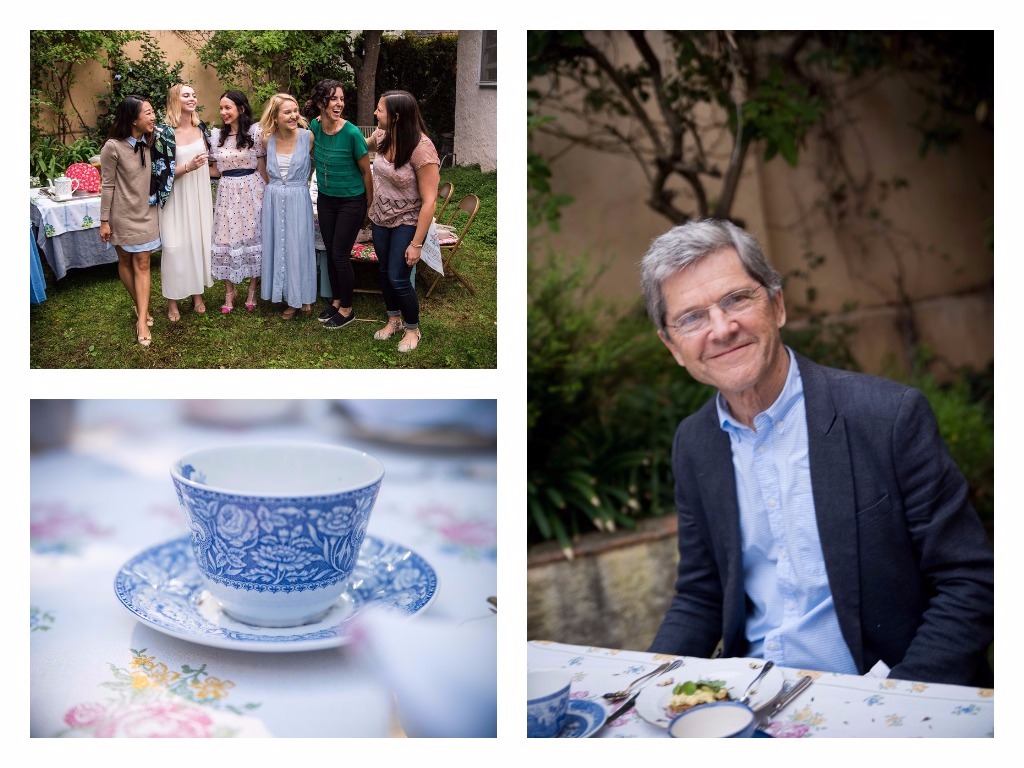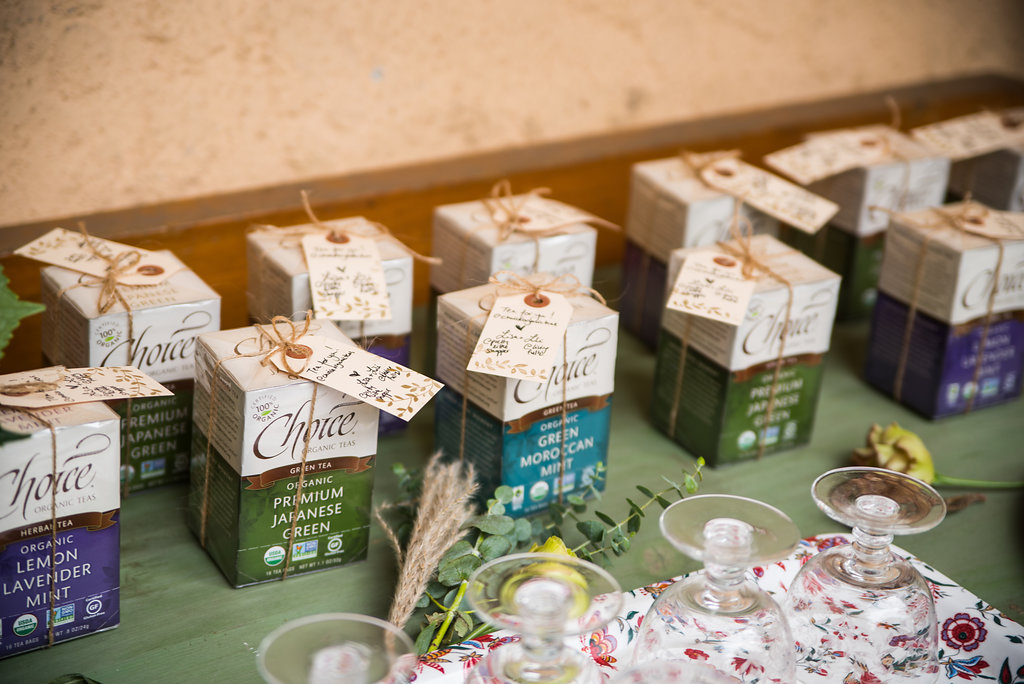 We served
Choice Organic Teas
, Masala Chai and Earl Grey. We also brewed a pot of their Lemon Lavendar Mint and served it iced. We sent our guests home with a mini box or two as they left.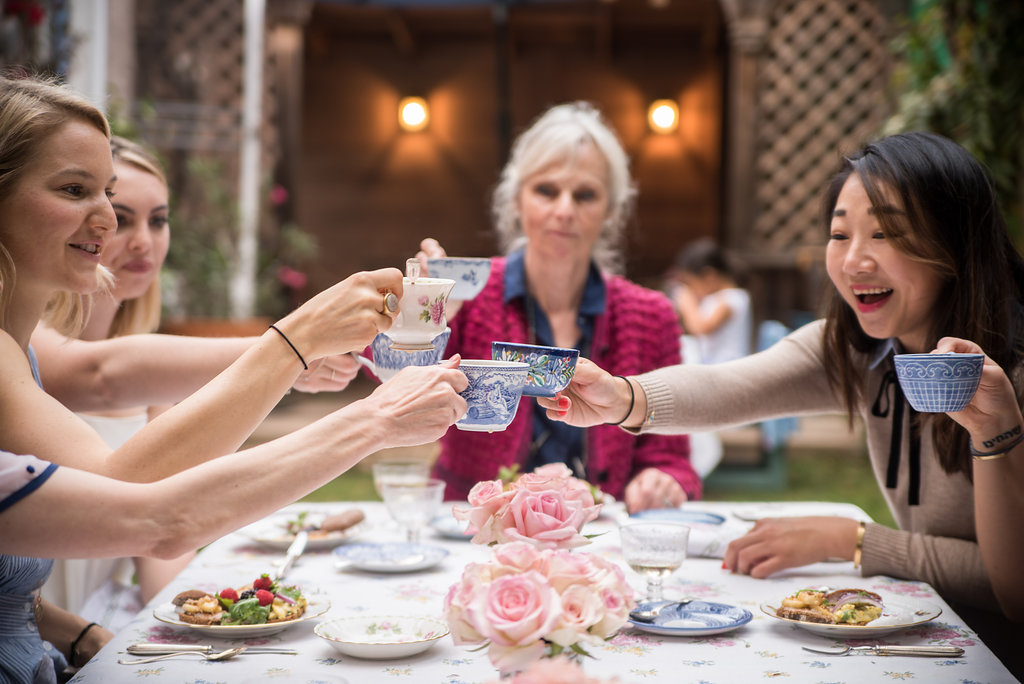 Are you a fan of High Tea? Please share your favorite locations and recipes. And if you were inspired to throw your own gluten and dairy free Tea Party please check back next week for all of our recipes.
xoxo,
Lisa
Lets be Social!