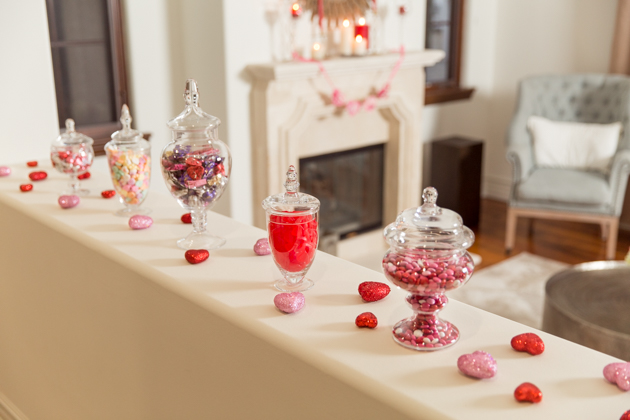 These DIY Bow Garlands are a project I made years ago… It was before I had a blog, so let's just say I had more tie on my hands. 🙂 The garlands were inspired by the late Juicy Couture store on Rodeo Drive (may it rest in peace), which at the time I considered my second home. I always loved their uber-feminine décor and thought the garlands would be a perfect decoration for a Valentine's Day party I was throwing. Simply tie an assortment of pink bows along a plain garland and then run a strand of white lights throughout. I used about 7 different ribbon variations in different widths, textures and shades. My favorite is the wire rimmed ribbon as it's so much easier to reshape after it's been in storage. I also created a couple of extra garlands to place over the mantels in my library and family room.
Don't worry about spending a fortune on floral arrangements. You can find reasonably priced flowers at your local farmer's market, flower mart or Trader Joe's. I used ribbon left over from my garlands to add pretty bow's to my arrangements.
Candy is a must for Valentine's Day…
Shop the post:
Thank you so much for stopping by!
xoxo,
Lisa