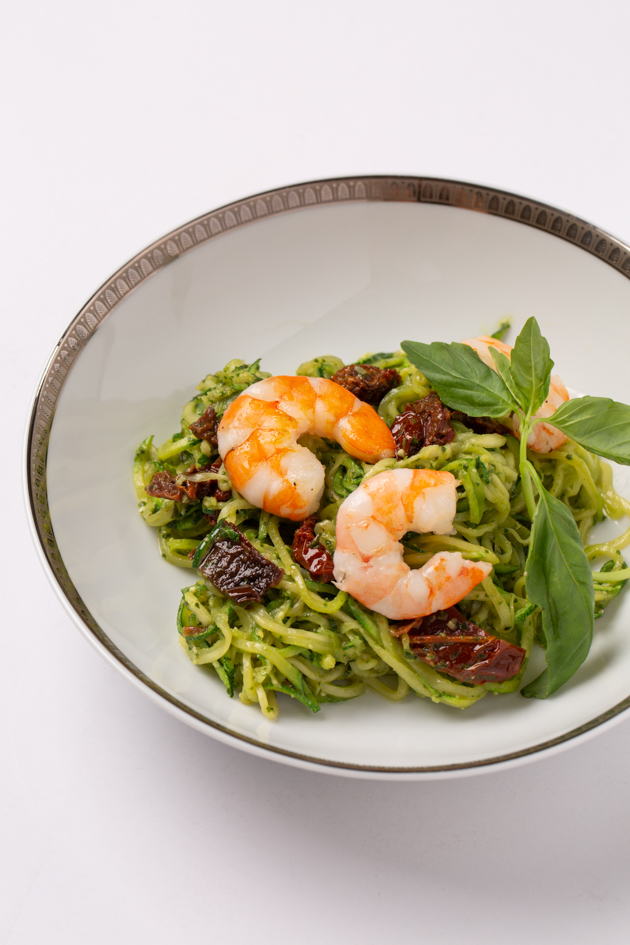 Happy Weekend! Can you believe the year is already half way through? Today I'm sharing another light and easy recipe to kick off the Summer. This tasty and refreshing Pesto Zoodles with Sun-dried Tomatoes and Shrimp dish is sure to be a crowd pleaser for your Summer holiday celebrations or a
light dinner al fresco
. Serve warm for a healthy low-on-carbs comfort food meal or prepare ahead of time and serve chilled at a Backyard Party or BBQ.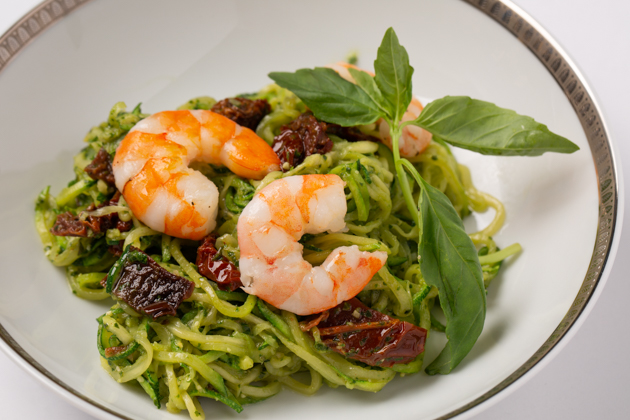 You will need:
4 large zucchini spiralized (see instructions below or buy pre-spriralized zoodles)
1/2 cup sun-dried tomatoes chopped (I use
this brand
)
3/4 lbs. wild caught shrimp (washed, peeled and de-veined)
1/2 cup Pesto Sauce (I used this recipe
here
)
Extra sprigs of basil to garnish
Extra virgin olive oil
Sea salt and freshly ground pepper
**Use organic ingredients where possible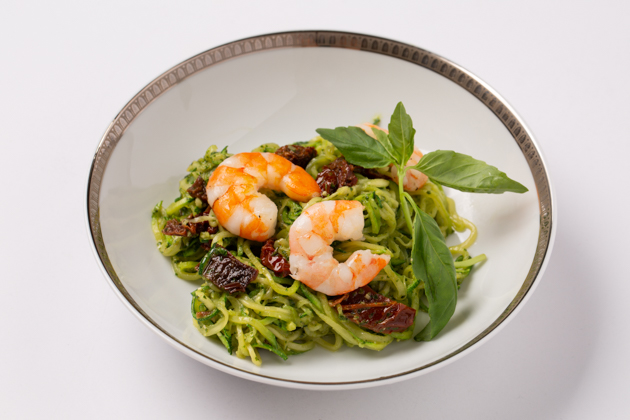 Prepare your pesto sauce (if making homemade) and set aside). I followed
this recipe
and didn't change a thing because it's absolutely delicious and takes less than 5 minutes to make. I've made this pesto several times now and it comes out perfect each time. I truly can't believe that I have only just now begun to make my own pesto because it's so easy to make!
Pre-heat your oven to 400 degrees. Soak 5 or 6 skewers in water for at least 10 minutes (to prevent burning) and then drain. Wash, peel and de-vein your shrimp (you can have your local fishmonger do this for you if you don't want to do it yourself). Line one or two baking sheets with parchment paper and drizzle with olive oil. Thread 4 to 5 shrimp on each of the skewers and place on the baking sheet. Sprinkle with sea salt and freshly ground pepper and place in the preheated oven. Bake for 7 minutes. Carefully remove the skewers from oven and flip them to the other side. Cook for another 2 to 3 minutes. Remove from oven and set aside while you are preparing your zoodles.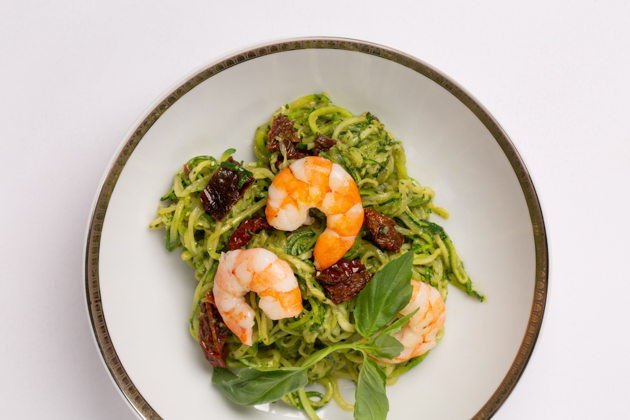 Now on to making the zoodles! Do you ever find yourself craving pasta, but not wanting to indulge in the heavy amount of carbs? Welcome to the world of spiralizing! If you live in Los Angeles or any other major health crazed city, you may have already seen a zoodle or two on your Instagram and Pinterest feed, or even in a restaurant or two. Spiralized veggie noodles have also made their way across the shelves of many a healthy market. I had been buying pre-made zoodles at Whole Foods for quite sometime, but they are often sold out when I go to shop for them. Finally, I decided to invest in my own spiralizer and I am actually amazed at how easy it is to make your own zoodles. The only challenging part in the process is choosing which blade you want to use and cleaning your spiralizer after you use it. I am loving one I purchased from Amazon for just $20. It comes with five different settings and a brush to easily clean the blades.
Shop Spiralizers: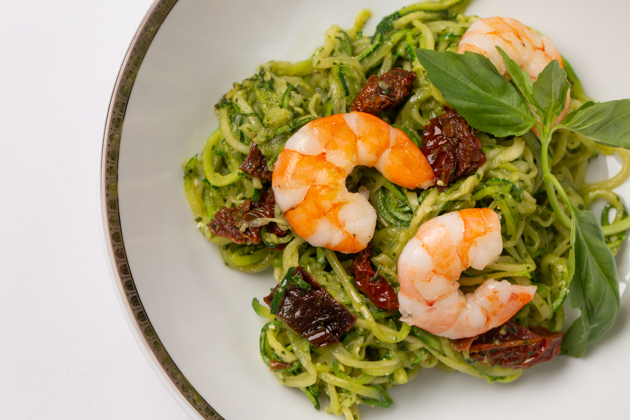 To prepare your zoodles, pre-heat a large fry pan to medium-low. Add a dash of olive oil and saute for two to four minutes with your zoodles until crisp-tender. Add a pinch of sea salt to taste.
Add in the pesto sauce and combine thoroughly heating for an additional one to two minutes. Add in the sun-dried tomatoes.
Plate the pesto zoodles and top with a few of the shrimp. Garnish with a sprig of basil. Makes 4 servings.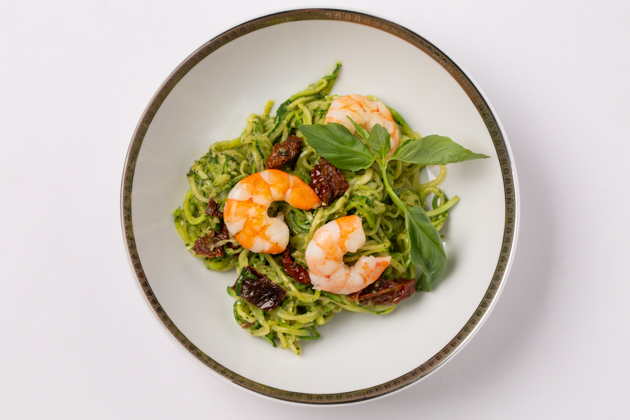 Have you gotten into the zoodle craze yet? Please share your recipes as I'd love to try them now that I have my own spiralizer. And let me know what you think of this pesto zoodles with sun-dried tomatoes and shrimp recipe if you decide to make it.
Thank you so much for reading!
xoxo,
Lisa
Let's be social!