Yesterday was the start of Mental Health Awareness Month and I'm excited to launch the #FashLifeAtHomeChallenge that I created with my show The Fash Life Series in partnership with DBSA (Depression Bipolar Support Alliance)! The purpose of the challenge is to raise awareness about mental health and to inspire others to practice self care during quarantine and I would love to invite you to take part!
Mental Health Awareness Month
Why I Created The Challenge:
As someone who has suffered from depression and anxiety throughout my life, I've found that taking care of myself through wellness and beauty routines, as well as getting dressed up, have always helped to improve my mood. Throughout the years I've collected a handful of wellness tools to help me cope with my depression, but I noticed that once the quarantine launched a lot of my friends were suddenly suffering with feelings they had never experienced. My producing partner Rebecca and I started discussing ways we could help tie the positive messages of our show, together with a movement to create awareness during this difficult time. After many conversations with other influencers and mental health awareness advocates, the #FashLifeAtHomeChallenge was born.
We partnered up with DBSA (Depression Bipolar Support Alliance), which is an incredible non-profit providing
free support groups, wellness tools and coping tips to those in need
. While we only launched the challenge yesterday, it's really hit home over the last few weeks just how important it is to talk about mental health and to share resources for support. Just a few days ago, I was chatting with the always friendly manager at my grocery store and he asked me what had been keeping me busy. I mentioned the challenge and as it turns out he had family members who are currently suffering from depression with nowhere to turn. I was so happy to share this resource, as I wish I had known about it myself when I had hit so many rock bottoms over the past few years.
1. POST: Create a short video of yourself answering the 5 questions below, or download our templates @thefashlifeseries:
How has your daily routine changed during COVID-19?

How are you living The Fash Life at home? (Feel free to insert a photo of your favorite OOTD "outfit of the day" or show us what you are wearing).

Are you wearing pants right now? (Be honest)

What is your best self-care, wellness, fashion or beauty tip to stay mentally healthy while quarantined?

What is your favorite episode of The Fash Life

 series?
2. TAG: Be sure to tag: #FashLifeAtHomeChallenge @thefashlifeseries @DBSAlliance
3. INVITE: Challenge and tag 3 or more friends to participate.
Now I'm challenging YOU to participate in the challenge! I can't wait to see your videos and/or templates filled out and to learn how you are coping with mental health and wellness routines these past few months.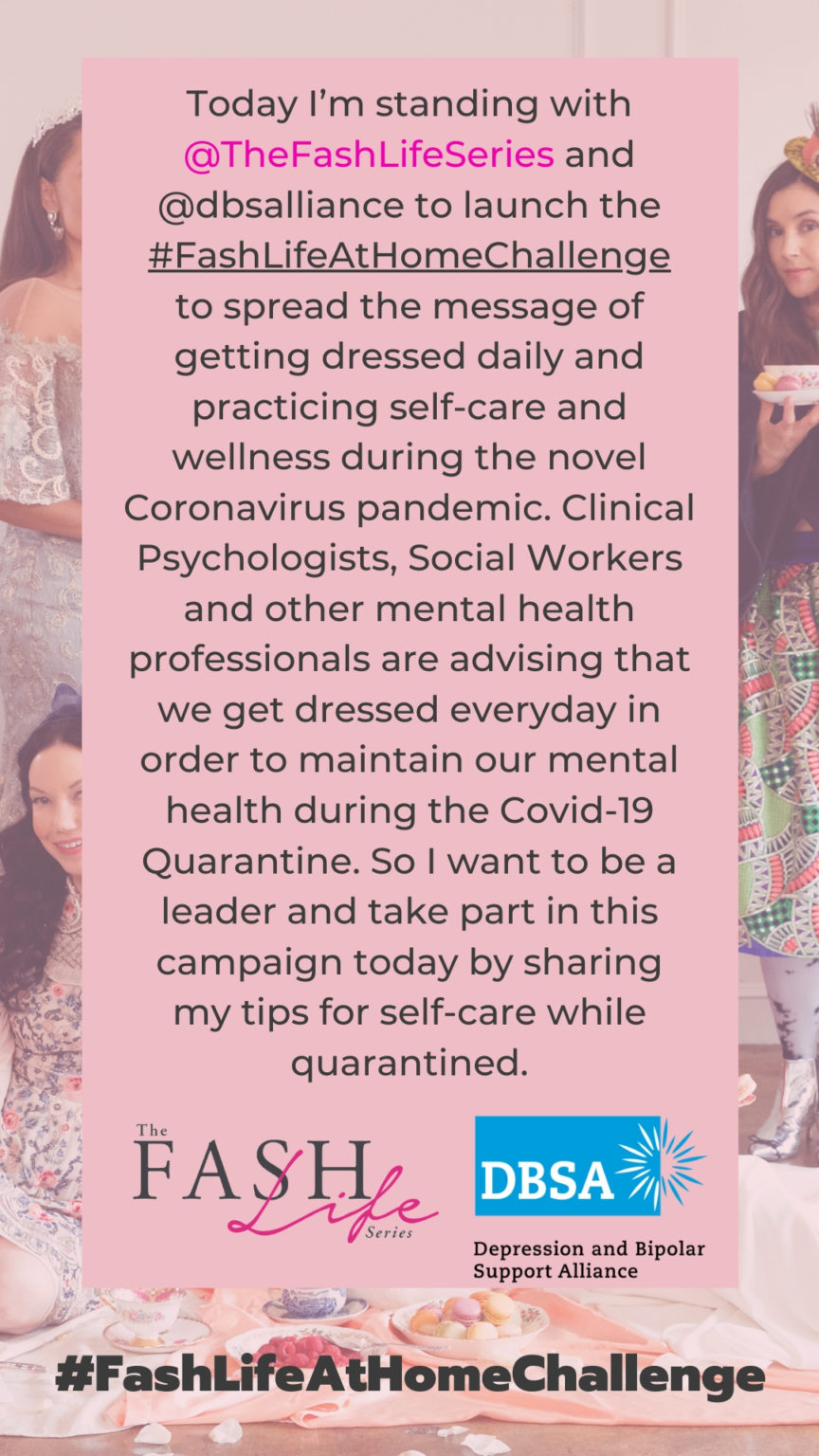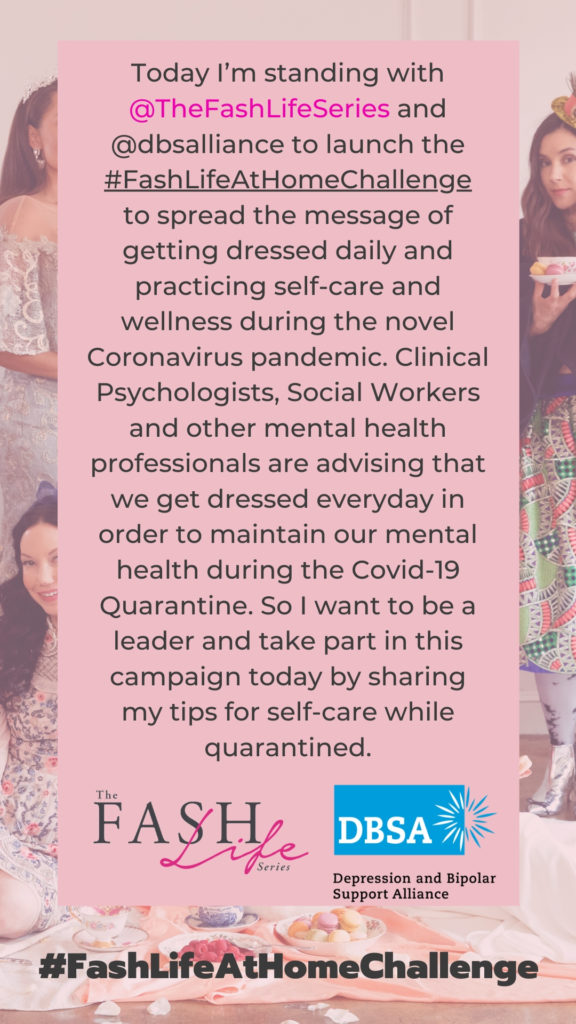 Please feel free to leave a comment below, or send me a message if you have any questions, need anything, or just to say hello!
xoxo,
Lisa
How are you doing for Mental Health Awareness Month?  Let me know in a comment below!
Let's be social!