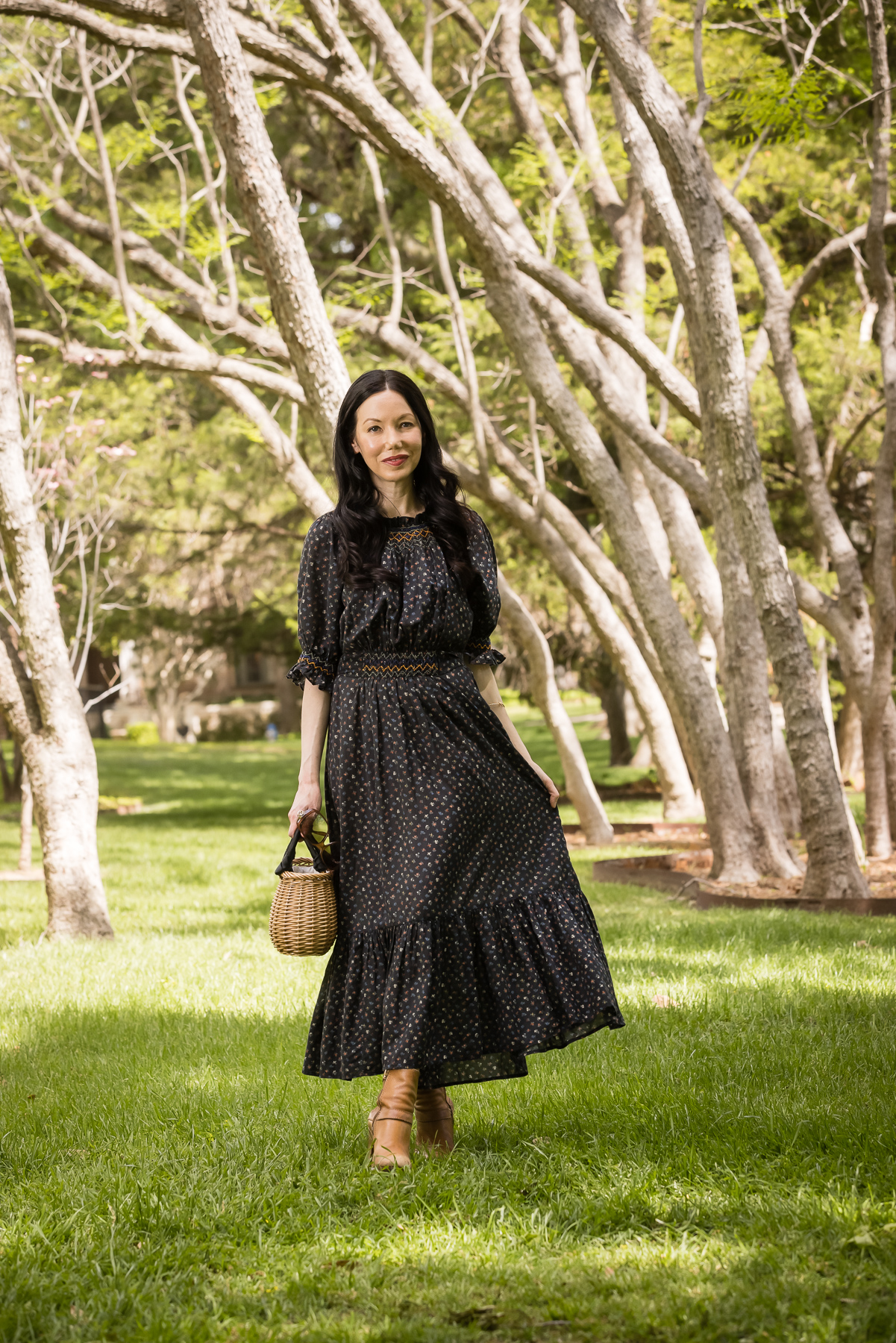 My obsession with any kind of
prairie dress
runs deep… it all started with my first professional job
as an actress
in a Civic Light Opera production of the Rodgers and Hammerstein musical Oklahoma! I was still a teenager and absolutely adored all of the beautiful prairie dresses and hair bows, that our costumer outfitted us in as we danced and sang our way across the stage. We had four costume changes for Laurie's Dream Ballet alone (which made the changes even more complex than the choreography). I was especially loving a pink gingham dress I wore. Little did I know that a couple of decades later Prairie Dresses and Cottage Core would
be all the rage
.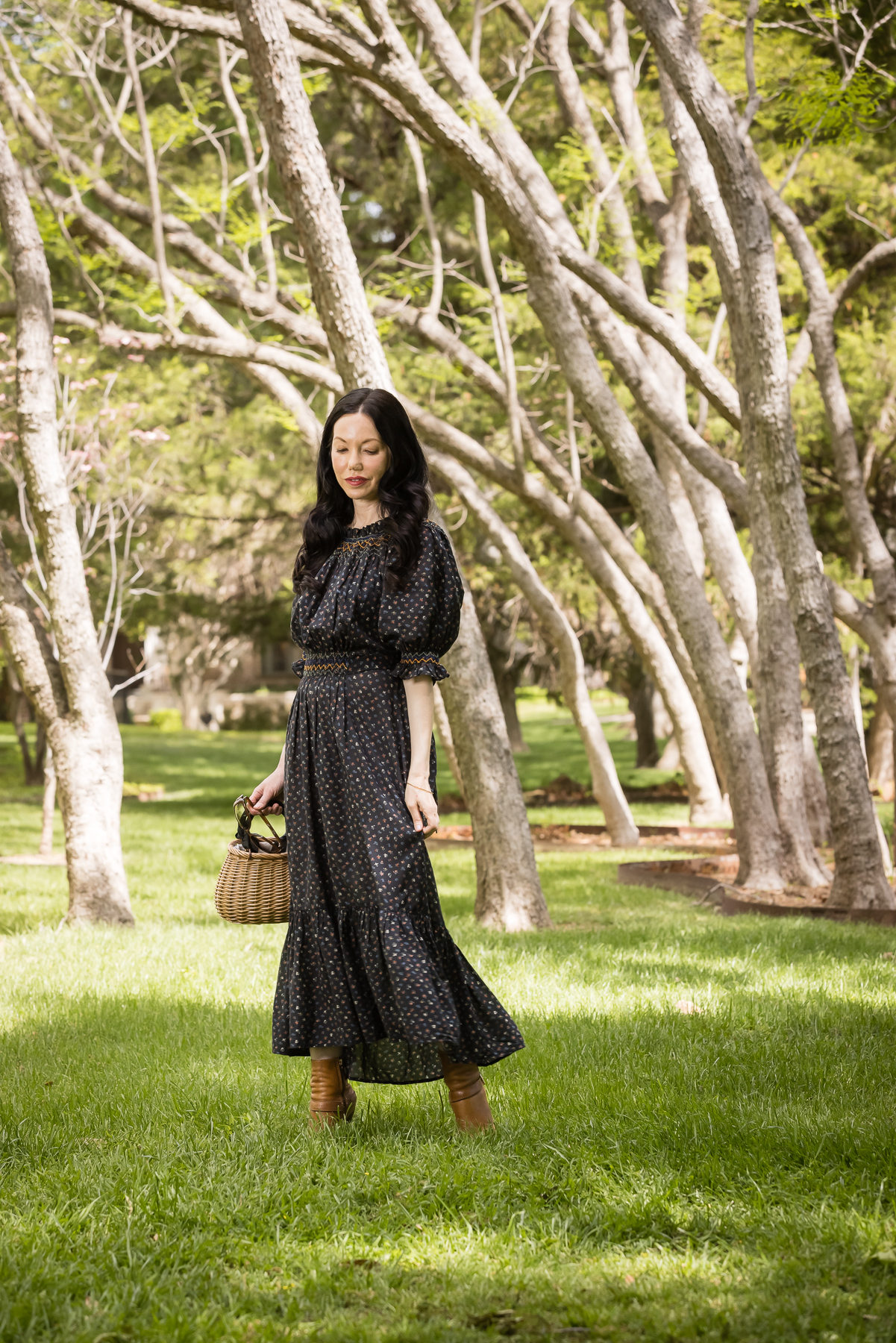 How to Style A Prairie Dress
*Keep it Simple – A prairie dress makes a statement with it's embellished sleeves, stitching and fabric, so it's really such an easy look to throw on in a rush and still looked pulled together. The dress has it's roots in pioneer woman working the land and it's more modern styles are perfect for everything from working at home, running errands and chasing after your human and fur babies.
*Pair with boots, sandals, ballet flats or ballet mules – Comfort is key with this look, so think of a shoe that's easy to slip on and off. Or skip the shoes altogether and feel the grass on your feet as you run through the plains. 🙂
*Grab a straw bag or tote – Keep it earthy and natural with a hand woven bag or tote.
*Add a hair bow – This is really the only accessory you need with a prairie dress. In another musical I did (Seven Brides for Seven Brothers), I remember my director stopping me in the backstage hall… I thought he was going to give me a choreography note, but instead he told me to head back to wardrobe for a matching hair bow to go with my dress.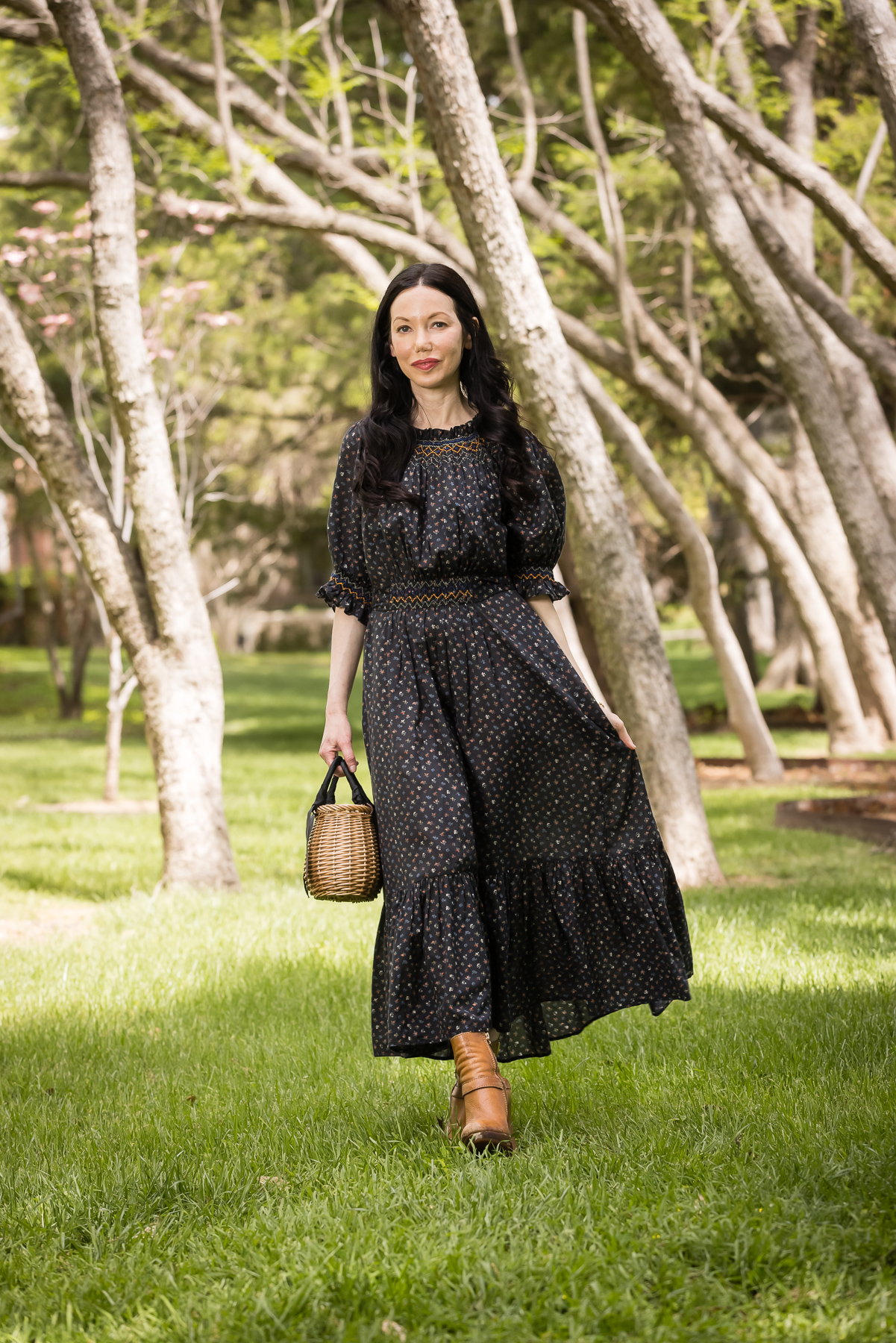 I've been living in this Doen Prairie dress for the past few months as it goes so well with my new surroundings. These photos were taken just steps from my home, and I've been wearing this dress to take
Mr. Cupcake
on his afternoon or early evening walk and for play/wine dates with our neighbors and their pups. It's such an easy and comfortable look to throw on in a hurry and still look pulled together.
Shop Prairie Dresses:

Shop Shoes, Bags and Bows: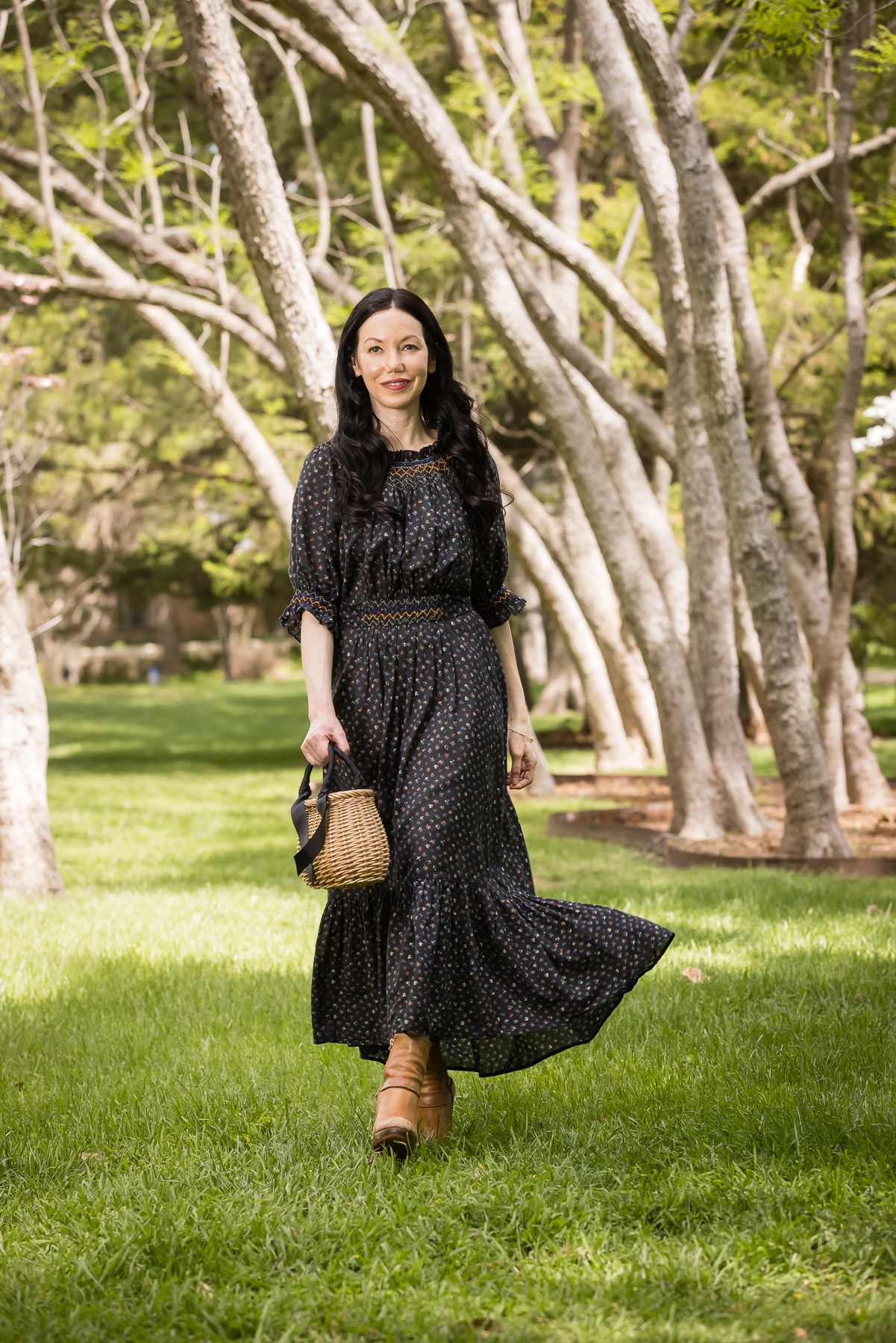 Have you tried adding a prairie dress to your wardrobe? Let me know how you styled it in the comments below.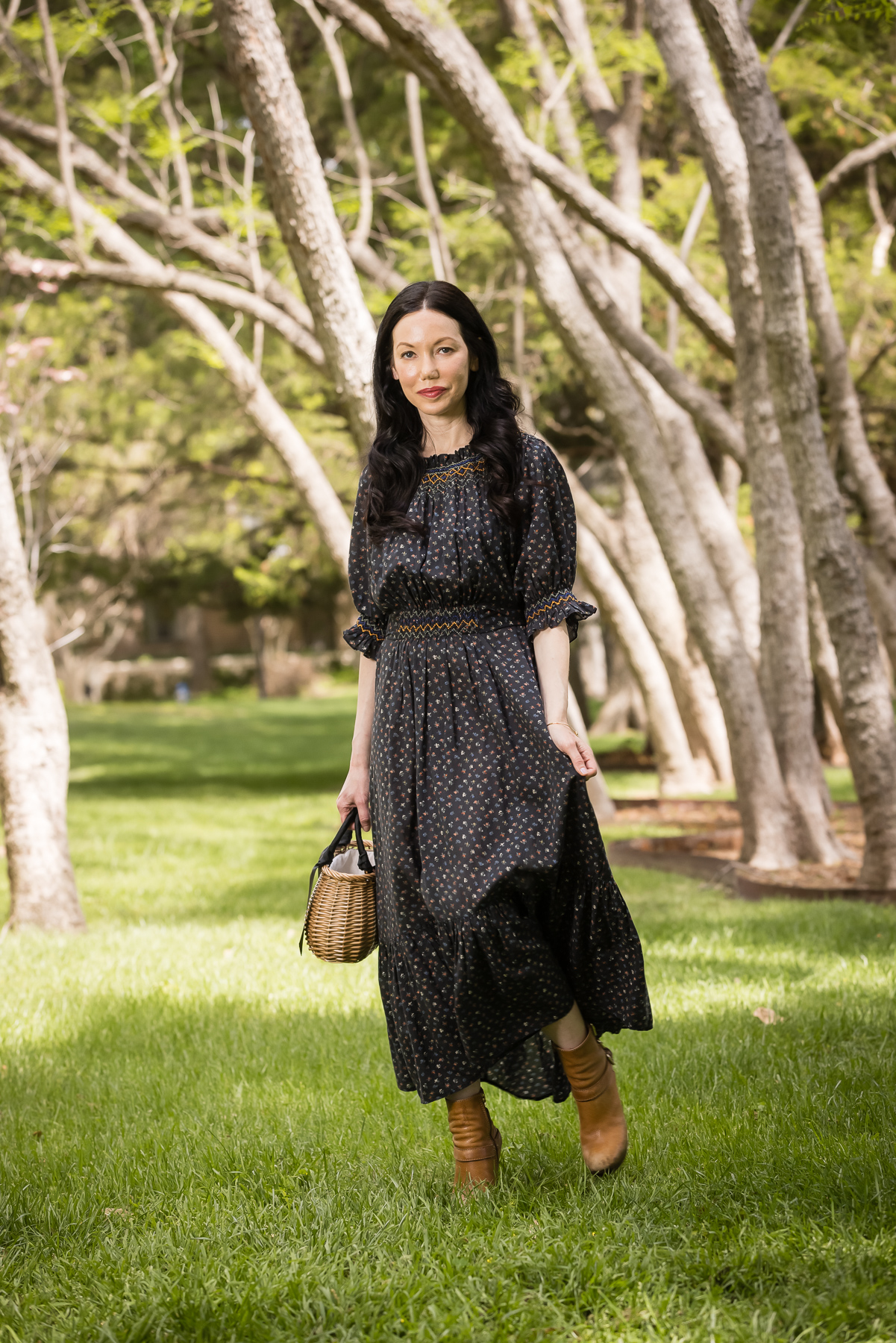 Thank you so much for stopping by!
xoxo,
Lisa
Let's be social!