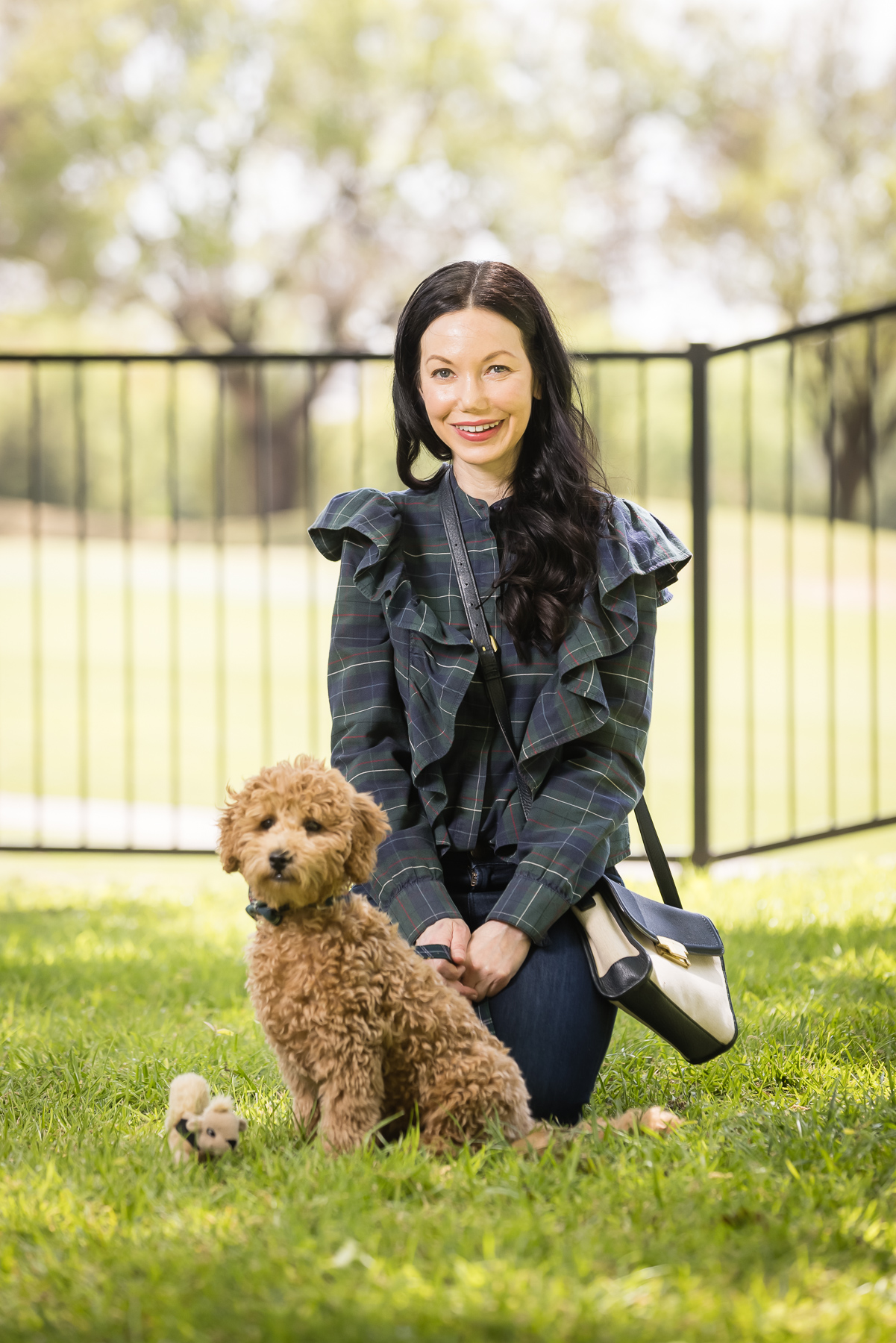 It's been awhile since I've posted here on the blog and I'm so excited to formally introduce you to the fluffy bundle of joy that's stolen my heart, my shoes and all of my spare time! To be honest I didn't expect to take
another long break from blogging
after moving again, but I wanted you to officially meet
Charlie Cupcake
with these beautiful photos taken by Thomas Garza.
Meet Charlie Cupcake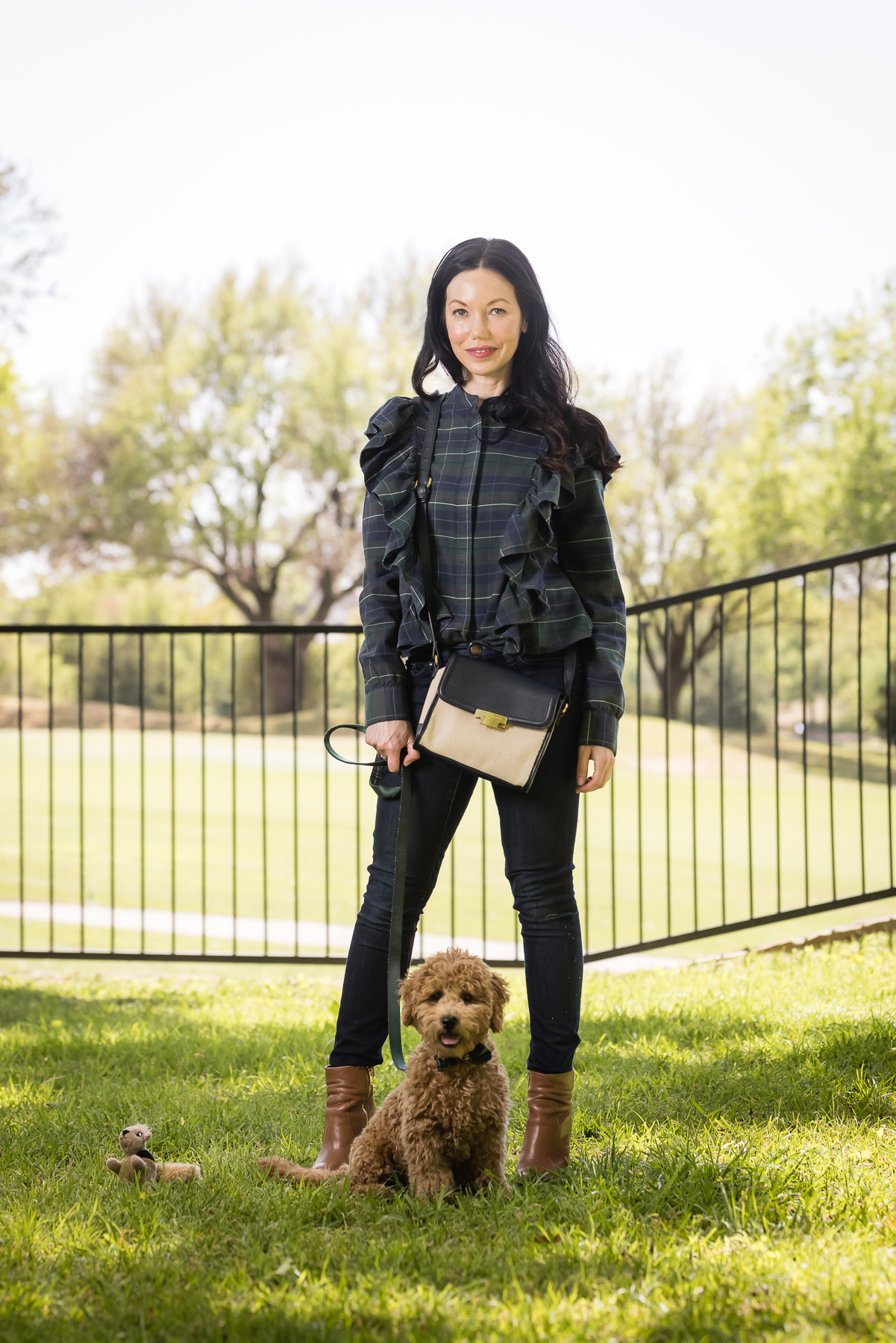 We had been dreaming about having this little guy join our family for so many years, but were
waiting to sell our house in Manhattan Beach
which didn't have a yard or deck. After tons of research and debating about different breeds, we knew we wanted a Goldendoodle because they are such sweet, loveable and smart dogs and mostly don't shed and are great for people with allergies. We put down a deposit with
Copper Canyon Doodles
as soon as we moved to our house in Los Angeles at the beginning of June and we got an email on January 21st (an hour after our furniture arrived at our new Dallas home) asking us if we would like to take home this cutie two weeks later! Not only is Mr. Cupcake adorable, but this little dood is a smartie to realize that Dallas would be his perfect home!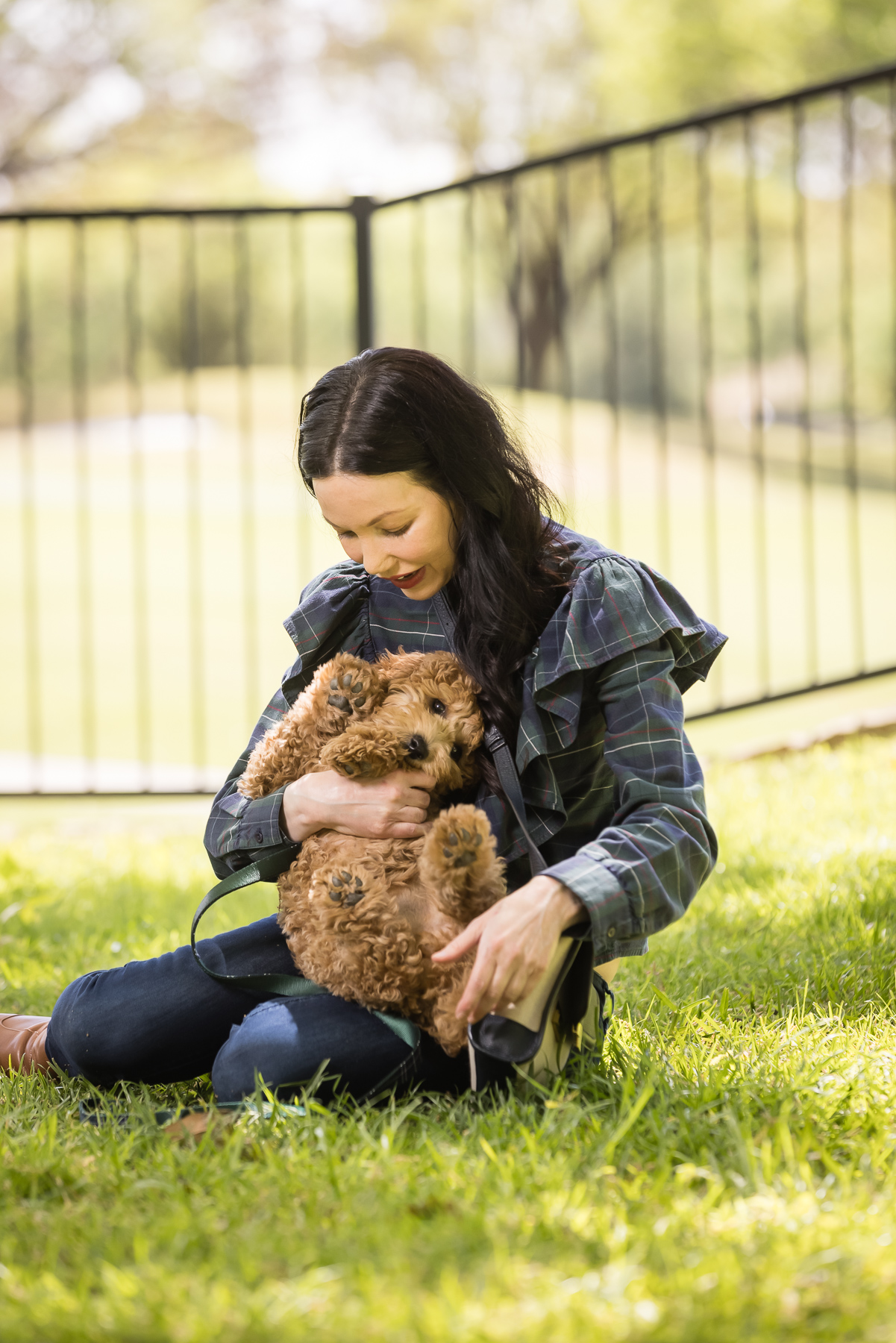 I actually picked out the name Mr. Cupcake years ago
and we ended up picking the first name Charlie which suits him perfectly. He is the friendliest little puppy you will ever meet and has never met a stranger. He loves to run up to every single person and dog we meet to say hello and even wants to be friends with much bigger dogs that growl at him on our walks.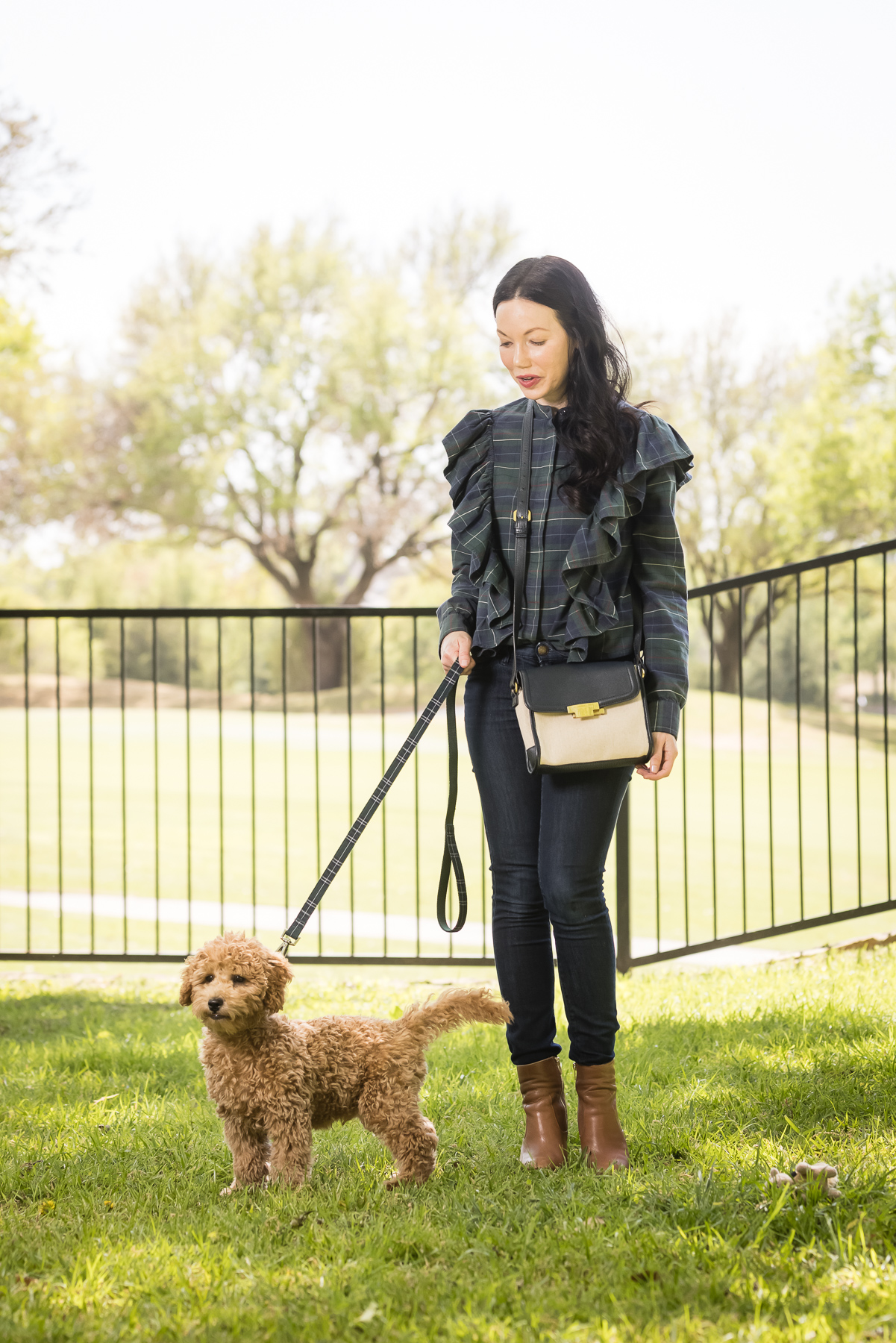 Our new Dallas home is in a small gated community which feels like an enchanted village and could not be a more dreamy place for a sweet little puppy. Charlie loves chasing all of the rabbits and squirrels and running into our human and canine friends on our walks. We have a friend we have been having doggie play dates with and Charlie gets so excited every time we go to "Putter's house" to visit (and I love having wine and tea dates with Putter's Mom)! Every time we walk down the street where her house is, Charlie runs down every single driveway to try to find the right house. He even tried to sneak through the fence in the back to get to her yard!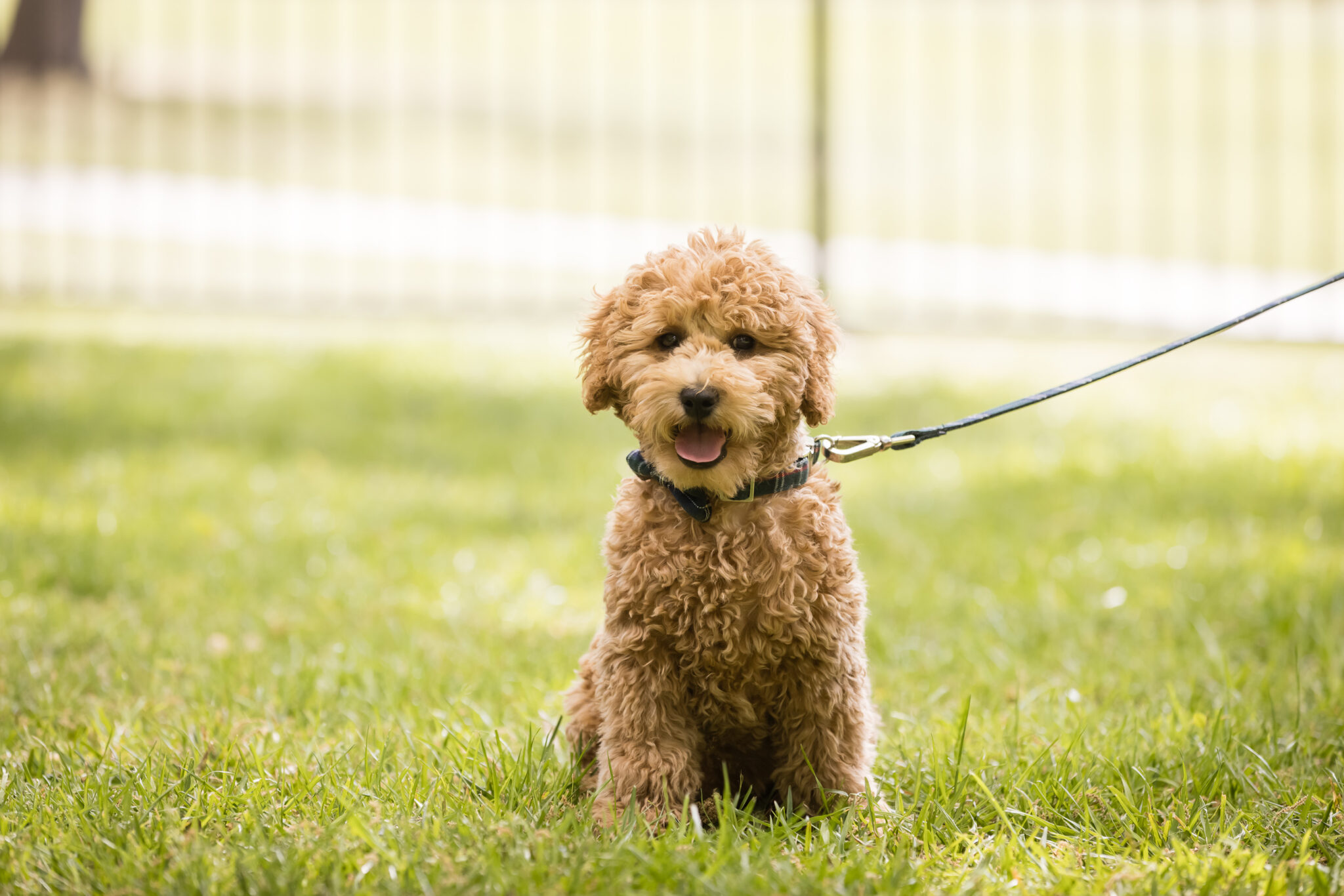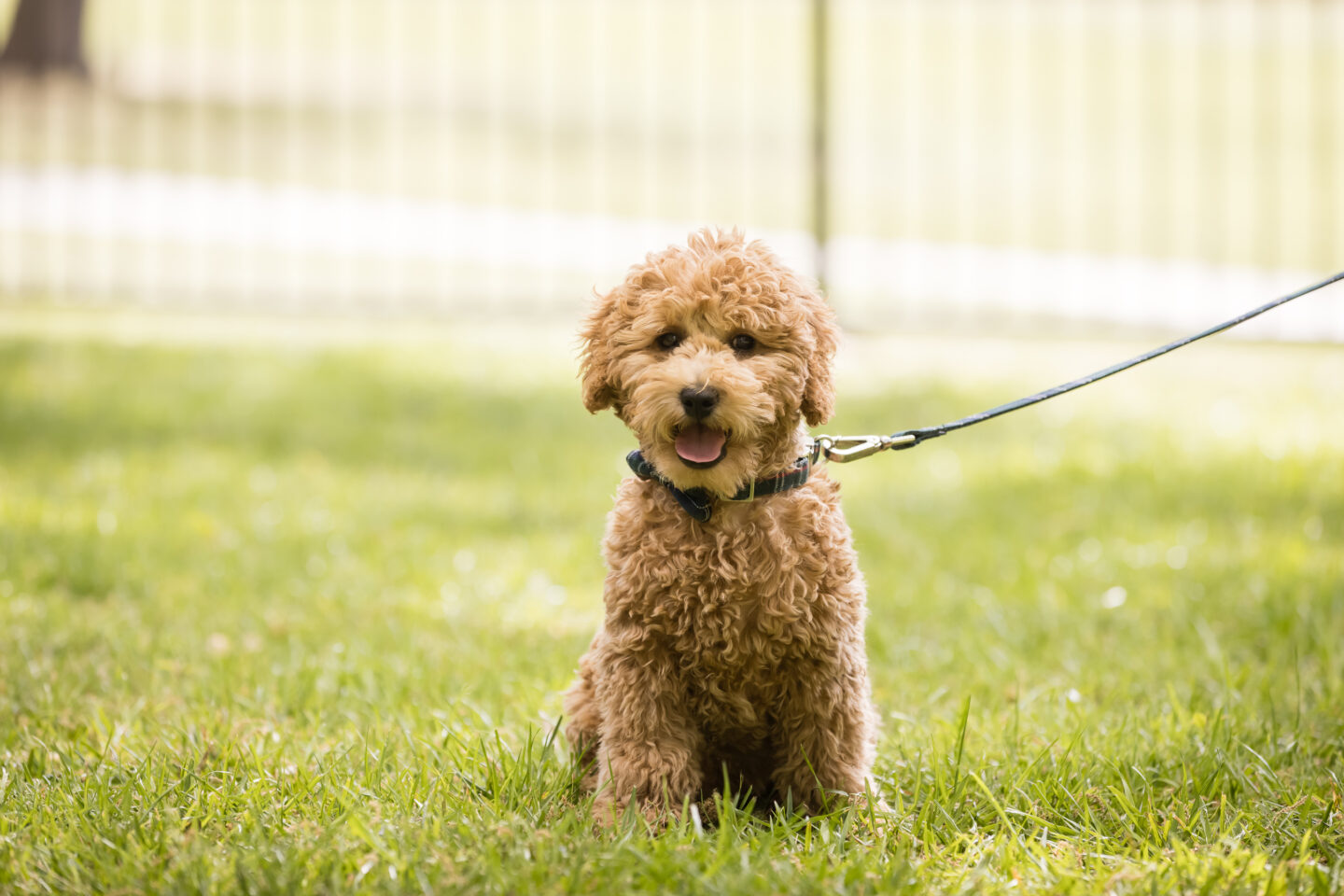 While
adjusting to a new state (for the first time in my life) has been a big change
, I will definitely say that bringing Mr. Cupcake into our family has been an even bigger one! In spite of dreaming about him for years, I will say that there are a few things I would have prepared for a little differently… especially watching training videos before we got him and starting with a personal trainer the day after we brought him home. By the time we put in a call to our trainer, he already had a two week wait time and a few days later we ended up being
snowed in for an entire week
with a very rambunctious and teething energizer puppy. The hubby and I made him an obstacle course out of empty moving boxes and taught him how to run through it and chase his ball. Our trainer
Dan at Dog's Mind Training
is one of Charlie's most favorite humans and has taught us even more than he has taught our puppy and was definitely a game changer for us as pawrents.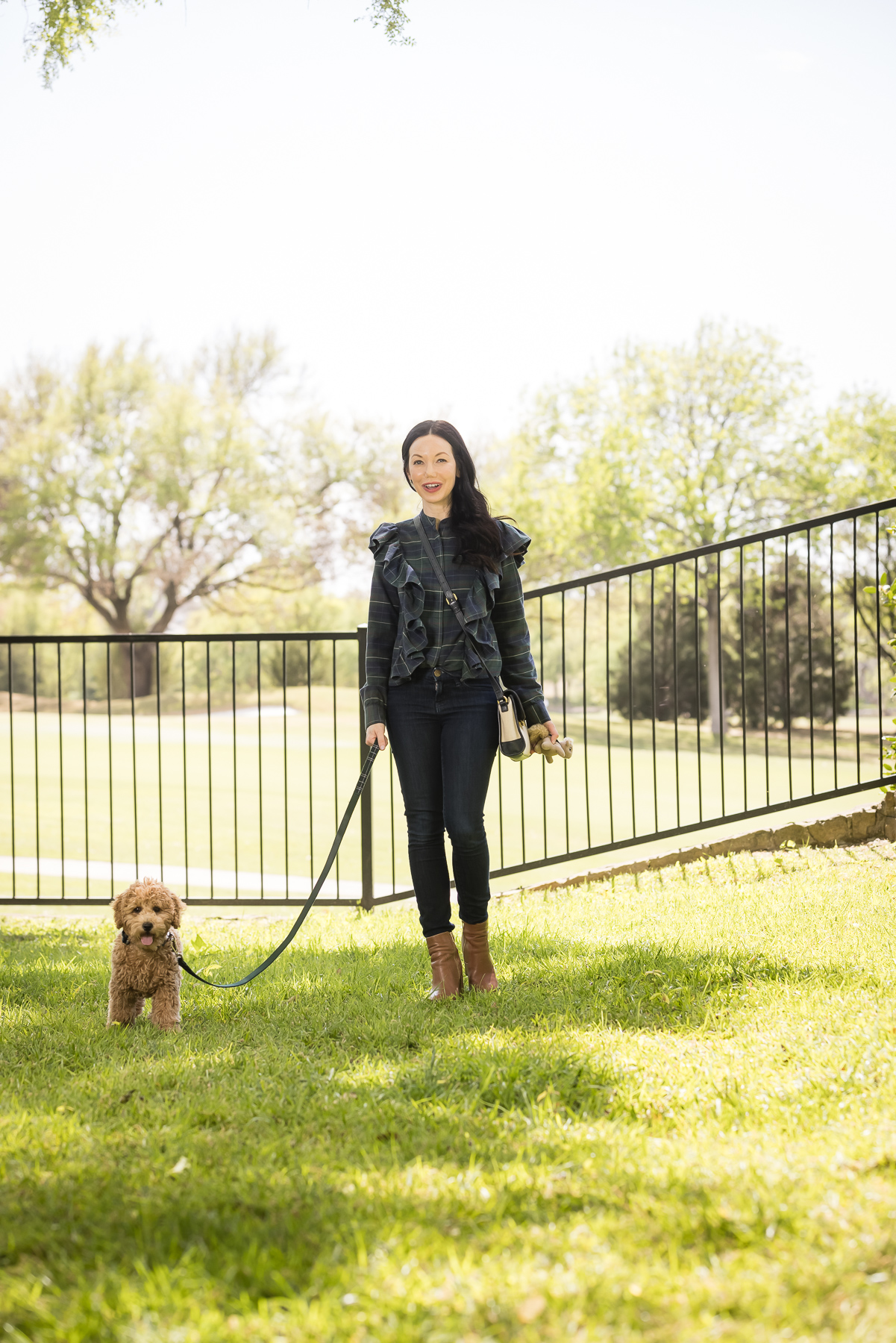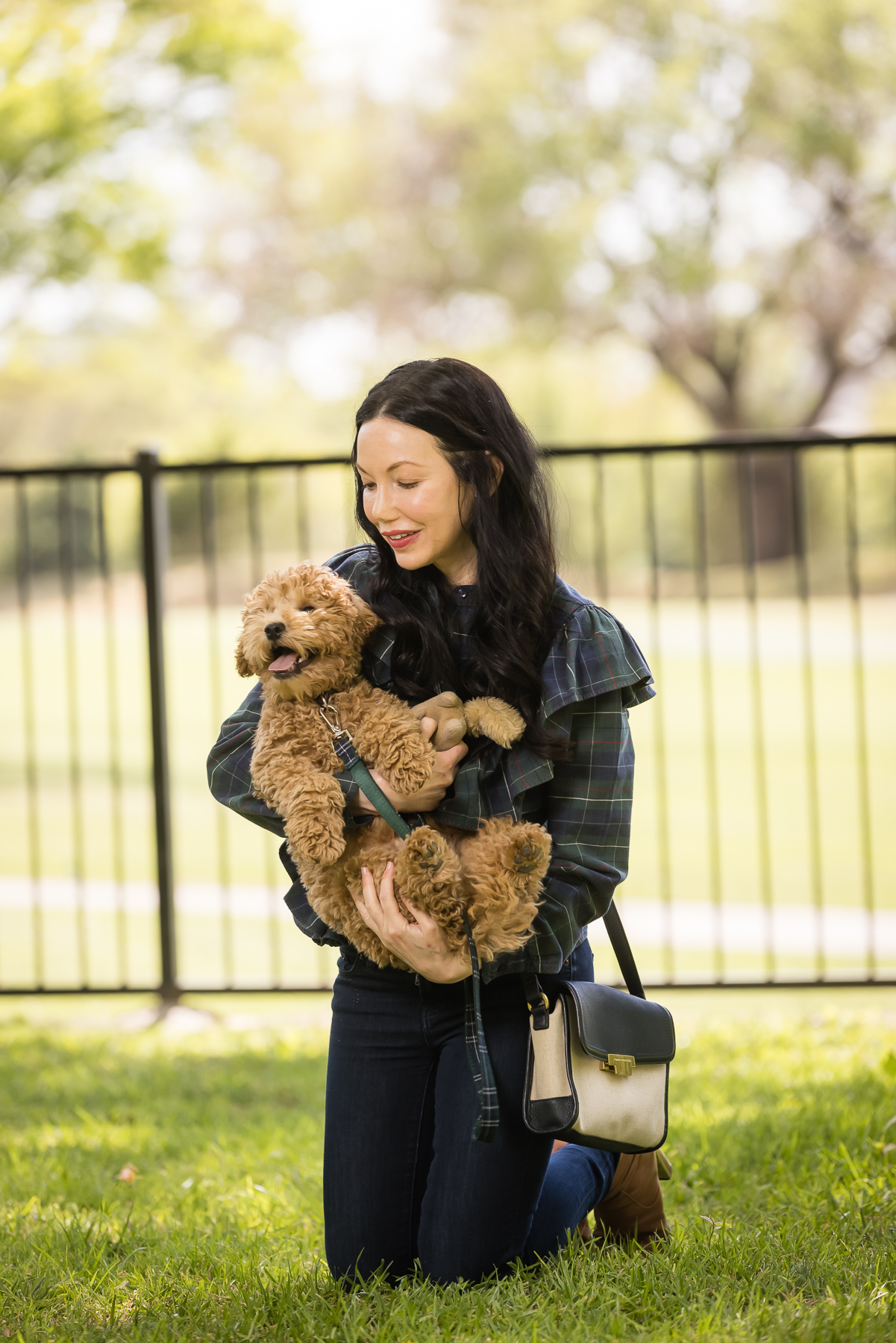 Mr. Cupcake was only 6 lbs. when we got him
and it's amazing to see how fast he is growing! Part of me is so sad to see my little baby get big so quickly and part of me is so grateful that he is almost fully potty trained, sleeps through the night! It was also such a relief to finish all of his baby vaccinations as Parvovirus is very prevalent in Texas and we couldn't let him leave our house and yard until he got all of his shots. The first few weeks he was pretty content with me holding him up over the fence to say hello to the neighbors and their dogs, but after awhile he was hitting me with his little paws and trying to break free from his quarantine. He even figured out how to escape from a tiny hole in our fence and we had to chase him down our back alley and bribe him with a treat.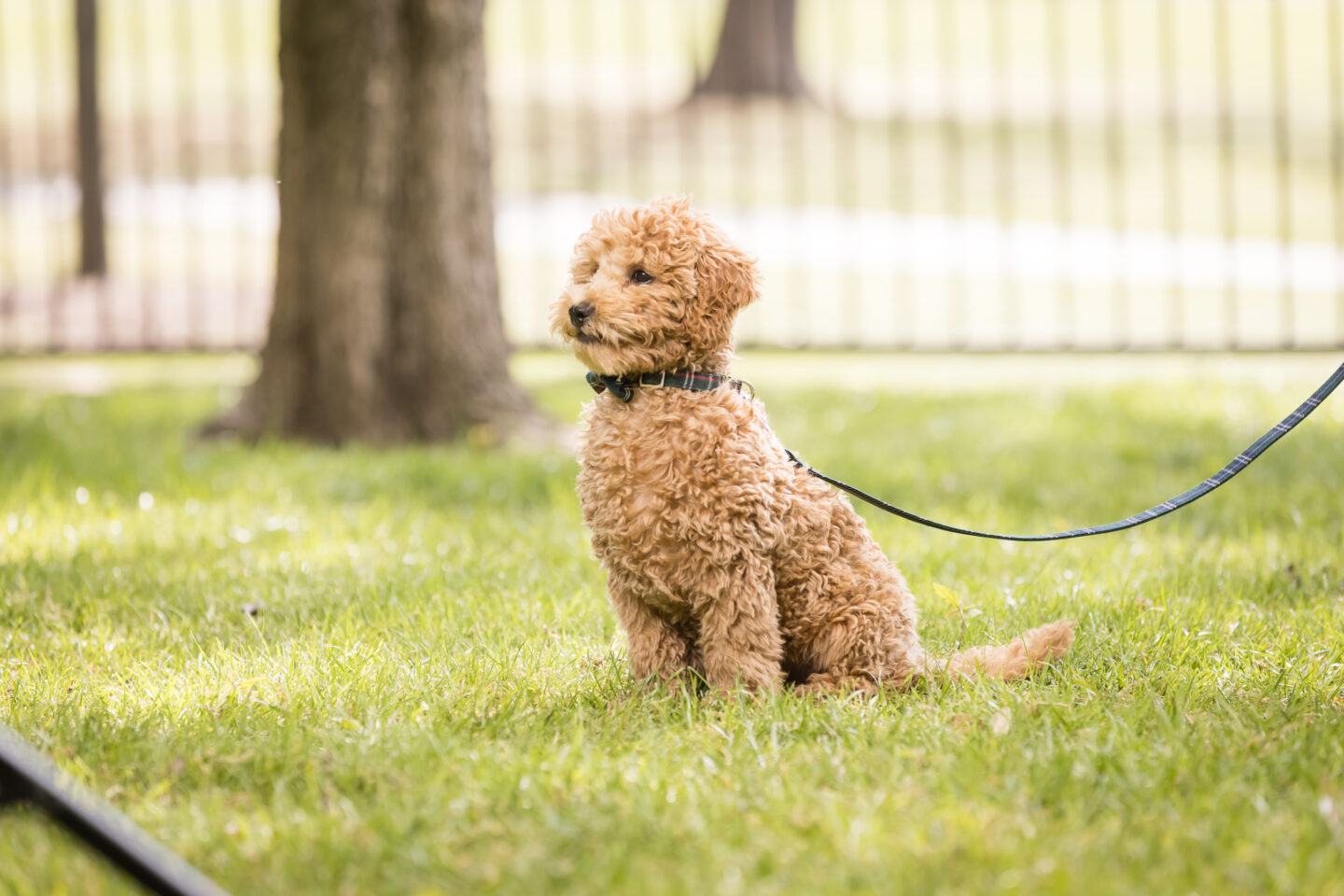 We started taking Charlie for walks a week after his last vaccination and suddenly our little trouble maker became much more content and much better behaved after he got a taste of freedom. He had his first grooming appointment a few days later and loved playing with other dogs for the first time. We started "Puppy Preschool" a few days after that. Charlie goes to school twice a week at
Dogtopia
and absolutely loves it! He loves his teachers and the other puppies in his class and comes home absolutely exhausted, which means I have been able to start getting some work done again. Charlie gets a report card after class each day and we get to watch how he is doing each day on Dogtopia's webcam. He even has a little girlfriend named Matilda who chases him around. I reminded him that he was only 4 months old and he isn't allowed to date until he is thirty!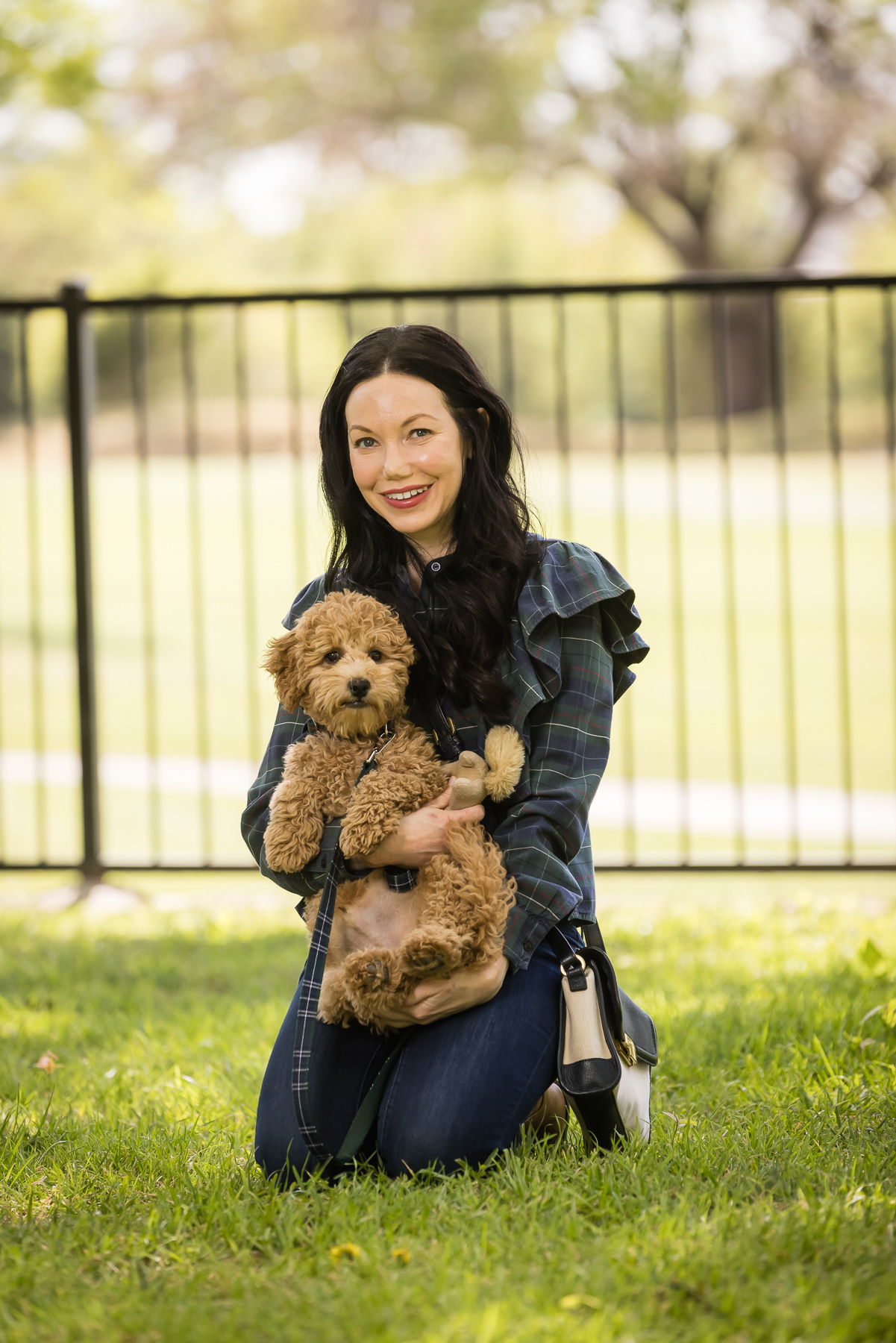 Charlie Cupcake has really completed our family and Mister Pretty Little Shopper has been the best co-pawrent. It melts my heart to see him play with, care for and snuggle with our little fur baby. I'm still trying to talk the mister into joining us on a photo shoot, but if you've been following me for awhile, you probably already know he is pretty camera shy.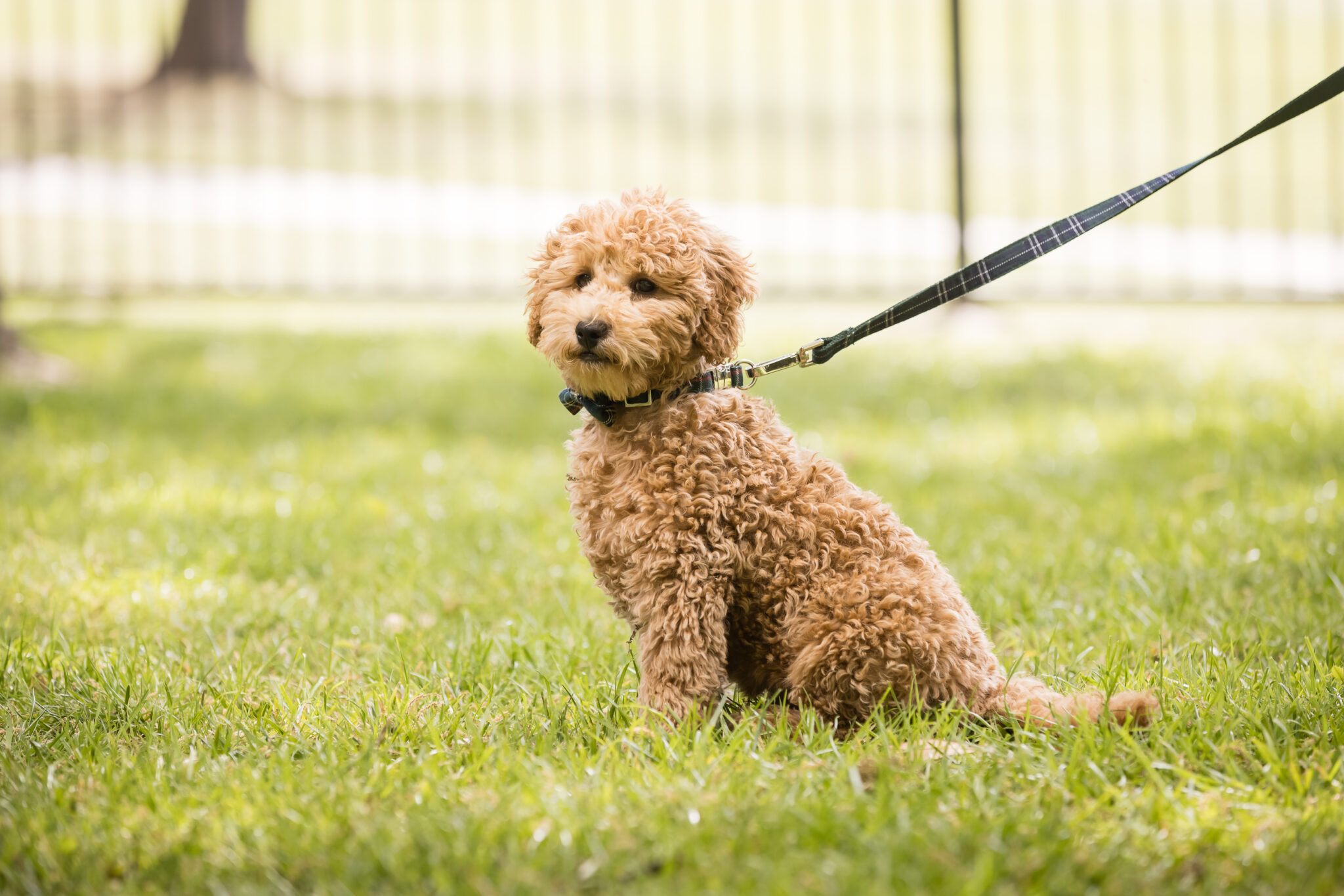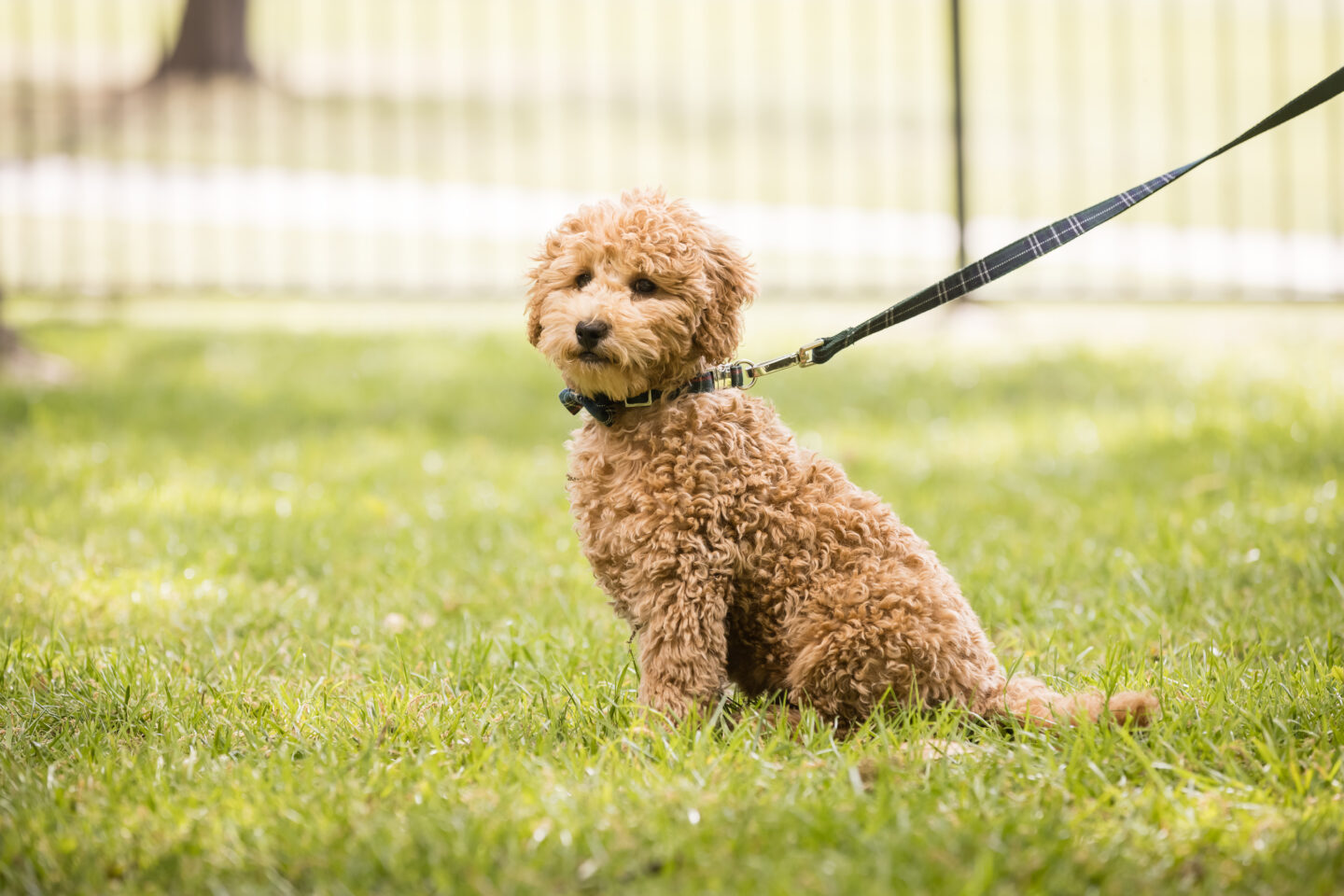 Thanks for letting me introduce you to my sweet little fur baby and I hope you won't mind seeing more of him on the blog and Instagram. You can also
follow him @MrCupcakeDallasDood
to follow his daily adventures (and hopefully outfits in the future). Right now I'm just happy I could get him to wear this matching bowtie and leash for our first photo shoot together. 🙂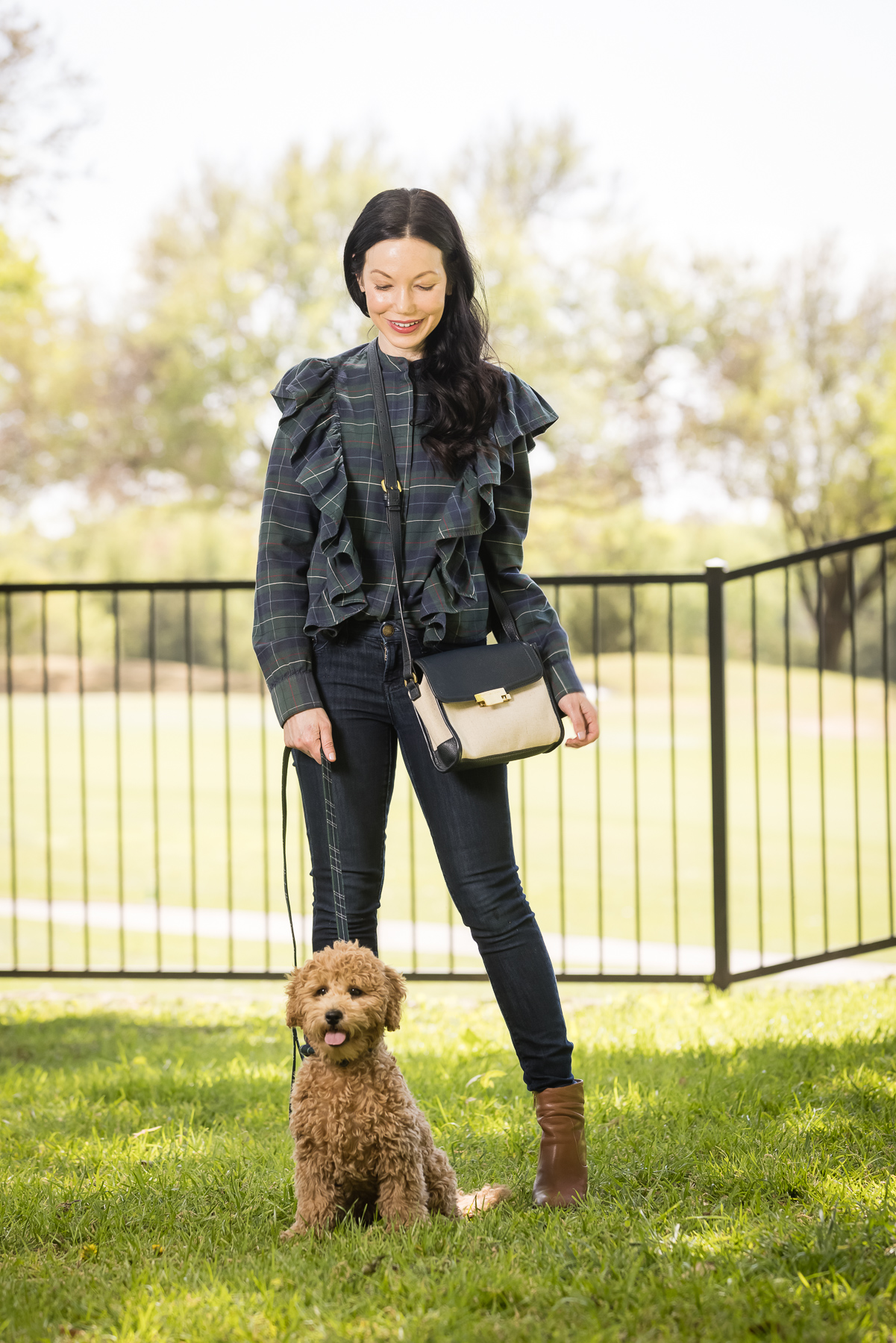 Shop my look:

Thank you so much for stopping by!  Do you have a dog like Charlie Cupcake?  Let me know in a comment below!
xoxo,
Lisa
Let's be social!