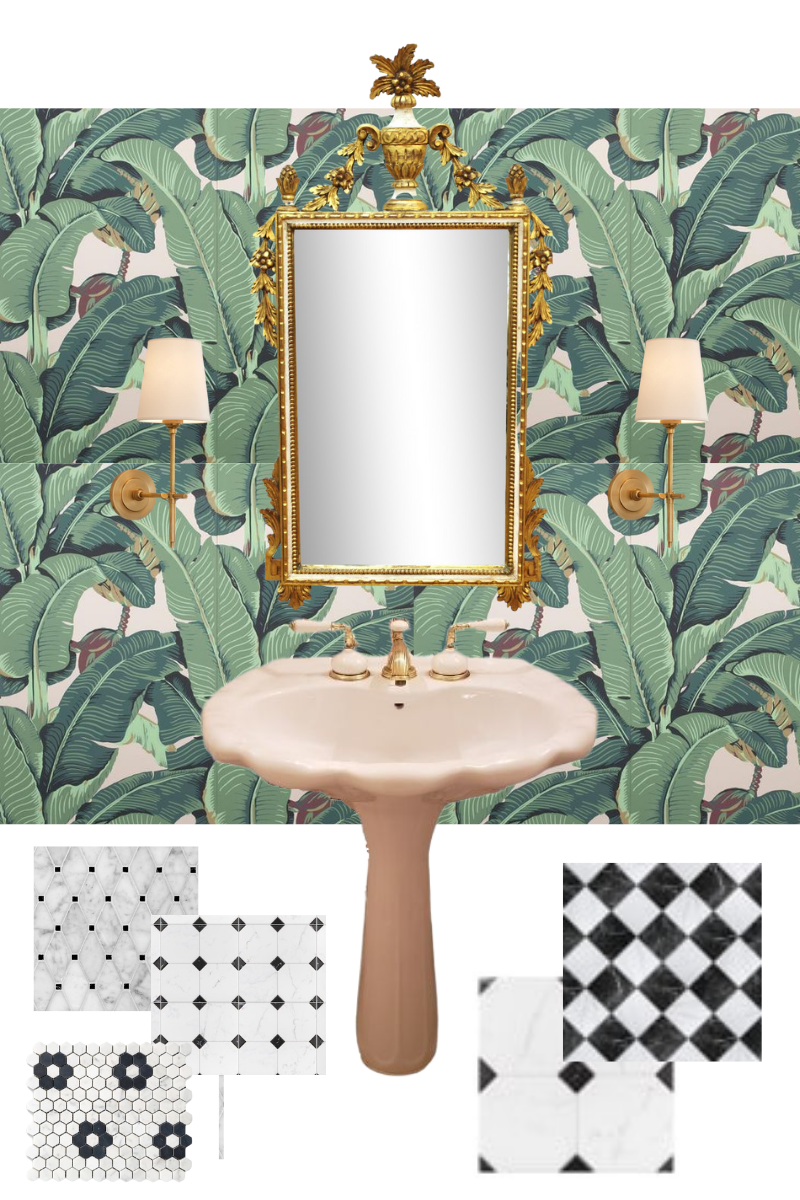 I've dreamed of having a Hollywood Regency Style Powder Room for as long as I can remember and I seriously can't wait to turn this vision board into reality. While so many décor decisions for our new home are still being mulled over, I knew this palm print wallpaper was an absolute must. We are keeping the existing sink and fixtures (pictured above) and will be replacing the tile floor, sconces and vanity mirror. As you can tell from my mood board, I'm quite undecided on tile, so please do let me know your favorite in the comments below.
What is Hollywood Regency Style?
Hollywood Regency is an American design and architecture style born in Hollywood, California during the Golden Age of cinema. Characterized by the bold use of color and contrast and often uses metallic, glass, chrome, lacquer and mirrored accents, the style started in the 1920's and 30's and combines Art Deco and Mid Century Modern trends. Pioneers of Hollywood Regency style including
Dorothy Draper
,
William Haines
and
Paul R. Williams
, who used sophistication and opulence to create classic and timeless designs for actors and directors wishing to emulate the glamour of Hollywood sets in their own homes.
Brazilliance vs. Martinique?
The iconic Beverly Hills Hotel banana leaf wallpaper is possibly the most famous print of all time, but the original banana leaf print originated in 1937. Decorator Dorothy Draper created the original
Brazilliance
print for the Arrowhead Springs Hotel in California, five years before Hollywood decorator Don Loper designed the
Martinique
print for the Beverly Hills Hotel. After mulling back and forth between the two, I ultimately decided on the Martinique. You can read more about the shady history of these iconic prints
here
and
here
.
Shop Hollywood Regency Powder Room Mirrors, Lighting and Vanities:

Hollywood Regency Wallpaper:

Shop Hollywood Regency Powder Room Accessories:

Have you considered Hollywood Regency Style décor for your home? Let me know what styles inspire you in the comments below.
Thank you so much for stopping by!
xoxo,
Lisa
Let's be social!