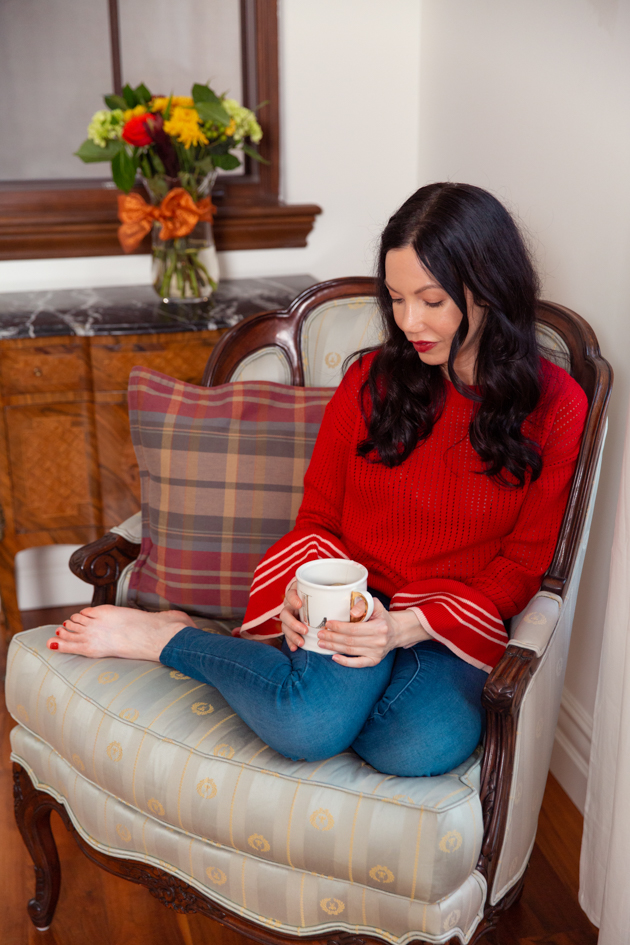 While the holiday season is packed with celebrations, soiree's and snowflakes, for some people it's also a time of major stress and anxiety. Between holiday parties, shopping, family gatherings, work parties and reflecting on year end successes and regrets, the most wonderful time of the year can also be the most stressful. And while many are blessed with spending the holidays with loved ones, there are many others that have lost or been separated from loved ones, or simply never had a harmonious home to begin with.
Today, I wanted to share a few things I incorporate into my daily life to manage my anxiety during the holiday season (and the rest of the year as well). This post is meant to be a discussion so I would love to hear your tips for combating anxiety as well! Also, if you are experiencing severe depression, anxiety, trauma or panic attacks, please seek the care of a mental health professional.
How to Manage your Anxiety Over the Holidays:
Eating Healthy
A healthy diet is something I prioritize year round and the holidays are no exception. I avoid gluten for health reasons, as well as most refined sugar year round, but during the holiday season there tend to be more temptations and late night deadlines that make indulging all too easy. A little planning goes a long way in helping me keep my diet on track. A healthy breakfast is a great way to start the day off on the right foot. Protein rich foods such as eggs, almond butter or smoked salmon will boost your energy levels and mood. Add some gluten-free toast and avocado or berries to make the meal complete or start with a morning smoothie instead. Fill up on a salad with chicken, turkey or hummus for lunch, and be sure to plan a healthy snack if you tend to lose energy mid afternoon. While indulging in a Christmas cookie here and there goes with the season, sticking to a healthy diet will help you to keep calm and carrying on while traipsing through the mall, decking the halls and wrapping all those gifts. If you need a little extra help keeping on track with healthy holiday eating check out this mini
Soup Cleanse
I did last year, as well as the Survive the Holidays program from the same brand (both of which can be delivered straight to your door).
Yoga
No matter how busy I get, I always try to carve out time to hit the yoga mat at least two or three times a week. Not only does yoga help clear my mind, but I find myself in so much pain without it, that I end up much less productive when I get too busy to go to class. I have a membership at YogaWorks which has a variety of classes from Hatha, Iyengar, Ashtanga, Kundalini, Vinyasa Flow, Restorative, Zen, Meditation and even Pilates classes to choose from morning, noon and night. If you're really short on time you can
download their app
and do a class in the comfort of your own home.
Adaptogens
An adaptogen is a natural substance considered to help the body adapt to stress and to exert a normalizing effect upon bodily processes. I've been delving into these herbs, mushrooms and roots that help the body "adapt" and  they've actually been used in Ayurvedic and Chinese medicines for hundreds of years. Their health benefits include boosting energy levels, balancing hormones and soothing inflammation. You can find adaptogens in food, drink, tablet or drop form. This Chocolate Banana Adaptogen Smoothie, these chocolates, this coffee and this hot cacao mix are some of my favorites.
CBD 
I just started getting into CBD this year and I love it's calming effects. CBD can be incorporated into your life to reduce anxiety and depression, promote a good night's sleep, benefit heart health and even fight pain, diabetes and seizures. You can find CBD in everything from
coffee
,
tea
and
edibles
to
beauty products
,
oils
and tablets. I'm absolutely obsessed with this
CBD beverage
and have been using it as a 3 pm "calm me down" instead of a coffee "pick me up".
Have a little Faith
I've been practicing Nichiren Buddhism for over a dozen years now and it's done wonders to combat my anxiety and depression. I have a daily practice I do at home (we're the ones who chant Nam Myoho Renge Kyo, as made famous in the movie What's Love Got to Do with It with Tina Turner), and I also attend monthly discussion meetings with my local SGI-USA district. Whether your Buddhist, Jewish, Catholic or Hindu, a spiritual practice can be both calming and grounding. I grew up Jewish, attending temple services and Hebrew school, and am now married to a Catholic so I often times end up at church. Having a daily dose of prayer in your life is a great way to find peace, connect with the universe and help you remember your core values when the going get's tough. Finding the right spiritual path for yourself can help improve your happiness, keep you connected with your community and lessen the feelings of isolation which often lead to anxiety.
Get an Adjustment
As a born and raised Angeleno, I credit my chiropractor with keeping my head on straight. 🙂 A good adjustment goes a long way in keeping both my body and mind in line. Especially after hanging all those Christmas decorations.
Pamper Yourself
Get a manicure, a facial or a massage. Completely worth the money and you'll leave your pampering session with a new lease on life.
Tidy Up
Take a few minutes to tidy up clutter as you go about your day. You'll feel much more relaxed if the dishwasher is filled, the packages are put away and the laundry is folded. Taking ten minute breaks to put stuff away is also a great way to get up from your desk and move around if you happen to work from home like I do.
Me Time
Take a walk, ride your bike, read, listen to a podcast, take a bath (or a nap), do some online shopping or just chill out and watch Parks and Recreation. 🙂 Even just a quick 30 to 60 minute break can leave you feeling revived and back in the holiday spirit!
Do you find the holiday season stressful? Please let me know what practices you use to manage your anxiety during the holiday season.
Thank you so much for reading!
xoxo,
Lisa