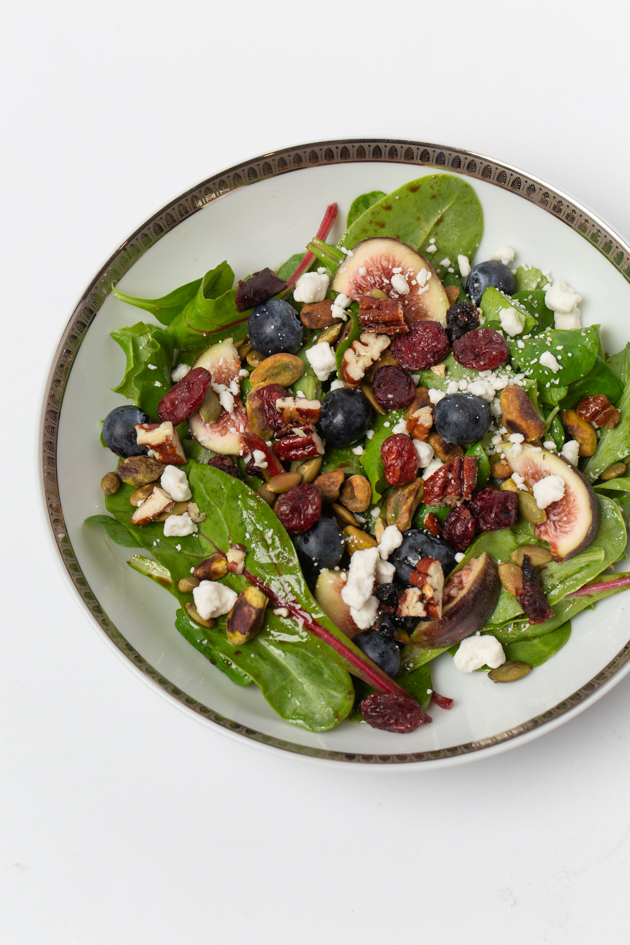 This Winter Fruit and Nut Salad was inspired by well… fruitcake. To be completely honest, I never really understood fruitcake's appeal, or why
it's still a thing
. I consider myself a traditionalist (with a modern day edge), but I just don't get the appeal of a sticky fruit and nut brick. If I'm going to allot calories for cake, it's gonna have to be chocolate! Nevertheless, I do love fruit and nuts, so when brainstorming ideas for this years holiday recipes this Winter Fruit and Nut Salad popped into my head. All the fruit and nuts your heart desires in a salad, finished off with a Fig Vinaigrette and crumbled goat cheese. A healthy and festive twist on an old classic. Scroll down below for all the details.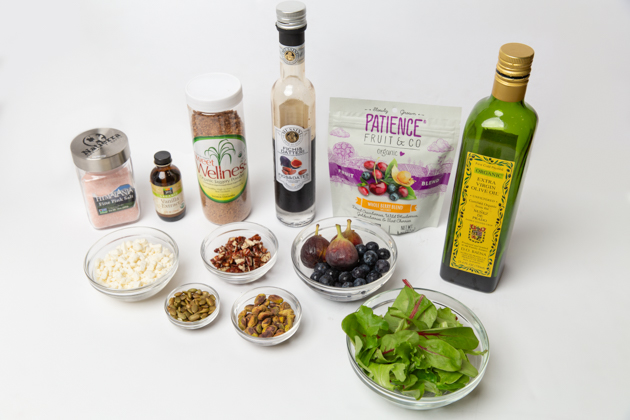 You will need:
1/2 cup any combination of dried cranberries, dried cherries, currants, wild blueberries or golden berries (I used
this mix
)
1/4 cup toasted pepitas
1/4 cup toasted pistachios
1/4 cup candied pecans chopped (see recipe for healthy version below)
4 to 6 fresh Turkish figs (finely sliced)
1/4 cup fresh blueberries
1/2 cup goat cheese crumbles
7 oz. Mache Rosettes, Butter Lettuce or any other Winter lettuce blend
To make the Vinaigrette:
1/3 cup extra virgin olive oil
2 tsp. Dijon mustard
Sea salt and freshly ground pepper to taste
To make the Candied Pecans:
Pecans
Vanilla extract
Sea salt
I used
this 5 minute recipe for easy candied pecans
, but substituted the sugar for Sweet Wellness Jaggery. I've been experimenting with this low glycemic, tasty and healthy Ayurvedic option to sugar in a few recipes lately and loving it!
**use organic ingredients where possible
Lightly toast the pistachios and pepitas over medium heat in a small frying pan for about 2 to 3 minutes. Remove from heat and set aside.
Using a fork or whisk, combine the fig vinegar, extra virgin olive oil and dijon mustard in a small bowl. Add sea salt and pepper to taste.
Place the greens in a large mixing or salad bowl and toss with the vinaigrette. Start with half of the dressing and add in more to your liking. I would recommend going light on the dressing for this salad as the fruit, nuts and goat cheese will add a lot of flavor and sweetness.
Separate the tossed greens onto six salad plates (or bowls). Arrange a few slices of the figs over each dish. Top with the dried fruit, nuts and blueberries. Sprinkle with goat cheese and serve immediately. Makes 6 servings.
**Alternatively, you can add all the ingredients to a serving dish, toss the salad and serve it buffet style. I would recommend leaving the dressing on the side for a buffet, so as not to let the dish get soggy.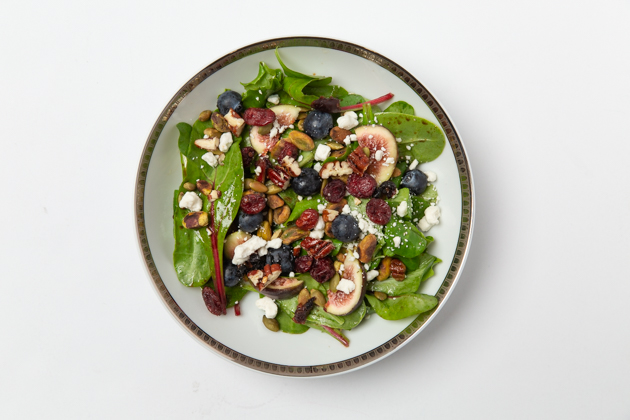 This Winter Fruit and Nut Salad can be a healthy starter and makes a great option for any vegetarian guests (just eliminate the goat cheese to make it vegan). Do you have a favorite holiday salad recipe? Be sure to check out these previous Winter salad recipes as well: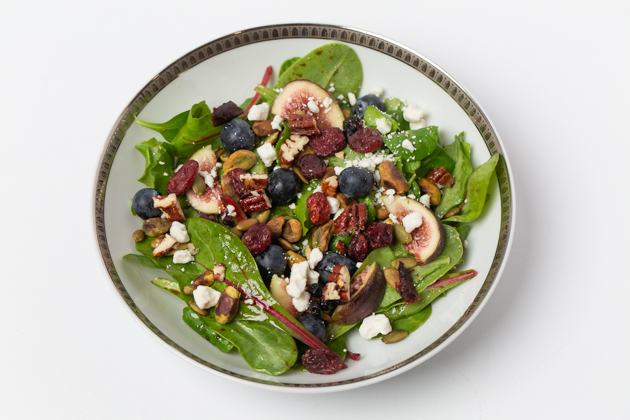 Thank you so much for stopping by!
xoxo,
Lisa
Let's be social!