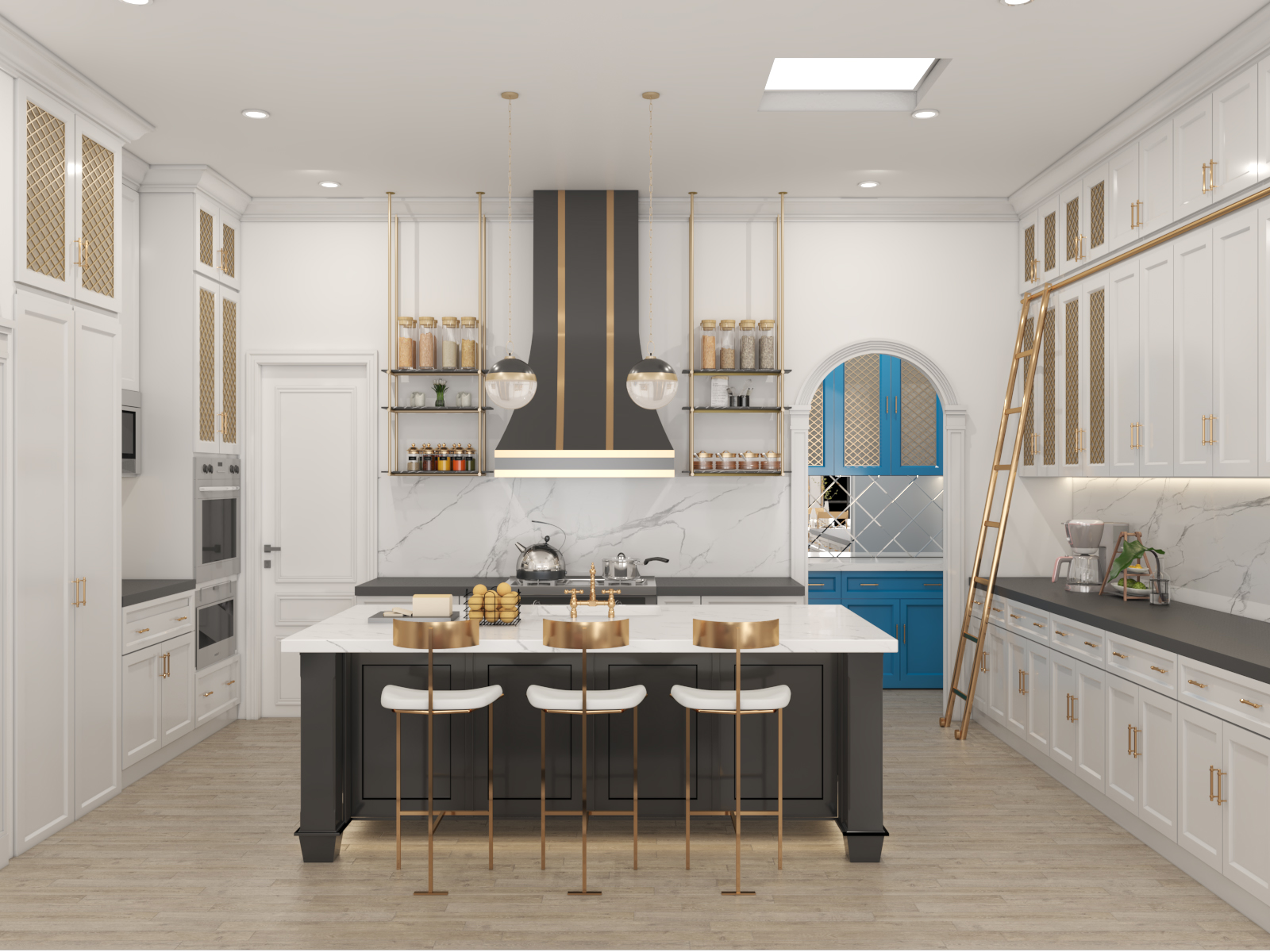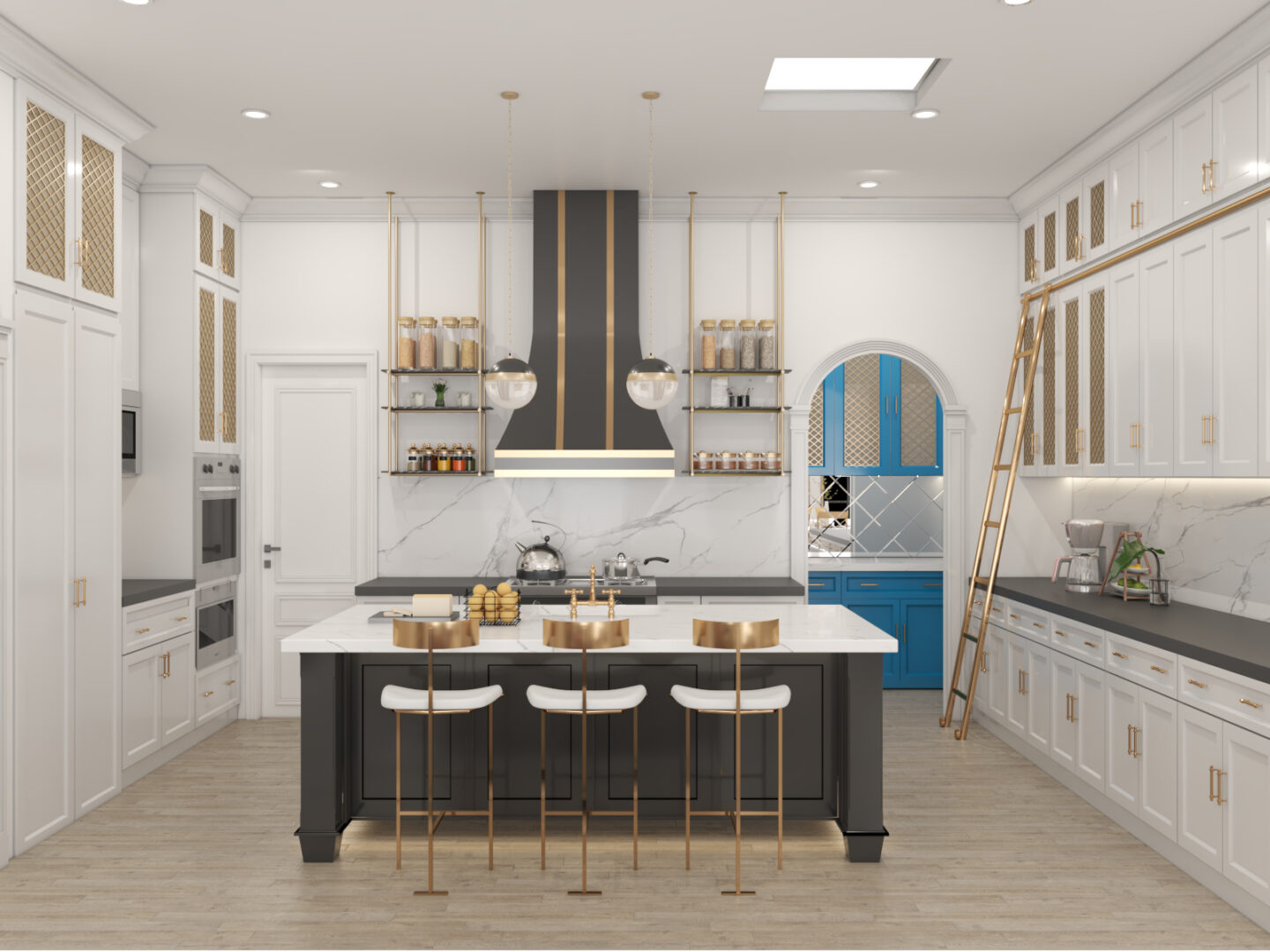 It was love at first sight when we first laid eyes on our Dallas home… with the exception of the kitchen and family room which were a total eyesore. While everything from the appliances, tiny center island, ceiling fans, obstructive room dividing counter and dated vegetable themed tiles and fixtures all needed to go, I could definitely see the potential in this space. Scroll down for my Hollywood Regency Kitchen renderings, before and during photos and notes on the process.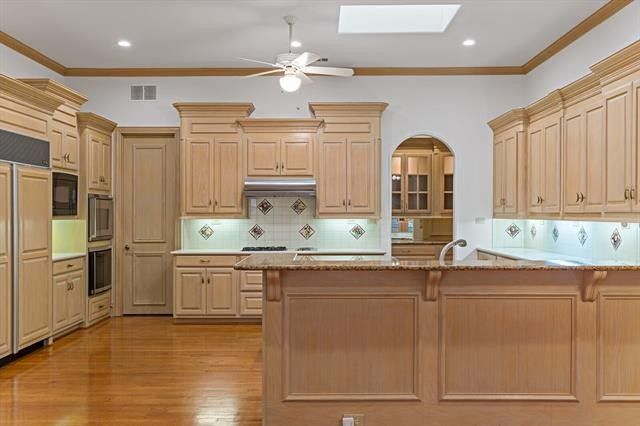 How it Began
Our original plan was to hire a designer for the entire house and then get started with our remodel as soon as our Los Angeles house closed escrow. When we came out to look at homes in December of 2020, our very first meeting was with an interior designer who I had really wanted to work with. The meeting went great and we ended up spending two and a half hours over dinner discussing the properties we were looking at and potential design ideas. After such a great meeting, you can only imagine my surprise when we bought our house two weeks later and this designer couldn't be bothered with returning my calls or messages. At the time I was feeling super hurt, disappointed and frustrated, but clearly the universe had other plans for our new home.
I set about searching for other designers and once again began hitting roadblocks. Every designer I reached out to was either booked up for months (if not a year in advance), seemed too heavy handed, or too far out of our price range. One of our first in person meetings was at the incredible Christopher Peacock showroom in the Dallas Design District. If money is no object I would entirely suggest that you stop reading this post right now and simply hire them to design your kitchen (they have showrooms in ten major cities across the USA, Europe and Asia). I had the opportunity to meet Christopher and his business partner Robert at the Kips Bay Design House in Dallas last week and we had a long chat about kitchen artistry and understanding how to work with a designer. While unfortunately we were priced out (the cabinetry alone would have been more than we spent on the entire kitchen), I ended up learning so much from meeting with their brilliant Dallas designer Ashley and left with so much inspiration on what we could achieve within our space.
Our next designer meeting was with a large and reputable kitchen, bathroom and home design firm here in Dallas. The firm (which I won't name out of courtesy) sent over a designer and architect from their team to meet with us in our home and take measurements. While this time I had inquired about price ranges ahead of time and sent over details and photos of what we were looking for, we had so many red flags during our more than two hour meeting. The first one came up when we began discussing flooring. Since we needed to rip out the counter and move the plumbing in our kitchen, we would need to replace some of the flooring and then refinish everything to match (or tile off the kitchen which wouldn't be a great option with our floor plan). In our case this would mean refinishing the entire first floor of our house which is about 3000 square feet. The designer threw out a number off the top of her head which I believe was 75k!!! While I'm not a flooring expert, we knew that replacing the entire floor wouldn't cost that much, let alone simply refinishing it. Another huge red flag came when I asked the designer and architect to show me some of their work on previous projects. While I had seen the design teams work, I couldn't find a portfolio for either of the two women anywhere online. I followed up with another couple of emails requesting their personal work and was once again sent links to the companies website, along with a link to the designers personal Pinterest board which consisted entirely of pins from other designers. The note with the links read as follows:
Hi Lisa,
I hope you had a great weekend!
After talking to one of my managers about your scope of work, I was able to get more realistic numbers for your project. See below for reference.
Kitchen and flooring is going to hit at 150k without appliances.
Kitchen 100k without appliances, (appliances can go up to 50K, that subzero fridge alone is 10k.)
Flooring- lace in new wood at peninsula and re-finish all wood floors 35K
That butlers area/wine area is probably going to be around 40k.
Fireplace – 12K
If everything looks great as far as pricing, we can schedule a design appointment either end of this week or early next week!
Let me know if you have any questions!
For reference this design firm had quoted me around 100k on the phone and now we were talking about doubling that… and I still hadn't seen any examples of the work of the designer or architect the firm had sent me. Hard NO for me, but what now??? The hubby was pressuring me to bring on a designer asap as all of our appliances were already on the fritz. Time for a new plan…
Designing My Own Kitchen
Somewhere around late August of 2021, I decided to start looking for a contractor/cabinet maker as opposed to a designer. Honestly if you were to tell me two years ago, that I would not only move to Dallas, but also design my own kitchen, I would have told you you were mad… but once again the universe had other plans. I began to scour Google, Houzz, Instagram and local design magazines for nearby contractors.
This is where our journey gets epic…  Epic Woodwork that is. From my very first phone conversation with Pepe Gamarra I breathed a sigh of relief that maybe, someday in the near future, I might actually have my dream kitchen with new appliances that actually work. Pepe came by our house for a meeting a few days later and we went through all of my Pinterest board photos and notes of potential ideas. Soon after our initial meeting, Pepe promptly send us an initial (and reasonable) proposed budget that aligned with our expectations and some computerized images of what we had discussed in our meeting. We happily signed off on getting started with Epic Woodwork, but without an official designer the work on my end was just about to begin.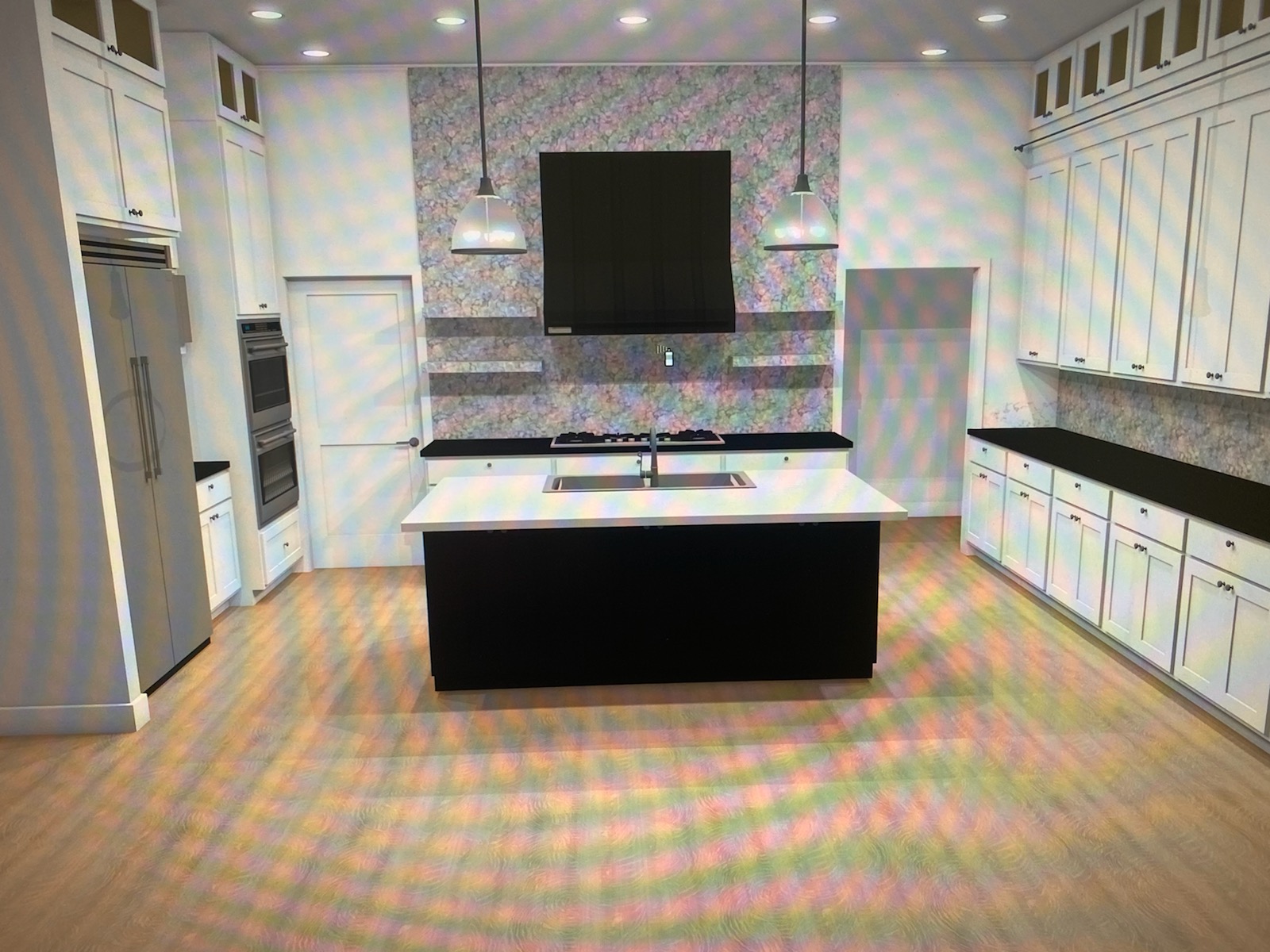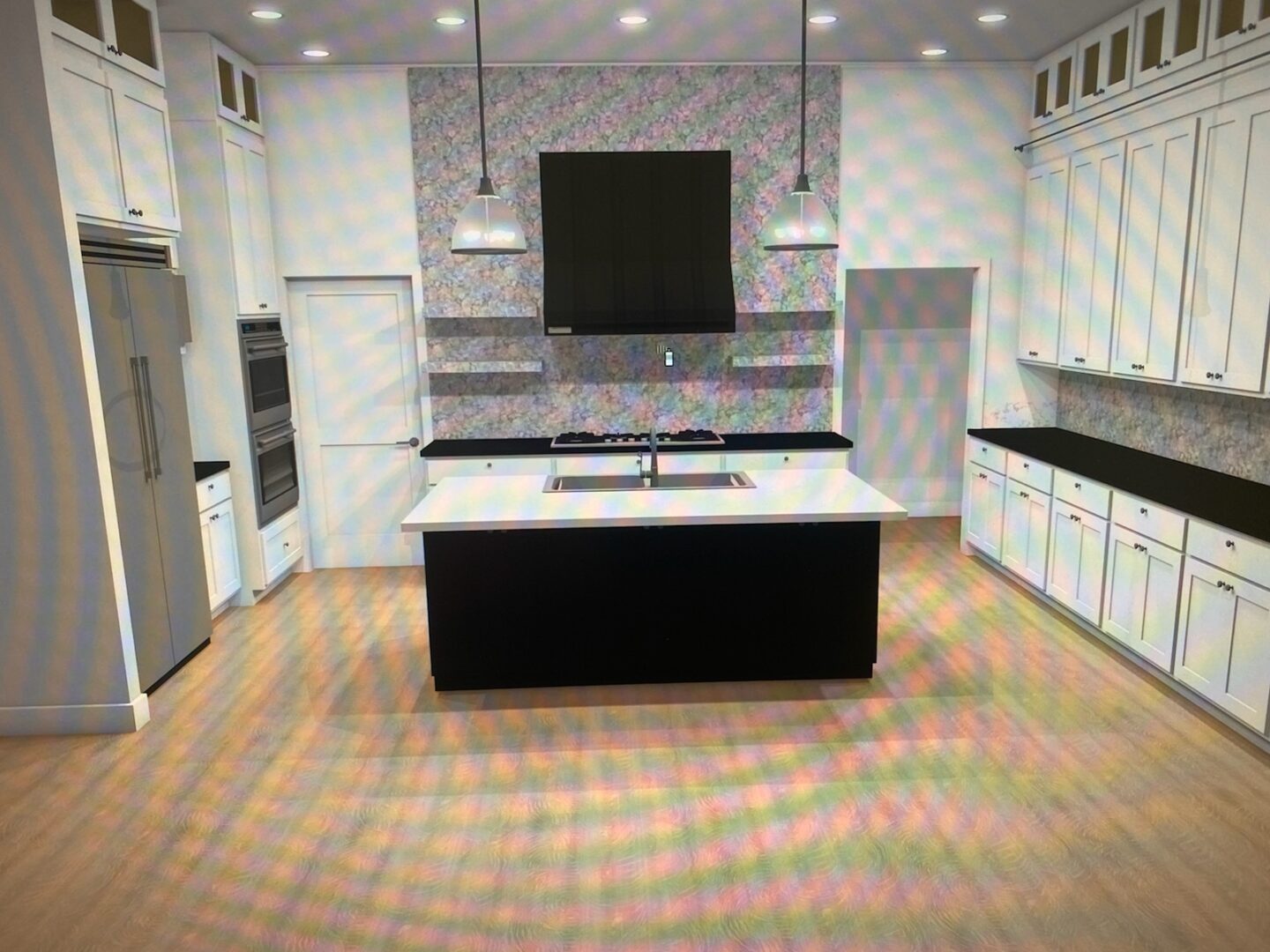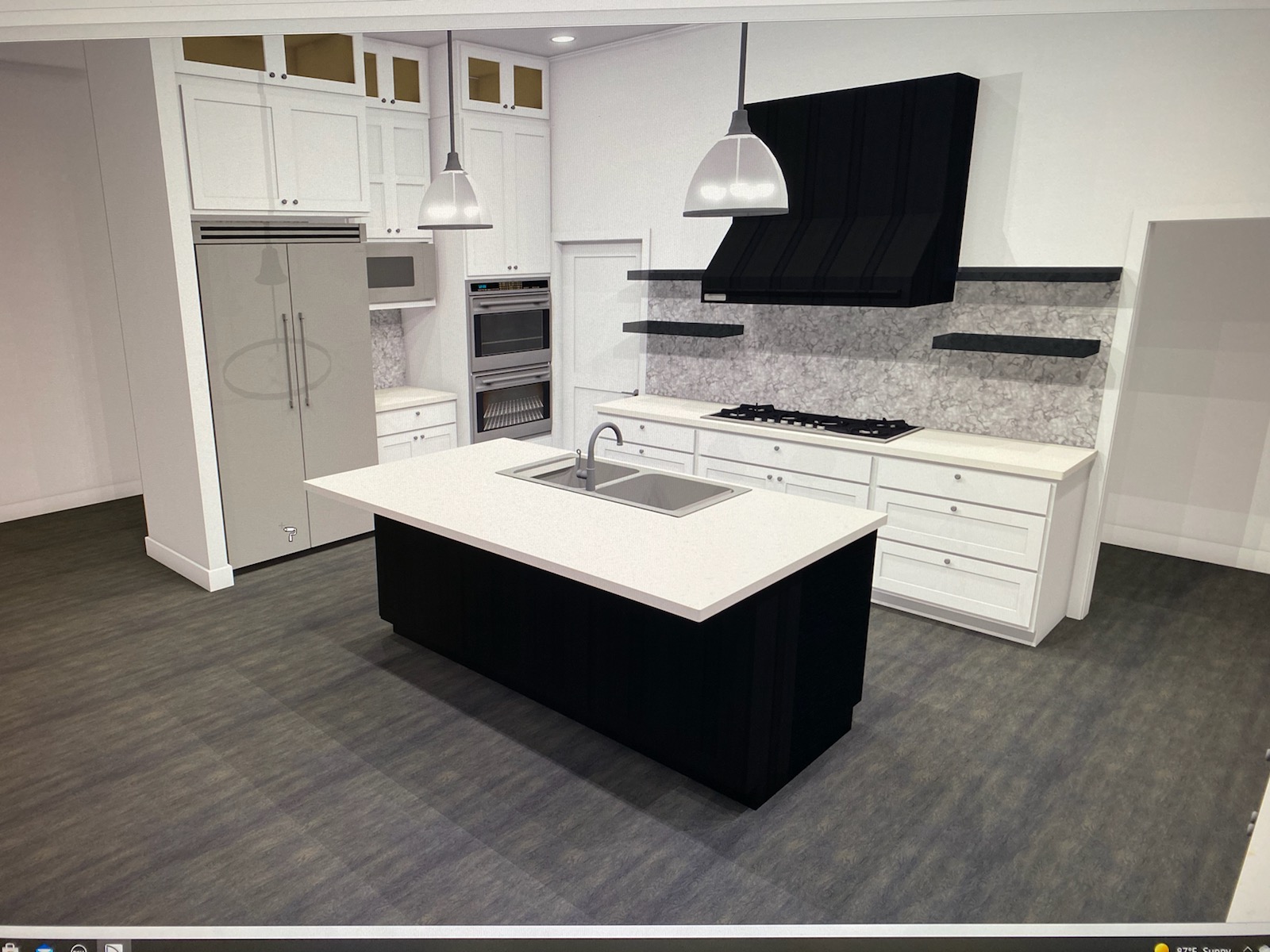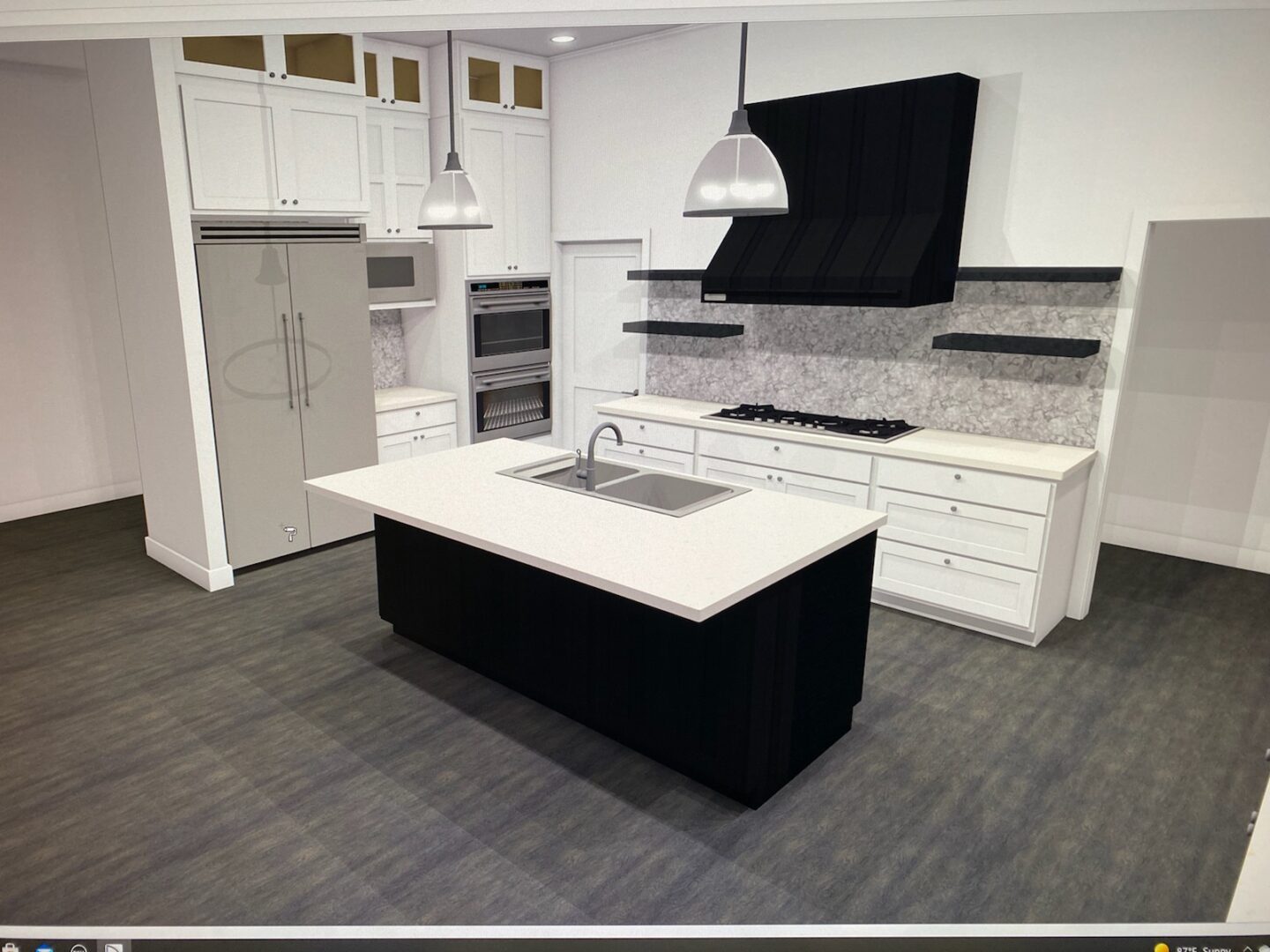 Pepe's computerized renderings above and below.
Selecting and Ordering our Appliances
Once we had Epic Woodwork signed on, we set up an appointment at the Sub-Zero, Wolf and Cove showroom in Dallas to pick out our appliances in person. Mister Pretty Little Shopper used to be an Electrical Engineer before we met (and before he began his second career in finance), so I left most of the technical decisions on appliances up to him. My priorities for appliances were simply that they were reliable and easy to use. Between our now three homes together, we have had appliances from Viking, Sub-Zero, Wolf and Gaggenau and we ended up deciding that Sub-Zero, Wolf and Cove were currently the highest quality and most user friendly in our price range.
On a side note, I had originally wanted appliances from Officine Gullo, but like the Christopher Peacock cabinets, this remained infinitely out of my price range. If your kitchen remodel budget starts at around half a million, or you simply love looking at stunning kitchen photos like I do, be sure to check out their site for inspiration. I also had seriously contemplated getting this range/oven as the center point of our kitchen, but in the end decided on a black and brass custom range hood (see renderings below) as our kitchen's statement piece.
At this point it was almost September and Pepe had already scheduled us in to start our demo in December, but when we made our visit to Sub-Zero, Wolf and Cove we found out that appliances were on backorder due to the pandemic. Our appliances would take at least 9 to 10 months to arrive, so we had to change our start date to March. It seemed like a long wait at the time, but we were actually quite lucky… shortly after we placed our order, I began to hear about backorders from one to two years! Also, we realized that the price points had gone up about 25% soon after we got our order in, so we were once again fortunate to have ordered when we did.
Creating Renderings with Fiverr
With our contractor scheduled and appliances (kind of) on their way, it was time for me to really narrow down my design. I headed to the site Fiverr in search of an artist/architect/designer who could create renderings of my dream Hollywood Regency Kitchen. In case you're not already familiar with Fiverr, it's a site where you can find freelancers across the globe to hire for jobs ranging from design, SEO, social media, music, business and more. You can sometimes order a "package" for what you are looking for, but with specialized jobs it's best to message the contractor first to make sure it's a fit and to agree on a rate.
The first two designers I messaged never got back to me and once again I was quite disappointed. I kept eyeing another designer on the site, but he didn't have any examples of kitchens in his portfolio. Finally I messaged Joseph and he sent me links to more of his portfolio that did include kitchens! We agreed on a rate including revisions and I started sending Joseph pages and pages of detailed notes, photos, measurements, links and appliance specs, describing exactly what I was looking to create. Within days Joseph sent me back the first renderings and the hubby and I were absolutely thrilled. I messaged back and forth with Joseph to do some revisions and once again he got back to me in a matter of days (and sometimes merely hours).
Our contractor Pepe might have been even more impressed with Joseph's renderings than we were. Not only did it give him a fabulous roadmap to creating our kitchen, but he also told me that hiring a designer or architect here would have taken significantly more time and would have cost about 20 times what I had paid working with Joseph. As I mentioned earlier, Fiverr is a global site and since Joseph lives in Turkey where the dollar is extremely strong, the rates he offered me were extremely affordable. I also made sure to add a generous gratuity and have since hired him at least half a dozen times to help me design additional rooms in the house. After working together on a few projects, I began to think he was a bit of a mind reader and I can't wait to work with him again soon to start designing the remaining rooms of the house. If you're interested in using Fiverr and/or working with Joseph, use this link for a discount off your first order.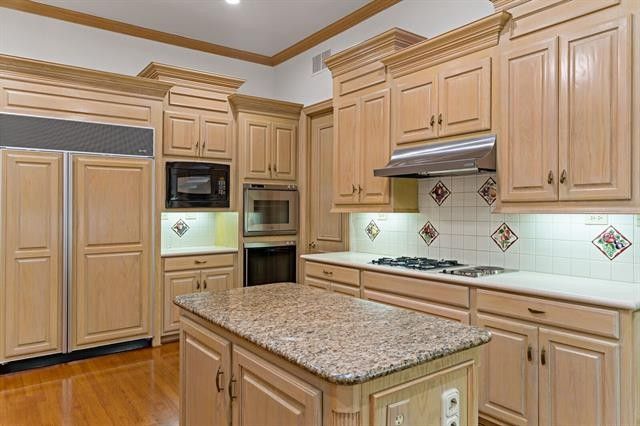 Our kitchen before… note the granite countertops, tiny center island and both American and European outlets. The original owner was German and most of the appliances were by Gaggenau.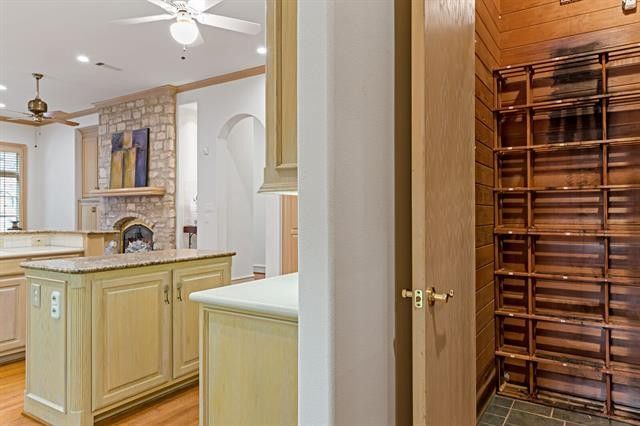 Another before photo with a view of our adjoining family room and wine closet. Replacing the stone fireplace was a costly and time consuming process, but completely worth it! Can't wait to show you the after photos in a future post.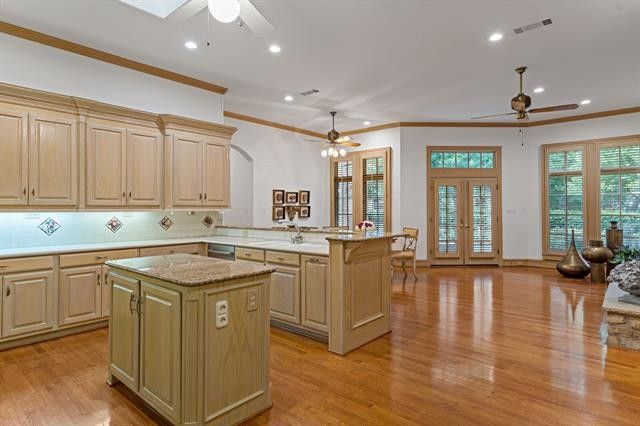 I absolutely love how large this space is with the adjoining family room and breakfast area. The patio doors open to our yard and pool… aka Mr. Cupcake's personal play yard.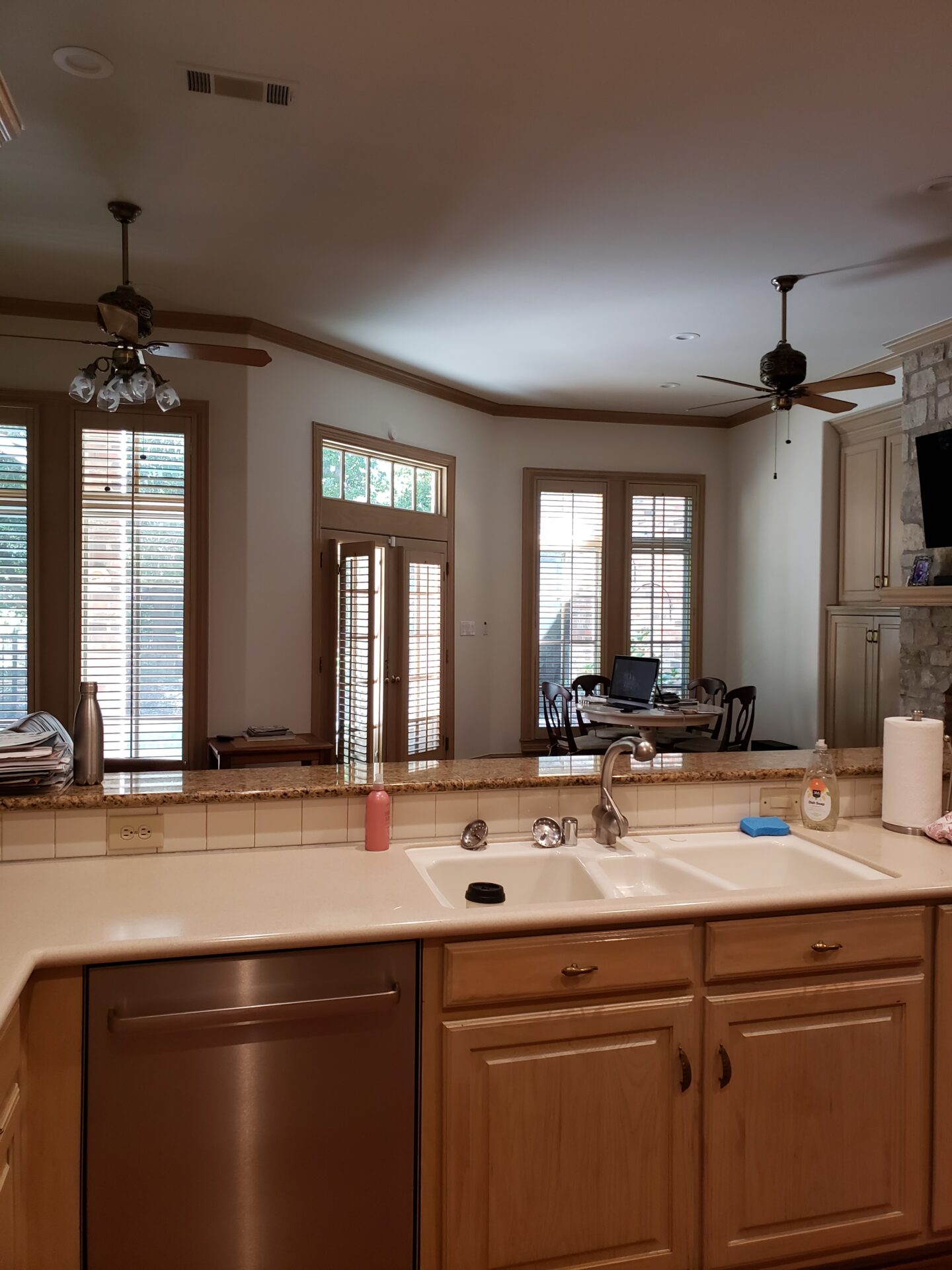 I was so happy to get rid of this counter and move the sink to the center island. The kitchen had absolutely no work flow and it was really hard to keep an eye on Mr. Cupcake over the high counter top when he was still getting into puppy mischief last year.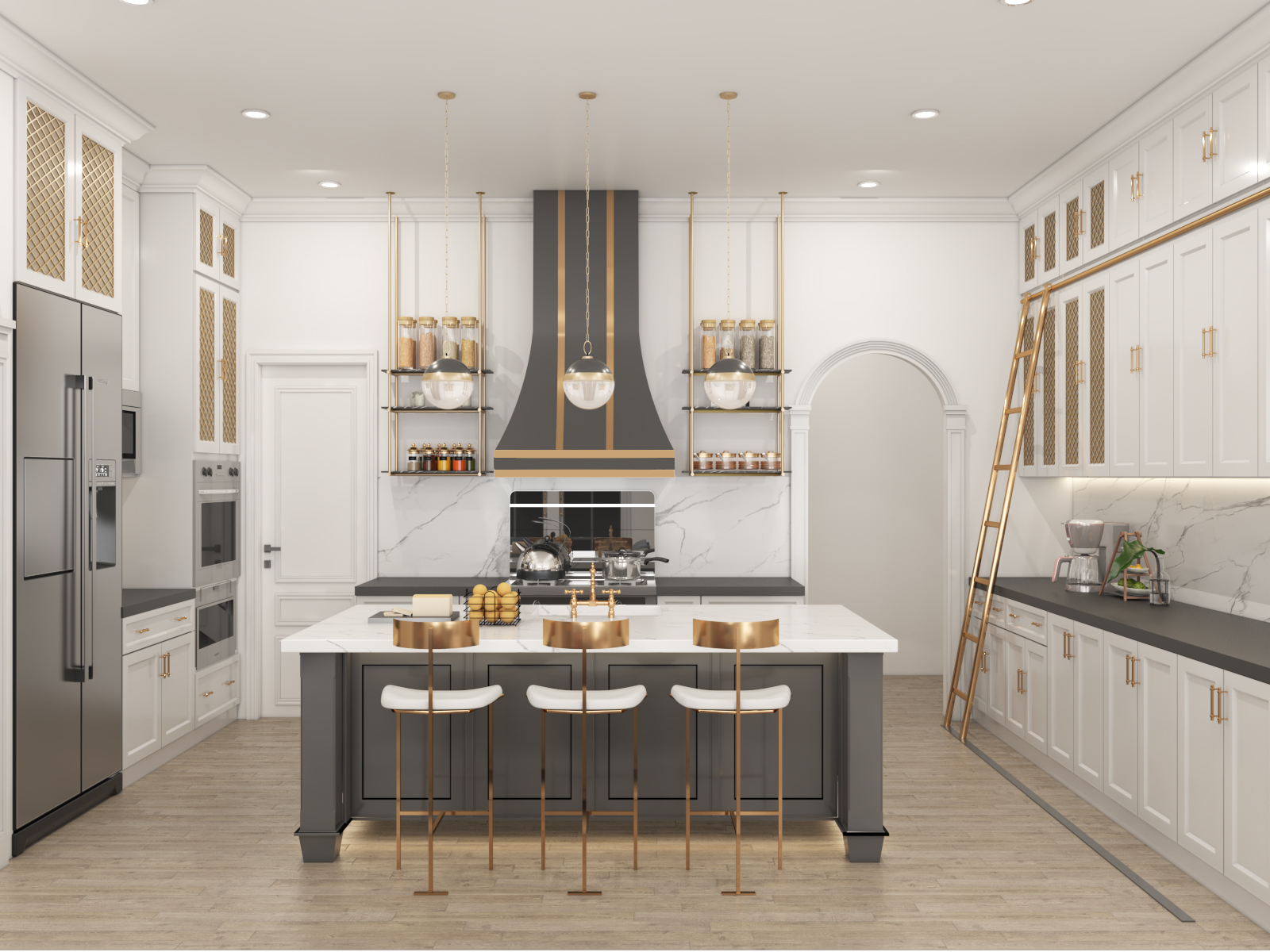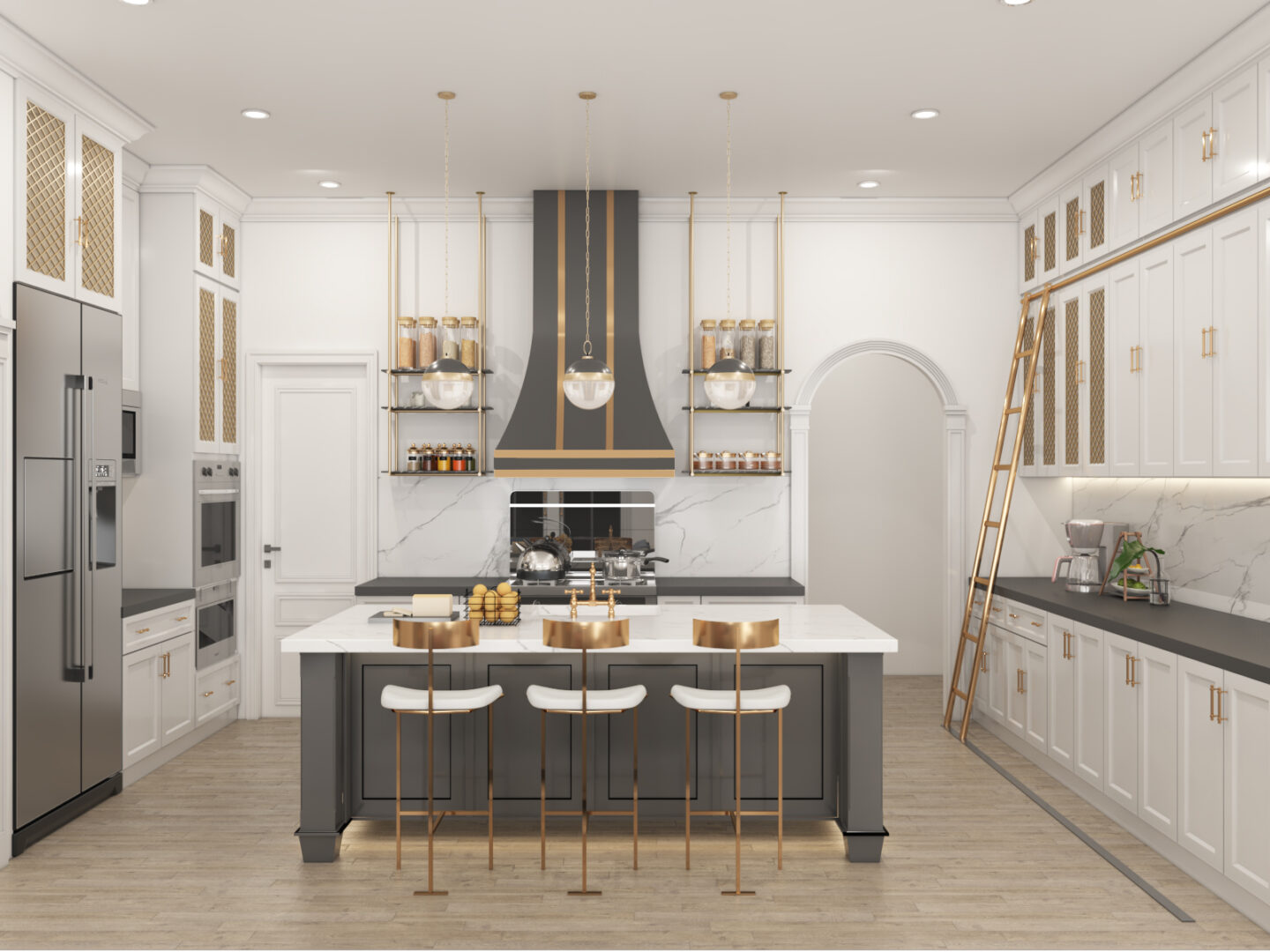 This was one of the very first renderings Joseph did for us. I can't believe how stunning this came together on the first go.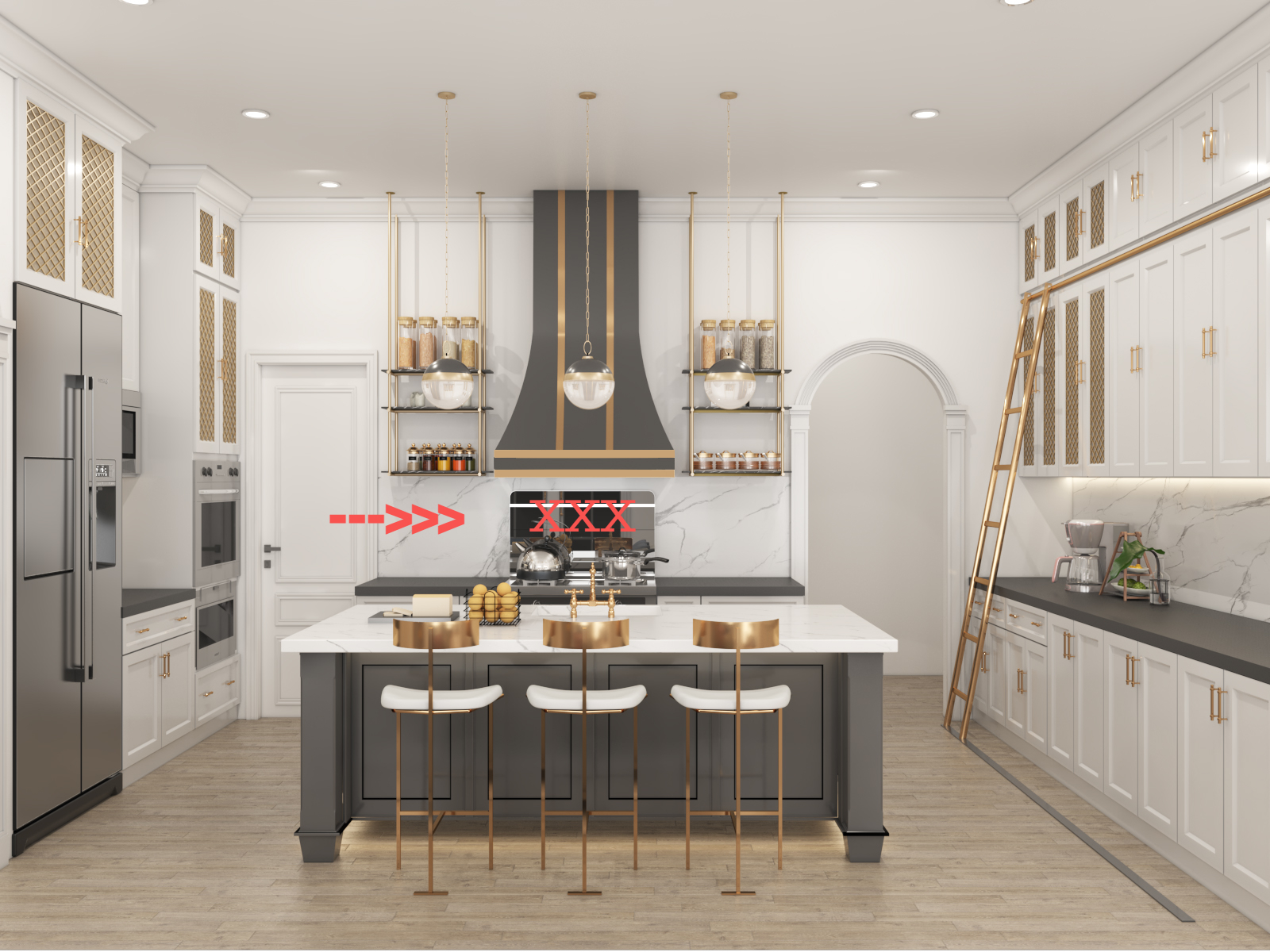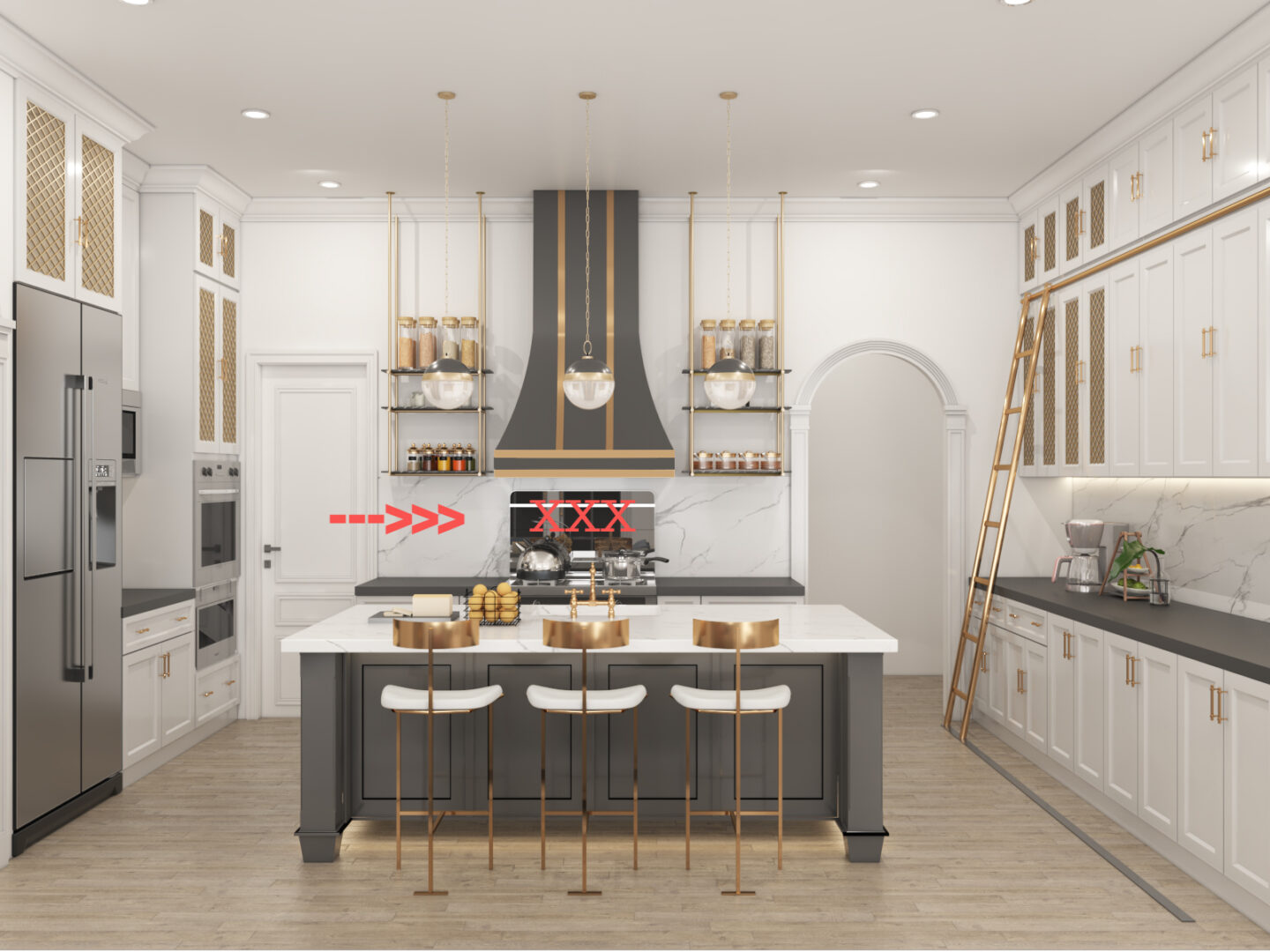 As mentioned Joseph lives in Turkey and his English is excellent!! Every once in awhile I would have trouble explaining something in my notes, so I would hop onto Canva and mark up the renderings for him. I originally really wanted this brass ladder as it looks so fabulous and our ceilings are 11 feet in this room. Ultimately we decided it was too expensive as I would probably stub my toe on it more than I would use it. We also decided on two large pendant lights instead of three smaller ones which turned out to be a really great decision!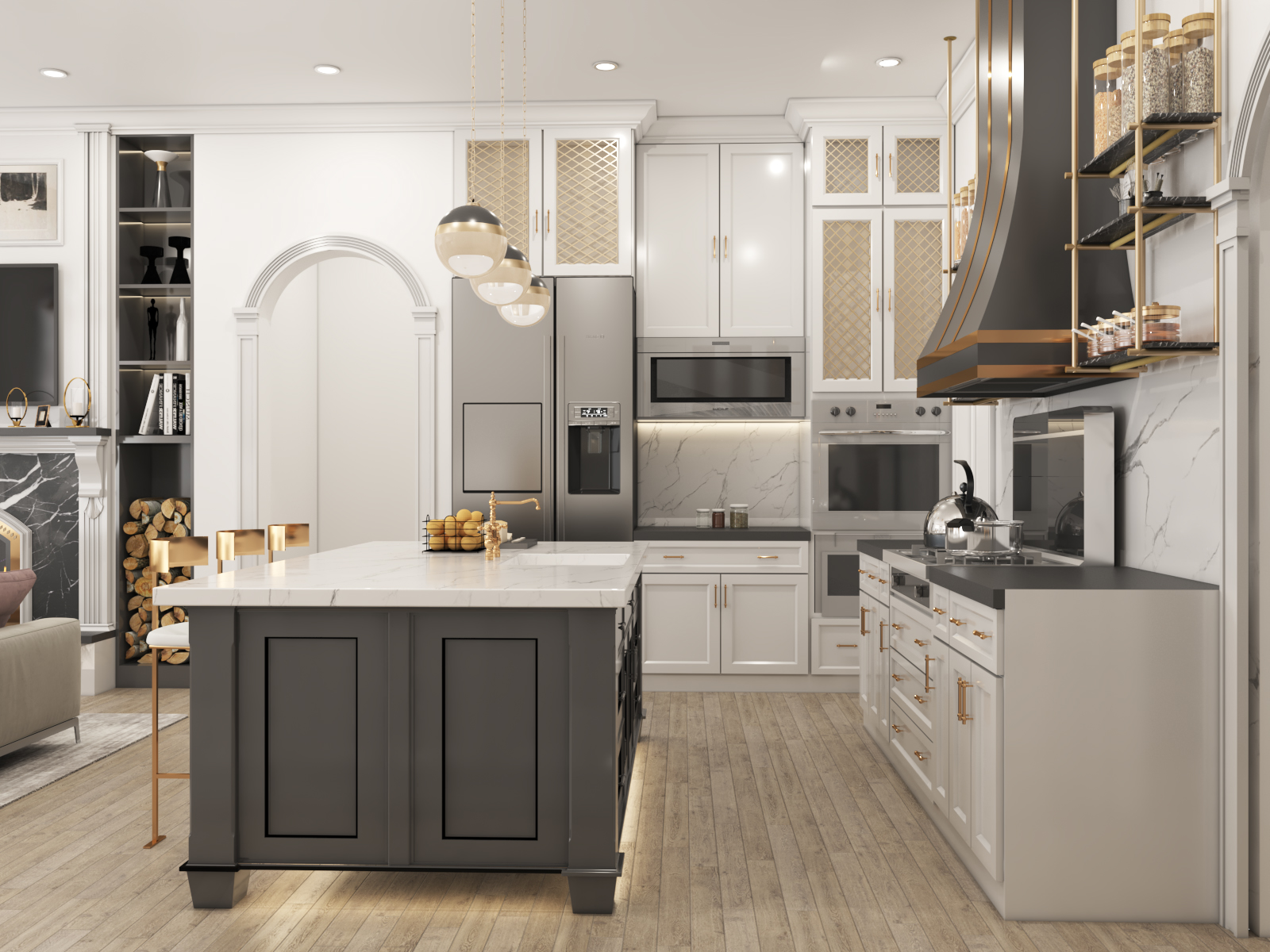 Initial side view kitchen rendering from Joseph at Fiverr.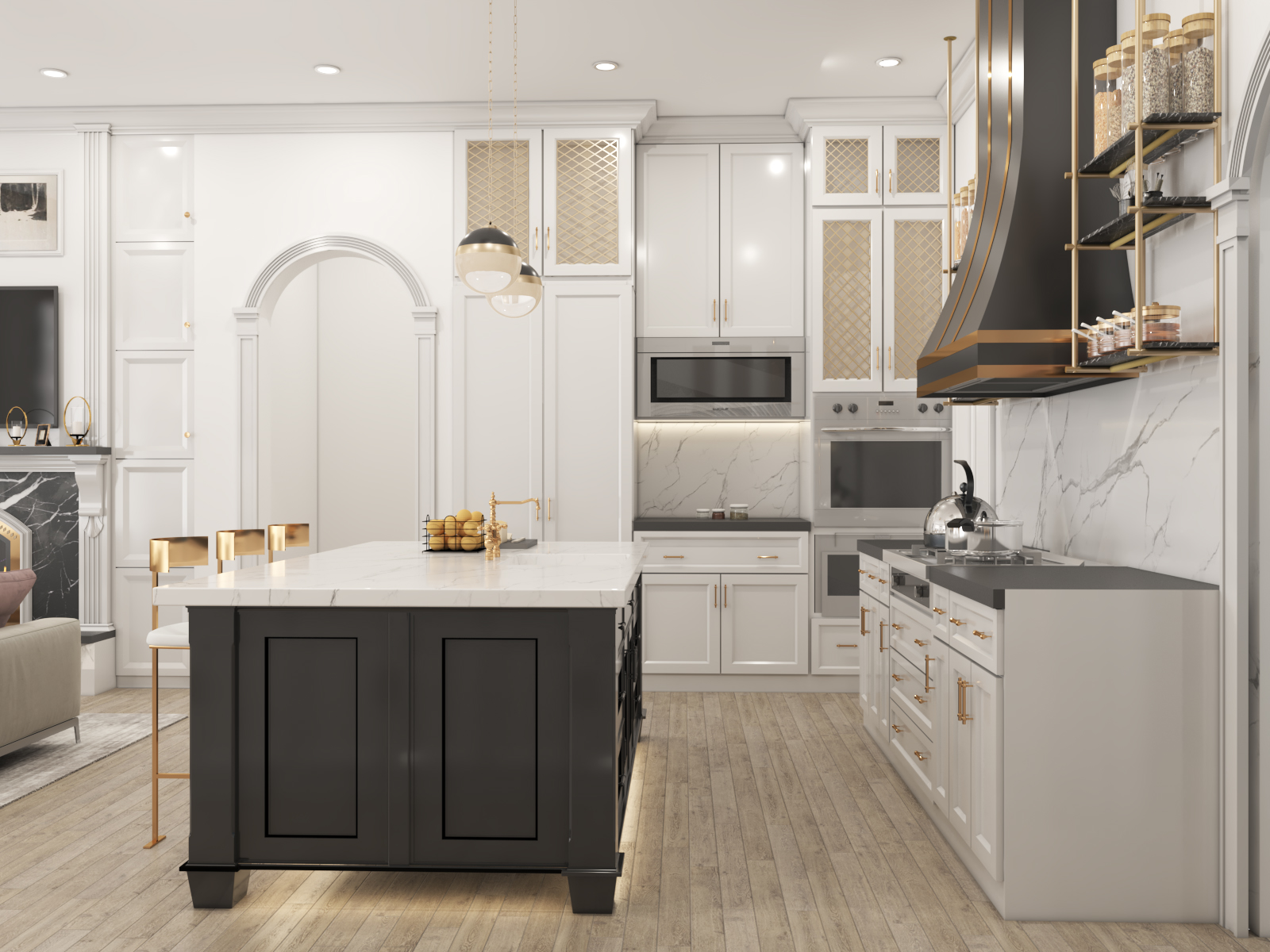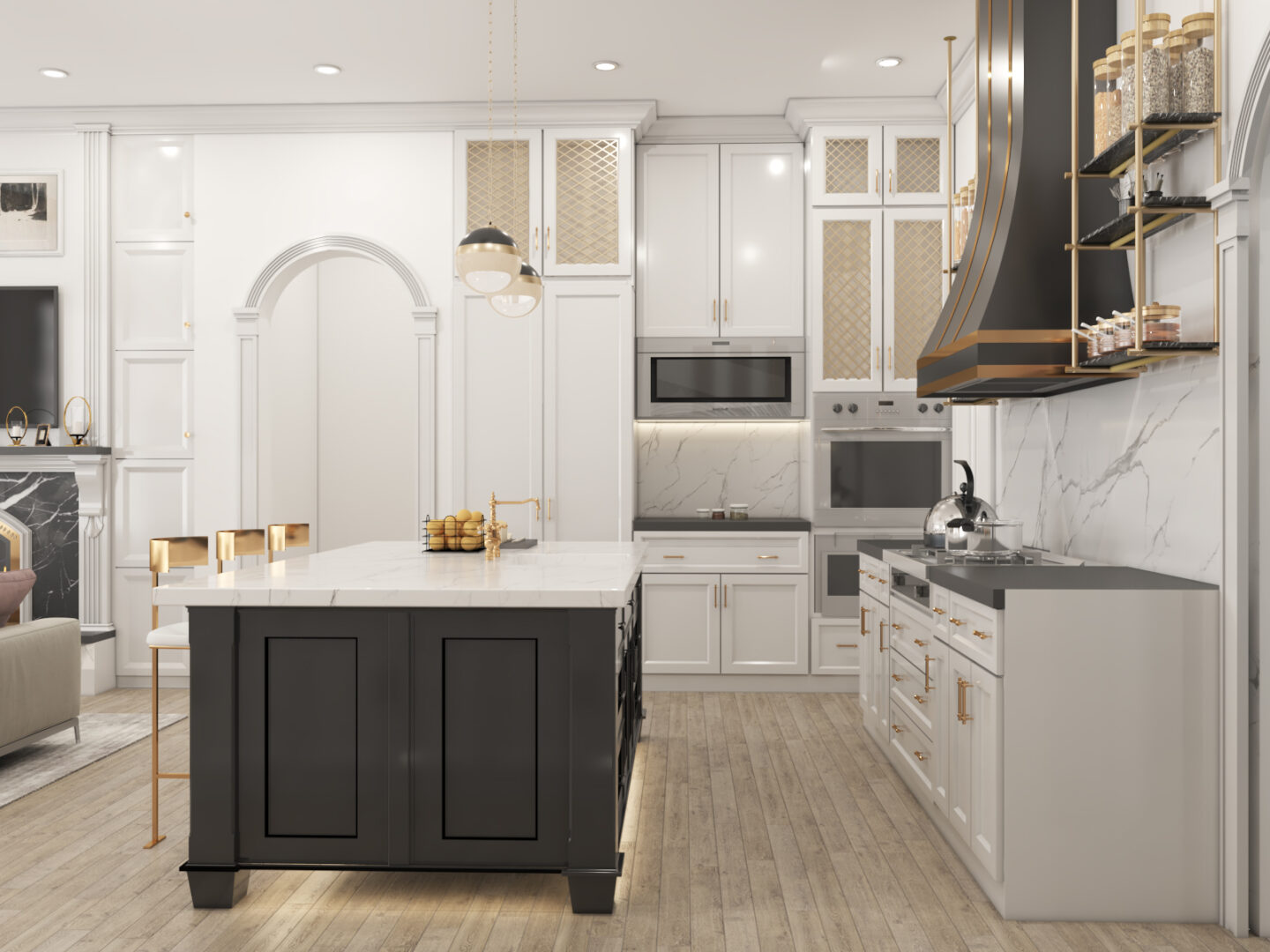 We ended up deciding to panel our Sub-Zero and to enclose the open area next to the fireplace. We also decided on two pendant lights instead of three and decided to place our microwave under the counter (not depicted in rendering).
The Waiting Game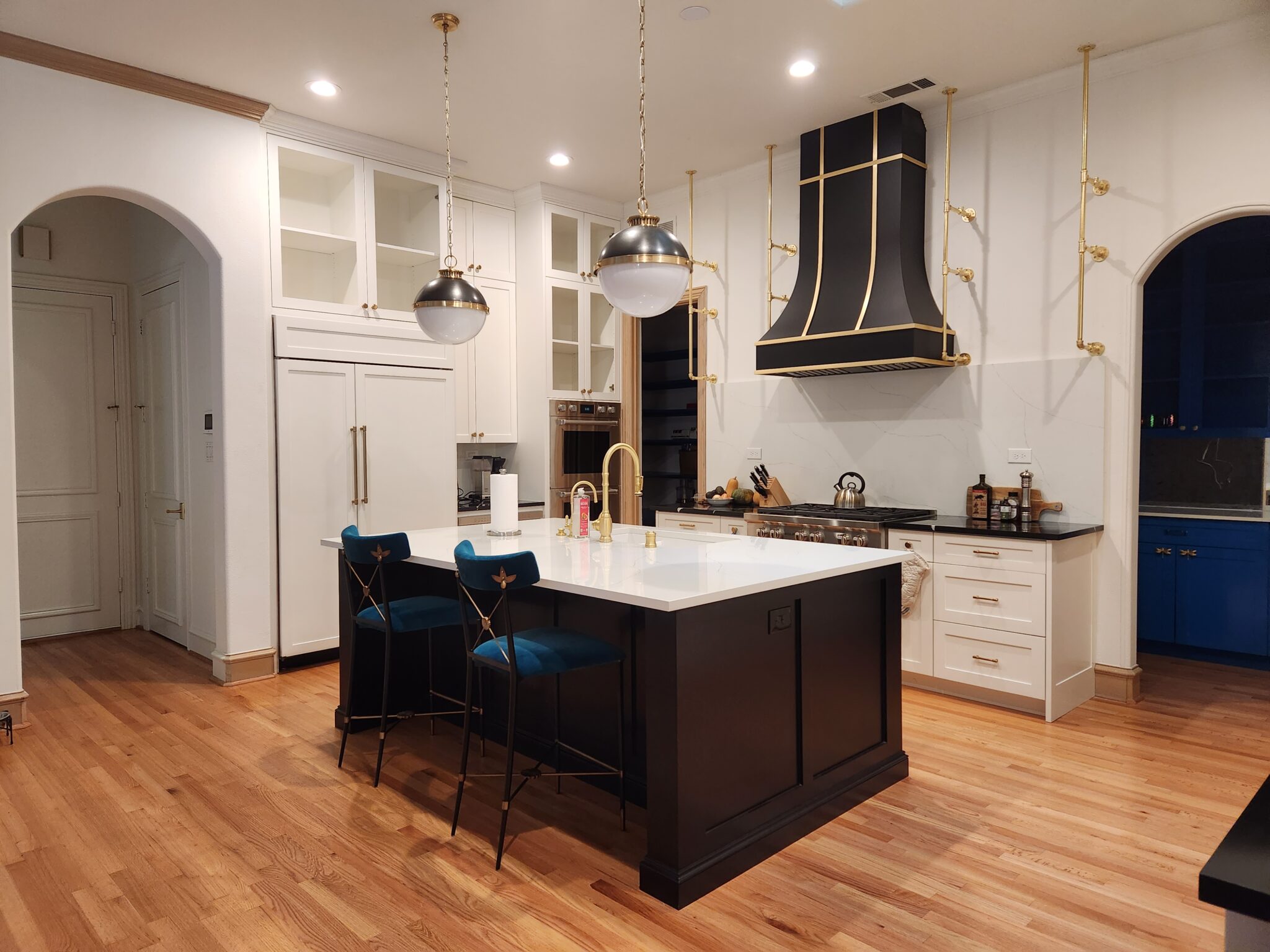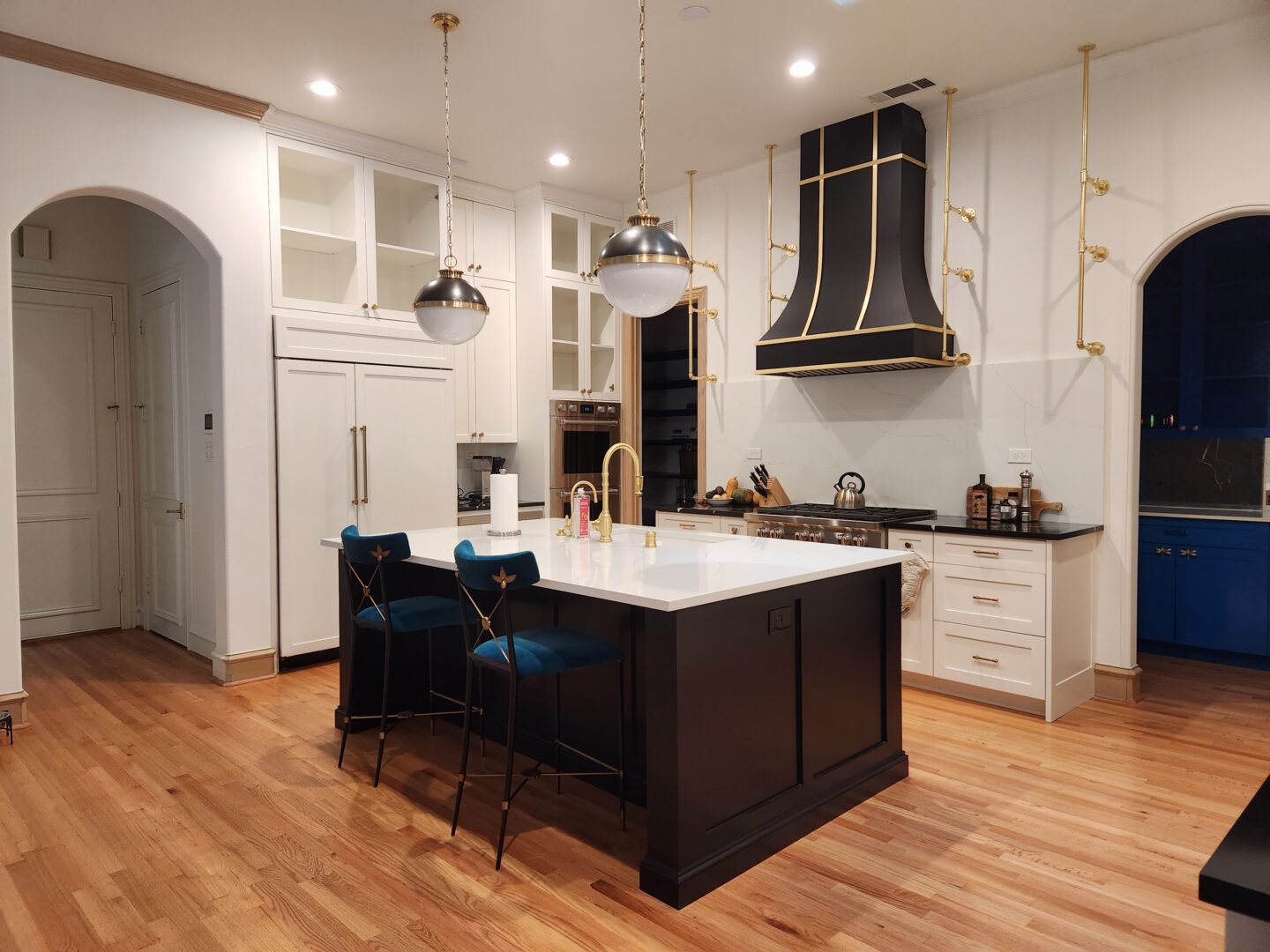 Our kitchen is now about  85% finished. We're still waiting for these polished brass "Regency Diamond" grilles that will finish up our cabinet doors, a couple of additional drawer pulls and the shelves that go on either side of our range hood. We also have to finish up some electrical work and painting. Sadly the archway molding depicted in the renderings is temporarily on hold due to the recession and inflation. We have a total of seven archways throughout our main floor and it's a rather costly project, but it's something I'm really hoping to manifest for early next year along with re-wallpapering our dining room.
Thanks so much for reading my post and please let me know if you have any questions regarding the design process, sourcing products, budgeting, timing, etc. and I will try to answer as best as I can. I'll be sharing the completed kitchen as soon as it's finished, as well as additional rooms in the house, so please do check back often for updates.
xoxo,
Lisa
Let's be social!