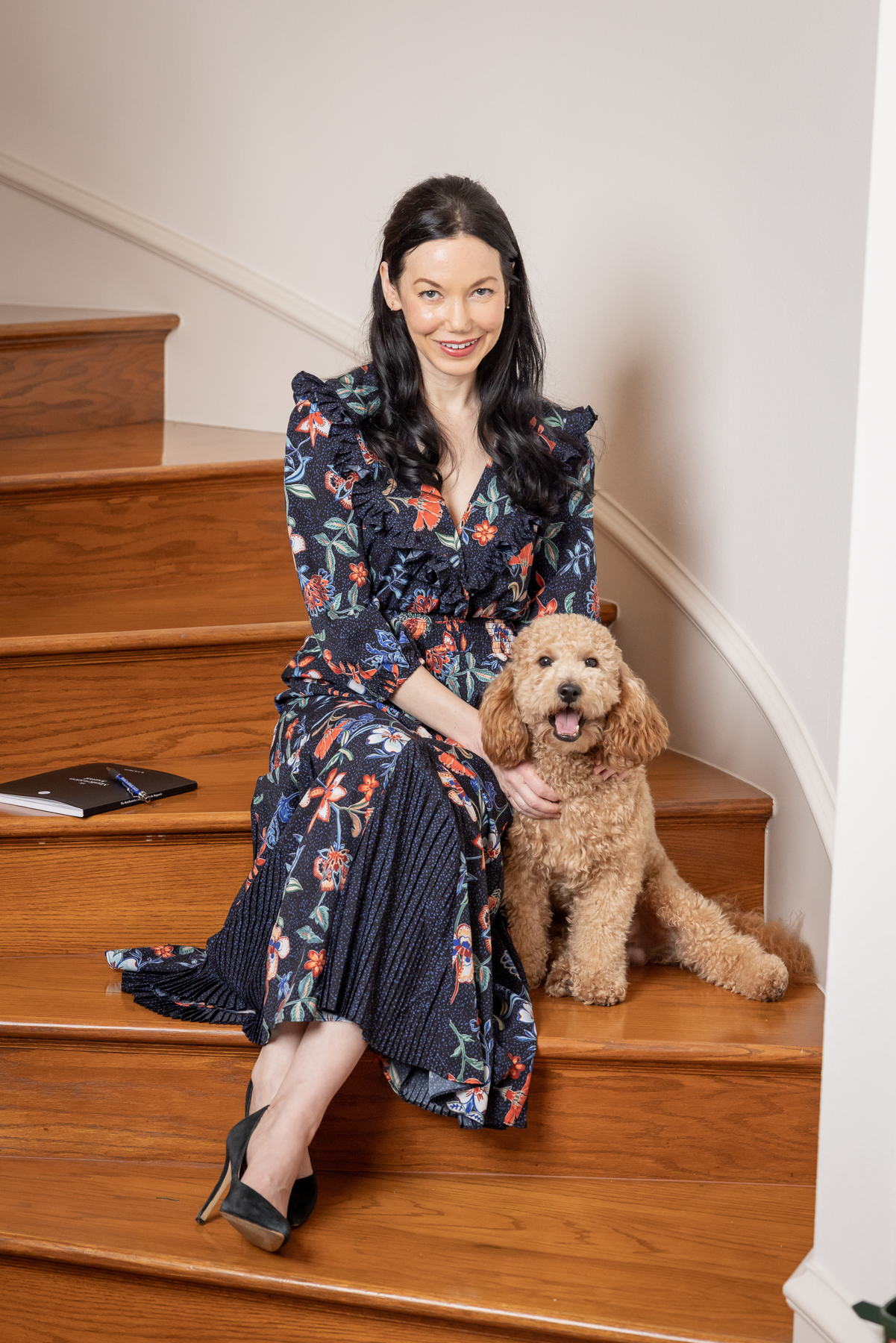 Happy 2022! I hope your New Year has gotten off to a grand start! I'm so excited to share my first post of the year, taking you through all the details of how I manifested my dream home and puppy. This post is a long time in the making and I knew I had to share it when I found the very detailed, two page list I had made in 2018 describing everything I wanted in my dream house. I ended up discovering the list in one of my many journals last year (almost three years to the date of starting To Be Magnetic workshops with Lacy Phillips) and I realized I had manifested nearly every single detail I had written down! Grab a cup of tea and scroll down to read the process and tools I used to manifest not only my dream home and puppy, but also my peace of mind, security and sanity.
In the Goop article, Lacy spoke about her unique manifestation process which focused on unblocking your past experiences and subconscious mind to create your dream life. She spoke about how she didn't buy into popular spiritual bypass beliefs on manifestation that had become so trendy with "The Secret" and the "Law of Attraction." I was totally intrigued, since visualizing and positive thinking had rarely (if ever) made sense, or worked for me. After years of vision boards, thinking positive thoughts and repeating affirmations till I was blue in the face, I was absolutely ready to try this new process with Lacy.
Getting Started with To Be Magnetic Workshops
I followed up the Shadow workshop with Unblocked Money, Unblocked Inner Child, Unblocked Boundaries, How to Manifest and Uplevel (I did Rock Bottom, The Rut and Next Level). When I started taking the workshops in June of 2018 they were only offered a la carte, but I believe it was at the beginning of 2019 when Lacy rebranded her site from Free & Native to To Be Magnetic and began offering her work as a membership program called The Pathway. The membership is offered for a reasonable monthly fee and includes all of the workshops and some additional content only available to Pathway members so I would highly recommend it.
The To Be Magnetic Process of Manifesting
By now you're probably wondering how Lacy's manifestation teachings work, so I'm going to give you a very brief summary. As we manifest from our subconscious, Lacy's process revolves around three things needing to be in place: unblocking, expansion and passing tests. Unblocking is about releasing shame, guilt and reprogramming the subconscious limiting beliefs that keep us repeating negative patterns and living small. Expanding is about finding other people that you can relate to who have achieved what you are trying to manifest. And passing tests is about stepping into your self worth and letting the universe know you won't accept less.
Lacy's To Be Magnetic process is based on neuroplasticity, which is the brains incredible ability to change throughout our lives. Neural Manifestation is TBM's trademarked manifestation process backed by neuroscience, psychology, epigenetics and energetics.
Our brains are shaped and molded by everything we have experienced in our lives both positive and negative and reprogramming our subconscious is an incredibly powerful and effective tool in opening new neural pathways and creating lasting changes.
My Dream Home Manifestation List
I did actually manage to pass one test in the middle of all the chaos. I asked our realtors to take off a half point out of their commission and they immediately agreed. In hindsight, I actually wish I had asked for more, but we were definitely at a place where we knew it was time to cut our (enormous) financial losses on this house and MOVE ON! When I was growing up my parents ended up losing our home to the bank and I was still carrying a lot of family trauma and shadow from this experience. I was terrified that this family karma would repeat itself and I did a lot of journaling and unblocking around this.
I wrote "big cooks kitchen with two ovens" and "tons of storage space" and wow, did the universe come through on these! Our kitchen is one of the biggest I have seen in a home and we will be doing a full demo starting in March and replacing all of the appliances (including the two ovens which have seen better days). Not only do we have a ton of storage space (I think this is really a Texas thing), but we also have a huge two story attic and two garages with room for three cars and additional storage! While the house doesn't have an official home theatre or gym, we have been using the oversized library room upstairs to double as a workout room, so we can keep the other three bedrooms for offices and a guest room. We're going to turn it into a library/screening room on phase two of our remodel and I'm really excited to share our entire remodel process with y'all over the next year.
It's ironic to me that I used the phrase "somewhat walkable" three and a half years ago. At the time I wanted to be in the most walkable neighborhood we could afford, but now safety is more important. We ended up getting a really safe neighborhood, but we can still walk to a nearby grocery store, our vet and the post office. I also wrote "gorgeous landscaped yard" – our yard is actually pretty small and our pool takes up a big portion of it, but we are situated in the middle of our stunning community with a view of the most beautiful landscaped green belt and a luxurious golf course! So we ended up with a serene and peaceful view and our reasonable HOA fee takes care of the maintenance!
The one thing I didn't get on this list is the original location I (thought that I) wanted, but keep reading to find out how I manifested the dream location I didn't know I wanted or needed.
Our First Move from Manhattan Beach to the Los Angeles Hills
I was thrilled to live back in town where all of my friends and activities were just 20 to 45 minutes away (that's considered "close" by LA standards). Of course almost nothing was open and a ton of businesses had already shut down, but things would have to go back to normal eventually wouldn't they?
Tests and Triggers
Nevertheless, we still had a lot of belongings… and a few pieces of furniture and a ton of artwork that we hadn't sold yet, but were too valuable to just toss away. Our movers came to help us pack on May 28th and our moving day was May 29th, 2020. We had to be completely cleared out of our Manhattan Beach house on the 30th and I was so busy getting things done, that it took me a day or two to learn that the entire country had erupted in protests, looting and riots over the murder of George Floyd. I spent the next five days cleaning and unpacking until I could barely stand up and then I would sit on my phone the rest of the night scrolling through my Instagram feed to try to make sense of the chaos around me.
On the fifth day after we moved in, the hubby started to feel a little under the weather. No biggie though… we were exhausted from moving and I didn't think much of it. I went to pick up some groceries and by the time I got home, my throat started to feel a little scratchy. The next morning we both woke up sick. Within a few days it became obvious we had gotten the virus (although I didn't have the energy to get online to set up a telemedicine and testing appointment until day 10).
Having the virus sucked and I was absolutely exhausted for weeks after my symptoms subsided. While we had been very vigilant about social distancing, I'm guessing we might have got it from one of our movers or repair people that came through our home the first few days after our move. Yes everyone was masked and yes we hand washed excessively. Yes I was quite sick (sort of like a bad flu meets a bad sinus infection), but no it did not make my top five list of illnesses (nor my husbands). I had wanted to write a post about my experience at the time, but the level of Covid shaming in Los Angeles was so extreme at the time, that I knew I didn't have the emotional energy to take it on. One of my own closest friends refused to greet me outdoors from a distance when I went to her house to drop off and pick up a few things from her months after I was fully recovered from the virus.
As you can imagine our house was quite a mess for quite some time. We still had boxes everywhere and piles of things I wanted to donate (and most Goodwill's and other charities were back loaded with donations because everyone in LA was de-cluttering their homes during lockdown).  I was so exhausted that it took me months to unpack and we also couldn't get a cleaning crew or repair people in for awhile… we had the virus just over a month from when the CDC finally declared it was only contagious for about ten days. I tried to get back into my daily manifesting/meditation practice and would often listed to Lacy's Expanded podcast as I worked around the house. Things were finally starting to open up around LA again and the weather was still quite nice, but once we were healthy enough to go anywhere, Los Angeles was back on a heavy lock down.
And did I mention the nice weather and wildlife? The beautiful weather turned into intense heat (I wasn't used to it anymore after living by the beach for so long) and then wildfires so bad that we couldn't leave the house for a month even if we wanted to. We finally managed to get a new air filter so we could actually breathe indoors. This smoky air was far worse than having Covid. The cute and friendly creatures greeting me on my patio somehow went away at night and I would hear hours of howling. Our backyard was in the middle of a canyon and It sounded like a coyote convention every single night. Then between midnight and three in the morning I would hear hours of drag racing, sirens and fireworks. Yup, the fireworks started well before July 4th and went on for months on end. We had already put ourselves on a wait list for Mr. Cupcake and I was reading one horror story after another about dogs being eaten by coyotes at all hours of the day, and alternatively scared to leave their homes (or running away from home) because they were terrified by the fireworks.
We also had ants in this house… colonies of ants in almost every room. We wouldn't bring food anywhere beyond the kitchen and family room, but the colonies just kept moving from room to room despite all of our traps. And it turned out not having a garage or any storage was more challenging than I thought it would be. We also didn't have a pantry (just drawers in our center island) and our laundry room was in our powder room. I still loved the house and thought I was determined to make this new space into our long term home.
I set out to find a contractor to build a library wall and storage in our den. This was a project we had planned to do when we bought the house and it ended up being another challenge that felt like an impossible hurdle… Since everyone was spending so much time locked in their houses, it turned out that everyone also wanted to remodel them. Out of a a dozen contractors I called, I was only able to get a few to return my calls. And not only was everyone booked up for months in advance, but supplies were backed up and costs had already started to significantly increase. Our den was the transitional room from our upstairs to downstairs, so I was constantly greeted by a mountain of boxes and excess belongings that needed to be sold. Little did I know that this was a gift from the universe – I'm so glad we were able to hold onto some of our furniture that I almost got rid of, and not having unpacked our boxes of books and decorations saved me hours of packing a few months later. 🙂
After our break in, I managed to cope by continuing to do my daily reprogramming workshops with To Be Magnetic during the day and then drinking way too much wine at night. The hubby started watching real estate shows where Americans moved abroad to exotic locations like Spain, Portugal and Greece amongst other locations. I had absolutely no desire to live by the beach again, but made him put on a show about moving to the Cotswolds. Okay never mind the fact that I don't have UK citizenship and I would probably freeze my @ss off, but don't you just love the Cotswolds? (There is a point to this later on I promise). 🙂
Another thing I was doing at this point was spending way too much time on the Nextdoor App, Citizen App and reading and watching news. We were also in the middle of election season after all. While a break in could happen to anyone in any location, I began to realize that it wasn't a unique occurrence in my new neighborhood. The crime rate had exploded and anticipating break ins, was becoming a way of life. Los Angeles had already started to defund the police and everything from petty mail theft and loitering, to assault, car theft and homicides were on the rise. And did I mention the homeless issue? As of 2020, Los Angeles had over 66,000 homeless, some of whom were breaking into our neighbors yards to get water and others were beating people up while they were walking their dogs. Despite the hundreds of millions of dollars spent on the homeless issue year after year, it had only gotten worse during the pandemic when tens of thousands of inmates got early release from jail.
Everyday I would look out the window at my beautiful and serene view of nature, but on the inside all I was feeling was fear and chaos. I had lost my sense of security, safety, inner peace and sanity. I was depleted and exhausted day in and day out and I felt like my soul was dying. And did I mention we had paid a small fortune for our tiny new house? I'm sure you've heard the real estate adage "location, location, location" but when your location suddenly loses it's appeal, it definitely made me rethink the price tag.
My Authentic Code
I had gone through the Authentic Code questionnaire several times at this point, and each time Freedom had come up as one of my four values. As the pandemic and quarantine raged on and I watched more and more of our rights being taken away in Los Angeles, it started to become clearer and clearer that freedom wasn't a value that was being upheld in California. Day in and day out, businesses were being shut down, or going under in the name of "public safety," but the hypocrisy of these strange and cruel laws became more and more apparent. Restaurants that had been around for decades were being forced to close, while two doors down a movie was allowed to film with tables and chairs set up for dining. Small business owners spent tens of thousands of dollars to put up tents so diners could eat "outdoors" only to be shut down weeks later and paper masks and empty bleach bottles polluted the environment while their biggest users went on about man made climate change. Schools, gyms, churches and synagogues were closed, but you could keep shopping at Target, march in a protest, or shoot a music video.
Day in and day out I sat in my new house with the beautiful view watching these injustices take place. My anxiety was at an all time high after the break in and I didn't feel safe leaving the house, but I didn't feel safe being home either. We kept our alarm on constantly, and every door and window locked day and night.
And if ever I should dream about posting about any of these topics, I would quickly talk myself out of it. I had already had a few people unfollow and block me on social media for speaking out in private conversations… and I was repeatedly witnessing too many others being cancelled for any opinions right of "woke." This wasn't freedom… it was madness!
The Final Straw
After my husband went to bed that night, I stayed up late scrolling through Redfin and looking at houses in Dallas. My husband had mentioned wanting to move to Texas years earlier and I had responded with something to the extent of "getting a divorce." But this was now a new world we lived in and I was finally ready for a major change. I had been following a few influencers who lived in Texas and their lives looked pretty amazing and free! Then I checked on real estate prices and I think my jaw must have dropped… you can get a lot more house for your money outside of California and New York! "Everything is bigger in Texas" as the saying goes. 🙂
I woke up the next morning and asked the hubby if he still wanted to move to Texas. He said yes without batting an eyelash and we had our realtor on the phone a few hours later.
How I Manifested My Dream Home
Our realtor Marisa was only a little bit surprised that we were thinking of moving again so soon. The mass exodus of Californians fleeing to other states had already begun and only a few months later Governor Gavin Newsome started to be referred to as the "Texas Realtor of the Year." Marisa set us up with one of her realtor friends in Dallas, the hubby booked us a flight and I started making a list of homes I wanted to see.
From the very first moment I began my search, one house stood out amongst the others. I showed it to my husband and he loved it too. It had already been on the market for a few months (which was a little strange in such a sellers market) and I was wondering if there was something wrong with it. Then the price got reduced and I told the hubby we needed to move up our flight and go to see it now! At that point it was right in the middle of Thanksgiving week, so we couldn't change our travel plans. We would just have to wait and hope no one else bought "our house" before we could get to it.
On December 4th, we flew out to Dallas and our now home was the very first property we saw the next morning. We absolutely loved it, but we still had a long weekend planned with our realtor Kim Rygh. Kim drove us all over Dallas neighborhoods for three full days and we ended up seeing a total of 15 houses. After our last appointment we asked Kim if she could take us back to see "our house" again. We loved it even more the second time and we knew it was "the one." We needed to sell our house in Los Angeles before making an offer, but we didn't want to let this house get away. We immediately started to figure out if there was a way we could make an offer on the house right away.
Later that night we got a call from Kim and she had some bad news. Another couple had made an offer on the house and the buyers had accepted. What? How could this be happening? The house had already been on the market for over 4 months and it was now going to sell right after we fell in love with it? Turns out they had been negotiating all weekend while we were looking at the house. We were really disappointed, but I decided not to lose hope and instead to pray about it. If the house was meant to be ours, the offer would surely fall through and we would get it and if it wasn't meant to be, we would surely find an even better house after we sold our Los Angeles home.
A few days later we were back in Sherman Oaks and we found out the offer had fallen through! I knew this house was meant to be ours. But now how were we going to buy it since we hadn't sold our house yet? I suggested we ask Kim to see if we could set up an offer where we could lease to buy. Everyone thought that was a great idea… except the seller who said NO. We mulled around for another day or two and the hubby realized we could get a bridge loan that would cover us until we sold. We offered the sellers a small amount under their asking price to help cover what would be our interest costs and this time they said YES (and didn't even counter our offer)!
Our Second Move from Los Angeles to Dallas
Moving to Dallas definitely felt like the equivalent of jumping off a cliff for me. I had never before lived anywhere outside of Southern California! While the change was slightly nerve wracking, somehow I felt totally ready for it and jumped in whole heartedly. We actually felt that in many ways this move half way across the country was so much easier than our previous move in Los Angeles. Our new neighbors warmly greeted us and once we arrived everything else suddenly started to feel in flow. In fact, leaving Los Angeles started to feel like getting out of a very long and abusive relationship. We kept saying to ourselves that we wish we had done it sooner!
I also got another surprise email from a blogger agency I had previously worked with. A brand I had done a campaign with wanted to buy one of my photos for their new brochure. And after not submitting myself to castings for awhile, I finally felt a ping to get back at it. One thing I was really worried about with moving to Dallas, was not having as many opportunities here as I would in Los Angeles. I ended up getting to put myself on tape for some bigger and better roles than I would have been able to be seen for in LA and I also got to jump back into classes with LA coaches online.
One Final Test
We received one final test before we could put our home selling and buying journey behind us. Since we had already purchased our home in Dallas before selling our Sherman Oaks home, we were eager to sell as quickly as possible. We had a lot of interest in the first two weeks and finally received a legitimate offer just after the two week mark, which we accepted just before another offer above asking came in a day later. The plan was to get through a quick 30 day escrow, but the buyers decided to change their lender in the middle of the escrow process. This ended up causing a few delays that were quite nerve wracking… especially as we had already cancelled our home insurance for the original date we were supposed to close escrow.
Our final test came when the buyers asked if they could move into the house before escrow closed, as they had a deadline to get out of their rental. While normally I would have wanted to accommodate their request, I knew this was a hard NO for me and I was so glad my husband and Marisa were on the same page with this. Between the laws in California leaning in favor of the tenants and the federal eviction moratorium during the pandemic, it would have been nearly impossible to evict the buyers should anything happen with their loan not coming through. And should any accidents happen at the house, we would have been liable. This was way too big of a financial risk and saying no definitely felt like passing a test in setting firm boundaries. The buyers had to pay a small penalty for the escrow delay and a few days before their new loan date came, they once again messaged us to see if they could move in a day early. We said no again and I was so glad… the day they were set to close their loan (a month later than planned), their loan was delayed once again. We finally closed escrow a few days later, but I definitely learned the value of setting financial boundaries (and also not cancelling insurance policies prematurely)!
Manifesting Mr. Cupcake
While I had been dreaming about Mr. Cupcake for about 7 years before we got him (yes, I picked out his name that long ago), I wrote this on my list a year before we got him:
"Get Mr. Cupcake – The sweetest, cutest, most loveable doodle ever"
This describes his personality to a tee. He is loved by so many humans and other dogs. We've actually had a few people in our neighborhood and the dog park comment that their dogs normally don't get along with other dogs, but they really love Charlie.
Other Manifestations that Came Through
After we moved into our Sherman Oaks house, I made a new list and these are a few of the things that have come through so far:
*Vintage Chandelier – Another find on Etsy that I originally purchased for my office in Sherman Oaks. The chandelier shipped from Turkey and it wasn't wrapped properly so it was broken and it turns out not wired for the US. The delay and having to get the chandelier repaired ended up being another divine intervention as we ended up deciding to move to Texas in the middle of it all. Also, the chandelier repair guy was pretty impressed with my purchase. I spent $280 on the chandelier and another $330 to repair it, but he thought the value was around $1800!!
*Amazing Carpenter – Great, fair, affordable price. Incredible, beautiful, artistic work. Beautiful library built in a timely manner. – This was also something I was trying to manifest in Sherman Oaks… our new house came with a built in library, but this description fits our new contractor/carpenter to a tee!
2022 Manifestation Challenge and Making a New List
Lacy and her team at TBM started a Manifestation Challenge a few years ago and this year was the first time I tapped in. December is always such a busy month for me and I'm a little behind in completing it, but I've actually already had a few tests, triggers and a small break through manifestation, so I'm really glad I started it! I'm also pretty obsessed with this Manifestation Journal in the photos. I tend to skip out on journaling a lot in spite of the fact that I actually achieve better results when I actually journal along with the Deep Imaginings in the workshops. This journal makes it so much easier to organize everything along with the work.
I've also made a new list of both mini and major manifestations I want to call in this year. My trust muscle with the universe has really grown with the results I've gotten over the past few years and I'm working on learning my patterning of how my manifestations come through.
Other Tools I Used Along the Way
Throughout the last few years, I've used a few other tools to enhance my mental and physical wellness and to help shift negative and stuck energy. Many of these were things I learned about through Lacy's Expanded Podcast and these are a few favorites:
Have you tried any Manifestation tools or workshops? Please let me know if you've tried To Be Magnetic workshops and what you are manifesting this year or have already manifested in the comments below!
Thank you so much for stopping by!
xoxo,
Lisa
Let's be social!