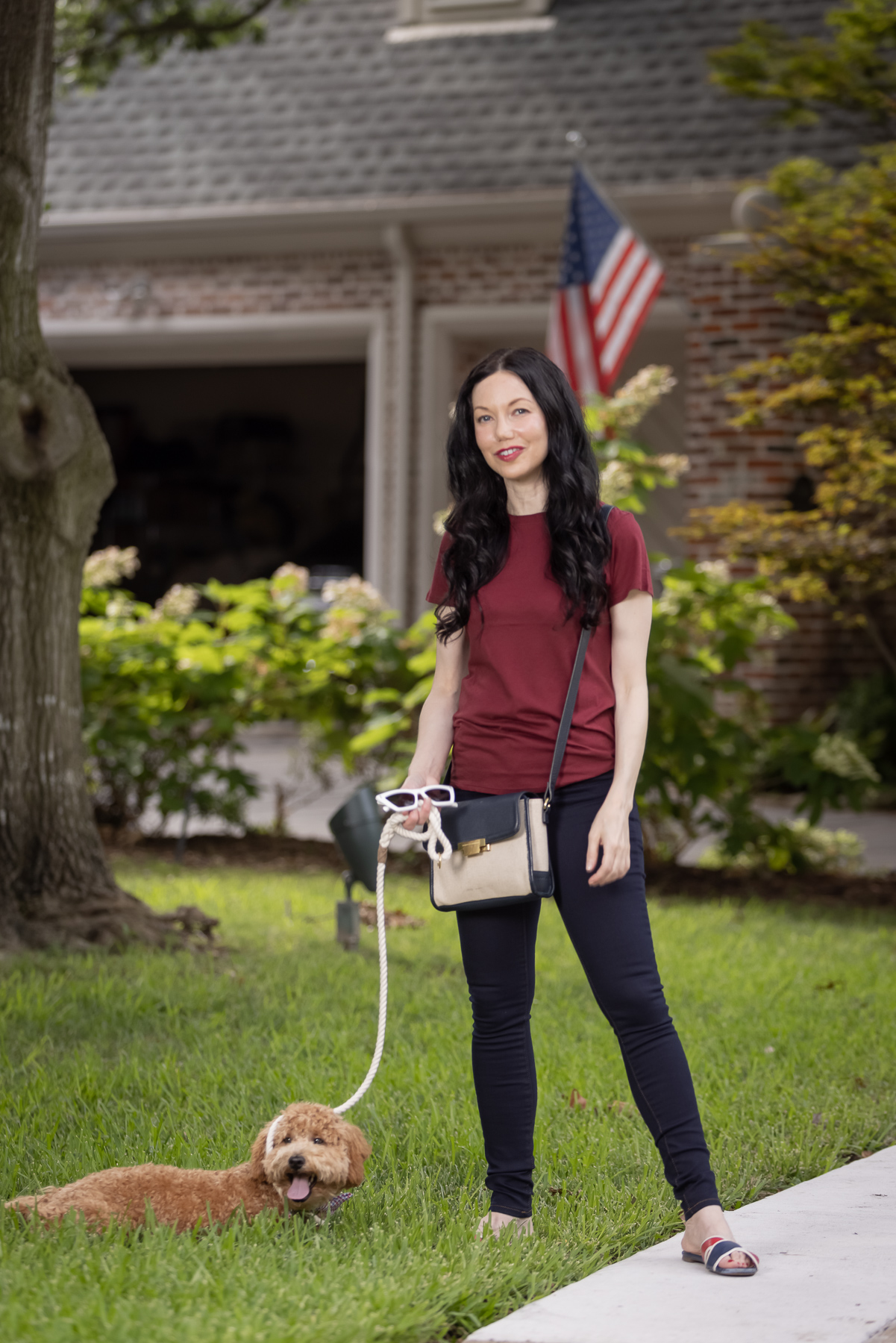 Happy Thursday! It's hard to believe over 6 months have gone by since we've become Texans! I've always loved the red, white and blue color palette and living in such a patriotic state makes it an appropriate dress code year round. This
new pair
of
Mott and Bow jeans
and
crimson tee shirt
are from one of my tried and true favorite brands Mott and Bow, and they're definitely staples I'll be incorporating into my wardrobe all year long.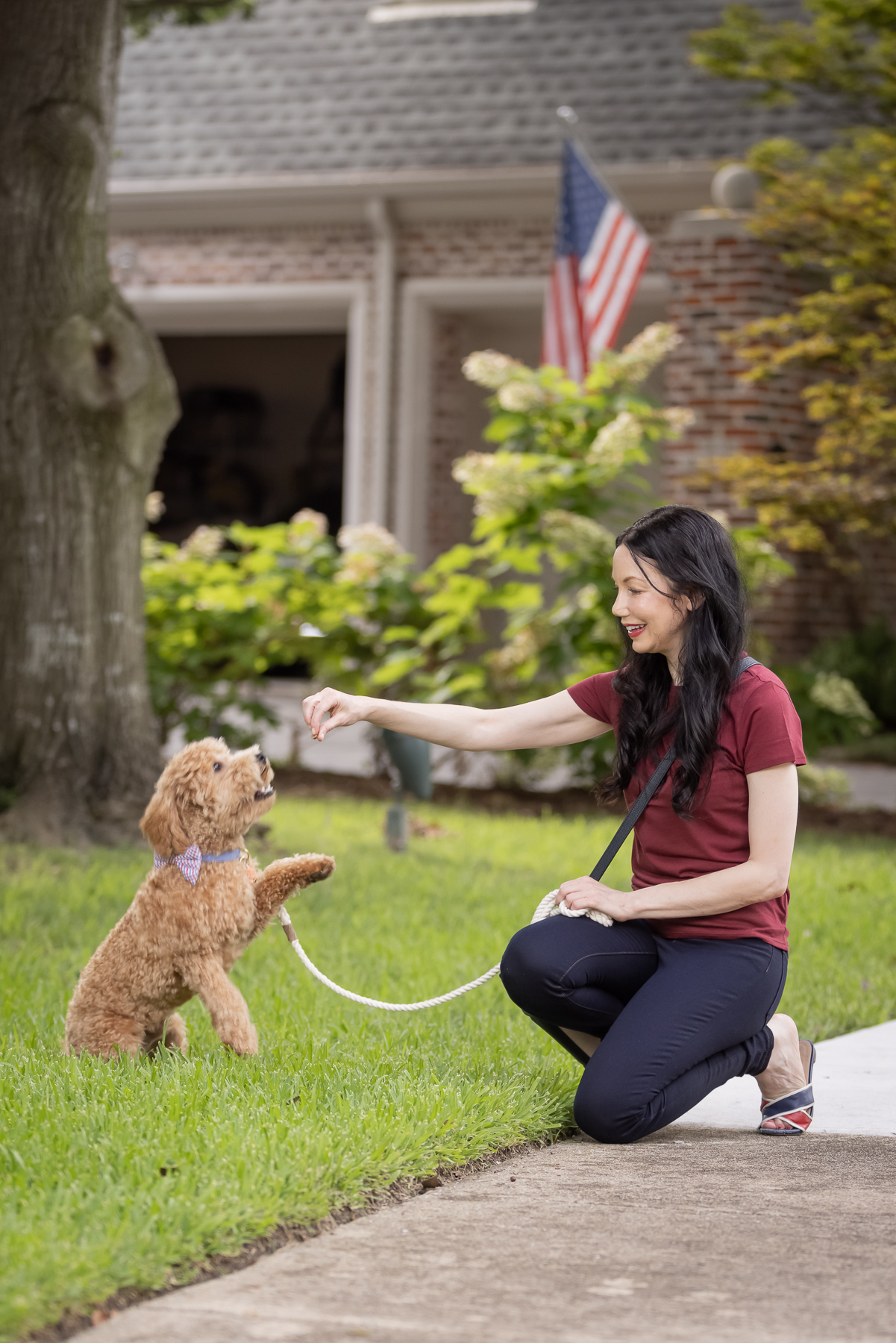 Mott & Bow Jeans
This is my fourth pair of jeans from Mott & Bow (see previous pairs
here
,
here
and
here
). I'm especially loving this dark denim color which goes so well with Summer tanks and tees, but is also easy to transition to a darker Fall color palette. I styled the look with a pair of white sunglasses, a navy cross body bag and red, white and blue sandals, because lately all of my looks revolve around
Mr. Cupcake
. Luckily he loves dressing up to go on dinner, shopping and play dates, so I got him a matching red, white and blue gingham bowtie and this new rope leash. Don't you think he looks handsome? 🙂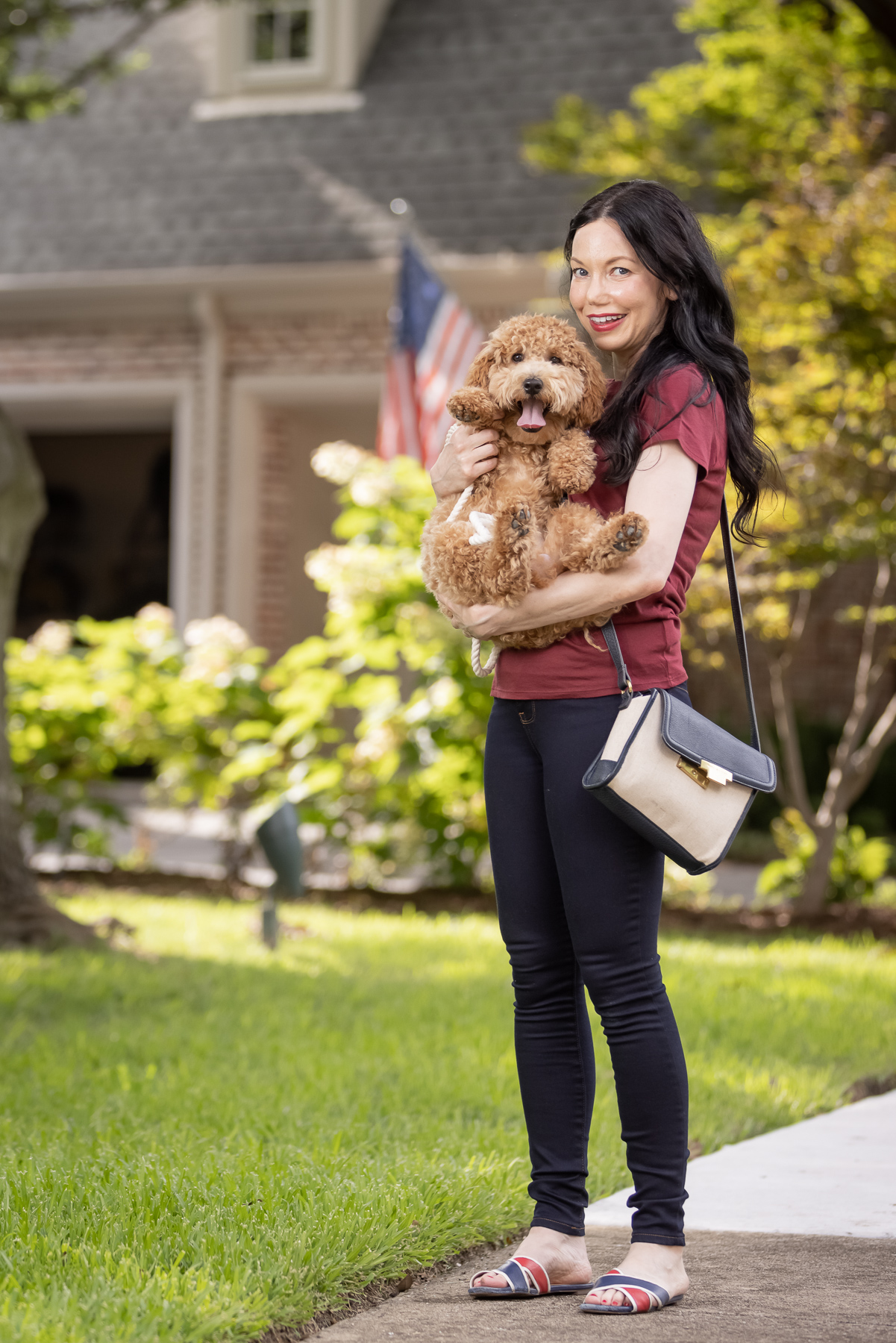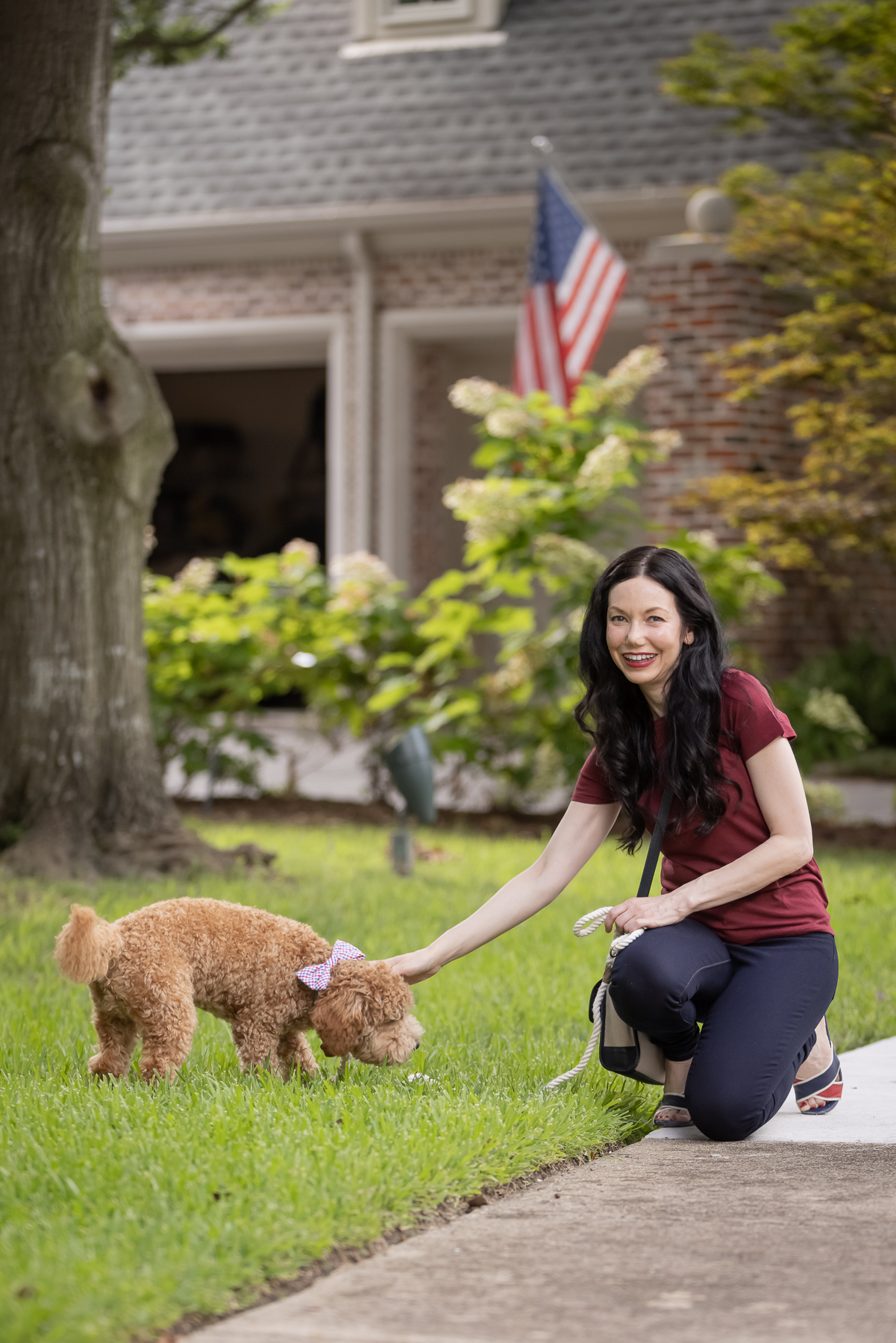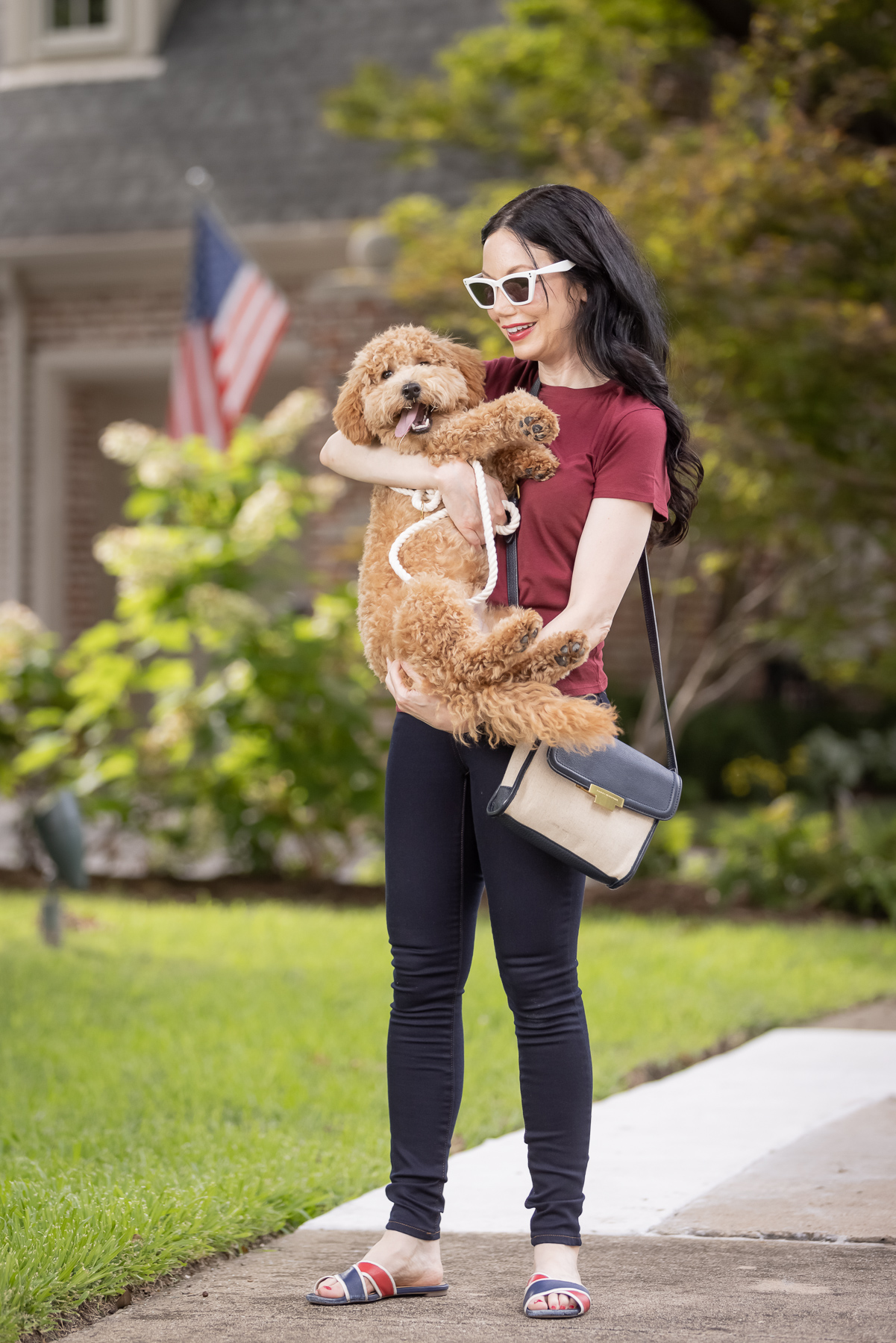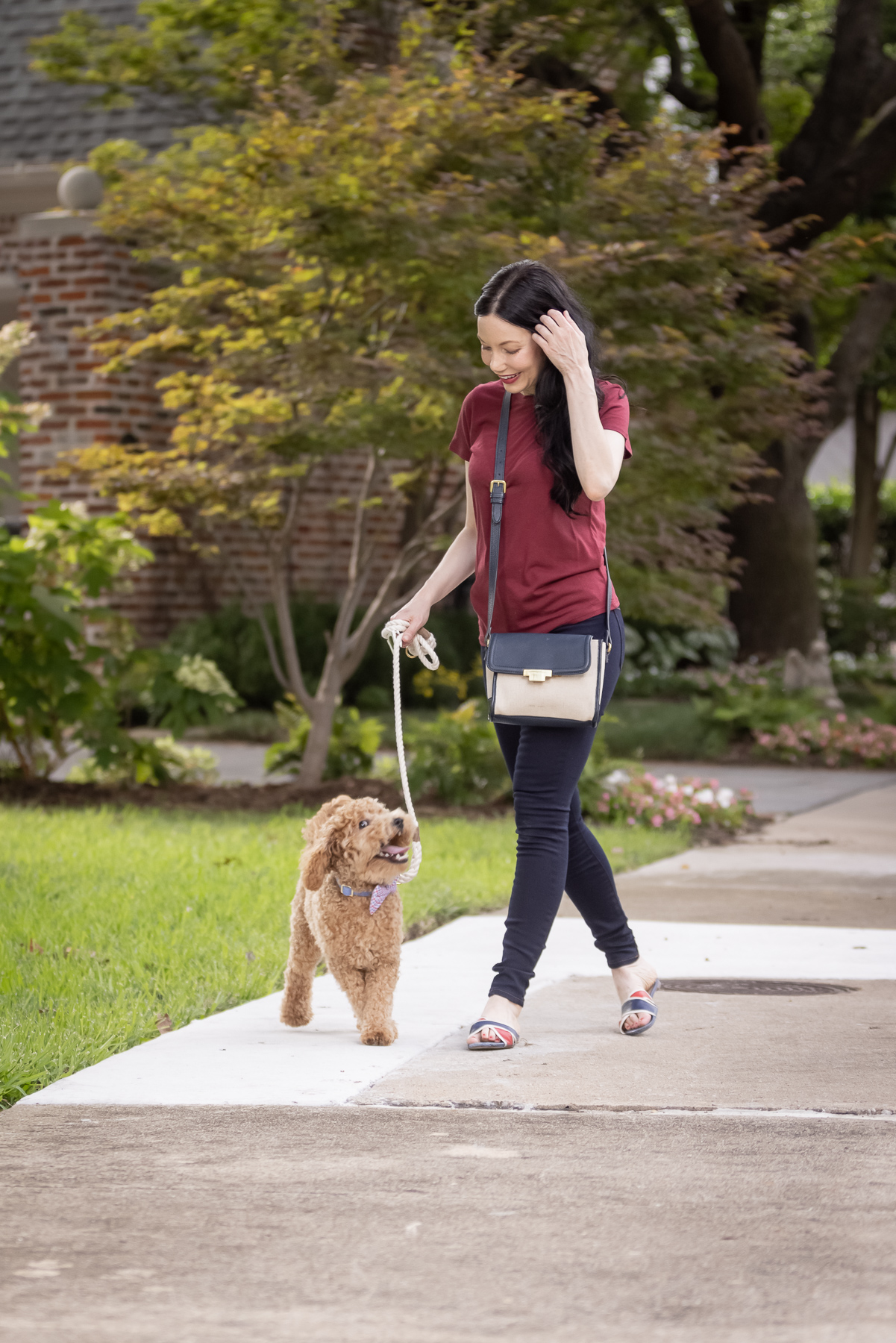 Life Lately
It's been awhile since I did a
life lately post
, so I thought I'd catch you up on our new life here in Dallas. This is my first time living in a new state and it's definitely been a challenge to start from scratch. Everything from deciding on a restaurant for a dinner date, to finding a dentist, doctor or handyman takes a lot of research (Yelp and Facebook reviews) and reaching out to neighbors for referrals. Happily, we are finding our new neighbors and community to be so kind and friendly! There really is something special about the Texas pride and spirit and I'm finding myself feeling somehow more accepted into the community than I ever felt after a lifetime in Los Angeles.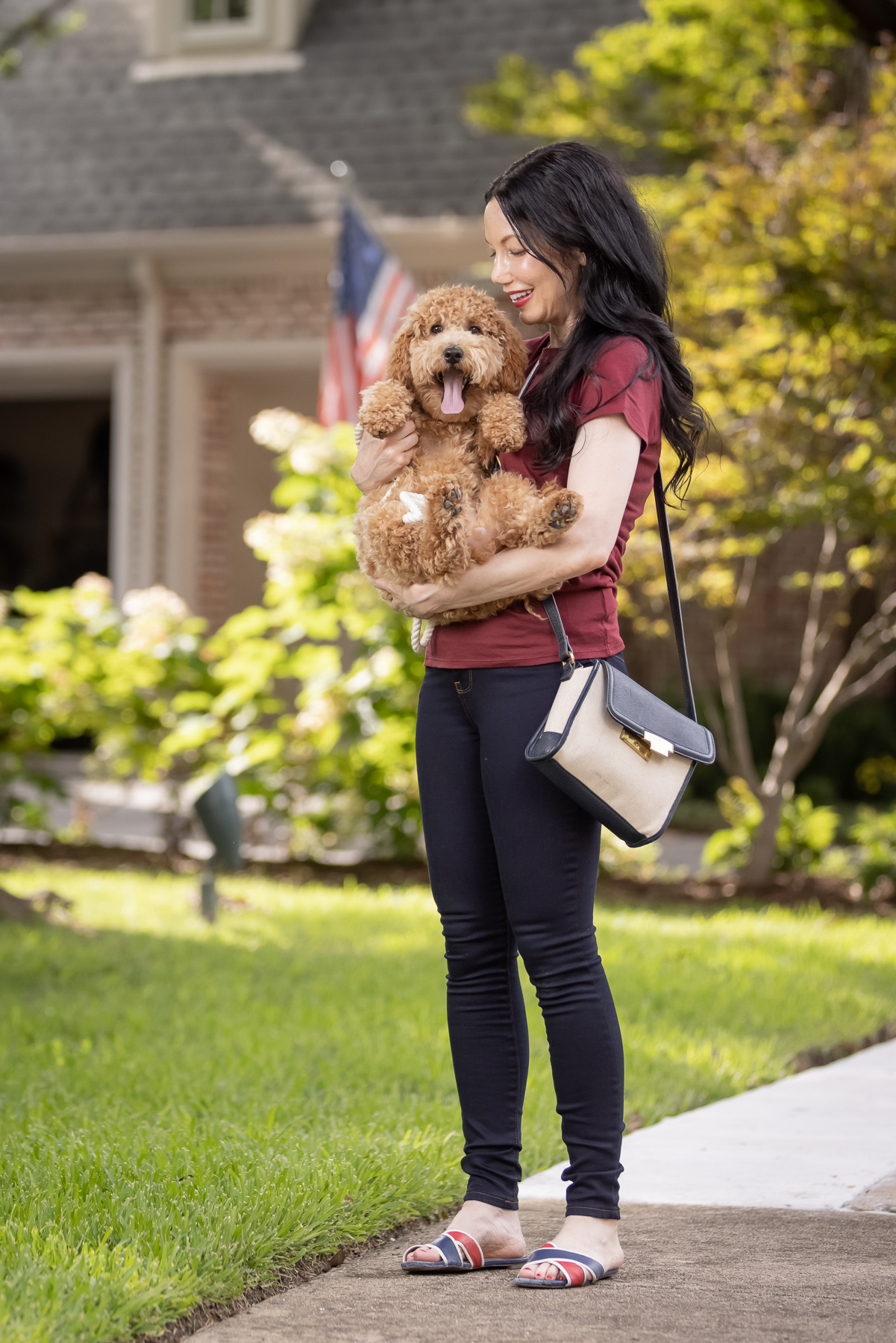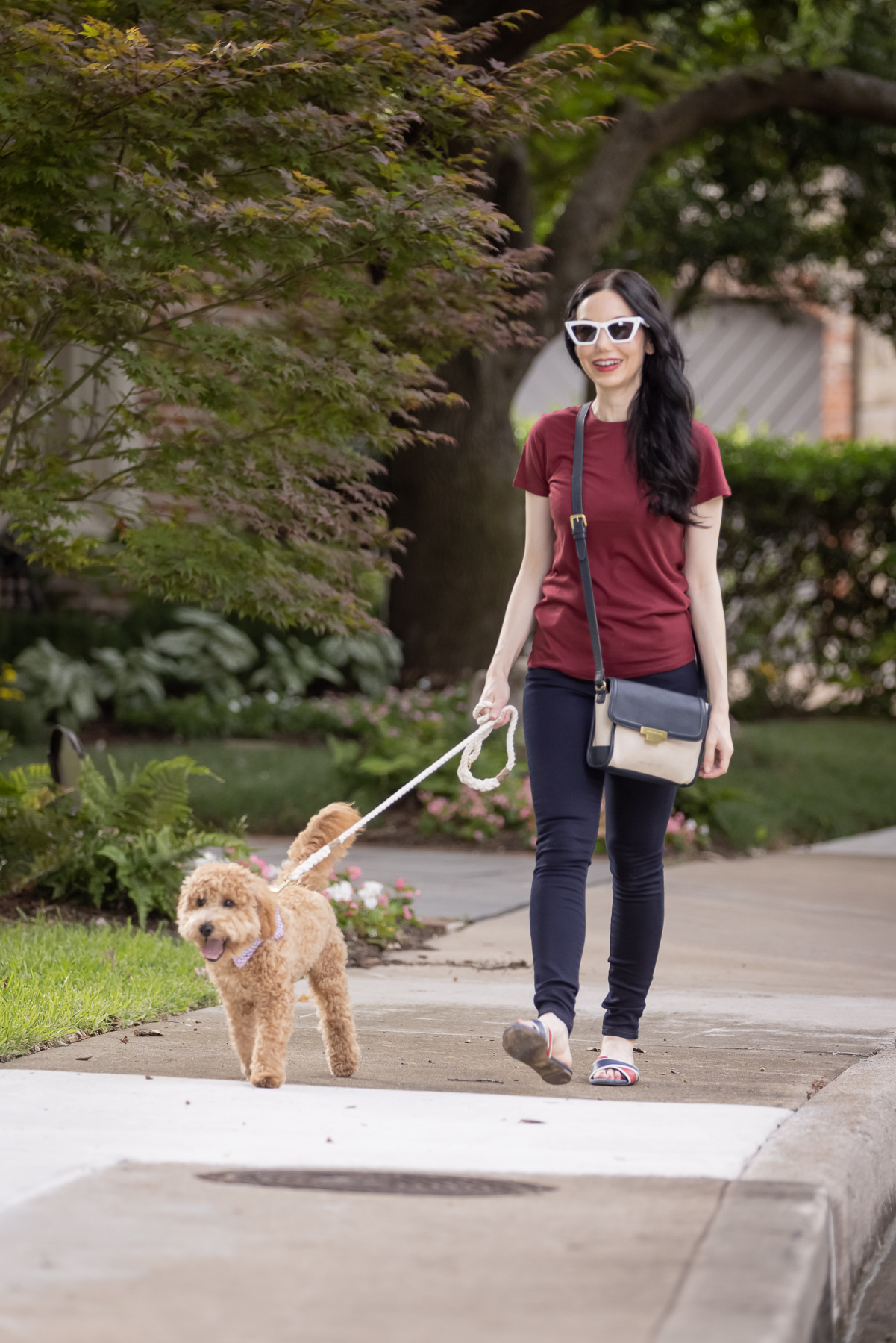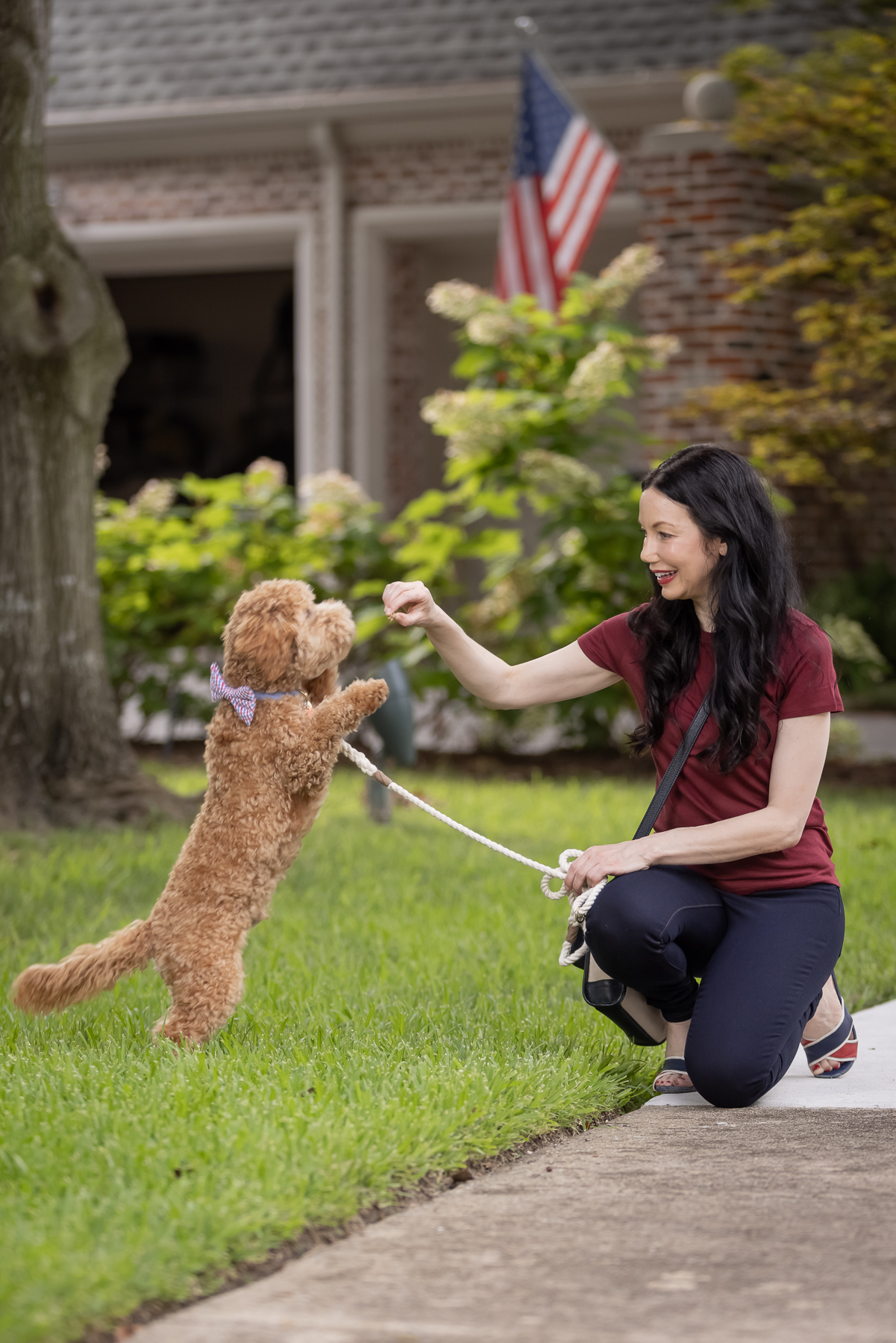 Paw-renting Update
I should probably start by saying that
this little dood
has completely stolen my heart and I can't imagine life without him. That being said, there really are days where I feel like I am failing as a paw-rent. Just as we were finally getting into a routine with Mr. Cupcake going to Puppy Preschool twice a week, we realized we would need to make alternative plans when he turned 7 months old a few weeks ago. His school (and most doggie daycare and boarding centers) have a strict spay/neuter policy as soon as dogs turn seven months old. After talking with our vet and doing lots of research, we decided to wait till our little boy is at least a year before neutering him.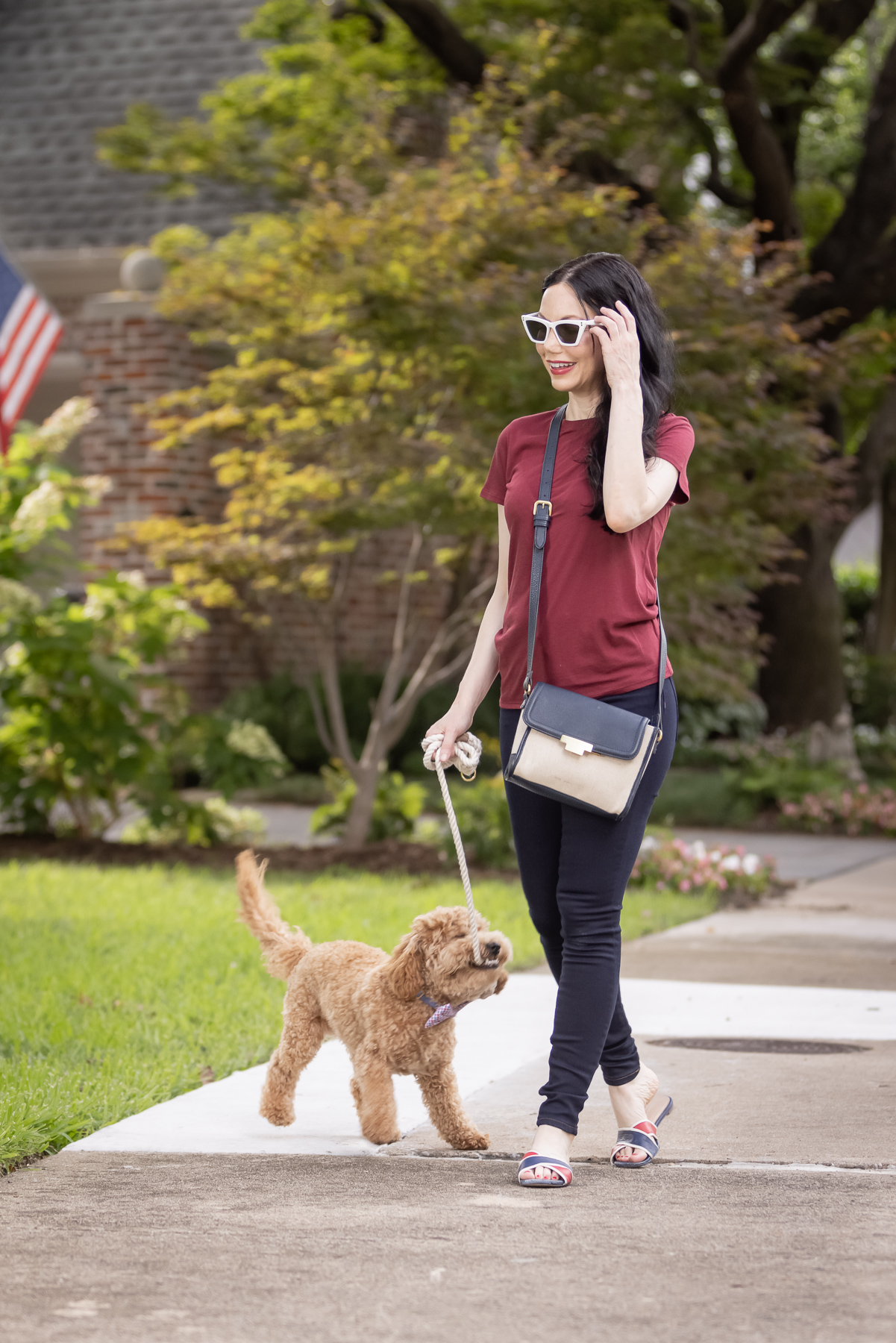 It's been a really hard decision to take him out of his school though, because he absolutely LOVED it there and never wanted to leave when we picked him up! His teachers were obsessed with him too (he was literally the teacher's pet :)) and we loved knowing he was safe, happy, entertained and had a place to run off
his puppy energy
. It was a win, win for all of us because he got to get out some of his zoomies and we got to get some work done. I ended up finding him a new school where I go with him for training an hour a week and we are trying out a couple of other daycare options to keep our extremely friendly puppy entertained in between walks, play dates and trips to the dog park. With Texas being so hot this time of year, not only do most humans prefer to stay indoors, but even the dogs are happy to be inside with lots of fresh water and air conditioning. We got Charlie a
cooling matt
for both his crate and our living room and he absolutely loves it!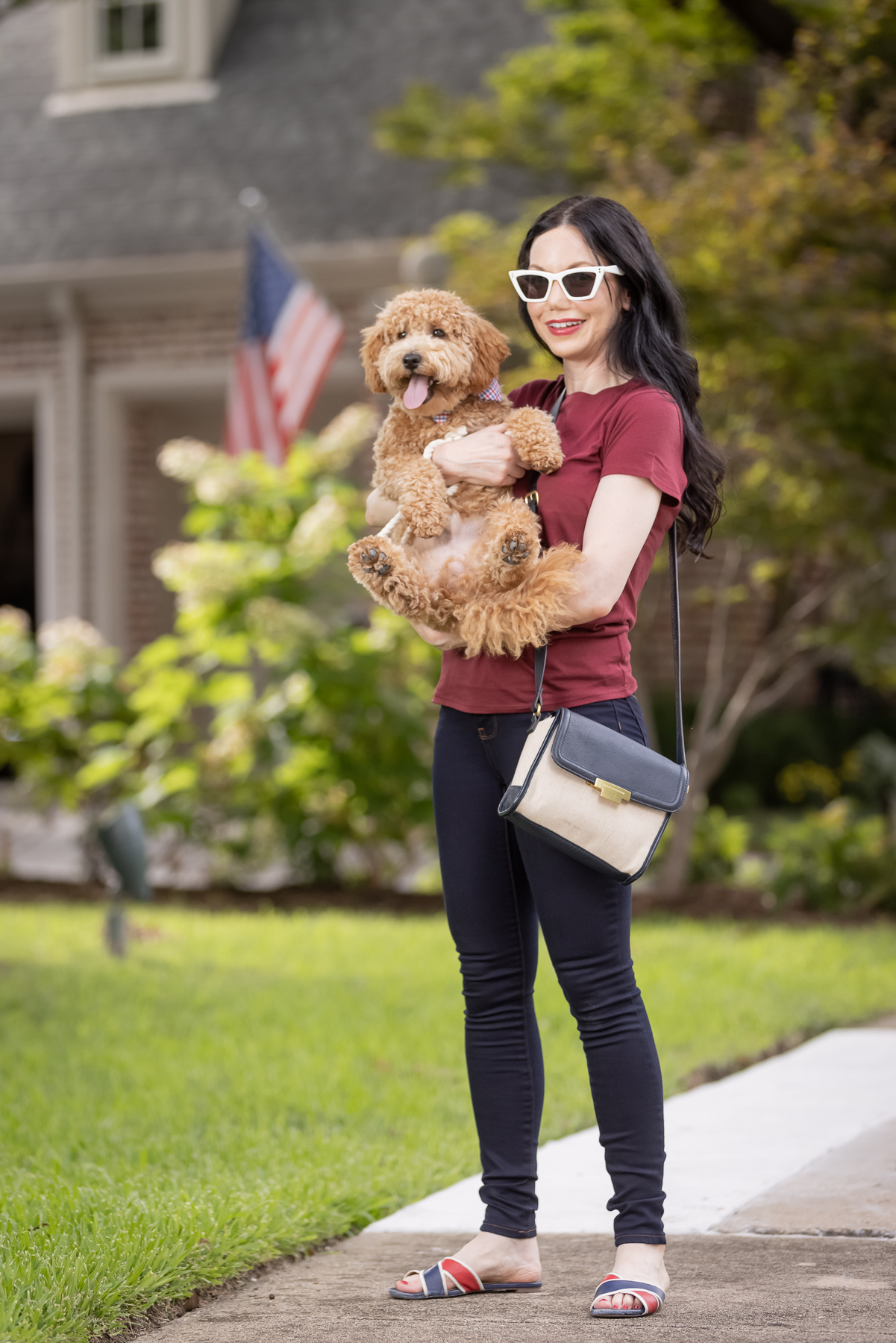 Acting, Blogging and The Fash Life Series
The other big thing I've been adjusting to in Dallas is trying to find a new balance from working remotely, to finally starting to reach out to other creatives here in Texas. I've been putting myself on tape for auditions and taking some online acting workshops with casting directors in Los Angeles, but I finally got up the nerve to start attending an in person Improv meet-up not too far from my new house and I'm starting to seek out some local networking events. I also got my first job here shooting an Industrial (in house video) for a popular convenience store chain.
We had some really exciting news last month with my show
The Fash Life Series
when we took home the
Best Web Series award at the New Media Film Festival
! We also found out we are nominated for two awards at the upcoming Seoul WebFest and had a couple of other wins and selections over the past month. With all of that news, we finally got around to creating our season one poster designed by the talented Charlie Bellarose. I really love how it turned out…
check it out on our Instagram page here
and please leave me a comment to let me know what you think.
I'm still getting back into the swing of things with blogging and it's taking me longer to get up to speed than I had hoped. I've actually been doing a lot of shopping since I moved to Dallas and I can't wait to share all of my new pieces. It's been really fun to make up for all of the shopping I didn't do last year and I'm finding myself shopping for different things then I used to since moving to a new city and becoming a fur mama.
I also finally shot my first recipe since last year! It's a really good one, so check back later this week… especially if you liked
this one
and
this one
.
Shop My Look: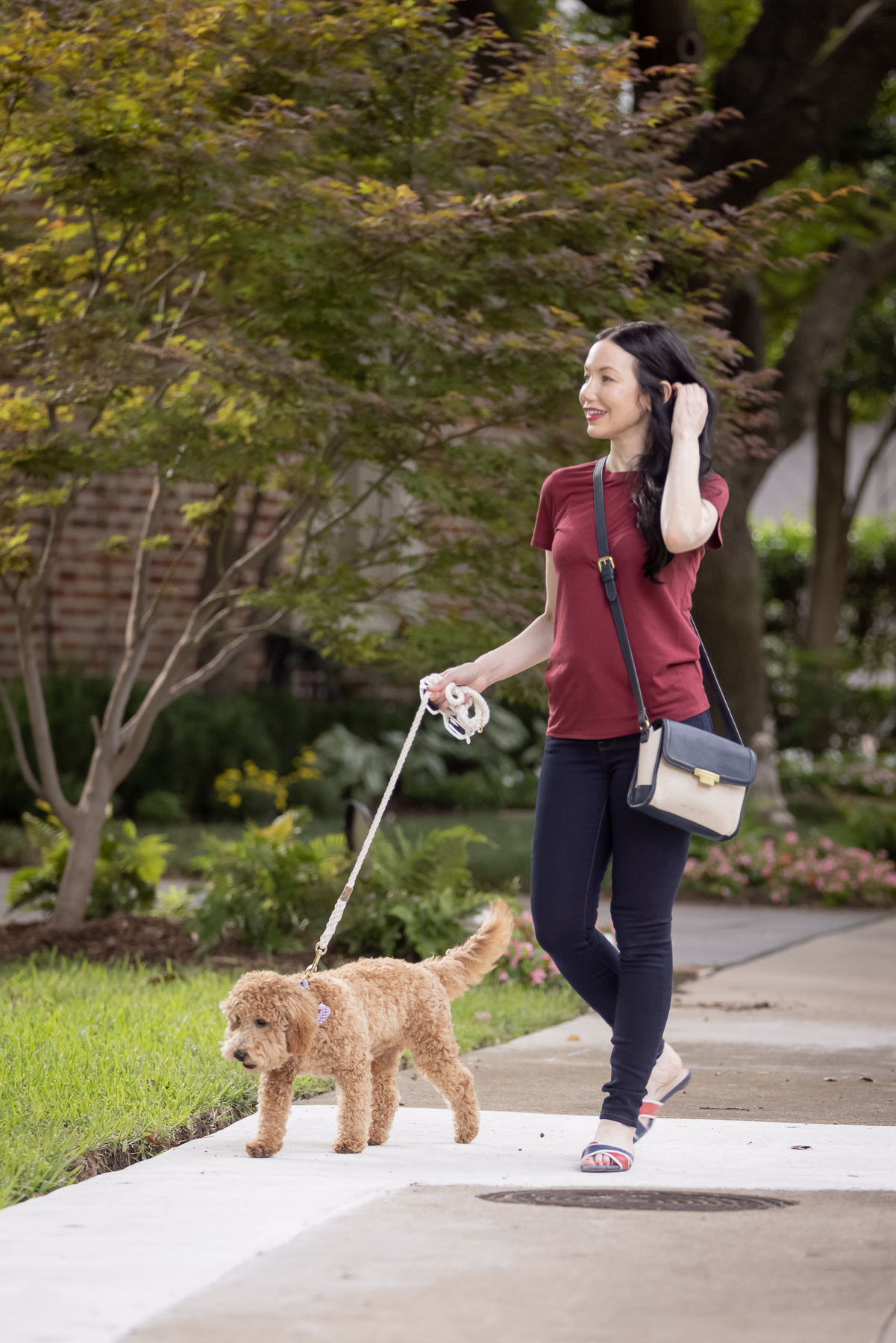 Well that's about all for now… Thank you so much for stopping by and please let me know what you have been up to lately!
Do you own a pair of Mott and Bow Jeans?  Let me know in a comment below!