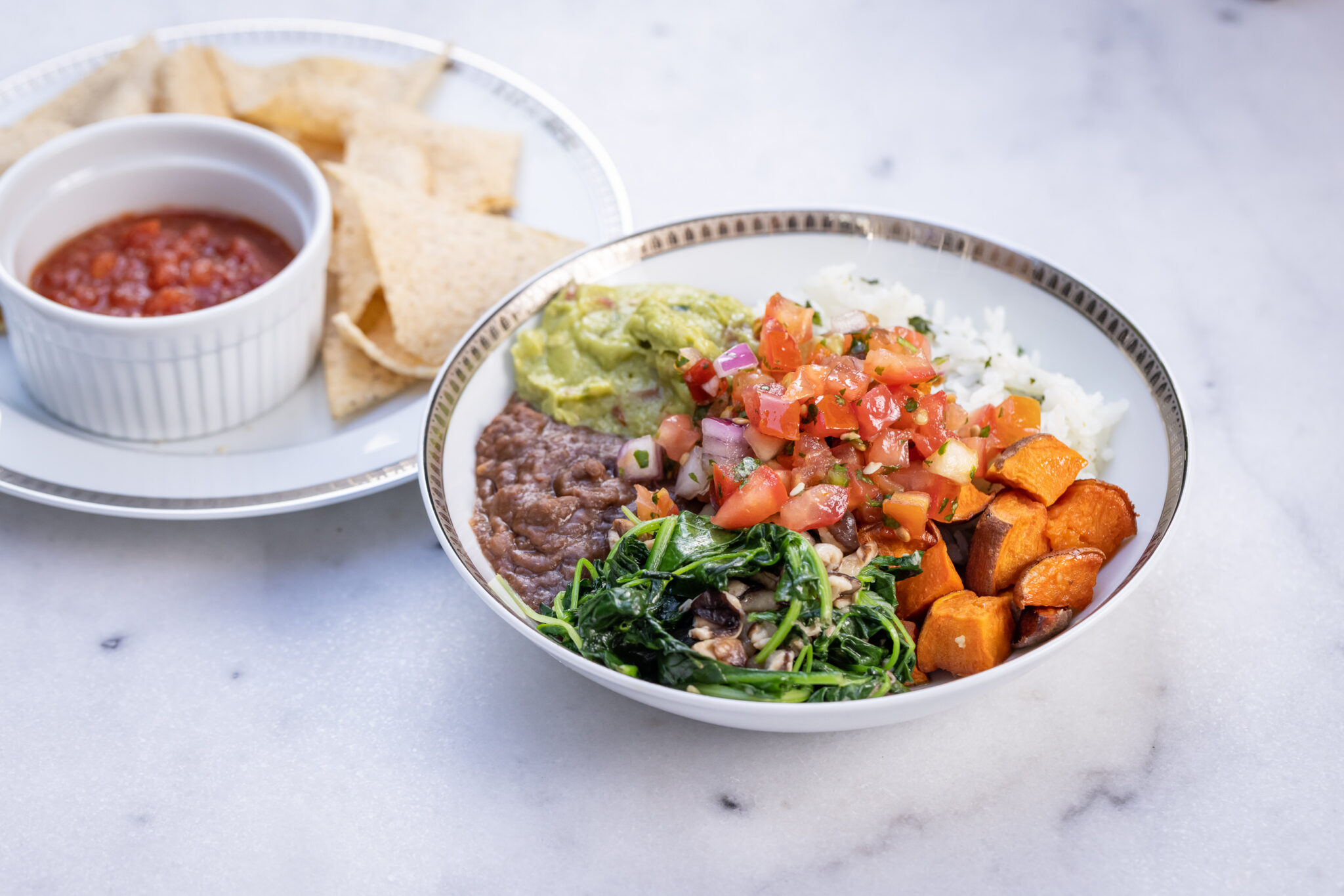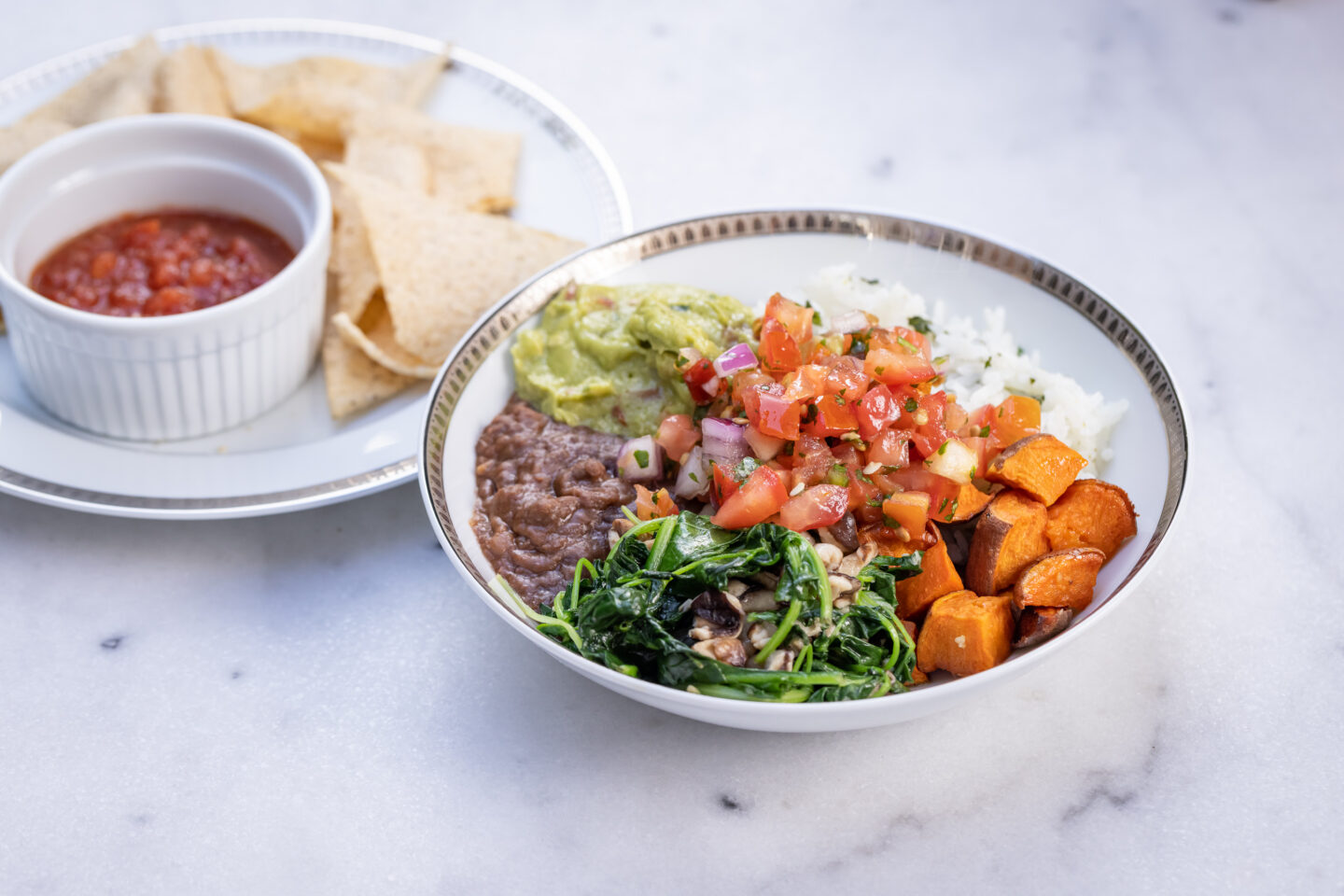 Happy Weekend! It's been a long while, but I'm finally sharing my first recipe since
last year
! This Sweet Potato, Refried Beans and Cilantro Lime Rice
Burrito Bowl
is not only muy delicious… it's also gluten-free, dairy-free, nutrient dense and vegan. I would recommend making a double batch, so you have plenty of leftovers for the next day.
One thing I was a little bit worried about when moving to Texas, was if I would miss all of the organic restaurants and grocery stores that were plentiful in Los Angeles. While Texas menus seem obsessed with pecans, blue cheese, bacon and BBQ, I have been pleasantly surprised to find some really great healthy and organic food here. I'm loving that we have
Flower Child
,
True Foods Kitchen
and Mendocino Farms here, but I'm definitely still missing
Tocaya Organica
,
The Ivy
and Erewhon. The concept of Mexican food is also a bit different here in Texas as our Southern border covers a whole different region and style of cooking. With all of the Californian's moving to Texas in the past few years, there's an ongoing debate about Tex-Mex being considered authentic Mexican food. I'll have to go into more details on this after more research and time here, but the one thing I will say so far is that it's a lot easier to find avocados and guacamole on the menu in Cali. 🙂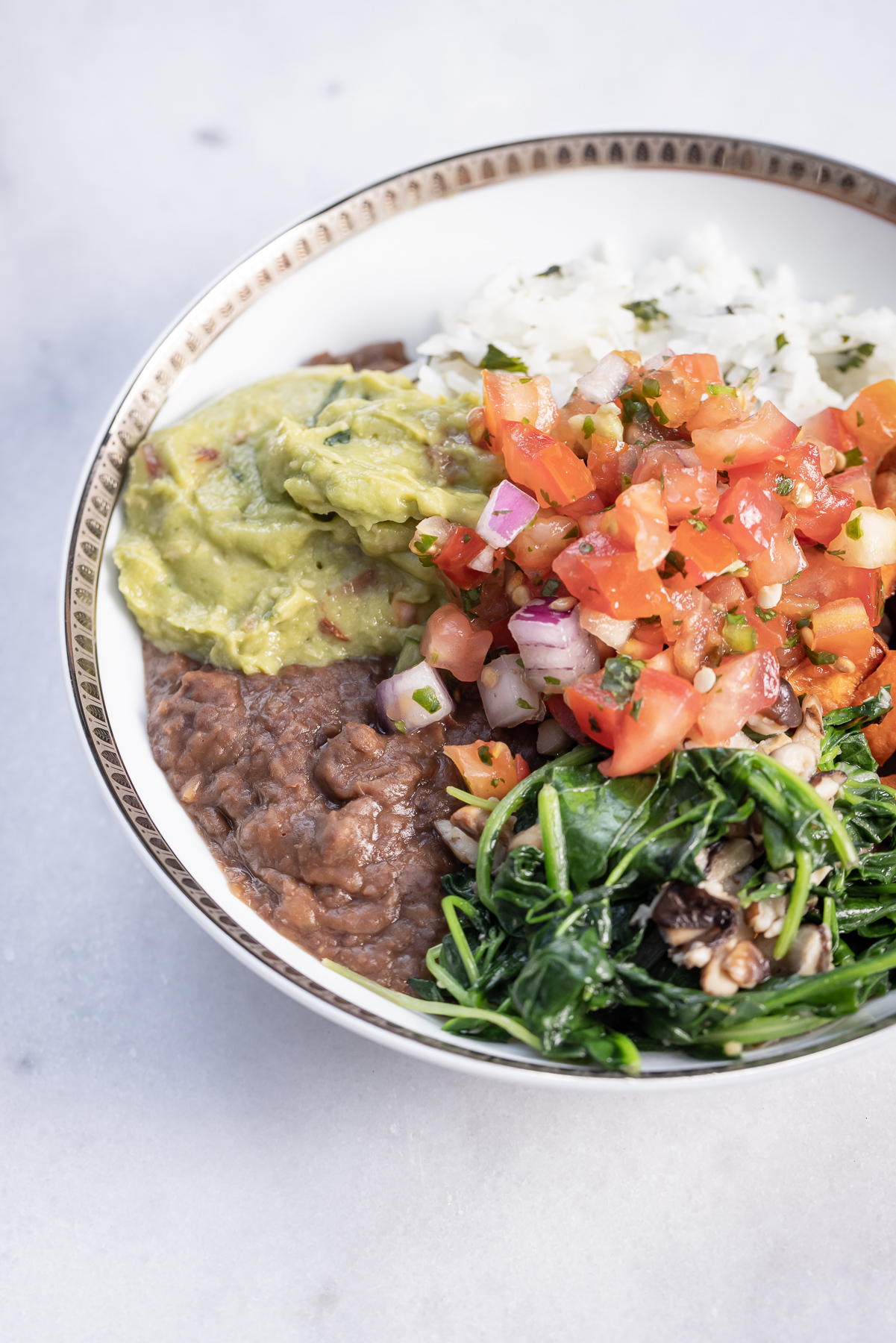 Sweet Potato, Black Bean and Cilantro Lime Rice Burrito Bowl
You will need:
2 medium size sweet potatoes
10 oz. organic greens such as Swiss chard, arugula, tat soi, sweet pea leaves or spinach (I love
this mix
)
10 oz. chopped mushrooms
1 cup lightly packed chopped cilantro
2 to 3 cloves minced garlic (separated)
2 Limes
Extra virgin olive oil
Guacamole
Pico de gallo
Sea salt and freshly ground pepper to taste
Makes 4 bowls.
**Use organic ingredients where possible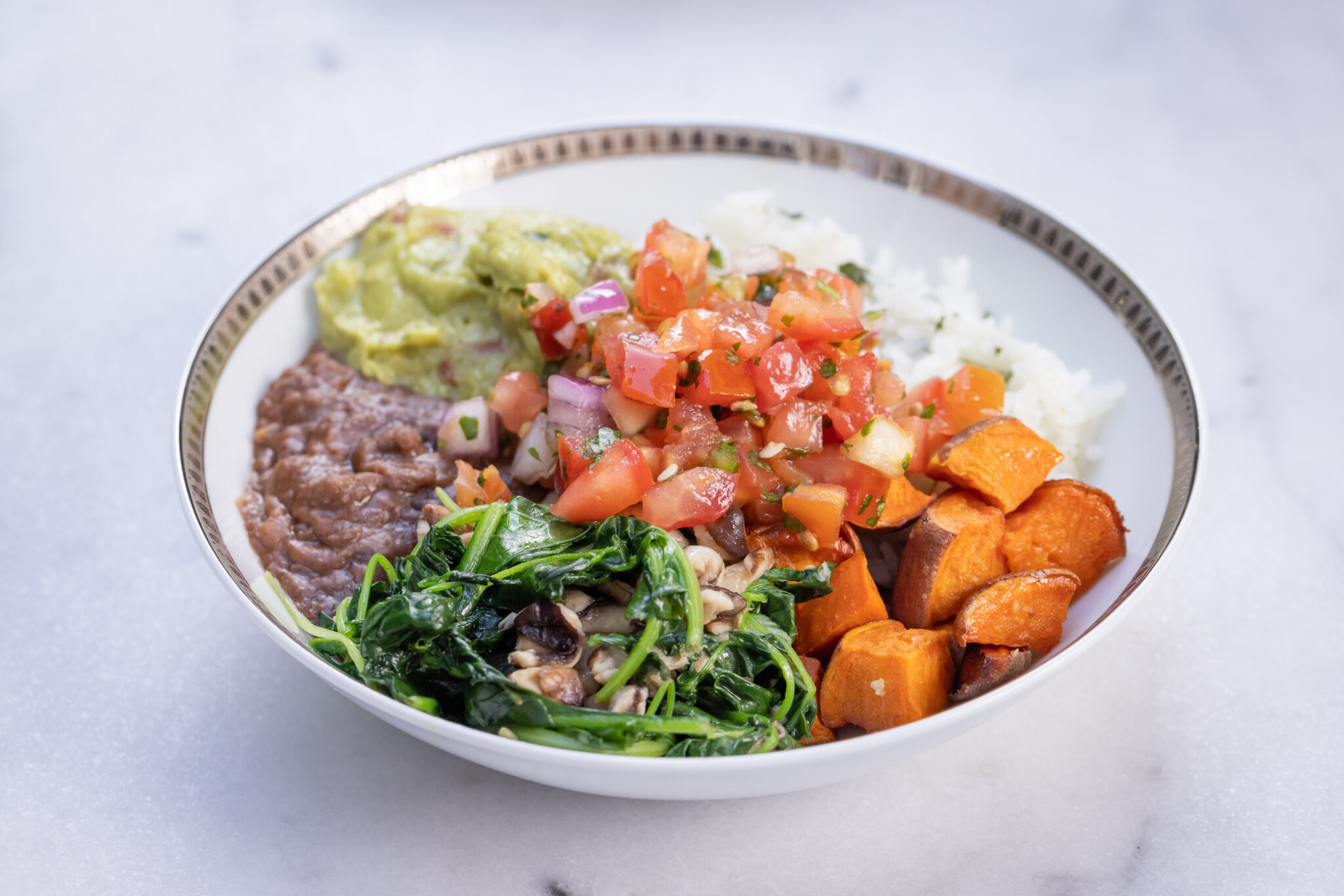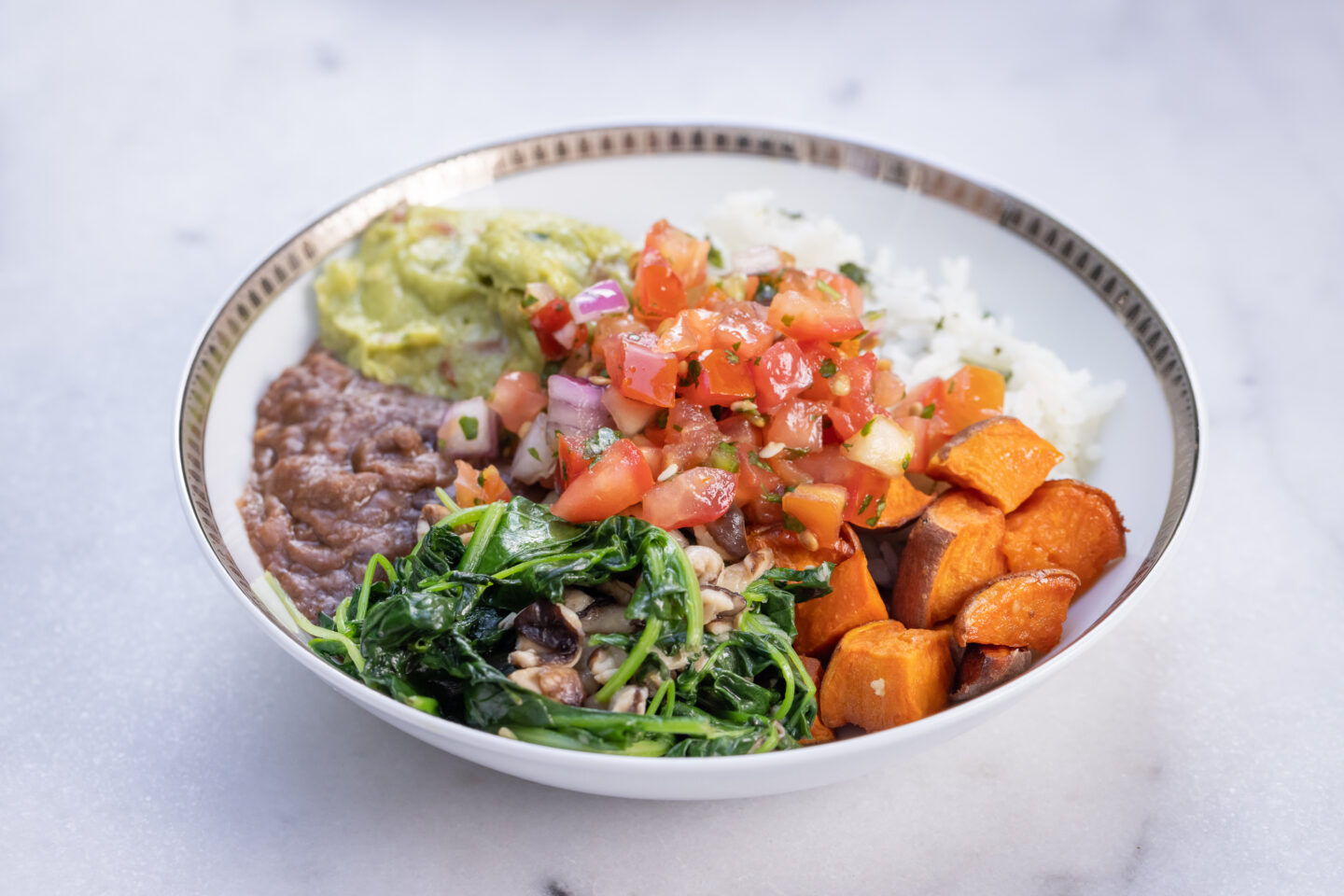 Preheat the oven to 400 degrees and line a baking sheet with parchment paper. Chop the sweet potatoes into bite size cubes. Toss the sweet potatoes with extra virgin olive oil and sea salt and spread evenly on the prepared baking sheet. Bake for 30 to 40 minutes, or until tender and starting to lightly brown.
Meanwhile, prepare the cilantro lime rice. I used
this recipe
and it came out perfect, so I didn't change a thing! The rice will cook in about 15 minutes and will stay warm in a
Dutch oven
until you are ready to serve. Just be sure to set a
timer
.
While the sweet potatoes and rice are cooking, heat up the refried beans and saute the chopped mushrooms and greens with a clove or two of minced garlic. The beans and veggies will cook up extremely quickly, so I recommend waiting until the sweet potatoes and rice are almost done.
Divide the sweet potatoes, refried beans, cilantro lime rice and veggies between the four bowls. Garnish with a heaping tablespoon of guacamole and pico de gallo.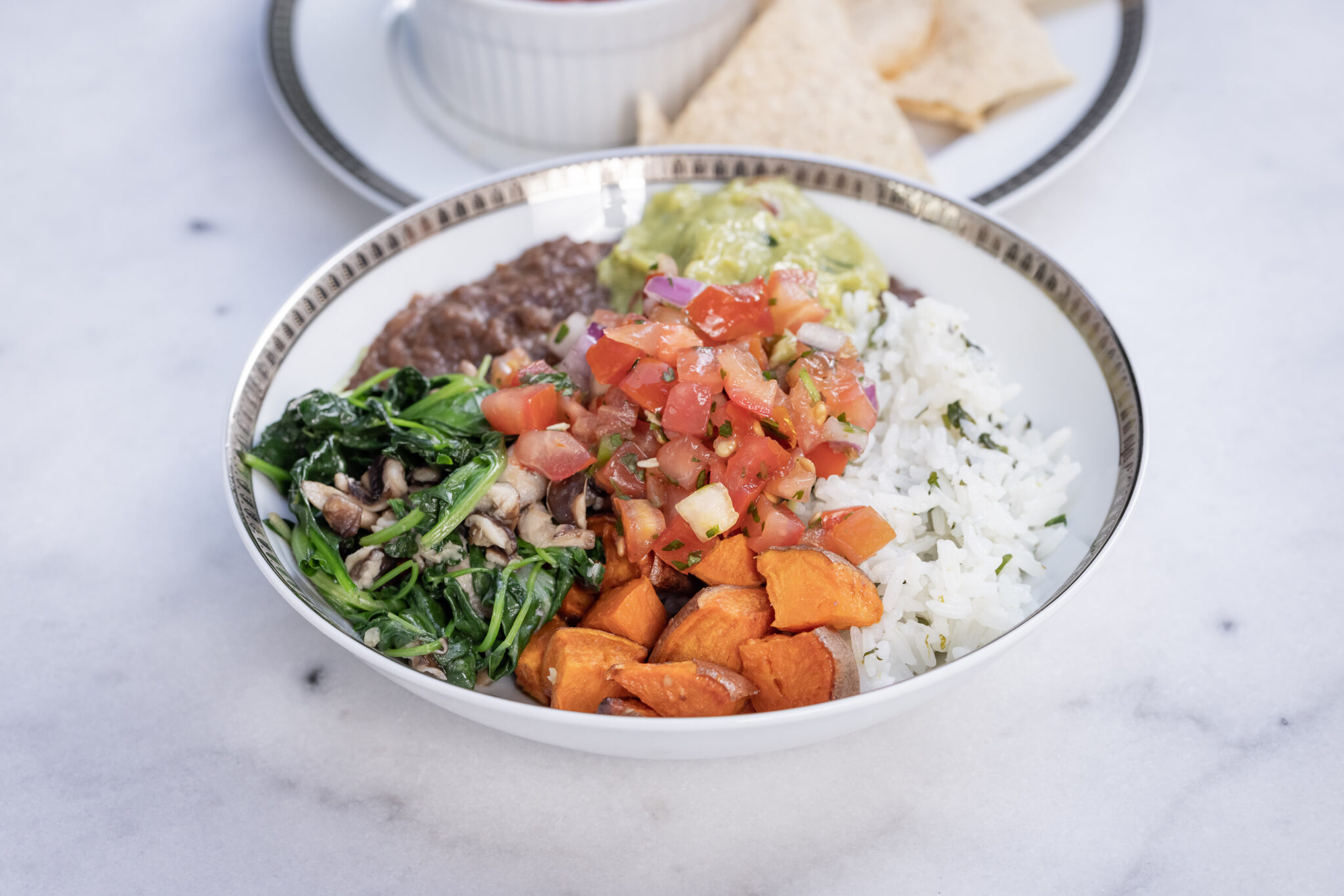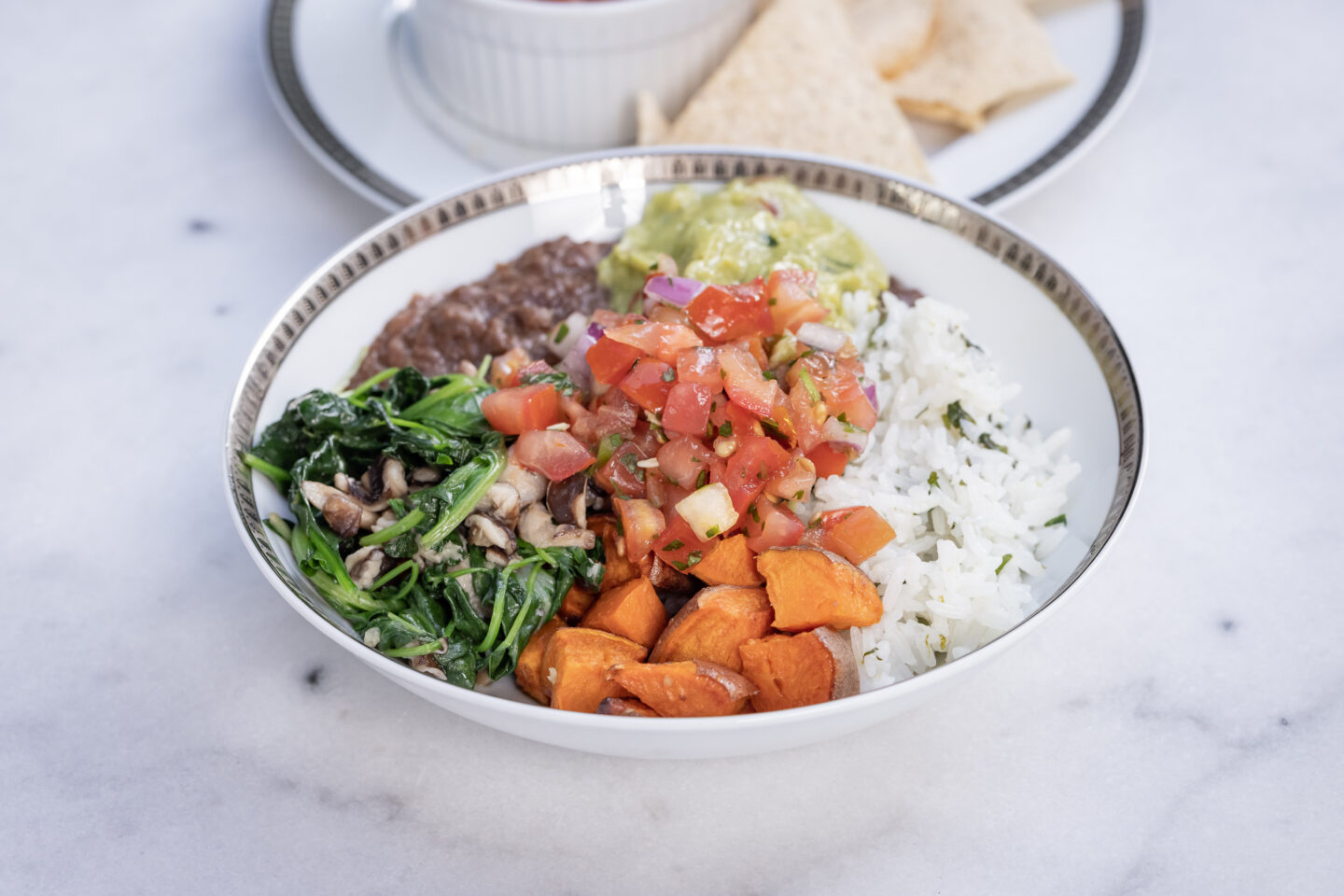 I like to serve this dish with a side of tortilla chips and fresh salsa (or more pico de gallo and guacamole, because you can never have enough). I am obsessed with
these gluten and grain free tortilla chips
by Siete Foods. They come in
snack size bags
too, so I've been grabbing them lately when I need a snack on the go.
Shop the post:

You can also serve with some sliced grilled chicken or baked salmon if you're not into the vegan thing. 🙂 I made this
baked salsa fresca chicken
for the hubby and it was so easy to prep and prepare. It also complimented the sweet potato, refried beans and cilantro lime rice bowl perfectly.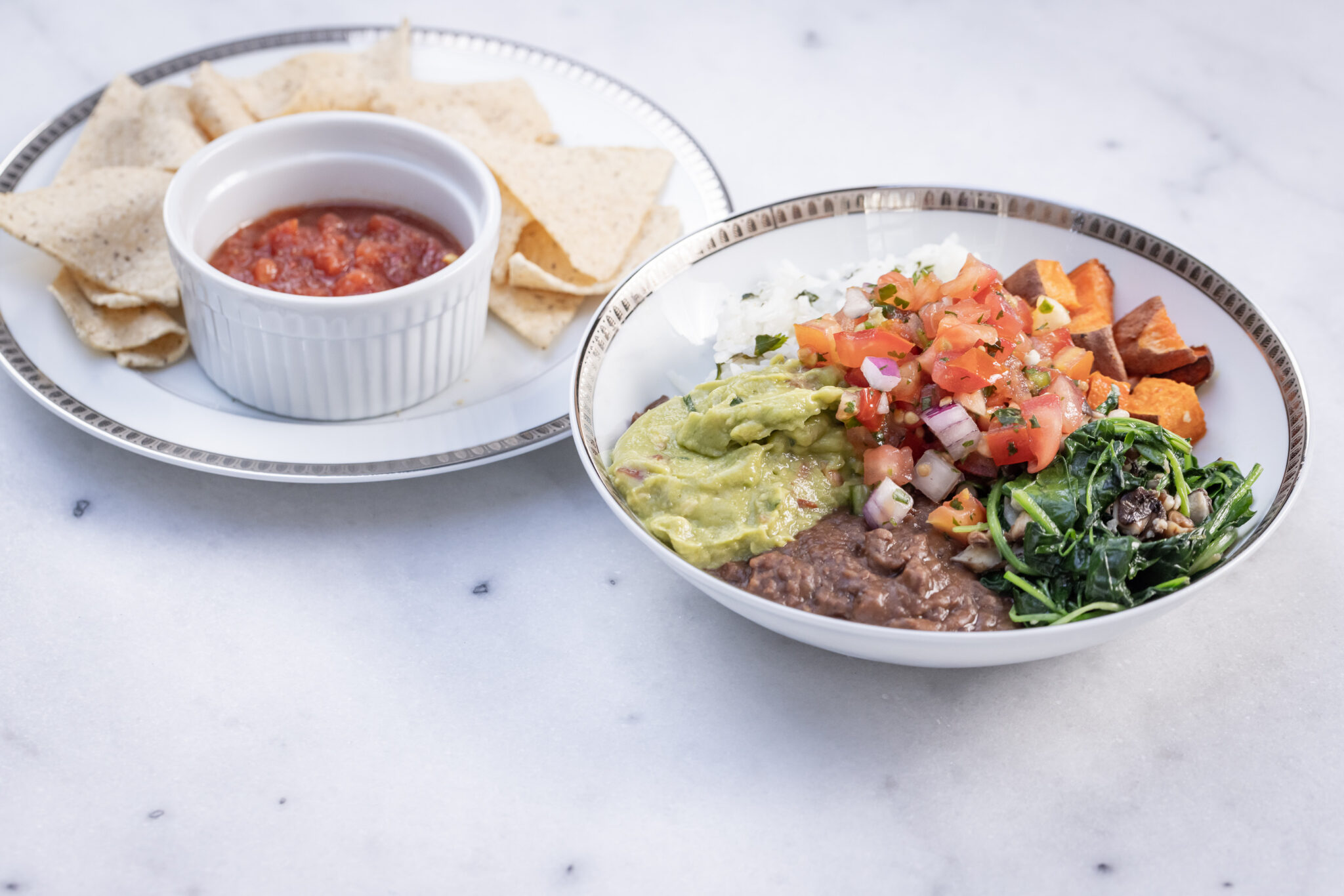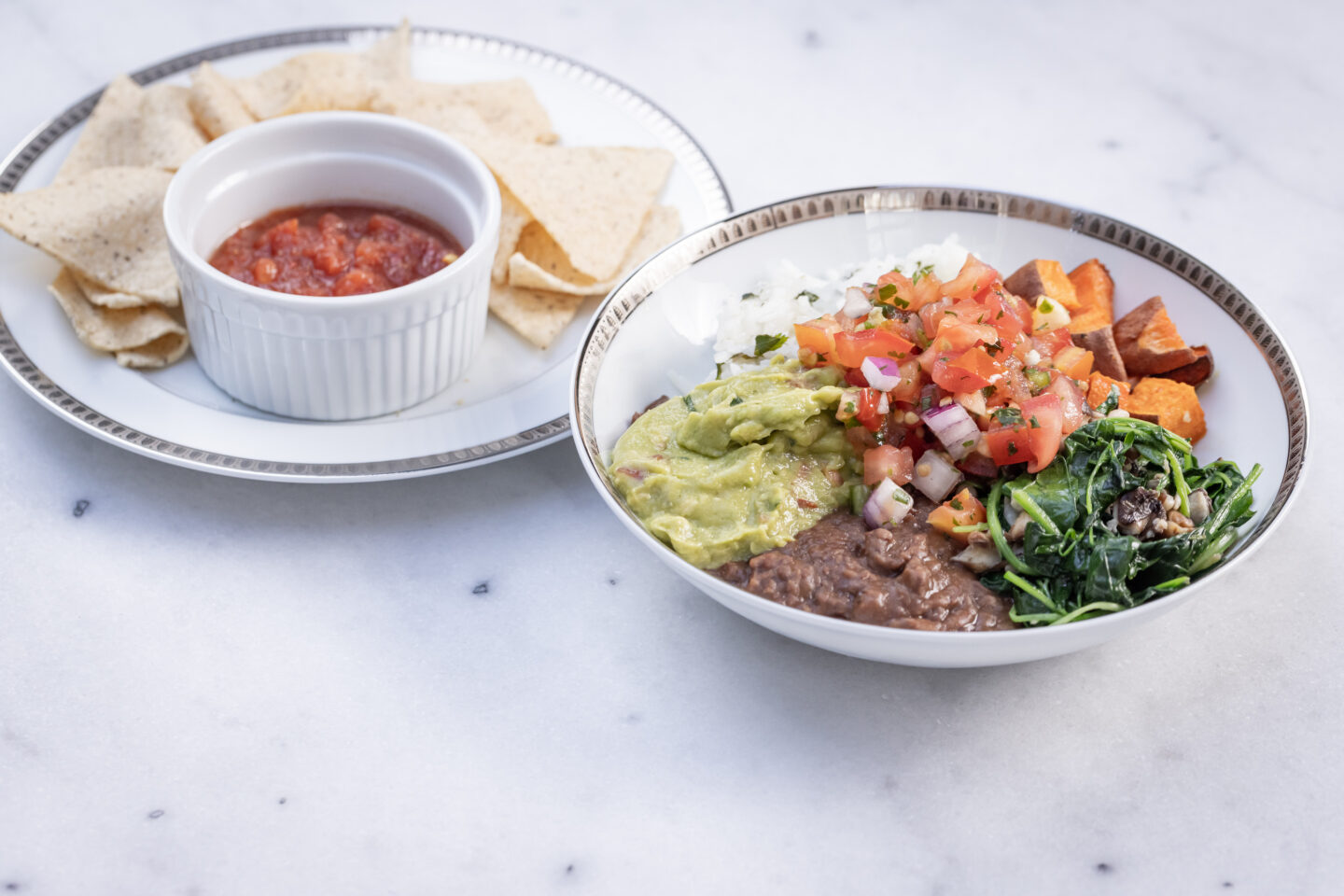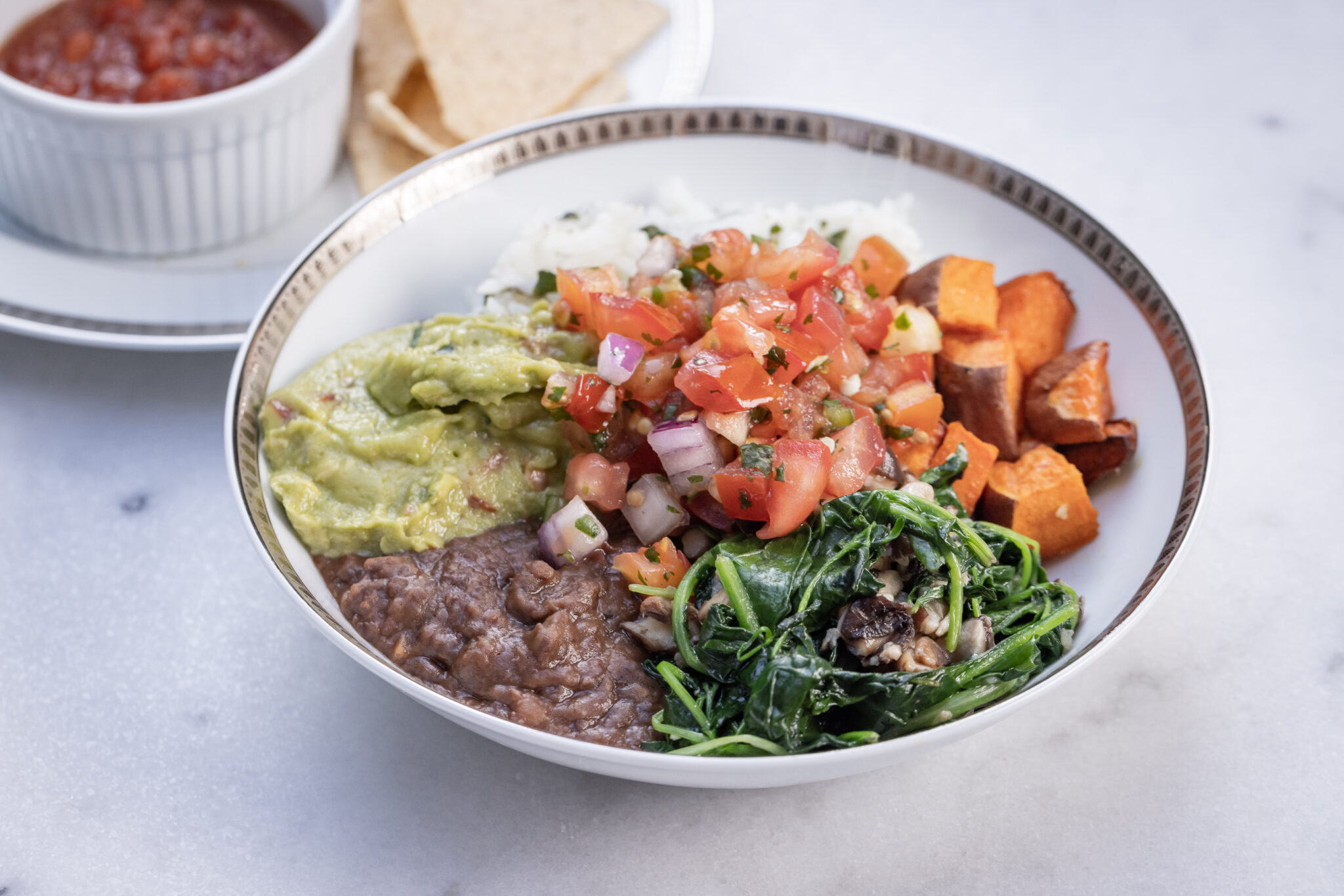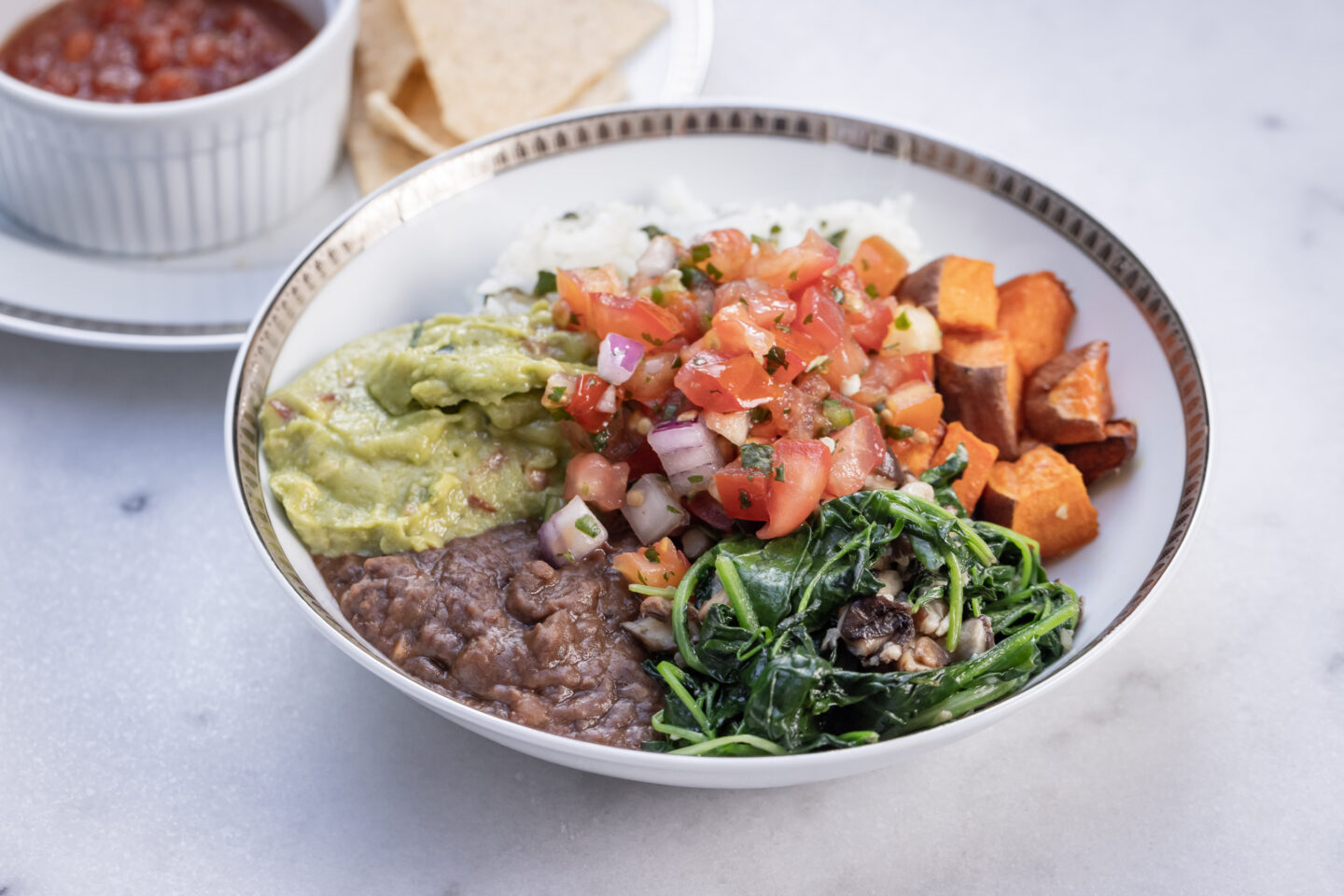 Thank you so much for stopping by.
xoxo,
Lisa
Let's be social!