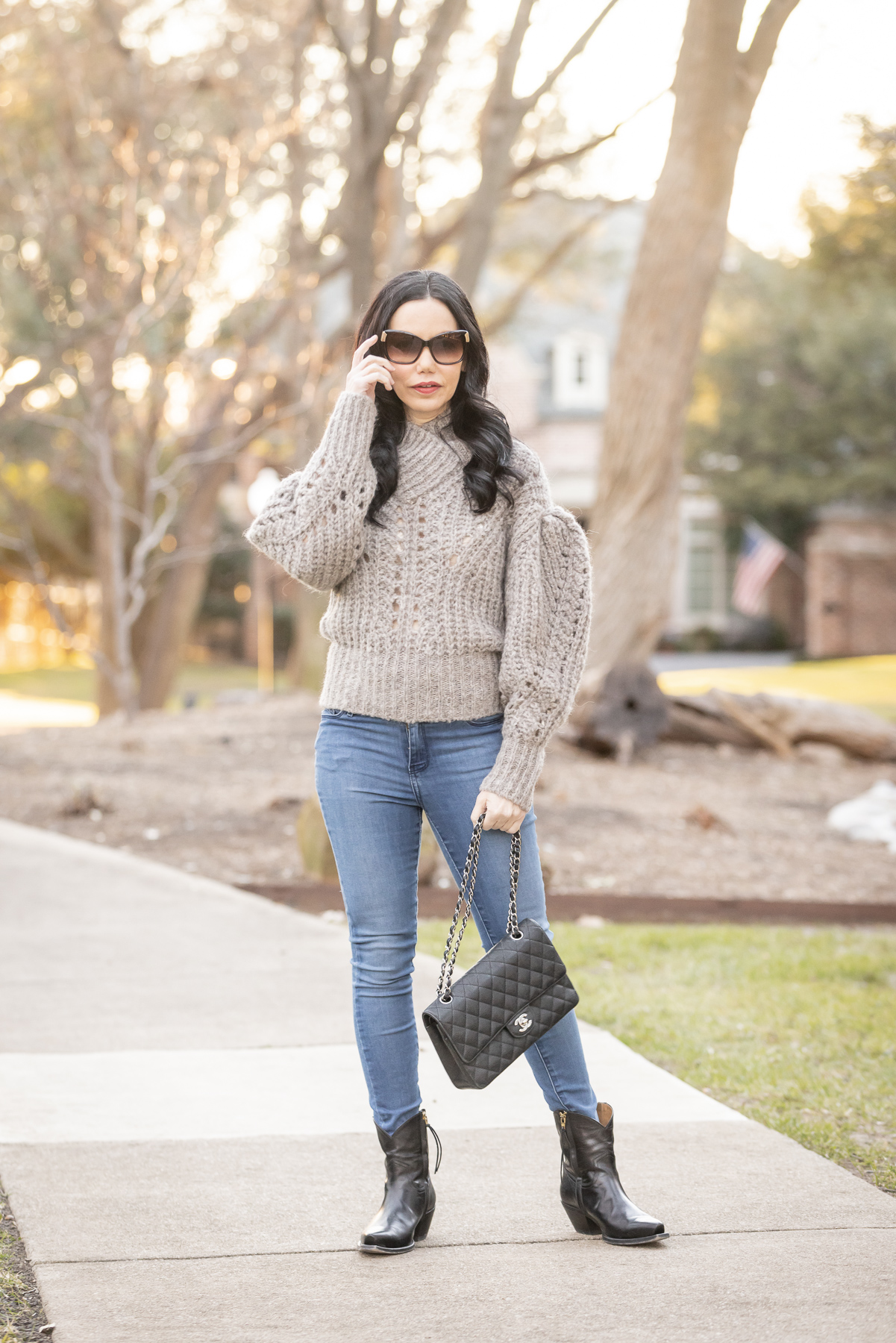 It seems the world stage has retrograded once again and is rapidly turning into the Wild Wild West. As I consider it important to always dress appropriately for every occasion, it's high time for me to share these cowboy boots that I have been living in lately, along with a quick life update.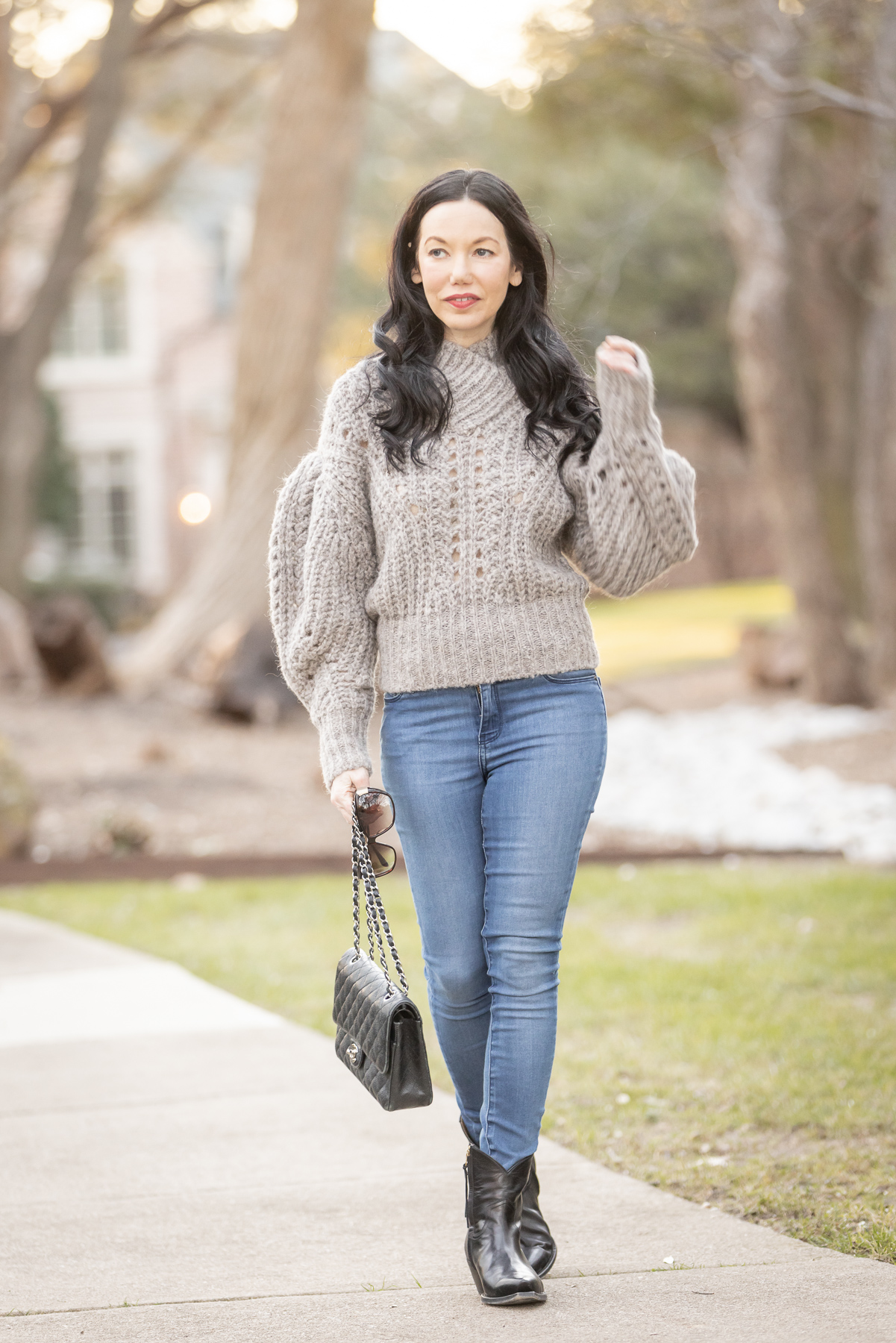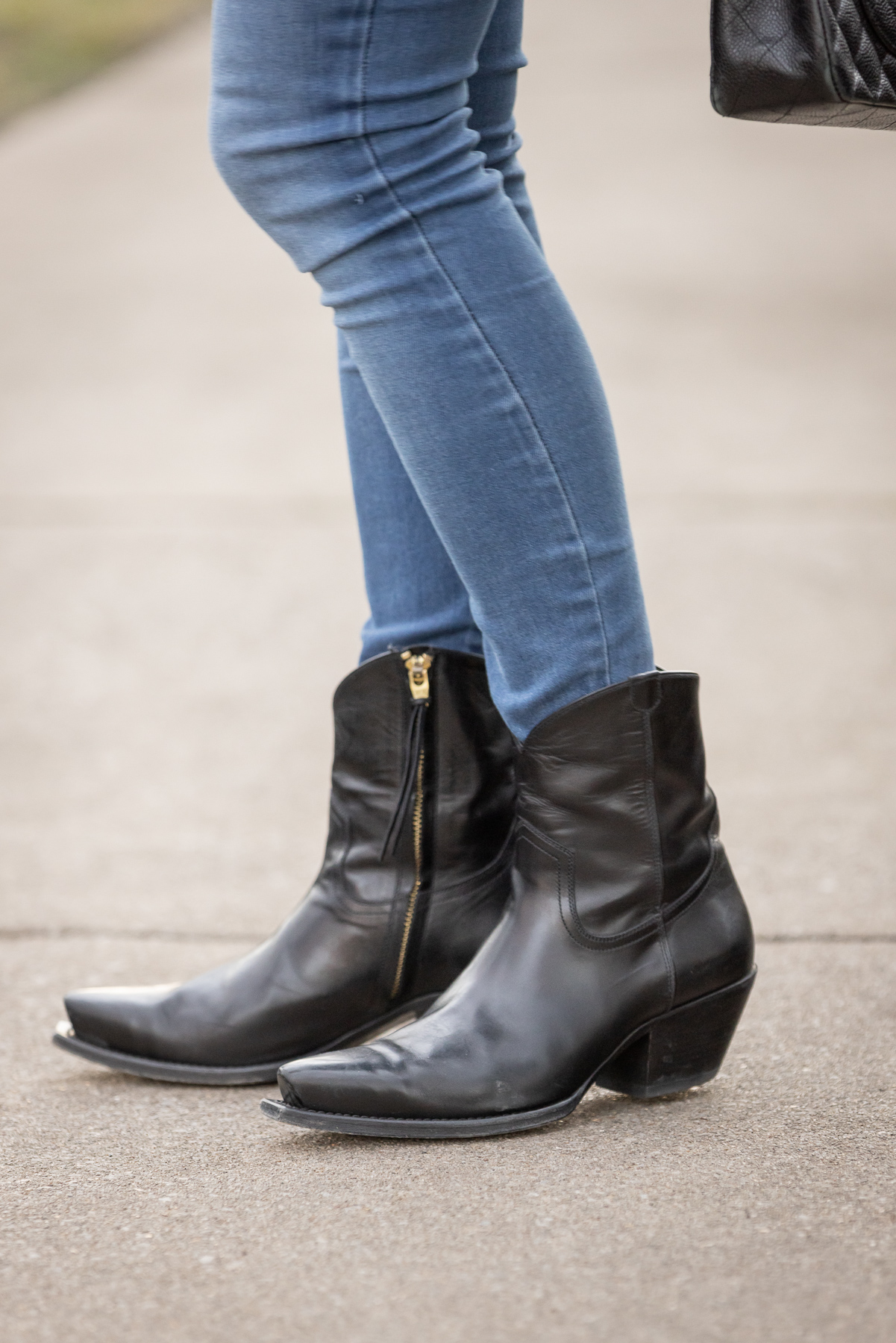 When we moved to the Lone Star State last year, I knew it was time to add a pair of cowboy boots to my wardrobe. What I didn't know was how pricey a good pair of cowboy boots could run! I fell in love with these R13 boots as soon as I laid eyes on them, but did a double take when I saw the price tag. Nevertheless I knew they were the perfect pair and I somehow managed to wrangle (aka manifest) them for 50% off! My persistence and weekly Google searching paid off when I finally found them on a site called YOOX which is a bit like the Outnet (with designer pieces from seasons past). These R13 Cowboy Boots are absolutely timeless and so insanely comfortable that I've been wearing them to walk Mr. Cupcake and do errands and I usually don't peel them off until it's time to go to bed.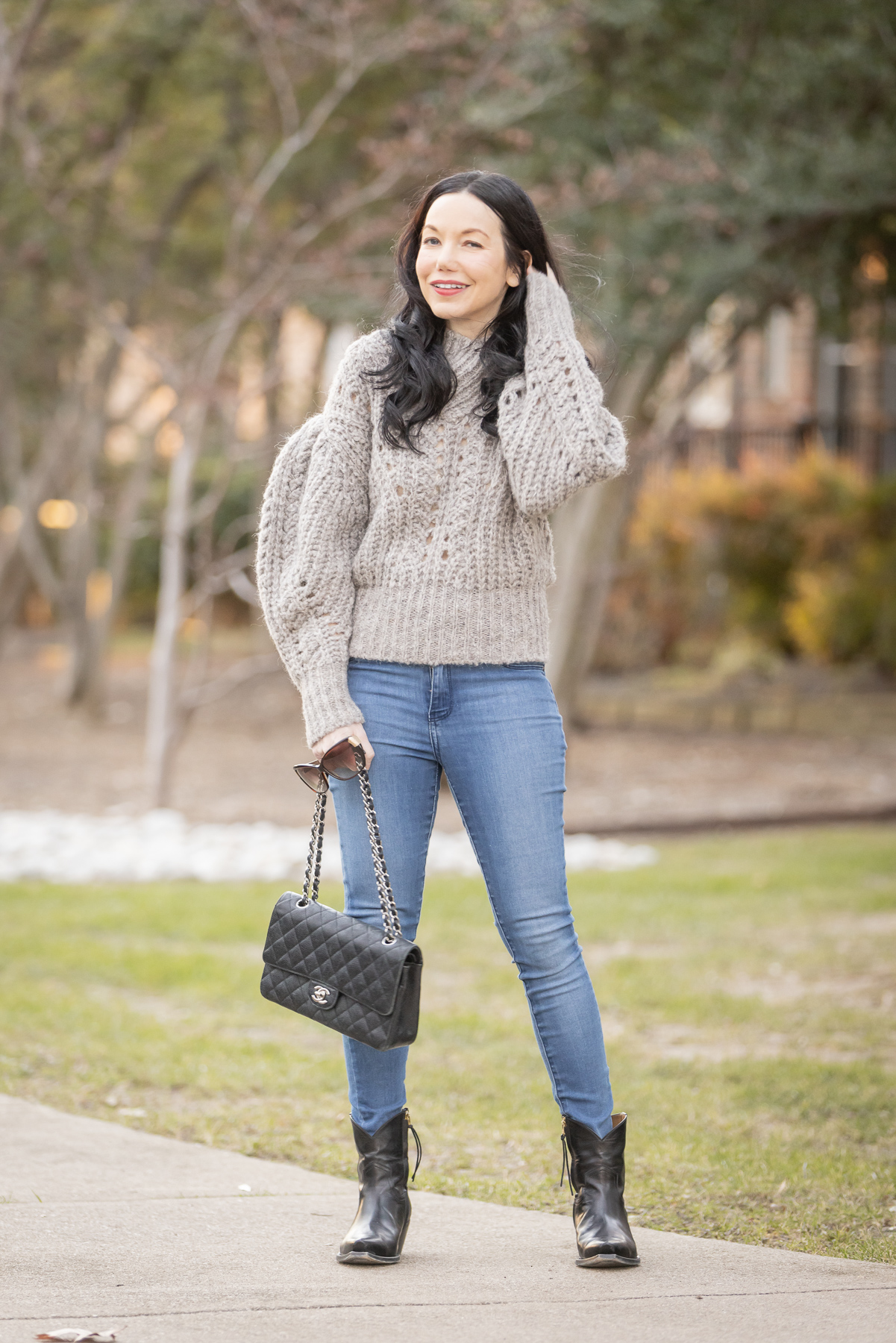 I'm also rather taken with this IRO sweater at the moment. It's such a change to live in a place where I actually NEED to add sweaters and outerwear to my wardrobe. We had snow a couple of weeks ago and are currently in the middle of another freeze. It didn't snow again, but the roads are so slick that most people (including us) are hibernating in our houses for a few days.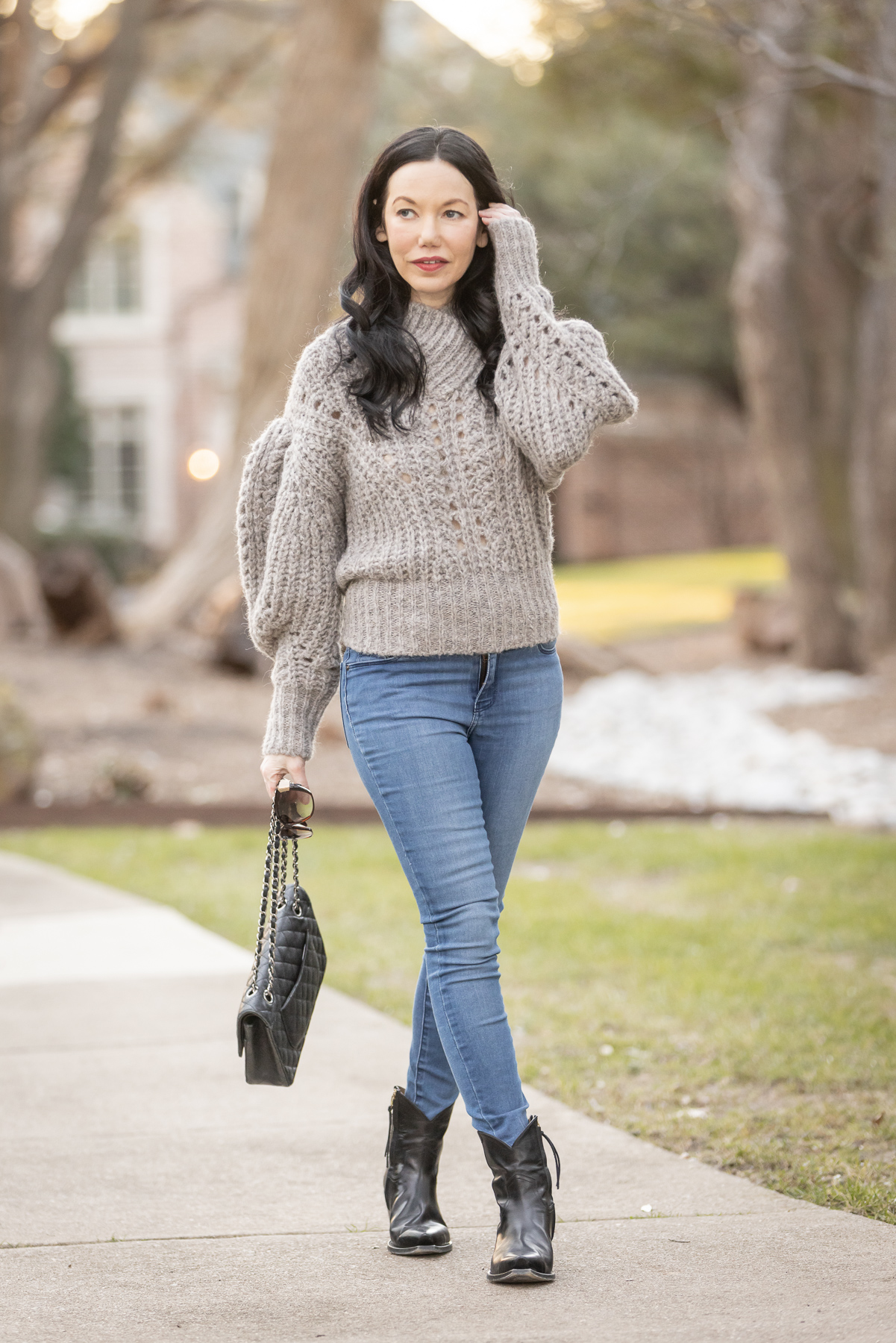 IRO sweater (on sale!) / Mott & Bow jeans / R13 cowboy boots (on sale!) / Chanel bag (affordable here and here) / Oliver Peoples sunglasses (similar here and here)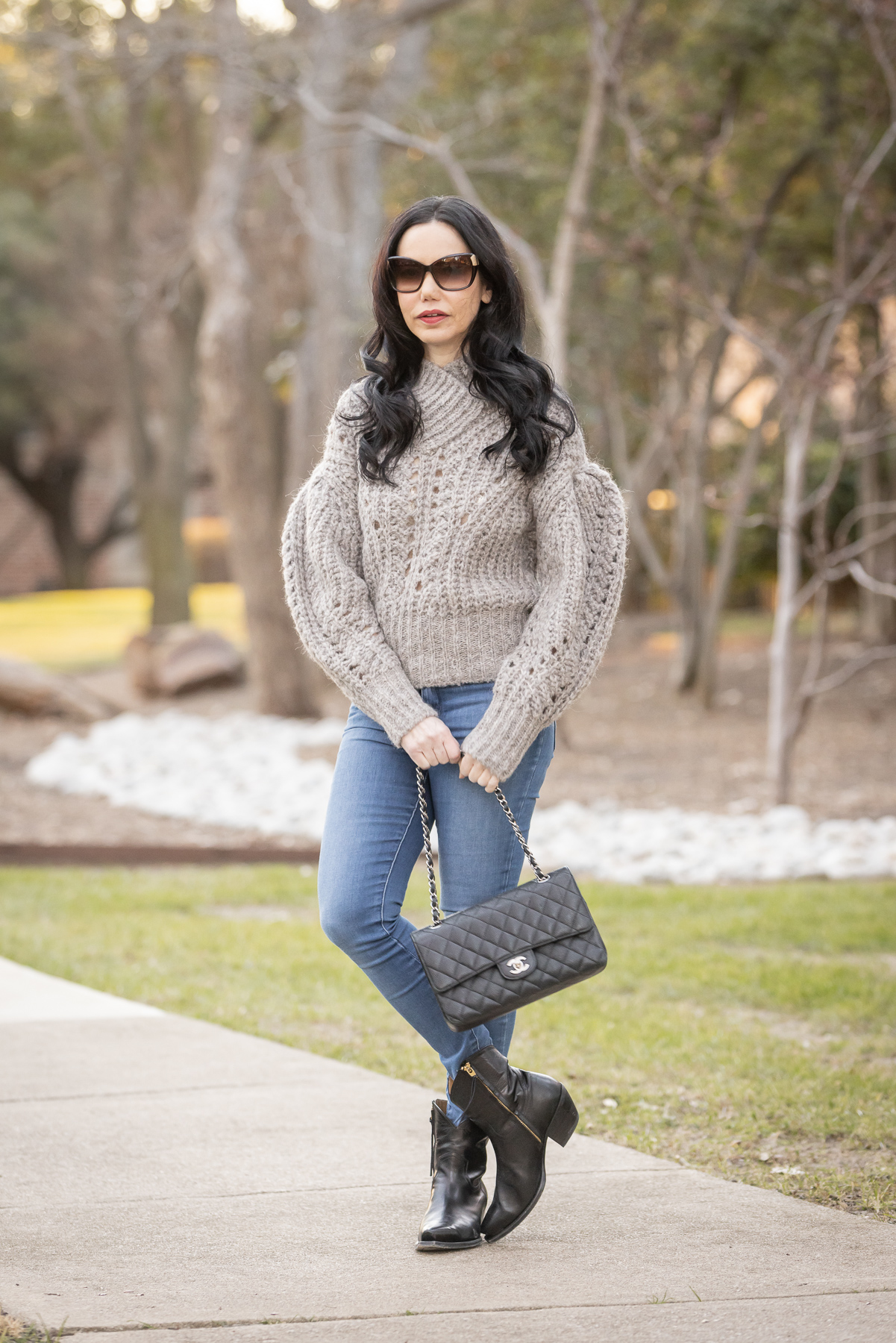 TBM Manifestation Challenge and Auditioning Update
As mentioned in my previous post here, I kicked off 2022 by finishing up the TBM Manifestation challenge I started in December. The challenge took me a little bit longer than 6 weeks, but as I finished I definitely started to see a few smaller things I had written on my list come through.
One thing I had been wanting to manifest (although I never officially put in on my list), was a road trip to Austin. So when I got a callback for a movie a couple of weeks ago, we decided to pack up Mr. Cupcake and turn it into our first family road trip. We found a dog friendly hotel called the Granduca Austin and they even have a homemade dog food menu! Charlie was very excited to put on his bowtie and join us inside the restaurant for dinner. We ordered him the chicken, vegetable and sweet potato dish (which is what I make him for dinner most nights), but the portion was much larger than I give him and he couldn't even finish it. The next morning we ordered room service and Charlie licked the bowl clean from his raw scrambled eggs and bacon. Cupcake also loved all the attention he got from the hotel staff and other guests. We met another doodle staying at the hotel who just so happened to have the same exact birthday as he does!
After breakfast, we packed up our stuff and headed to my callback in San Marcos. While I have been on many a casting "cattle call" in the earlier days of my acting career, never have I ever been greeted by free roaming long horned cattle at an audition. The director bought a property with 25 acres and built a mini film studio next to her house. As we drove up the long gravel road, I commented that "we're not in Hollywood anymore Mr. Cupcake." 🙂 The skies were clear on our drive, but while I was reading my scenes with a few of the other actors, it started to hail! The movie was a sci-fi feature that takes place in outer space, so it was the perfect ambiance to set the scene. While I didn't end up getting the part, it was definitely one of the most memorable auditions I've ever experienced and exactly the kind of adventure I had been seeking when we moved to Texas!
I got back to a busy week of taping auditions and another callback and then found out that I booked another film which I will be shooting next month. Not sure how much I'm allowed to share at this point, but I'm really excited to tell y'all more when I can.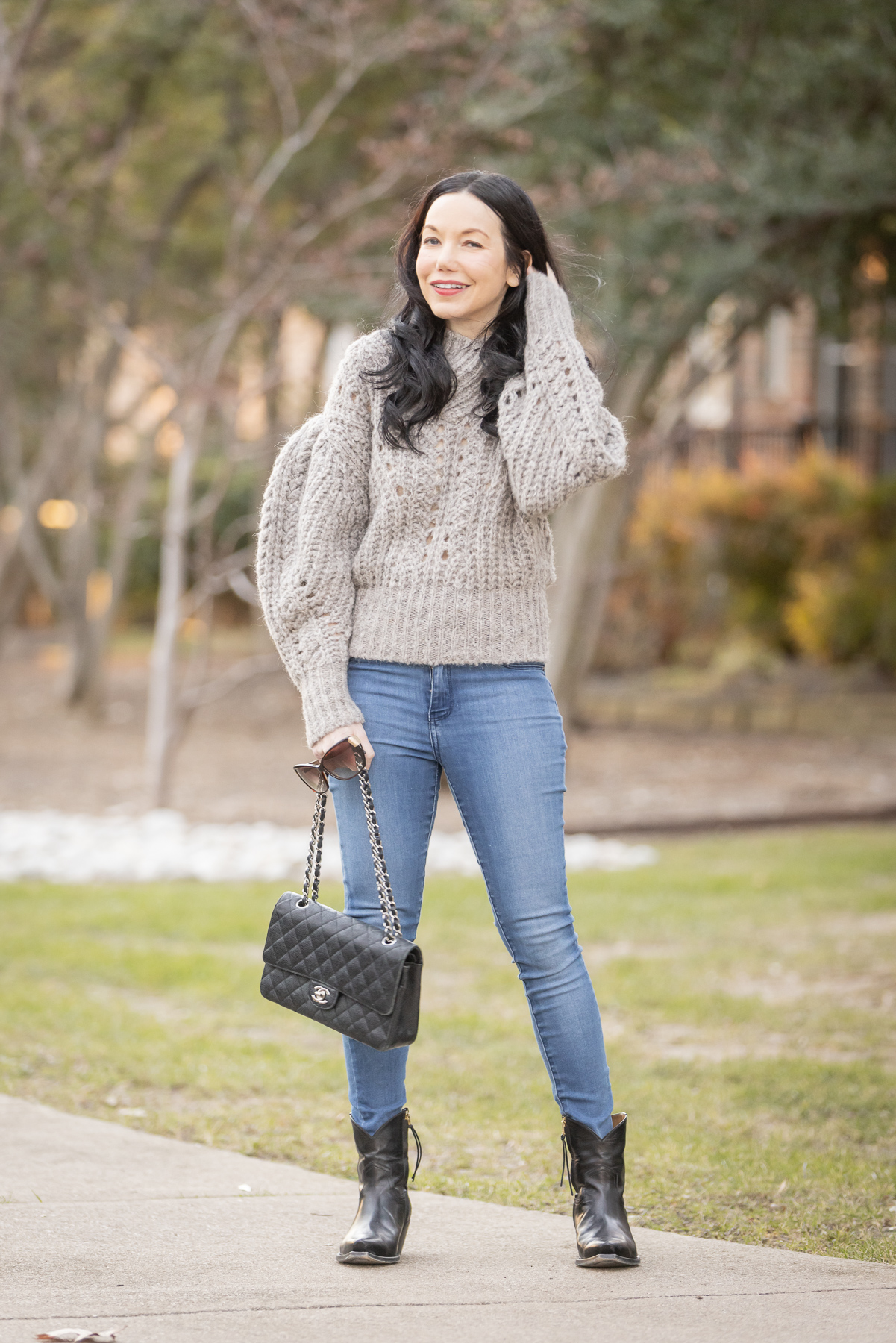 Home Remodel Update
When we moved into our house just over a year ago, my plan was to hire an Interior Designer asap and then start remodeling as soon as we closed escrow on our Los Angeles home. After coming up short on Interior Designers that a) fit my design aesthetic, b) that I could afford and c) that were actually available, I decided to go at it on my own. I finally found a good contractor after months and months of searching and hired an incredible artist/designer on Fiverr.com to help me create renderings for each room of the house. We just finished the preliminary designs for all of our phase one projects and I'll be working on the remaining rooms over the next few months.
When we finally went to order our new kitchen appliances in August, we found out that shipping and delivery times were between 6 and 9 months! Our contractor had originally penciled us in for December, but we had to push the date to March. The timing couldn't come any sooner, because all of our kitchen appliances are on the brink of death. Our dishwasher died just before our trip to Austin and we came home to a broken refrigerator. Luckily our new beverage center for our bar arrived in January and we had just had it installed this month. We're now storing all of our meats, produce and dairy in our bar and using our main refrigerator for things like almond milk, eggs and apples until we get our new SubZero installed. Mr. Cupcake has been both confused and excited, following me to the bar fridge to retrieve all of his boiled chicken, vegetables and turkey when I'm preparing his meals. I'm trying to figure out how to explain to him all of the excitement and change that's about to take place in our house next month. Please let me know if you have any tips. 🙂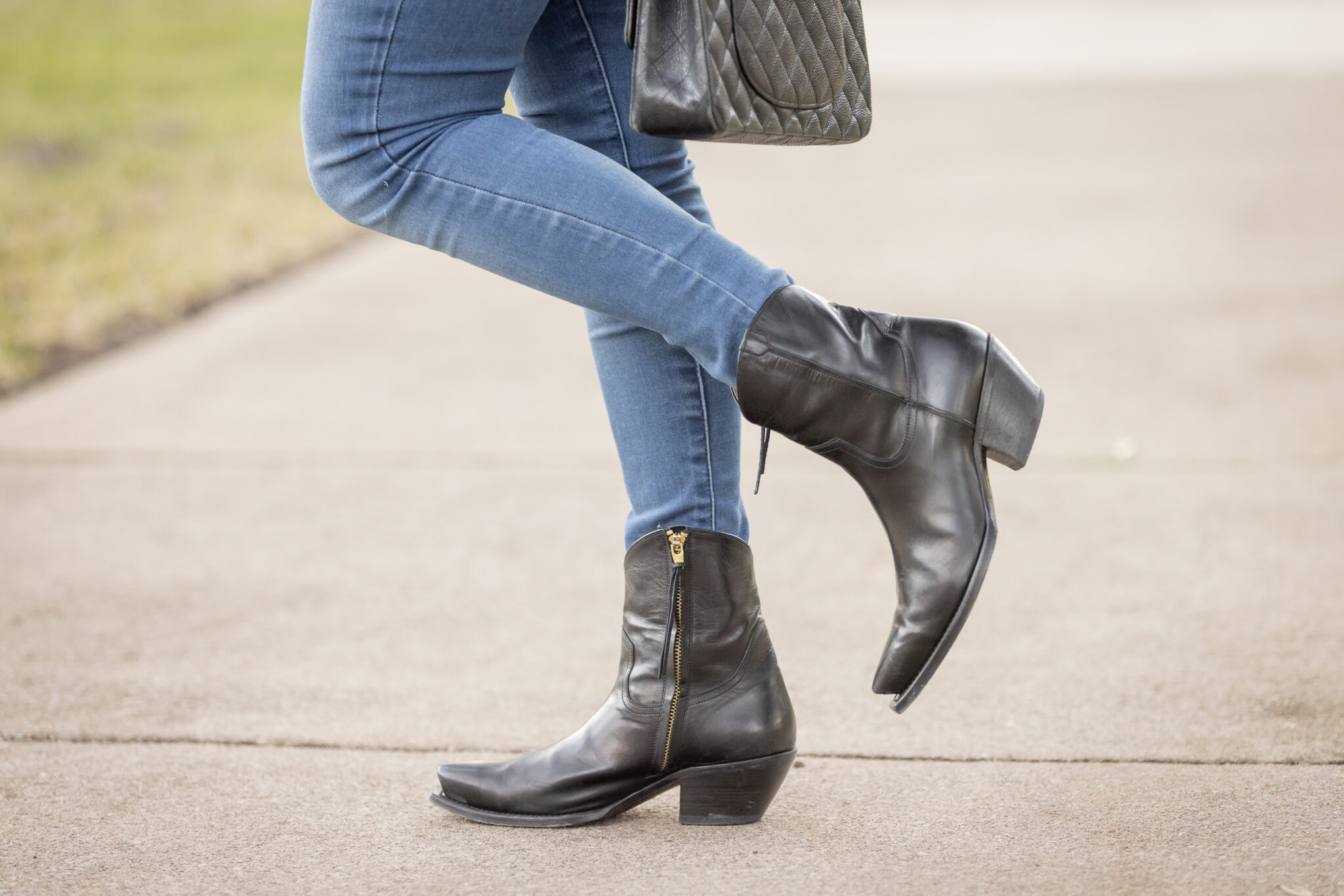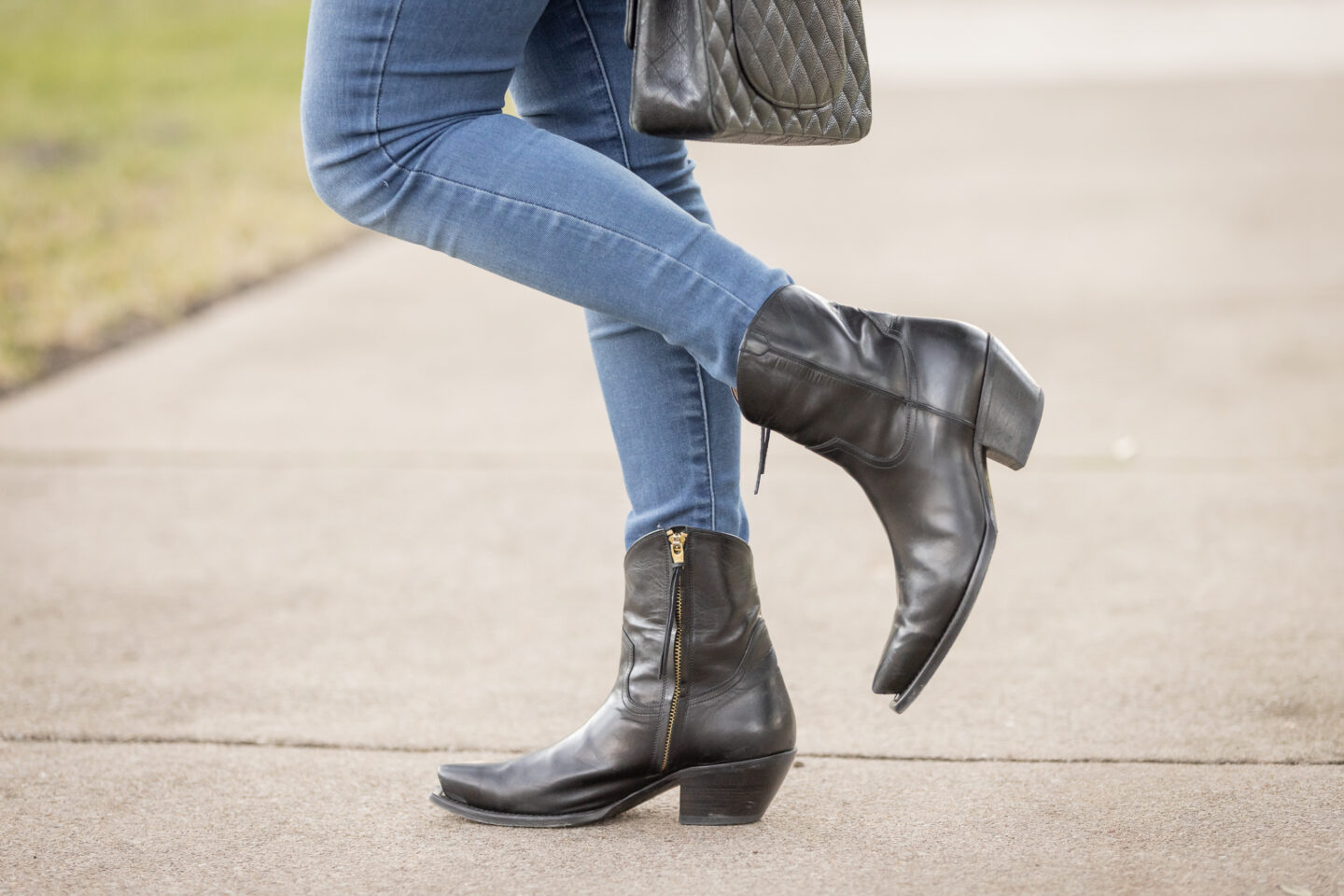 Pawrenting Update
Charlie Cupcake continues to grow both more and more adorable and also stubborn. He still insists on staying up late like a shaggy haired little rock star. He ends up curling up into a nap under my feet when he realizes that instead of playing chase or having treats without him, I am actually just doing dishes, journaling or learning lines. Eventually, he gives into his exhaustion and decides he is ready for bed, so he lets me know by standing in the hallway so I can let him into our room. I always give him one last pet and a kiss on his forehead, before opening the bedroom door. The other night, I opened the door first and he waited for his kiss before going in. My heart melted.
I'm also continually amazed at how much our little dood understands when I explain things to him that we are going to do. We've been having regular play dates with a few of his fur-ends in the neighborhood, but last week I told him we were going over to his friend Putter's house for a play date. We hadn't been to Putter's house for months, but as soon as I told him where we were going he pulled me on his leash and ran all the way to the right house!
We are currently between classes and I'm trying to figure out where to sign us up next. In the meanwhile, we have been practicing our training and tricks every day at home. Charlie has gotten great at high fives, waving and shaking hands and I'm working on teaching him how to stamp his foot after I saw him do it once when he got frustrated.  🙂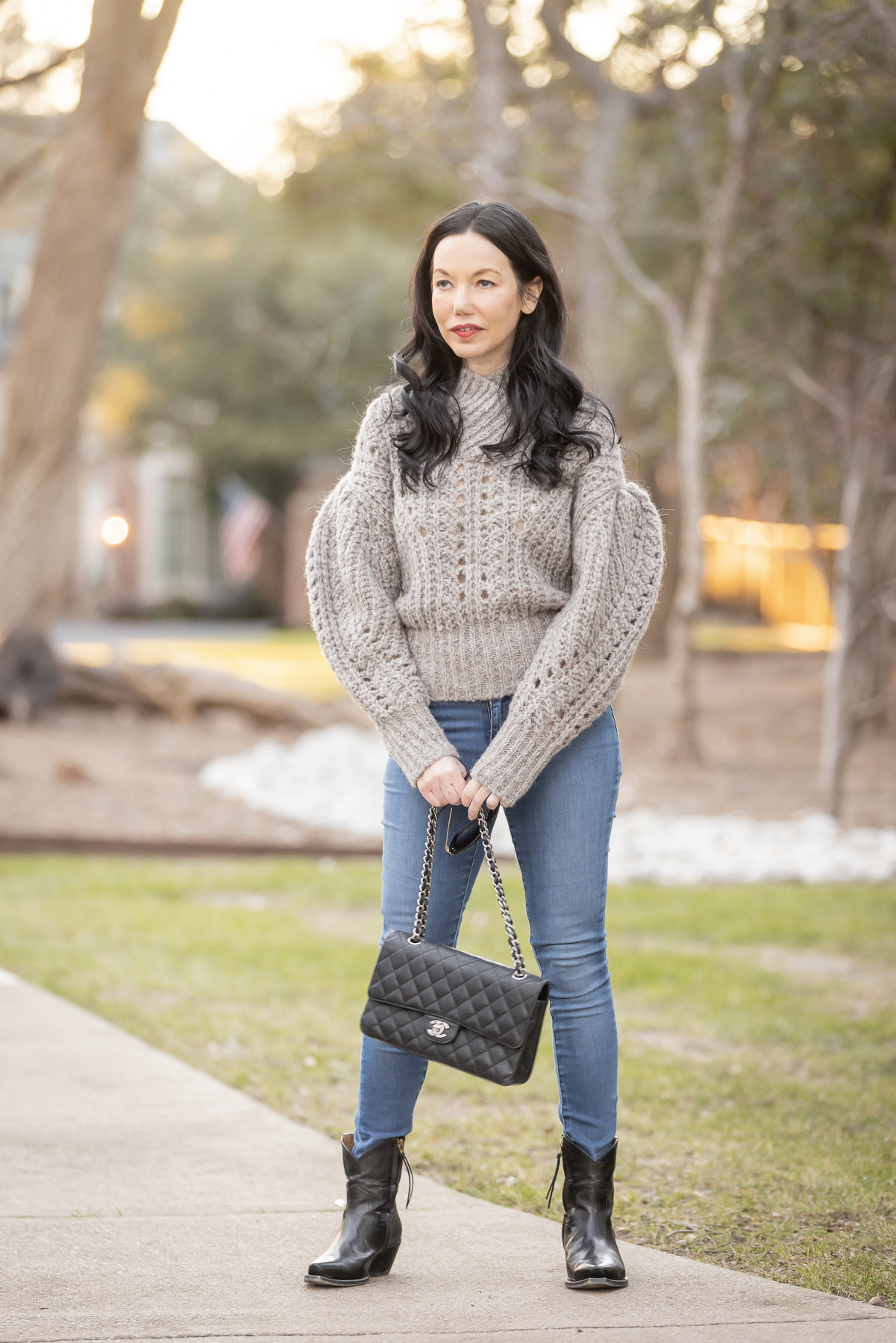 Watching, Reading and Listening
We just finished binge watching Inventing Anna and It's definitely one of the most riveting shows I've seen in awhile if not ever. I became obsessed with the true life story of Anna Delvey after first reading about her in Vanity Fair and Julia Garner absolutely nails her brilliantly in the 9 episode Shondaland series. I'm so excited to see the upcoming documentary about Anna, as somehow I don't think we've seen the last of this charming, mysterious and devious mastermind.
And speaking of criminals and masterminds, I'm also obsessed with Ozark (another unbelievably brilliant performance by Julia Garner), Pamela and Tommy and The Tindler Swindler. I'm also loving The Gilded Age which is the new show by Downton Abbey creator Julian Fellows and very much looking forward to Season 3 of My Brilliant Friend.
Since we brought home Mr. Cupcake last year, the bulk of my reading has been on Audible. I binged through about 5 books between December and January and my highlights were Pretty Things by Janelle Brown (so excited that this book is in development with Nicole Kidman's production company) and There Goes My Social Life by Stacey Dash. I had been wanting to read Stacey's book since it came out years ago and I would highly recommend it. The Clueless star narrates her own book and shares the ups and downs of her painful childhood and magnetic career and relationships. I also read Olympus Texas, The Guest List and Luckiest Girl Alive. I will be honest in saying that all three of these started out slow, but picked up steam after the first few chapters. Luckiest Girl Alive is also currently in production as a movie starting Mila Kunis.
I have a few new books on my queue, but I haven't started anything for the past month, because I have been obsessively catching up on Lacy Phillip's Expanded Podcast. While I had of course listened to a dozen or so episodes over the past few years since she started it, somehow I've never gotten in the habit of listening to podcasts. Something shifted for me while I was doing the manifestation challenge and I am now bingeing past episodes with a fury. Needless to say I am finding the Expanded Podcast highly expansive in my manifestation journey as of late.
Shop My r13 Cowboy Boots Look:
That's all for now as this post ended up being substantially lengthier than I originally intended. Please let me know what you think of these cowboy boots and what you have been up to lately in the comments below.
Photos by Thomas Garza.
Thank you so much for stopping by!
xoxo,
Lisa
Let's be social!